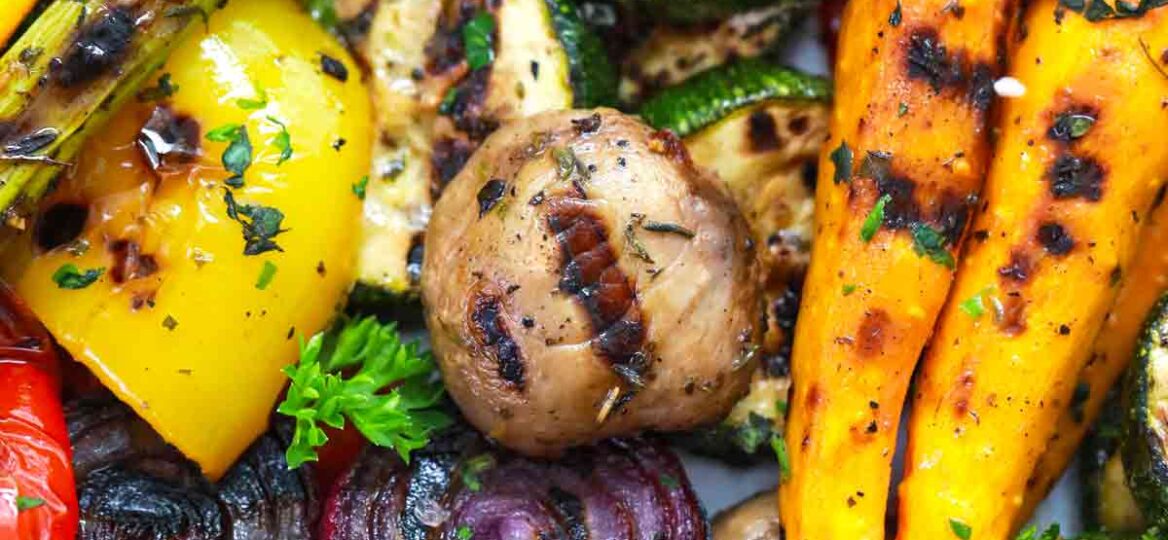 Grilled Vegetables Recipe [Video]
Grilled Vegetables are a fantastic way to serve healthy food that tastes and looks great. For this simple recipe, all you need is your favorite vegetables like baby potatoes, zucchini, eggplant, sweet potatoes, red bell peppers, and mushrooms as well as lemon zest, lemon juice, soy sauce, and your favorite seasonings.
The secret to our perfect recipe is the bold marinade, it makes such a huge difference. Actually, it adds tons of flavor and contributes to the juicy texture of the veggies after grilling. You can serve this as a side dish or a meal any day of the week, but it is a perfect side for summer with barbecued hot dogs or burgers. Another dish you may enjoy is Rainbow Roasted Vegetables, Grilled Potatoes, or try this Oven Roasted Bok Choy.
Grilled Vegetables and Veggie Marinade Recipe
Whether you grill or roast your veggies, cooking them is one way to bring out the vitamins in some of them. Like carrots. Actually, the beta carotene in the carrot is more easily absorbed when they are cooked.
And since we need at least two cups of veggies per day, this is one way to get your servings and then some. In addition, the veggies are good for you as well as tasty with this easy grilling recipe.
Adding certain seasonings to this dish is what makes it your own because you can add whatever you like to make it unique. For example, we use Italian seasoning as well as basil, garlic, parsley, and of course, salt and pepper. But you can use other seasonings like ranch dressing seasoning, onion powder, rosemary, or whatever you like.
Ingredients needed:
For precise measurements, look at the recipe card below. Here is what you will need for this grilled vegetable recipe:
Vegetables: Use your favorites chopped into two-inch pieces.
Olive oil: Virgin or extra virgin olive oil are both fine.

Soy sauce: Try making your own homemade soy sauce.
Lemon juice: Fresh or prepared are acceptable.
Lemon zest: This is an important part of the recipe.
Italian seasoning: Dried and packaged Italian seasoning are fine.
Garlic cloves: Best to use fresh cloves rather than powder.

Various seasoning: Such as salt, pepper, basil, and parsley.
How to make grilled vegetables:
Prepare the veggies: First, rinse, and after that trim and cut the vegetables into two-inch chunks.
Combine: Then, use a large bowl to combine the oil, soy sauce, lemon juice, lemon zest, garlic, Italian seasoning, and other seasonings.

Toss: Next, put the vegetables into the bowl and toss them to coat them in the oil.

Chill: After, cover the bowl and put it in the refrigerator for 20 minutes to two hours to chill.

Preheat: While the veggies are chilling, get the grill or a grill pan preheated to medium-high heat.

Cook: Finally, add the vegetables to the grill and cook them for three to six minutes cooking the denser veggies first like potatoes and carrots. Make sure to just cook until they are brown and tender.

Plate: Lastly, place the grilled vegetables on a serving plate and sprinkle them with seasonings.

Store: In addition, store the leftovers in the fridge in an airtight container for up to four days. Reheat by microwaving for 30 to 45 seconds.
Recipe variations:
Use ranch: Try dried ranch seasoning instead of Italian seasoning.

Add some heat: In addition, you can spice up your vegetables with some jalapenos or a sprinkle of cayenne pepper.
Baconator: Alternatively, wrap slices of bacon around some of the veggies and keep them in place with a toothpick.

Make it fruity: Make it Hawaiian by adding pineapple chunks or some other fruit like oranges or cherries.

Try mustard: Top with Dijon mustard or honey mustard sauce for a unique flavor.

Marinade: Try an Asian sauce like General Tso, Teriyaki Sauce, or Orange Sauce. Toss and coat the veggies in it and grill. Also, another great option is to coat them in Catalina dressing!
Other veggies: Grilled zucchini and summer squash, corn in the cob, even lettuce, and green onions are delicious, hence, make sure to add some into the mix.
Spicy: Toss them into some buffalo sauce and serve with crumbled blue cheese on top.
How to serve:
Serve the grilled vegetables on a warm platter with some homemade ranch dressing on the side for a dip. Here are a few of our other favorite ideas:
More Grilling Recipes:
Frequently Asked Questions
What goes well with grilled vegetables?
Just about anything goes well with this recipe. For example, if you are making this on the barbecue grill, toss some burgers or hot dogs alongside or maybe a steak or two. However, they also work well with seafood, pasta, or even some kind of quinoa dish. For something sweet, fruits like pineapple, chopped apples, or peaches are also delicious.
Keep in mind that these go well with any main dish, and also can make a great appetizer when served with a dipping sauce on the side.
How do you use a vegetable grill basket?
Actually, using a grill basket is easy but you have to know a few tips to make sure your vegetables do not turn out dry or stuck to the basket. First, preheat the grill and the grill basket with the cover closed for about 10 to 15 minutes.
Then and some oil typically keeps them from sticking. Also, marinating your veggies in an oil and seasoning marinade will keep them from drying out. As a result, they will be juicier and taste better.
Recipe tips:
The best vegetables for grilling include yellow squash, potatoes, zucchini, peppers, mushrooms, eggplant, and carrots. In addition, onions, tomatoes, asparagus, and grilled corn are fantastic. Artichokes, broccoli, and cauliflower are also great on the grill.

If you are using frozen veggies, make sure they are completely thawed out before putting them on the grill.

In addition, try to make the chunks the same or similar thickness so they will cook at the same rate.

Very important, make sure the grill is hot enough before using.

Remember to close the lid of the grill to help them cook faster.