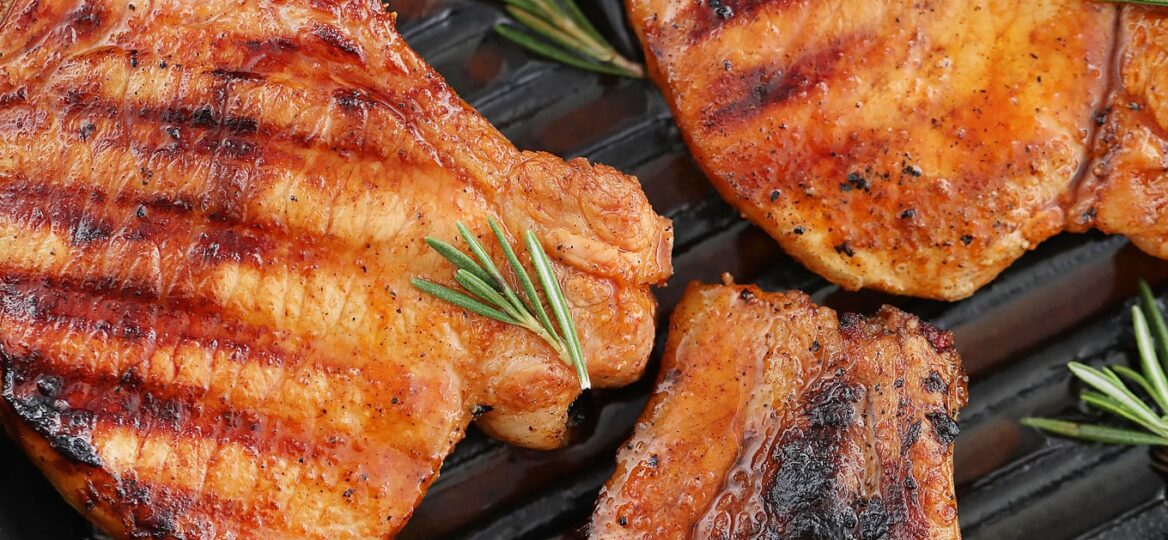 Easy Grilled Pork Chops Recipe
Grilled Pork Chops are super easy to make, and the meat is always juicy and flavorful. All you need is to fire up the grill and have a perfect family dinner in less than 30 minutes!
With grilling season around the corner, this recipe is a must-try. We love pairing it with Cucumber Salad, Roasted Asparagus, and Mexican Salad.
Perfect Grilled Pork Chops
These Grilled Pork Chops are a no brainer to make. They are the perfect dinner to enjoy with your friend and family, especially during summer days. We have been making this recipe for years, and have always got great reviews on it.
Unlike beef, which can be very expensive, these chops are quite cheap. In addition, the meat is tender and quite flavorful, just ideal to enjoy with some salads on the side. Just follow the below tips and guidelines below to get the best result!
WHAT KIND OF PORK CHOPS are best FOR GRILLING?
Bone-in chops are the best for grilling. They maintain a nice texture, and due to the bone-in, the flavor is enhanced. Try going with at least 1-inch thick cuts when grilling.
Also, when buying the meat, try to get the fresh cuts, and avoid buying pre-cut and pre-packed chops. Just ask the butcher for what you want, and they should be able to deliver. Some of the best cuts for grilling are:
Loin Chops – it has a t-bone in the middle, and you get to try two kinds of meat at once.
Rib Chops – whenever possible, we try buying this cut for grilling. It comes from the rib section with a nice bone along the side. Also, this cut is very tender and flavorful and is just perfect for grilling or BBQ.
You can also go with boneless chops, but because it is very lean, it will not be as tender and flavorful as the above two.
HOW DO YOU GRILL PORK CHOPS?
As stated above, the most important thing when grilling is the meat itself. You want to get the best and freshest cut possible, which are at least 1-inch thick, and with bone-in.
If you bought the chops a day before, or have them in the refrigerator, let them sit for about 30 minutes at room temperature.
Let it brine. Although this is not necessary, it really brings the flavors up and makes the meat super juicy and tender. If you are short on time, skip this step. On the other hand, if you are not in a rush, brine the pork for at least 30 minutes in saltwater. For best results, we recommend brining them for at least a few hours.
Once brined, pat them dry, and season.
Lastly, ensure the grill is preheated to 450 degrees prior to cooking. Also, you can grill them inside on the griddled pan.
WHAT IS A GOOD SEASONING FOR PORK CHOPS?
You can season them the way you like, with your favorite ingredients. We like to use honey, lemon juice, garlic powder, onion powder, paprika, salt. Then, whisk them in a bowl, and season the meat. Nothing fancy or complicated here!
How long does it take to grill pork chops?
The cooking time will depend on their thickness. Below you can find the cooking time based on how thick the cut is, assuming it is cooked at 450 degrees F.
For a 3/4-inch thick chop cook for about 4-5 minutes on each side.
For a 1-inch thick chop cook for about 5-6 minutes on each side.
For a 1 1/2-inch chop cook for about 7-9 minutes on each side.
Remember, bone-in meat usually takes a little longer to cook compared to boneless one. Therefore, if you are going with a boneless cut, the cooking time might be even lower. Also, remember to rest the meat for about 5-10 minutes after cooking to let the juices and flavors soak in.
What should the internal temperature be for pork chops?
Properly cooked, they should have an internal temperature of 145 degrees F. Please note, this temperature is recommended for safe consumption.
Because the meat temperature will slightly increase when resting, we recommend to remove it prior to reaching the 145 F mark. Also, use a meat thermometer to properly check the temperature.
CAN YOU GRILL PORK CHOPS FROZEN?
Yes! Although we do not recommend it because the flavors will not be the same since you would not be able to marinate them. But, you can certainly grill partially-frozen pork, and without defrosting them first. Just remember that the cooking time will be much longer, by about 50%.
HOW DO YOU KEEP GRILLED PORK CHOPS FROM GETTING DRY?
The secret is to use fresh meat and to brine it first. Even if you do not have time to brine them, use the marinade below, and should do the trick. Also, ensure the meat has at least some fat and is not very lean. This will increase the flavor, and also make it much more tender.
Lastly, make sure not to overcook them. The pork cooks very fast, so just a few minutes per side will be enough.
More pork recipes:
Recipe Tips:
Feel free to use other pork cuts for grilling.
Also, you can use bone-in or boneless chops. I prefer bone-in because they are more flavorful.
I squeeze a little fresh lime juice over once they are done