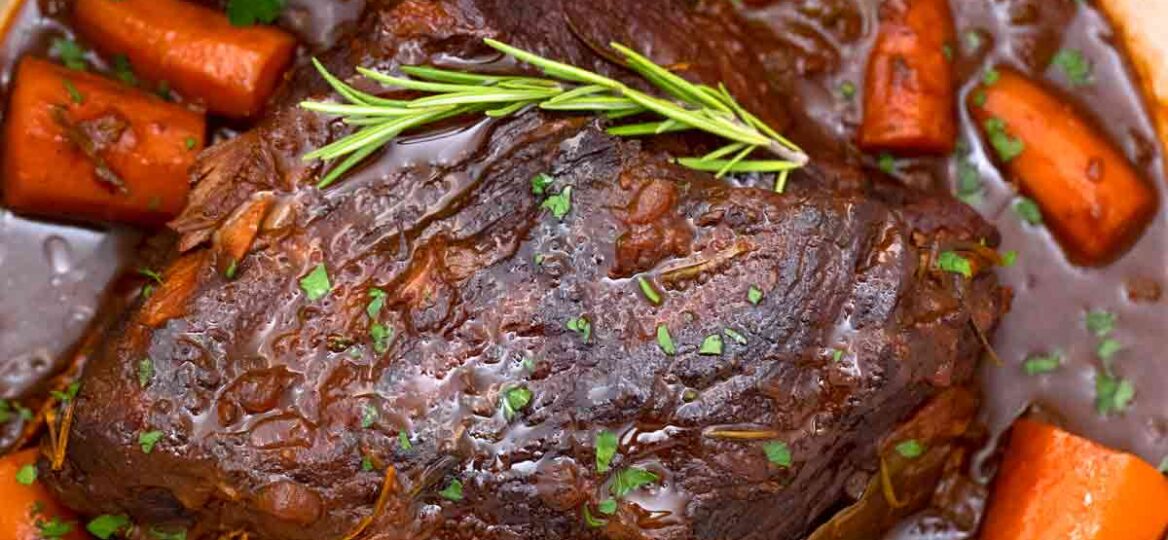 Red Wine Pot Roast Recipe [Video]
Red Wine Pot Roast just melts in your mouth! The beef is braised for hours in a savory red wine sauce for tender, flavorful shreds with a slight crisp. This is a no-frills dish that's ideal for any occasion.
I like hearty meals that don't require a lot of attention. I can do other things while it's cooking, such as prepare the sides or relax before dinner. If that sounds good to you, give it a try by making these easy recipes for Lamb Stew, Crock Pot Pork Tenderloin, and Swiss Steak!
Red Wine Beef Pot Roast
Red Wine Pot Roast is one of the most beloved comfort food in my family, especially during cold weather. It's filling, easy to make, and can be bulked up with vegetables for a complete meal. The Dutch oven is my preferred cooking dish here, as it results in some of the best flavors and aromas. The red wine sauce is complex, savory, and slightly sweet.
Also, the herbs add such warm flavors, and the meat itself is so tender you barely have to pull it apart with a fork. If you are looking for a melt-in-your-mouth pot roast recipe, that is also super easy to follow, then this is the perfect dish to make.
Piled high over buttery, fluffy mashed potatoes, it's easily one of our favorite meals of all time. Aside from being easy enough for busy weeknights, it's also an elegant dish to serve your guests for any occasion. Definitely a keeper!
What is the best wine to use for pot roast?
Keep one rule in mind: for cooking, always use a wine you'll be happy to drink. If you don't like it in a glass, you won't like it in a dish either. This is especially important for this particular recipe because the most prominent ingredient is the wine.
I like dry reds like rich cabernet sauvignon or slightly sweet merlot. Also, I use the former for this recipe but you can certainly use whatever you like. It's up to your personal preference.
What cut of meat should I use for pot roast?
You need a cut that can withstand low and slow braising in liquid without breaking down. Otherwise, you'll end up with mushy meat instead of fork-tender shreds with a wonderful chew.
Like for my Slow Cooker Pot Roast version, I love using chuck beef. It's a tough cut that's perfect for hours in the Dutch oven. Yet it also has fantastic marbling which means it becomes incredibly juicy and tender when braised. I highly recommend it for this recipe.
How to make Red Wine Pot Roast?
Brown the chuck. Heat oil in the Dutch oven, then sear the chuck on all sides. It should be a deep, nickel brown for the most flavor. Set it aside.
Make the braising liquid. Next, sauté your aromatics, then the herbs. Follow this with the tomato paste and sauté for a minute more. Return the browned chuck along with the broth and wine. Then, add the bay leaves, onion quarters, whole cloves of garlic, large chunks of carrot, and fresh sprigs of rosemary.
Braise. Cover the Dutch oven and let the beef cook in a pre-heated 325F oven for about 3-4 hrs., or until done and tender.
Serve. Shred or slice, and enjoy with your desired sides.
Recipe variations and substitution:
Make it in the slow cooker: Don't have a Dutch oven? Follow this slow cooker version instead!
Use other cuts: other parts of beef like bottom round and brisket will also work for this recipe.
Make it in the Instant Pot: If you're in a hurry, use this Instant Pot Red Wine Beef Roast recipe instead. It only takes about one hour, but you still get those amazing, complex flavors.
Load it up with veggies: If you want more vegetables in the dish, add large chunks of potatoes, turnips, parsnips, or sweet potatoes.
What to serve with Red Wine Pot Roast?
It's heavenly over buttery mashed potatoes or chunky mashed spuds if you like texture.
In addition, it goes perfectly well with roasted vegetables like asparagus, sweet potatoes, and brussels sprouts.
How long does pot roast last?
If you plan on keeping it in the fridge, store and consume it within four days at most. Make sure it's completely cool before you wrap it tightly in plastic wrap or heavy-duty foil. Try to place it in the coldest part of your fridge.
Can you freeze pot roast?
Yes! If you want to keep it longer than four days, freezing is the way to go. Transfer the shredded meat (or slices if you like it that way) to a freezer-grade container.
Then, cover it completely with the braising liquid so it doesn't dry out while frozen. Once it's cool, place in the freezer. Frozen, it will last for as long as 3 months.
More Easy Beef Recipes:
Recipe tips:
Cut the veggies in large chunks so they don't disintegrate while braising.
Brown your chuck properly to get those delicious, meaty flavors in the dish.
Use red wine you'll actually drink.
For a sweeter note, feel free to add about 1/4 cup sweet orange marmalade.
Also, I recommend cutting the veggies into larger sizes to prevent them from becoming mushy when cooked.