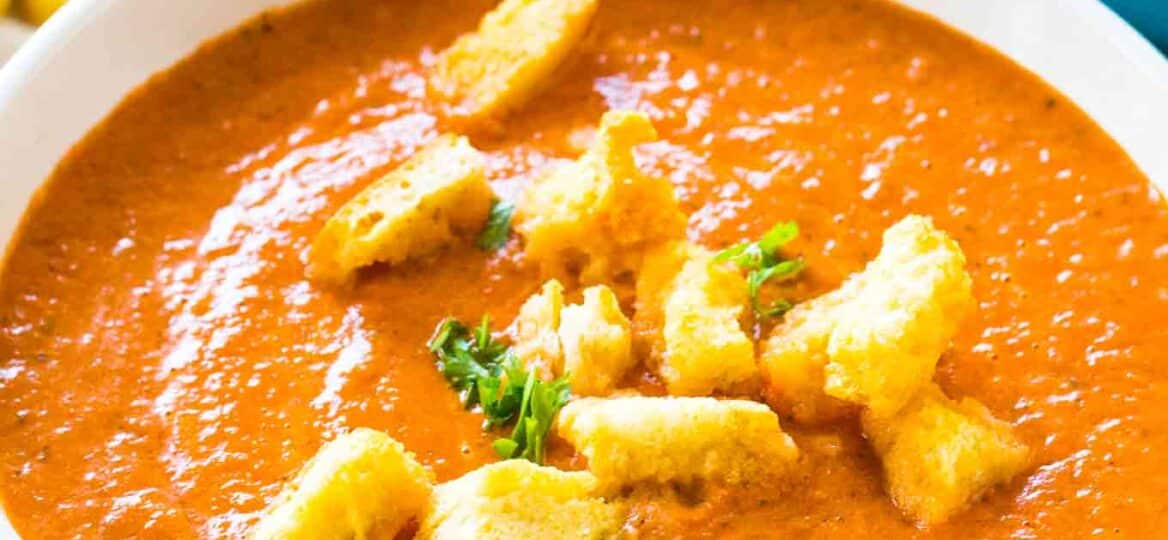 Panera Bread Creamy Tomato Soup Copycat [VIDEO]
Panera Bread Creamy Tomato Soup Copycat is the chain's classic famous creamy soup, that will warm your soul and make your taste buds happy. Watch the short video tutorial below and see how simple and easy this dish is!
We love creamy, hearty and comfort food, and this one is by far our most favorite one. You can also check out our delicious Slow Cooker Baked Potato Soup, Taco Soup, and Homemade Chicken Noodle Soup.
Easy Panera Bread Creamy Tomato Soup
This Creamy Tomato Soup is what I order 90% of the time when I eat at Panera Bread because it's very delicious. We even have a family tradition, every time we do a road trip, we always check the map and plan to stop for a bite at Panera Bread. I was all smiles when a location opened two blocks from my house and now I love to take my son there for after-school dinner dates.
He gets his usual Baked Potato Soup or Chicken Wild Rice Soup, with an apple and organic yogurt, and I get the Tomato Soup most of the time. This delicious homemade soup tastes just like the original! Soul warming, flavorful and so creamy, you will make it home over and over again!
Panera Bread Creamy Tomato Soup Recipe Tips:
Use good tomatoes! I can't stress this enough, San Marzano tomatoes are the most flavorful and sweet, perfect for this recipe. Also, you can find canned San Marzano tomatoes in almost every grocery store.
Originally this meal is made with vegetable stock. However, for more flavor, you can use chicken stock, but the soup won't be vegetarian.
Dried oregano and basil add flavor to it, don't skip these. Even better if you have some fresh basil on hand to garnish the soup right before serving.
You can skip the sugar, but for that Panera Bread taste you need to add some, it brings the sweetness in the tomatoes and makes the soup better.
Since this is a homemade version, you can play with it, add more or less garlic and if you want, some red pepper flakes for some heat.
What is the difference between cream of tomato soup and tomato bisque?
A traditional bisque is made with lobster, crab or crayfish stock. The word bisque is usually associated with creamy soup or any pureed soup. The main difference between a tomato bisque and soup is whether cream has been used.
How to make homemade vegetable stock?
Heat oil in a large stockpot over medium-high heat.
Then, add the garlic, onions, celery, and carrots to it.
Cook until softened, for about 5-8 minutes, while stirring often.
Next, add the water, frozen vegetable scraps, bay leaves, parsley, thyme, salt, and pepper.
Lastly, reduce heat to low and simmer, partially covered, for 45 minutes.
Can you freeze Creamy Tomato Soup?
Yes. I recommend using quart bags for it. First, use a cup to transfer the soup from the pot into the bag. Then, squeeze out excess air and seal the bags. The bags can nicely be stored in the freezer for up to 3-4 months. Also, to thaw it, remove it from the freezer the night before serving, or put the sealed soup bag in warm water to thaw it faster.
Looking for more creamy soups recipes? Check these out: