Slow Cooker Baked Potato Soup [VIDEO]
Slow Cooker Baked Potato Soup is creamy and comforting, budget-friendly, and also very easy to make! Watch the short video tutorial attached below and see how this will become your weeknight perfect meal!
Slow Cooker Soups are very popular on our blog, like Bacon Corn Chowder Soup, Slow Cooker Chicken Tortilla Soup, and Slow Cooker Tortellini Soup.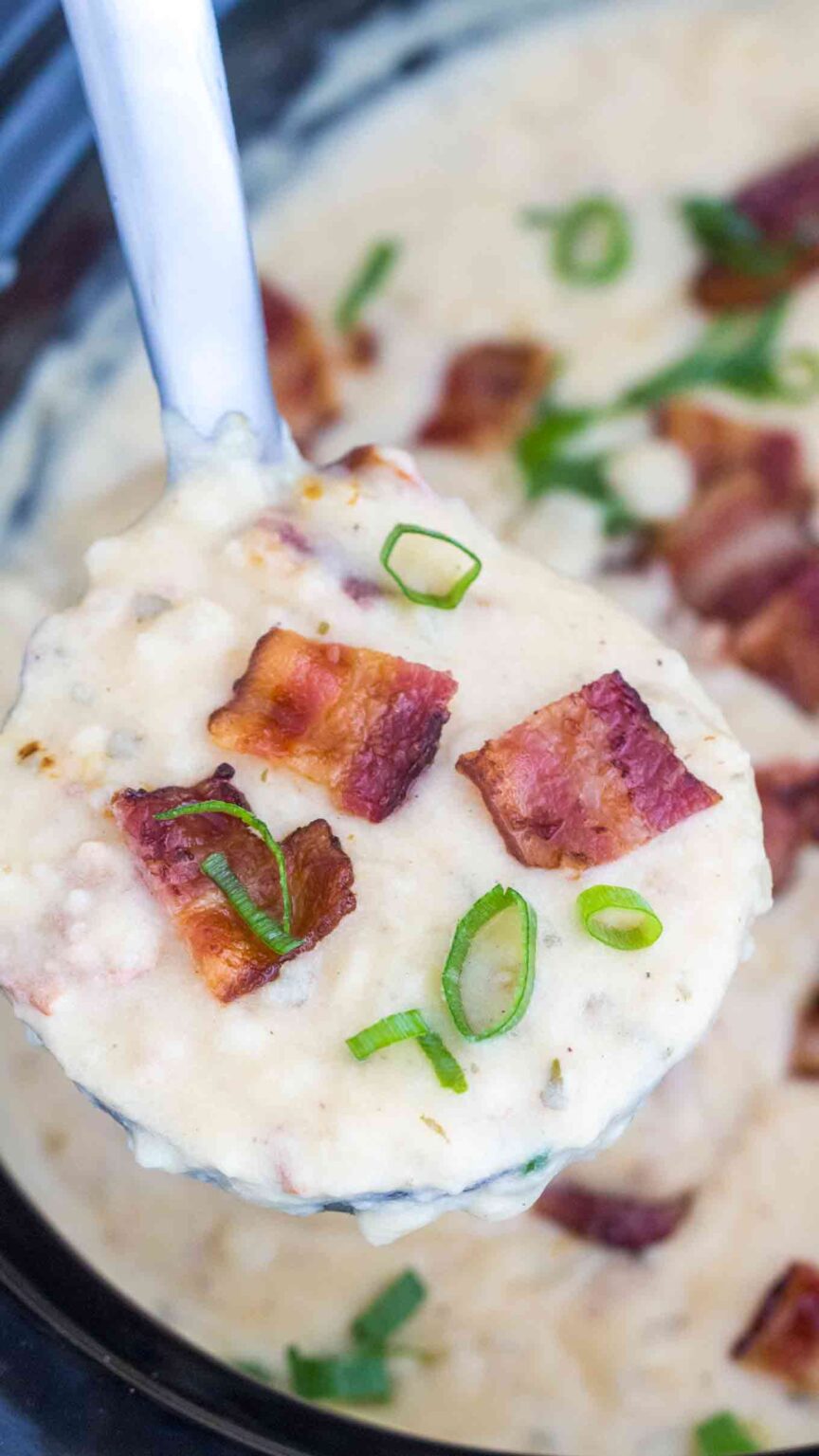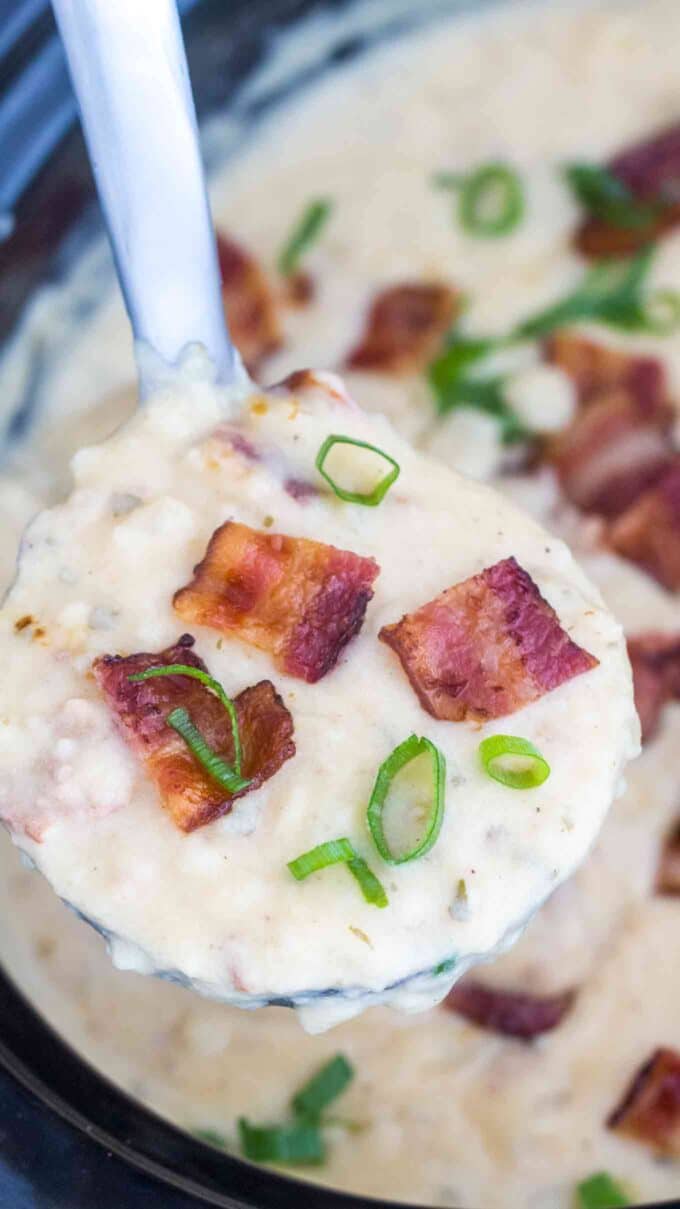 Slow Cooker Baked Potato Soup
This Slow Cooker Baked Potato Soup is my type of comfort food. My grandmother makes a similar soup on the stovetop and it used to be my favorite food as a child. Every time I visit her, I always ask for the famous soup.
Now, this Slow Cooker Baked Potato Soup is very easy to make and it smells delicious! The crockpot does all the heavy lifting, all you have to do is patiently wait. Just ensure to pick the potatoes, rub them in olive oil, season and then cook. In four hours you'll have perfect, creamy roast potatoes and no need for an oven.
The soup is incredibly creamy, with delicious bacon bits and creamy cheddar cheese through it. Serve it top with cheddar cheese and a dollop of sour cream, just like you would eat a baked potato.
What do you need to make Crockpot Potato Soup?
To make this delicious and comforting soup, you will need the following:
Bacon: You can use any type of bacon you love. I recommend using center-cut bacon for this recipe, just to keep it a bit leaner. Also, I used cooked bacon to make it easier and save some time.
Veggies: Onion and garlic.
Flour: Flour is used to make a roux to thicken the soup. However, if you like a lighter version of this soup, feel free to skip this step. Instead, just puree part of the soup to thicken it.
Chicken broth and milk: These will form the broth of our soup. Also, you can substitute the chicken broth with vegetable. The same goes for milk. Feel free to use half and half, or whatever kind of milk you prefer (2%, 4%, or whole cow's milk).
Potatoes: I've made this soup dozens of times, and for best results, I highly recommend using buttery Yukon gold potatoes. If you cannot find Yukon, go with russets or red potatoes.
Cheese: Sharp cheddar cheese works best here, as it adds a nice texture and flavor to it.
Sour cream or Greek yogurt and evaporated milk: This is what makes the soup extra-creamy and delicious!
Salt, pepper, and herbs: Season based on your taste. I have added dried parsley as well. However, feel free to add other spices if desired.
HOW TO MAKE the Best CROCKPOT POTATO SOUP?
Once you have all the ingredients ready, the rest is simple. Please refer to the recipe card below and watch the video in the post.
Prepare and cook the potatoes: Wash and peel the Yukon potatoes. You will need about 2 pounds. Then, cut into about 1/2 inch thick cubes. Once cubbed, add it to the bottom of a 6-quart or larger slow cooker. Also, add to it diced onion, minced garlic, cooked bacon, dried parsley, and chicken broth. Season with salt and pepper. Cook the soup on low for 6-8 hours or on high for 3-4 hours.
Prepare the Roux mixture: Once the soup has cooked, add butter to a medium saucepan over medium heat and melt. Then, whisk in the flour until completely combined and gradually add in the evaporated milk or heavy cream, depending on which one you are using. Whisk well the flour mixture, until smooth. Cook on low heat until seamer while stirring occasionally. Immediately add the milk-flour mixture to the slow cooker and stir to combine. Also, if you do not wish to make the Roux, feel free to thicken the soup by adding the cornstarch. Simply, mix together your cornstarch with evaporate milk, until smooth and stir into the soup to thicken. If you do not wish to use evaporated milk, simply stir the cornstarch with COLD water.
Add remaining ingredients: Using a potato masher or fork, mash about 3/4 of the potatoes. Then, add the shredded cheddar cheese and sour cream to it and stir till melted.
Serve warm. Then serve it up, loaded up with all of your favorite toppings!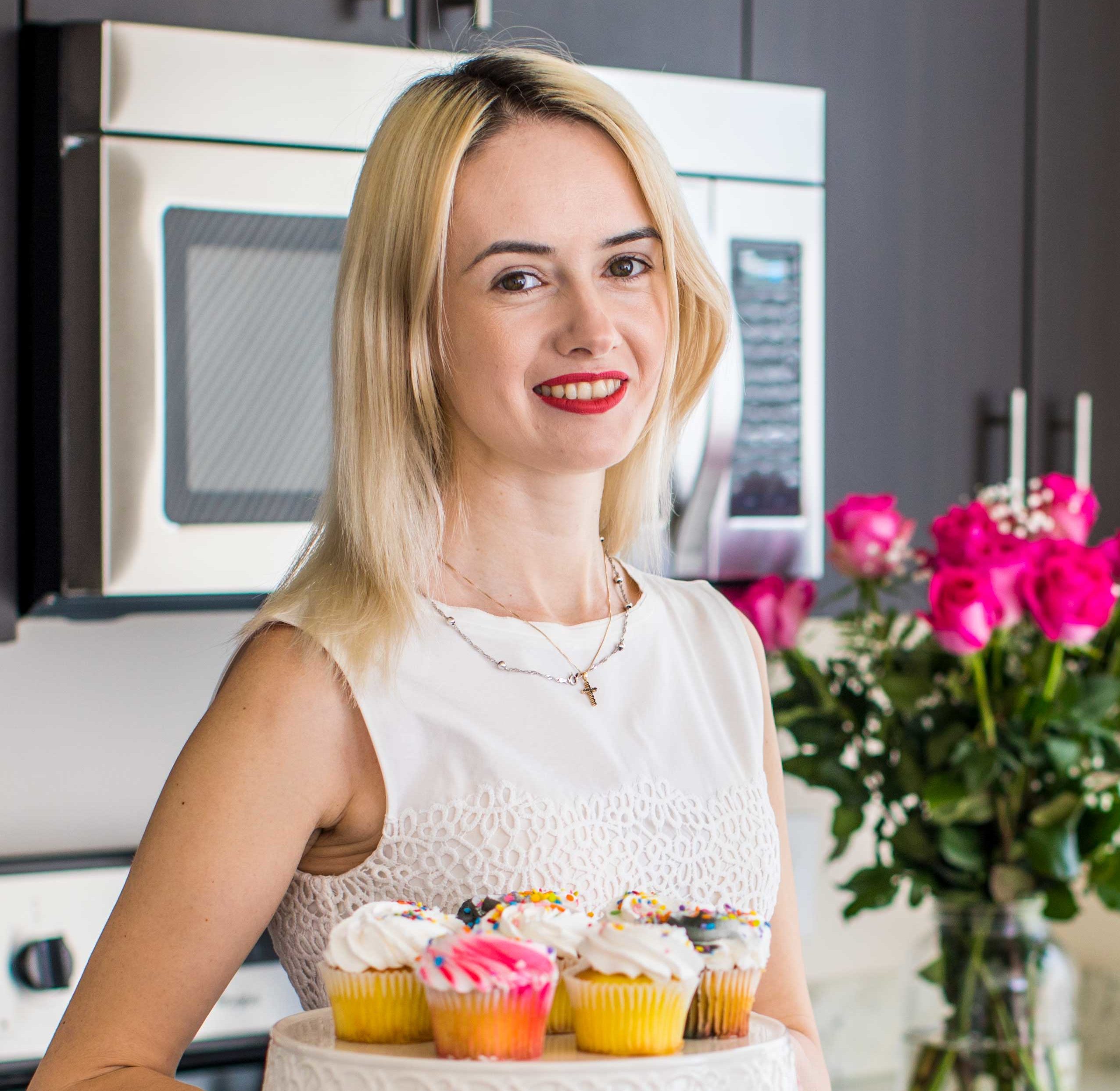 Follow us on Pinterest for more delicious recipes!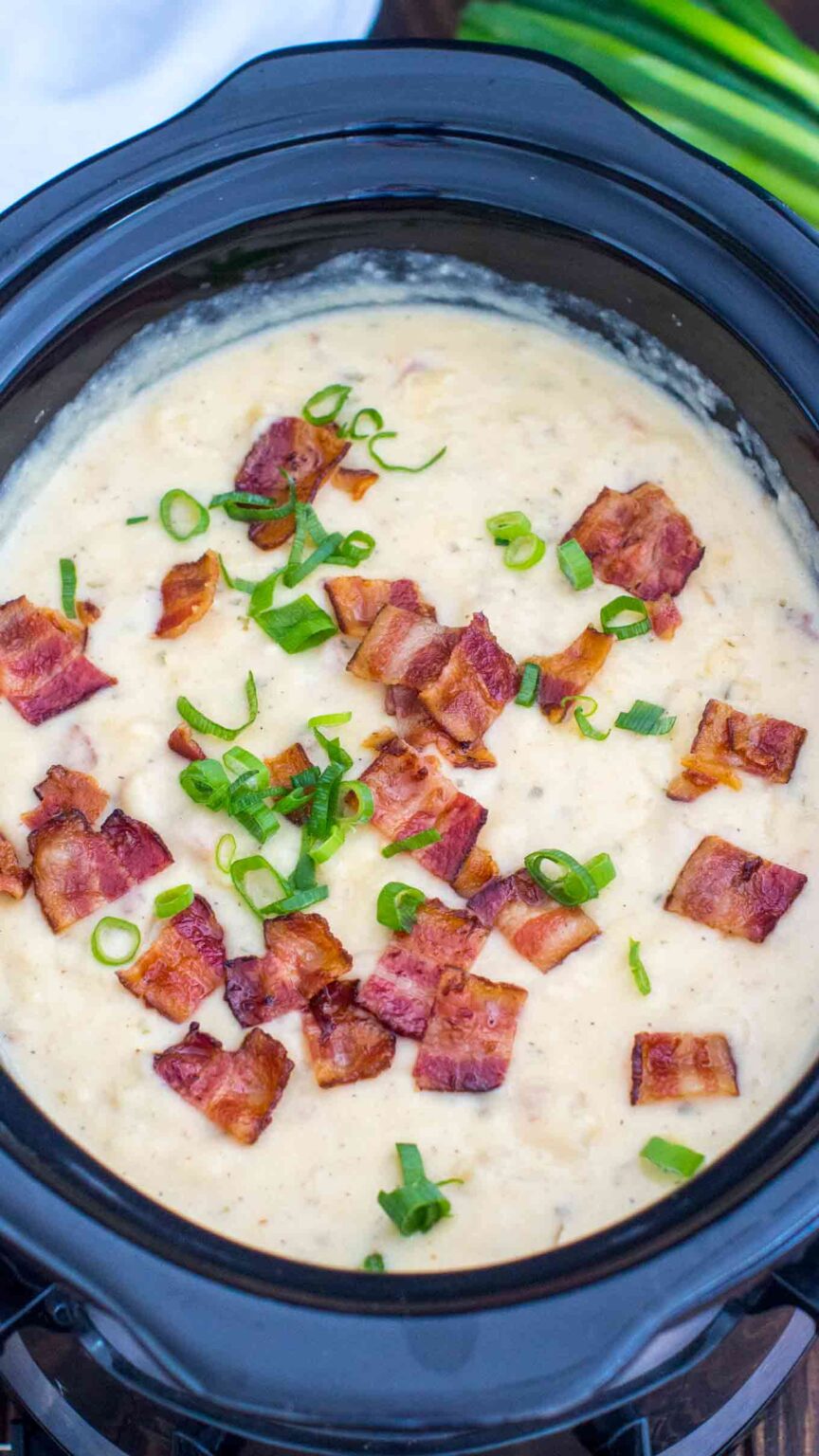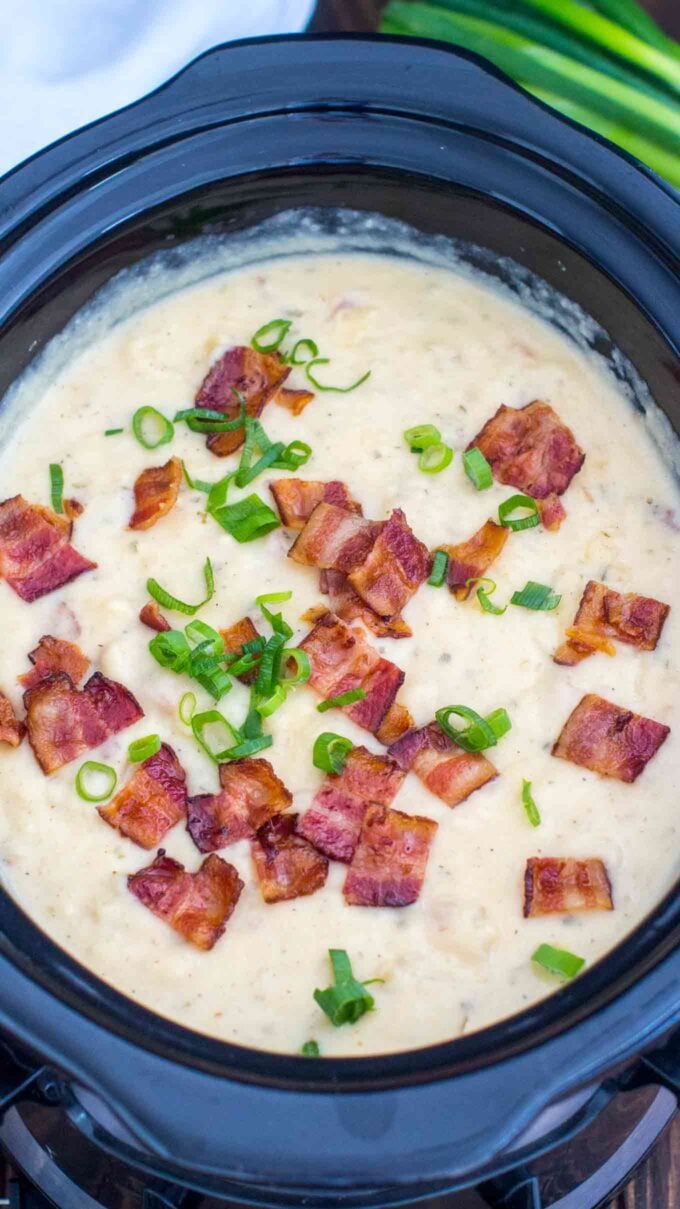 Can I substitute the broth to make this Slow Cooker Baked Potato Soup?
Absolutely! You can use vegetable broth or beef broth, instead of chicken broth. Both will work just fine for this recipe.
Can I use Potatoes with the Skin on Them?
Yes! Just ensure you use organic type. It is absolutely fine to use potatoes with the skin on them for this soup. It will give this dish a nice texture and a little more depth.
What Can You Add to Potato Soup?
For this baked potato soup recipe I always love to use bacon, cheese, sour cream, and green onions. They make this dish super comforting and delicious. However, this recipe is extremely versatile, and can be adjusted per your own taste:
Make it vegetarian: In that case, omit the bacon. Feel free to add some extra vegetables, such as corn, red bell peppers, broccoli. Also, I would recommend adding in 2-3 teaspoons Cajun seasoning to make up for bacon flavor.
Make it gluten-free: For a gluten-free version, skip the flour, or use a gluten-free version.
Add extra meats: Feel free to use other proteins here, such as rotisserie chicken, leftover ham, Italian sausage, oven-roasted turkey breast, all work great here. You can even combine a few types of meat together.
Mix up the cheeses: Use your favorite type of cheeses or whatever you have on hand. I recommend including at least one sharp flavored cheese type, such as parmesan or cheddar for a deeper flavor.
Add in extra seasoning: For extra flavors, feel free to add some cajun seasoning, Italian seasoning, taco seasoning, etc.
Can you freeze Slow Cooker Baked Potato Soup?
You can freeze the soup if you want, but you should do that BEFORE you add the cream or evaporated milk. I recommend using quart bags for this soup. Use a cup to transfer the soup from the pot into the bag. Squeeze out excess air and seal the bags.
The bags can nicely be stored in the freezer for up to 3 months. When you decide to serve it, thaw, add it back to the slow cooker, or to a large pot on the stove pot and mix in the milk mixture, cheese, and sour cream.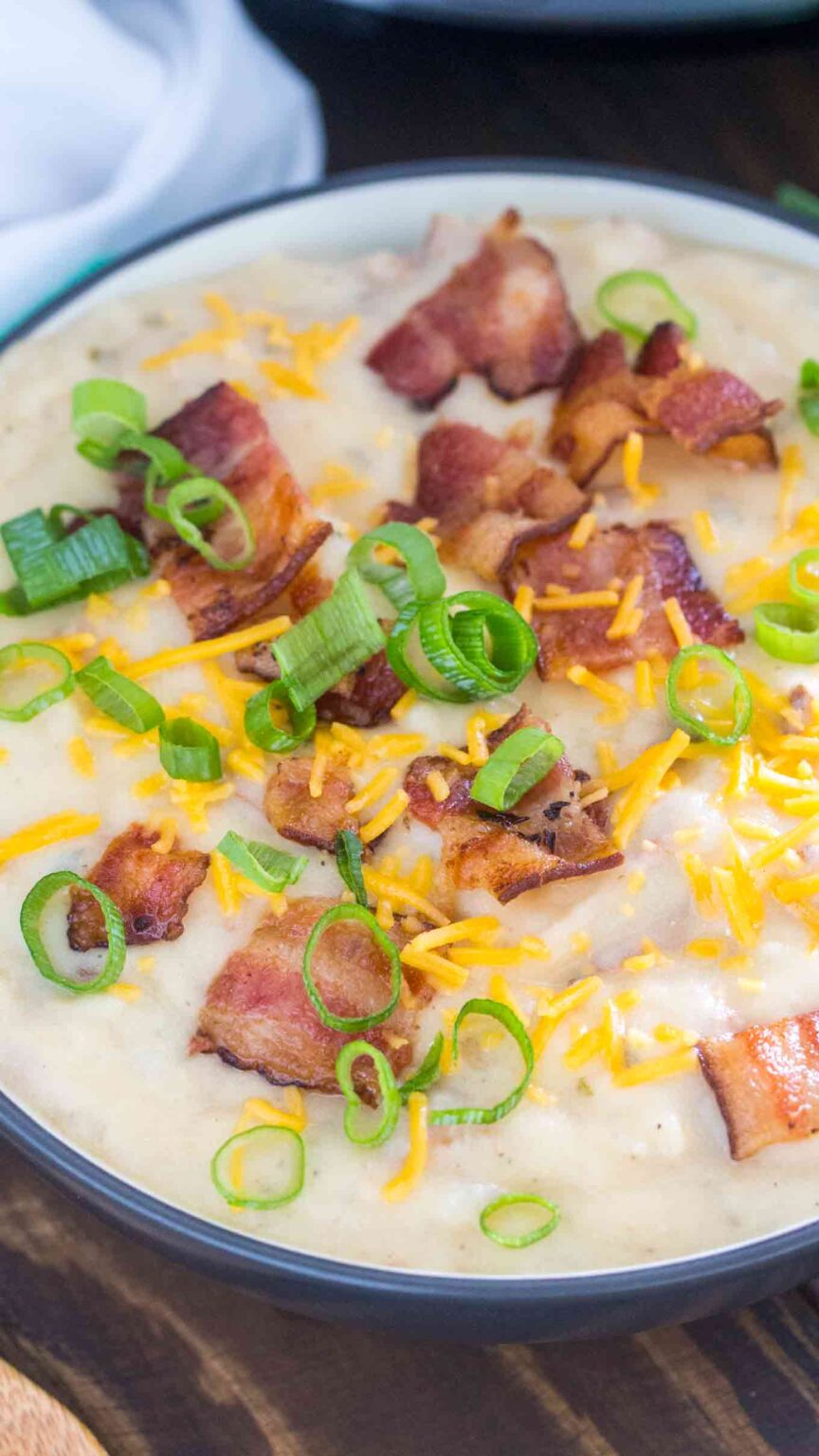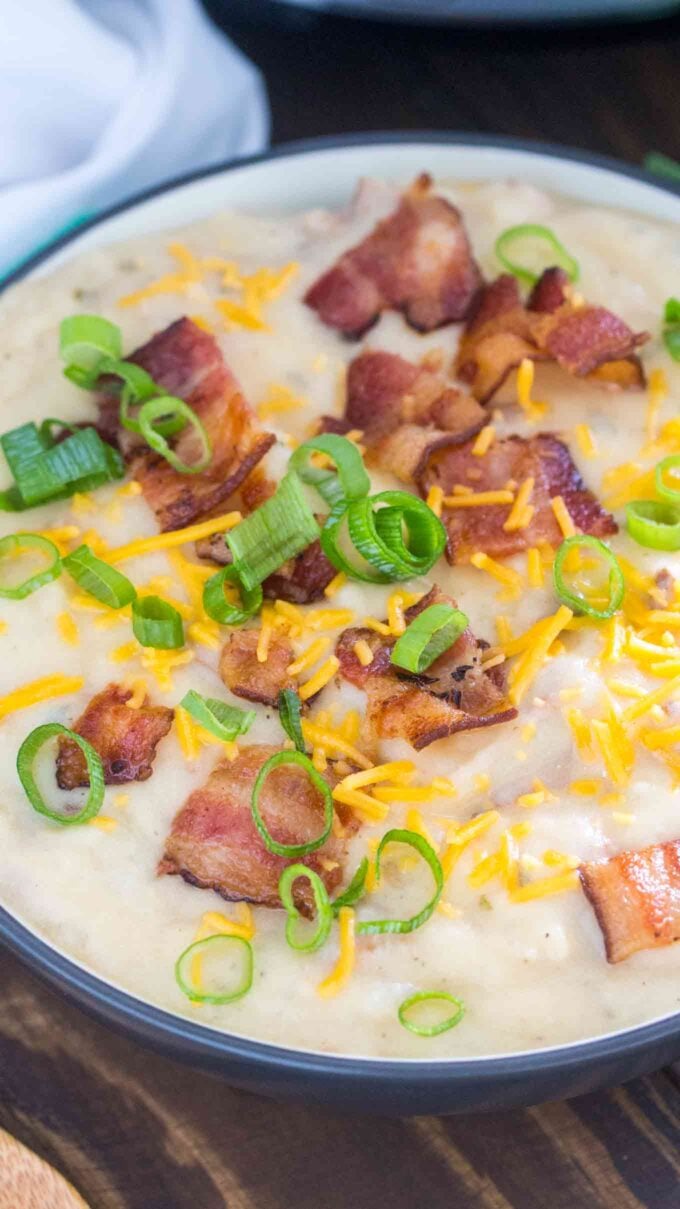 What to serve with Crockpot Baked Potato Soup?
Slow Cooker Baked Potato Soup recipe tips:
I prefer to use Yukon gold potatoes for this recipe, for their buttery texture to make the soup irresistibly creamy.
Use fresh garlic as the jarred garlic will not give the same flavor.
To save time, you can buy peeled potatoes, that you can just add to the slow cooker.
You can either cook the bacon prior to starting the soup, by frying it or roasting it in the oven, whatever method you prefer. Also, you can use pre-cooked bacon to save time and cut down on the effort.
In addition, feel free to use evaporated canned milk, or for an even richer texture. Similarly, you can use half and half or heavy cream.
The soup can be easily made vegetarian if you skip the bacon and use vegetable stock.
Looking for more Soup Recipes? Check these Panera Bread Soup Copycats:
Tools & Ingredients You Will Need To Make This Slow Cooker Baked Potato Soup Recipe:
Slow Cooker – I love this slow cooker, while it's more expensive, you can brown the food directly into it, so that saves you time.
Potato Masher – the kitchen tool that should be in each's one kitchen drawer! I like this one a lot.
Save Recipe
Slow Cooker Baked Potato Soup
Slow Cooker Baked Potato Soup is creamy and comforting, budget friendly and also very easy to make! Perfect for a weeknight meal.
Author: Catalina Castravet
Serves: 8 servings
Prep time:

15

minutes
Cook time:

4

hours

30

minutes
Total time:

4

hrs

45

mins
Ingredients
Roux Mixture:
Or make a Cornstarch Mixture:
Toppings:
Instructions
Cook Potatoes:
Roux Mixture:
Or make the Cornstarch Mixture:
After the Thickening Mixture was added:
Serve:
Nutrition information
0 Calories: 343 Carbohydrates: 24 Protein: 17 Fat: 19 Saturated Fat: 8 Cholesterol: 44 Sodium: 750 Potassium: 800 Fiber: 3 Sugar: 5 Vitamin A: 285 Vitamin C: 21 Calcium: 307 Iron: 4.6
Save Recipe

More recipes you might love
Categories: