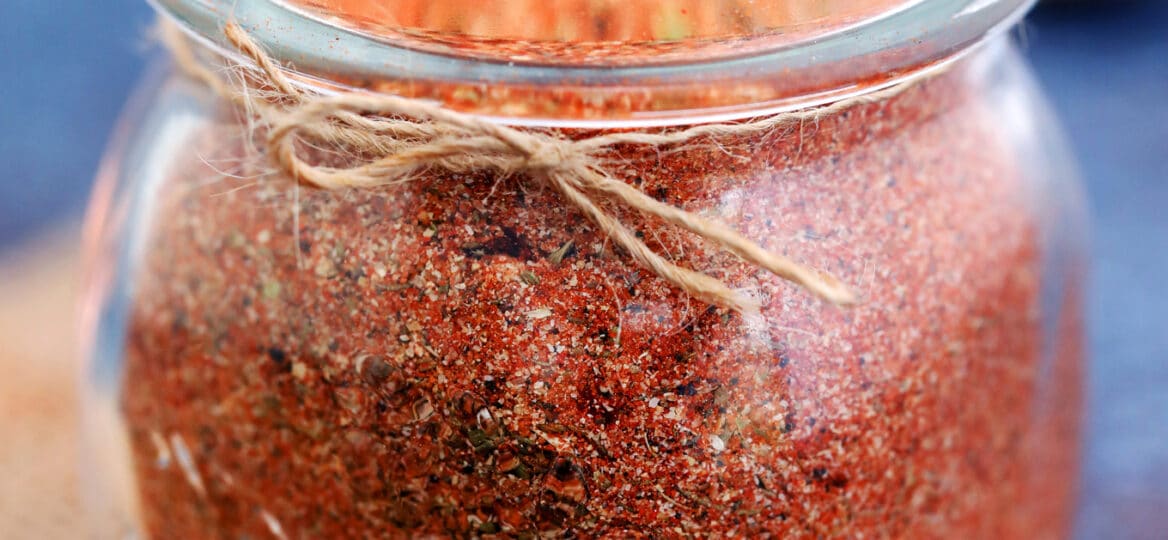 Cajun Seasoning [Video]
Cajun Seasoning is a spicy mix that you can use in just about any dish you want to add some heat to. You probably already have most, if not all of these common spices that you need to make this homemade cajun seasoning recipe.
The perfect blend of spices and dried herbs is made mostly of white, red, and black pepper as well as some other spices. If you are looking for some recipes to try this cajun seasoning with, our Southern Dirty Rice with ground beef, ground sauce, and chicken broth.
Homemade Cajun Seasoning
Cajun Seasoning is an integral part of the Cajun cuisine. It is greatly an influence from the French immigrants who settled in Louisiana in the 18th century.
The term Cajun is a play on the word "Acadians" who are French colonists that made their way to the US. They had to live off local produce and made hearty meals out of simple foodstuff like rice and beans.
The combination of onions, bell peppers, and celery was popular. They also had the habit of including roux in their cooking. And they had lots of seafood recipes, that are mostly spicy.
If you will go to present-day Louisiana and eat there, do not be surprised by the extensive use of the hot sauce. No wonder, their spice mix has paprika, peppers, and cayenne in it! This recipe is best for seafood – Jambalaya and gumbo are popular ones in this cuisine.
Whether you are making a spicy cajun cuisine or just barbecuing some burgers, you can use this homemade cajun seasoning blend for just about anything. You will find that after you make the cajun seasoning, you will be using it on everything.
All you need to make your own cajun seasoning is red pepper flakes, dried thyme, cayenne pepper, oregano, and a few other spices. With this perfect blend in your spice drawer, you have the tools to make a variety of cajun cuisine that will rate 5 stars with your family.
You can try it in this Instant Pot Jambalaya recipe made with basmati rice, shrimp, and andouille sausage. You may also enjoy making our homemade Ranch Seasoning Mix with powdered buttermilk, garlic powder, and onion powder.
What is Cajun Seasoning made of?
A few basic spices and herbs constitute this seasoning. Here are the specific ingredients and refer to the recipe card at the bottom of this post for the amount to be used:
paprika
fine kosher salt
garlic powder
onion powder
ground black pepper
ground white pepper
dried oregano
cayenne
dried thyme
red pepper flakes
How to make cajun seasoning recipe?
Combine all the herbs and spices: First, combine all the herbs and spices in a small bowl until it is completely mixed.

Jar them: Then, pour them into a spice jar or another glass jar that has a lid that is airtight.

Good for up to a year: You can use this homemade cajun seasoning recipe mix right away or save it for up to a year in a sealed container.
Recipe variations:
Smoked paprika: Use smoked paprika for an even smokier flavor.

Cayenne pepper: You can use less or more cayenne pepper and red pepper flakes in your spice mix depending on how spicy you like your food.

White pepper: Similarly, you can use white pepper instead of black pepper if you would rather have mild homemade cajun seasoning.
Customize it: When you make homemade cajun seasoning mix, you can make it to your needs. If you are on a low-sodium diet, use less salt. If you want more heat, add more red pepper flakes and cayenne pepper.
How to serve:
This easy spice mix has more than just a spicy flavor. Our homemade cajun seasoning tastes better than the store-bought cajun seasoning and can be used on more than just spicy food. Check out some of these serving ideas:
Put a dash of this on popcorn for a spicy snack.

This keto blackened chicken would taste even better with your homemade cajun seasoning mix.

This is a great seasoning mix for any dish whether it is beef, pork, chicken, or fish.

Try your homemade cajun seasoning with this air fryer shrimp dinner for a nice spicy flavor.

You can even make it into a dip by adding it to sour cream or Greek yogurt with a splash of lemon juice.

Use your cajun seasoning for this delicious shrimp creole recipe.
Salads also benefit from a sprinkle of our homemade cajun seasoning.

This cajun seasoning also works well on roasted vegetables of any kind.
Frequently Asked Questions
Is Creole and Cajun seasoning the same thing?
No, they are not the same thing. Cajun seasoning is deep-rooted in simplicity, also it has more cayenne pepper, black pepper, onion powder, and garlic powder. Creole seasoning mix has more thyme, oregano, and paprika.
The Cajuns used in their dishes what their surroundings provided them. But the Creole cuisine is an attempt to emulate their French roots with local ingredients. Also, they use tomatoes extensively. Hence, their spice mix has complementary herbs for that like basil.
In most cases, you can sub one for the other. They have similar base ingredients, but Creole seasoning has more flavor dimensions with the addition of more complex herbs. The good news is that the Cajun seasoning can be a good base to convert it into a Creole one by adding those flavors that it initially lacks.
What is the difference between jambalaya and gumbo?
Gumbo is more of a stew or soup served over rice or pasta. Jambalaya has rice as one of the main ingredients. Gumbo has more liquid than rice and uses roux as a thickener. Jambalaya is more of a rice dish. Both have some type of meat like sausage, chicken, shrimp, or crawfish.
What does et tu fay mean?
Also known as etouffée, this is a dish popular in both cajun and creole cuisines. It is typically made with some kind of shellfish like crawfish, crab, or shrimp with a sauce, roux, and served over rice.
Where did cajun seasoning come from?
Cajun seasoning has been around since the 16th century but was more well-known in the 1700s when the Acadian immigrants left Canada for America. Most of them ended up in Louisiana where the cuisine was combined with the abundant seafood like redfish, shrimp, and crawfish.
It was in Opelousas, Louisiana that Chef Paul Prudhomme introduced his famous seasoning mix, better known as cajun seasoning. He used this cajun seasoning recipe to create his famous blackened redfish and other cajun dishes.
What is the difference between white and black pepper?
Both white and black pepper come from the same plant. The difference is how they are picked and processed. They are both made from the berries of the pepper plant, but the skin is removed from the white pepper, making it a bit milder than black.
How to store leftovers:
Store: You can store in an airtight container for up to a year. No refrigeration is needed.
Freeze: Although your cajun seasoning mix will stay fresh for about 12 months in an airtight container without refrigerating, you can freeze it if you plan to keep it longer than a year.

Thaw: There is no need to thaw or heat your homemade cajun seasoning.
Recipe tips:
Leave out the thyme, oregano, and paprika for authentic cajun seasoning.
For the best flavor, buy your spices whole and grind them yourself. The flavor will last much longer that way.

Remember to taste this before using it. The flavor is much stronger with homemade cajun seasoning.
It is best to use this cajun seasoning within one year.

This recipe will make approximately one cup of the homemade cajun spice mixture. If you need less or more, you can adjust the ingredients.
Cajun Seasoning
Ingredients
3

tablespoons

paprika

2

tablespoons

fine kosher salt

2

tablespoons

garlic powder

1

tablespoon

onion powder

1/2

tablespoon

ground black pepper

1/2

tablespoon

ground white pepper

1

tablespoon

dried oregano

1

tablespoon

cayenne

1

teaspoon

dried thyme

1/2

teaspoon

red pepper flakes
Instructions
Mix all ingredients together in a bowl until evenly combined and transfer to a spice jar.

Use immediately, or store in a sealed container for up to 1 year.