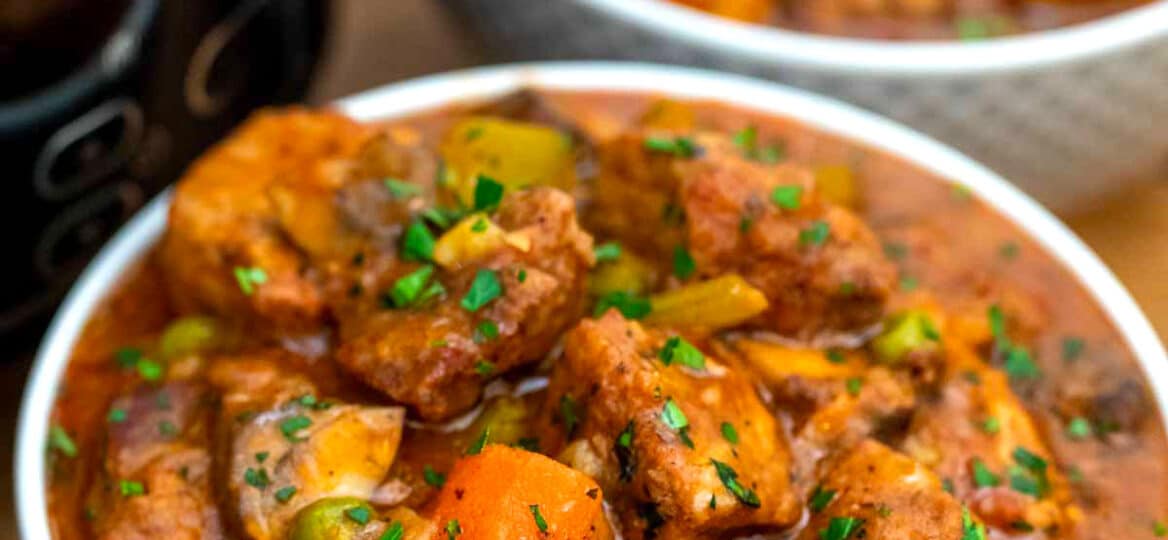 Slow Cooker Pork Stew
Slow Cooker Pork Stew has tender chunks of meat and complementing vegetables in a flavorful broth! And it is so easy to prepare using the crockpot!
We love our crockpot recipes because they are all so flavorful. The long hours that it takes to cook dishes like Lasagna Soup, Swiss Steak, and Butter Chicken are worth it!
Crockpot Pork Stew
Slow Cooker Pork Stew is my go-to recipe when I have extra time on my hands. It takes a few hours to cook but the outcome is so rich and tasty and that is what I am after.
Slow cooking extracts as much flavor as it can to make the dish tasty. And the meat becomes so tender and moist in the end.
Instead of plain water, I like using a combination of wine and beef broth for broth. The combination complements the pork flavors perfectly. And adding the chopped tomatoes elevates the richness even more!
You get to have vegetables in this dish, too. So, it makes it a complete meal already in itself. Or, pair it with just about anything.
Overall, this is an enjoyable and hearty dish for the whole family!
What is stewing pork?
It is the meat from the pig, usually coming from the shoulder area, that is cut into small chunks or cubes. It has a good amount of collagen that will keep the meat moist and tender despite the slow cooking process of stewing.
Stewing is when you cook these smaller chunks submerged in liquid as opposed to braising where the meat is not completely submerged. This is great for tough cuts of meat that are inexpensive and not too lean to dry out easily.
What pork cut is best to use for stew?
The best to use is the pork shoulder. This type of cut tenderizes well with the long hours of cooking.
But you can use other types, too, if you like. Use chops, loin, tenderloin, spareribs, or leg if those are what you have available.
How to Make Slow Cooker Pork Stew
Season: In a bowl, toss the meat cubes with flour, salt, black pepper, and paprika to season.
Brown: In a skillet, heat some oil and sear the cubes until brown on all sides. You may have to do this in batches, careful not to overcrowd the pan each time.
Sauté: In the same pan, sauté the aromatics.
Deglaze: Add in the wine and stir to remove the bits and pieces stuck at the bottom of the pan. Transfer everything into the crockpot.
Cook: Put the meat and the rest of the ingredients in the crockpot. Set as instructed in the recipe card below. Typically, you can prepare this for 7 or 8 hours on LOW.
Serve: Taste and adjust with salt and pepper, if needed. Then, garnish with parsley and serve hot.
Recipe Variation
You can also try my other stew recipes for chicken, beef, and lamb! These recipes use different kinds of wine.
The chicken one uses white wine, too. Meanwhile, the lamb and beef recipes use red wine. You can also use beer for beef as in the recipe for Guinness beef stew.
Can I add beans to Slow Cooker Pork Stew?
Yes, you can! Add pinto, kidney, black, or any kind of beans for more fiber and carbs in the mix. They also make the dish heartier.
How to store it:
Refrigerate: Transfer it in an airtight container and refrigerate for up to 3 or 4 days.
Freeze: To extend the shelf life, transfer it into freezer bags and freeze for up to 4 months. Just thaw overnight and reheat on the stovetop.
Recipe Tips:
This dish goes well with rice, cornbread, mashed potatoes, or French baguette. You can also serve salads like Caesar salad or Creamy Tomato Salad.
If you want to make it thicker, you can mash some of the potatoes. The starch will thicken the broth.
Or, use a slurry of water and cornstarch or flour to add towards the end. However, it may separate if you plan to freeze it afterward.
Do not open the lid frequently to keep the heat in and not extend the cooking time.