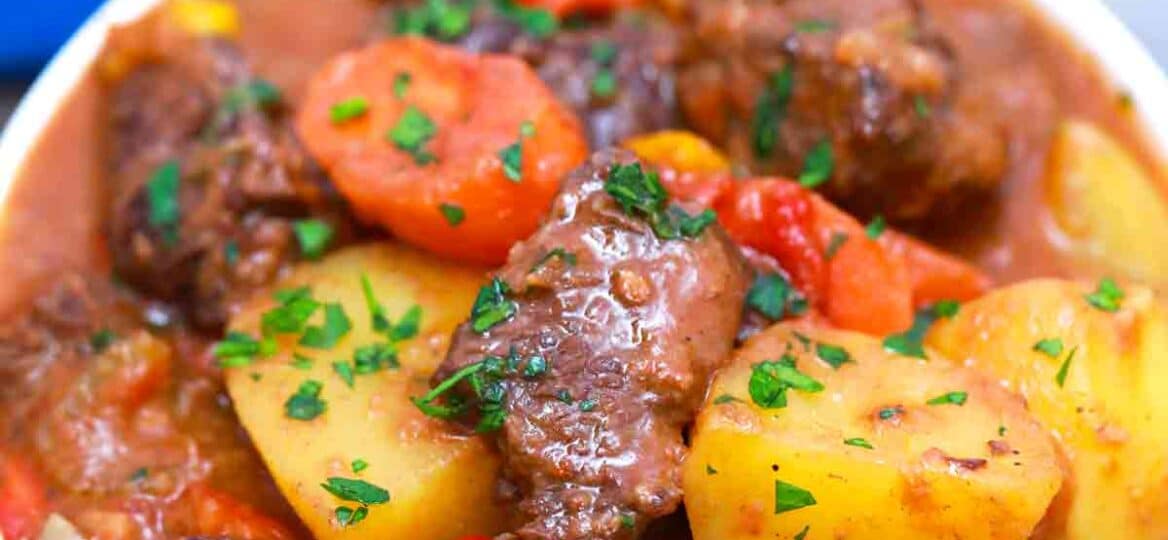 Mexican Beef Stew Recipe [Video]
Mexican Beef Stew Recipe is slow-braised with taco seasoning, jalapenos, limes, and tomatoes. Lots of herbs and spices for an incredibly flavorful stew complete with vegetables and tender beef!
Mexican flavors are so bright and festive, they're always a hit in our house! Serve up a feast with crowd-favorite Chicken Chimichangas, Grilled Shrimp Tacos, and Mexican Stuffed Peppers!
Mexican Style Beef Stew
Mexican Beef Stew Recipe is an explosion of flavor. The beef is ridiculously tender, and it's braised in a savory sauce made of broth, herbs, and seasonings. Bringing in the Mexican flair are the jalapenos, taco seasonings, and limes. We're also adding some red wine and butter for extra richness.
Finally, we're finishing the dish with hearty veggies like carrots, spuds, and mushrooms. This is a fantastic dish that's so tasty, you'll be proud to serve it to a company!
What is the best meat cut for stew?
Chuck, definitely. It has all the elements of a great beef stew cut— lots of connective tissue, tough meat that becomes tender when cooked low and slow, and a nice amount of marbling.
As a bonus, it's also one of the least expensive among all the stewing cuts, so it's really budget-friendly.
Homemade Mexican Beef Stew Ingredients:
Meat, plus a little flour for coating: We prefer using chuck, with all excess fat trimmed and sliced into cubes about 2-3 inches big.
Aromatics: To build flavor, we're using the classic combo of onions, fresh garlic, and celery.
Herbs and seasonings: This Mexican stew is full of herby, warm flavors from thyme, a few bay leaves, plus fresh parsley for garnish. As for our seasonings, taco seasoning gives this dish that defining Tex-Mex flavor, complemented with Worcestershire and tomato paste for additional depth.
Vegetables: Making this a really hearty meal are tasty veggies like carrots, diced tomatoes, mini red potatoes, colorful bell peppers, and meaty baby Bella mushrooms.
Beef broth: This is our primary stewing liquid, and we recommend using the low-sodium kind to keep the salt down.
Lime: The juice and zest of one lime really brighten up the sauce!
Jalapenos: Optional if you like it mild, but we cannot recommend it enough! That slightly tangy spiciness is amazing in this dish.
Red wine: Our deglazing liquid, and makes the sauce more complex.
Butter and vegetable oil: For sautéing and searing our ingredients.
How to make Tender Mexican Beef Stew from scratch?
Brown. Toss the chuck cubes in flour, then sear in batches until all the meat have a beautiful, brown crust. Set this aside.
Sauté the aromatics and the seasonings. Next, pour in the wine and scrape all the brown bits left at the bottom of the pot. Melt the butter in this, then sauté your minced garlic and diced onions in there. Then, add in your bell peppers, jalapenos, taco spices, lime zest and juice, Worcestershire, and tomato paste, plus diced tomatoes. Stir all that up before pouring in the broth.
Cook. In that seasoned broth, arrange your chuck cubes, plus the herbs, onion chunks, and garlic. Cool for 1.5 hrs. on low heat until the chuck is tender. Remove the bay leaves and sprig of thyme.
Finish with the veggies. Mix your veggies into the pot, then stick it into a preheated oven for about an hour or until the veggies are done to your liking.
Serve. Enjoy hot, with fresh parsley on top.
Recipe Variations and Substitutions:
Include more vegetables: This dish is also excellent with sweet potatoes, parsnips, frozen peas, winter squash, rutabaga, and green beans.
Slow cooker: Follow the instructions in our Ultimate Slow Cooker Beef Stew recipe using the ingredients for Mexican Beef Stew.
Use other cuts: Can't find chuck? Other cuts like a bottom round roast, round tip roast, and even brisket will work really well.
Extra spice: Want more heat in your meal? Add cayenne or chili powder, chopped red-eye chilis, dried red pepper flakes, or serrano.
How to thicken Mexican Beef stew?
To get that thick, silky gravy, stir in some cornstarch slurry (a simple 1:1 mix of cornstarch plus water), then simmer until it's as thick as you like.
What to serve with Mexican Beef Stew?
We enjoy this with fresh and colorful Black Bean Salad, Chipotle Cilantro Lime Rice, and crusty bread to mop up all that wonderful sauce. Avocado Corn Salad and Street Corn are fantastic sides, too!
How to store leftovers?
Once the leftovers are completely cool, transfer them to a big container and store them in the refrigerator for up to 7 days. Alternatively, you can transfer them into freezer bags and store them frozen for up to three months. Thaw before heating up.
To reheat, microwave until hot, or warm it up with a splash of stock on the stove.
More homemade Beef recipes to try:
Recipe tips:
If the dish starts looking dry while cooking, just adds some water or broth.
Also, skim the braising liquid from time to time while cooking to remove excess fat.
Chop the veggies in roughly the same size so they cook at the same time.
Don't be afraid to brown those chuck cubes really well! Those brown bits are loaded with flavor and will take your stew to the next level.