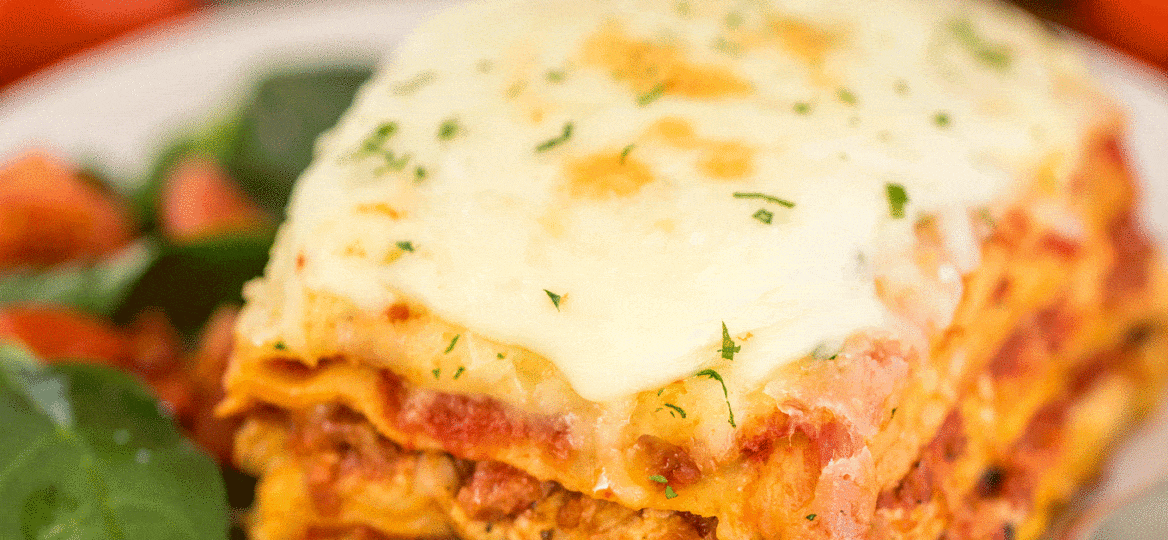 Easy Homemade Lasagna Recipe [Video]
This Homemade Lasagna recipe is super easy to make with layers of cheese, noodles, beef, and tomato sauce. It is a classic homemade that is better than any Italian restaurant version for a fraction of the cost. Check out the video tutorial below and see how easy this dish is to prepare!
It's absolute perfection and possibly the BEST LASAGNA you can get! Once you try it, you won't need another recipe ever again. Enjoy it as is, or mix it up with some veggies on the side, such as roasted asparagus, roasted Brussel sprouts, and broccoli salad.
Best Lasagna Recipe
This Traditional Lasagna recipe is the perfect comfort food because it is budget-friendly, easy to make, and feeds a large crowd. In addition, it can be made ahead of time and freezes well for later use.
I like making it over the weekend and refrigerate it to enjoy throughout the week. This is our favorite and the best classic lasagna recipe. We have adjusted it through the years to make it perfect and the ultimate comfort food!
It is layered with ground beef, rich and creamy tomato sauce, and finished off with parmesan cheese, mozzarella cheese, and creamy ricotta.
This recipe is the quintessential classic Italian dish that's cheesy, hearty, saucy, and comforting that everyone loves. Also, it is one of the best ways to feed a crown and a perfect dish to bring to a potluck or serve during the holidays. Serve it with a side of caesar salad or garlic bread.
Do I have to cook the lasagna noodles?
There are a couple of ways to use the noodles, and they are all good based on personal preference. You can not boil them, boil them or simply soak the noodles in hot water.
If you like your noodles to be super soft, then boil them in advance. It tasted very traditional and will have a softer texture when you bite into them. However, if you like them more al dente, then soak the noodles in hot water for about 30 minutes.
Also, it is best to soak them as you start preparing the ingredients, so it soaks while the other preparations are going on. The hot water softens the noodles slightly and they finish cooking while the lasagna is cooking.
Similarly, some people use regular lasagna noodles without boiling them first. This will work as long as they get extra moisture during cooking just like the no-boil noodles. Just make sure to use enough sauce so they can absorb it and cook properly.
What is "Al Dente"?
In cooking, al dente describes pasta as being cooked firm to the bite. Usually, the package instructions will provide the cooking time for the pasta to reach the "al-dente" state.
How to Make lasagna?
This dish is really easy to prepare. You should basically follow these steps:
Boil lasagna noodles: First, in a large saucepan boil some water, and then cook the noodles.
Prepare the cheese filling mix: First, mix the ricotta, Parmesan, and mozzarella cheeses with an egg in a large bowl, and set aside.
Brown the meat: In a pan or large skillet, brown the onion garlic, and ground meat over medium-high heat, on the stovetop. Then, add the pasta sauce and tomato paste.
Assemble it: In the 9×13 dish, layer the meat sauce and cheese mixture with noodles and bake until bubbling.
Variations:
Meat: This dish can be made with ground turkey, Italian sausage, or ground chicken.
Seasoning: I love using my homemade Italian seasoning. However, feel free to use other seasonings as well. Some great alternatives would be garlic powder, onion powder, paprika. Or fresh herbs, like chopped fresh parsley, and basil.
White sauce: The original recipe calls for spaghetti sauce or homemade marinara sauce. But for a twist of flavors, swap the red sauce with homemade alfredo sauce.
Taco lasagna: Another great option and full of tex-mex flavors would be making it with taco seasoning.
How Many Layers Should Lasagna Have?
You need at least 2 layers to make a proper homemade lasagna. You can certainly have more but 2 is the minimum.
I like to have three layers of pasta with two layers of the three kinds of cheese. Sauce covers the bottom of the pan and the top of the lasagna, and it is finished with a final sprinkle of mozzarella and Parmesan
How do you layer a lasagna?
First, grease a baking dish or a lasagna pan with some olive oil. Next, spread about a cup of meat sauce into the baking sheet.
Then, add a single layer of noodles followed by a cheese mixture on top.
Repeat the layers 3 times, so that the final layer is the noodles. The order is sauce-noodles-cheese (three times) followed by noodles on top.
Cover with aluminum foil and back.
During the last 15 minutes of baking, uncover the foil, sprinkle some mozzarella and parmesan cheese, and bake it for an additional 15 minutes.
How long to bake
The total baking time for lasagna is about 40-50 minutes. I like getting that perfect golden brown top, with crisp cheese topping. For that, you will have to bake it in two stages;
The first stage is backed covered with aluminum foil. This ensures that it has enough liquid and it also retains the moisture. Bake covered for about 35-40 minutes
Then, remove the foil, top with some extra cheese, and bake uncovered for another 5-10 minutes until bubbly.
Also, you could use the broiler for about 3-5 minutes to get the same result.
how to make the classic lasagna homemade meat sauce?
The sauce is the central piece of any good lasagna. Therefore, you want to use good quality products for the best results and a rich texture.
First, start with good-quality lean ground beef. Usually, the 80/20 lean ratio works best.
Also, use crushed tomatoes as a base with a mixture of tomato sauce and some minced garlic and herbs.
Using tomato paste results in a thick and rich sauce. Don't skip this ingredient!
What kind of cheese is best to use?
There are three sources of cheese in this recipe. First, ricotta cheese is used for the filling. For best results, we recommend using whole milk ricotta cheese in this recipe.
Then, mozzarella cheese and parmesan cheese are added. It is the perfect combination that makes this dish super flavorful and delicious! Another great alternative would be cottage cheese.
Instant Pot Lasagna
Alternatively, you can make this dish easily and conveniently in the Instant Pot. Also, by doing so, you don't need to boil the noodles.
Layer everything and let the Instant Pot work its magic. Check out the Instant Pot version here.
What to serve with it?
Make ahead
The great thing about homemade lasagna is that it is the perfect make-ahead meal and can easily feed a large crowd. Simply, assemble it following the steps described. Then, tightly cover with aluminum foil and refrigerate it for up to 2 days.
Prior to baking, let it sit at room temperature for 30 minutes, then bake it.
How to store leftovers?
Refrigerate: This is the perfect dish to have leftovers because they will keep in the fridge for at least 5 days. Simply, transfer it to an airtight container and store it in the fridge.
Reheat: You can reheat individual slices in the microwave for a few minutes until warm. Or, warm the whole casserole (covered with foil) in the oven at 350°F for about 10 minutes, or until bubbly again.
How to freeze lasagna?
You can also freeze it either baked or unbaked.
To freeze unbaked lasagna: Line the pan with foil before assembling, then assemble the dish. Let it cool completely, and then freeze until solid. Once frozen, lift the frozen lasagna block from the casserole dish, wrap it in more foil, then freeze for up to a month.
To freeze it baked: Once it has been cooked, let it cool completely prior to freezing. Then, transfer to an aluminum dish and tightly wrap with foil and. To freeze individual slices, transfer to an airtight container and freeze for up to 3 months.
Other Delicious Italian dishes:
Recipe Tips:
Drain the grease when cooking the meat. You do not want the sauce to taste greasy. Therefore, it is a must to drain the fat from the skillet.
Do not overbake the lasagna. Depending on your oven, you want to cook it for 30-45 minutes. When you overbake the pasta you run the risk of the noodles drying out and getting too crispy.
Also, feel free to add various other dried herbs into the recipe.
We love using a casserole 9×13 pan when cooking it. It works great. Similarly, if you plan on making a larger sized one, you will have to use a larger baking dish, and also double, or adjust the ingredients accordingly.
In addition, to make this into a spinach lasagna, substitute the meat with spinach.
To save time, use fresh lasagna sheets found in the pasta department at your local grocery store. This way, you can skip the boiling steps as fresh lasagna doesn't require to be boiled prior to baking.
Deliciousness to your inbox
Enjoy weekly hand picked recipes and recommendations