Roasted Asparagus [Video]
Roasted Asparagus is a healthy and nutritious side dish, which is also super quick to make. This delicious recipe is very versatile, as you can season it in many different ways. Simply, add your favorite spices to it, or sprinkle with some shaved Parmesan cheese for enhanced flavors.
When it comes to the perfect side dish, roasted asparagus is on top of our list. It is so flavorful and healthy, that you cannot get enough of it. You can serve it with basically anything, from poultry, beef, pork or fish. We love to mix it with Mediterranean Salmon, Roasted Beef Tenderloin or Slow Cooker Corned Beef.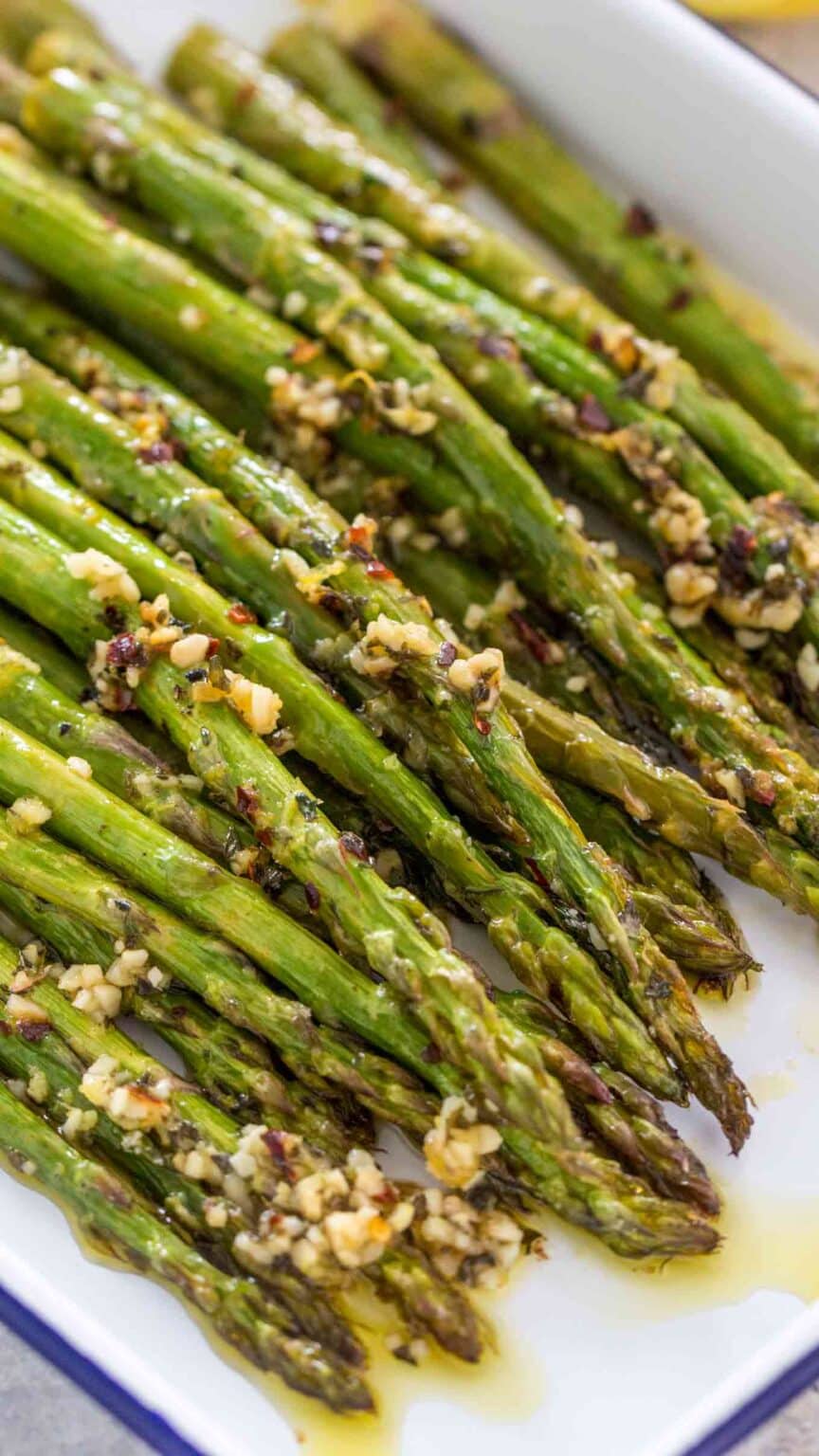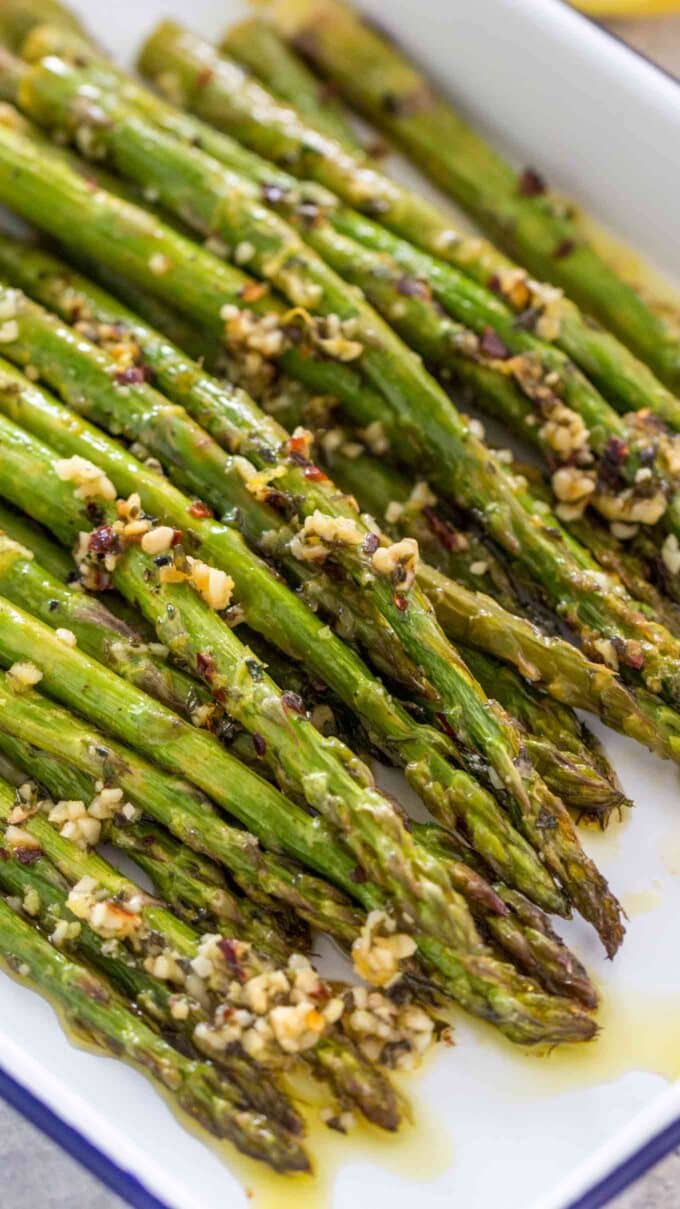 Easy Roasted Asparagus Recipe
Roasted Asparagus is one of our favorite go-to side dishes. Whenever we go out and eat steak or fish we always pair it with asparagus. It is such an easy recipe to make and can be served for a larger crowd. Roasting this veggie is the best way to get all the flavors out. It does not require many ingredients to make this a delicious homemade dish.
Of course, asparagus is very tasty on its own with just a touch of salt and pepper. However, in this version, we have toasted it with some olive oil, sprinkled it with salt and pepper, then added some fresh lemon juice and lemon zest.
Next, we roasted it for about 15 minutes until perfectly done. While roasting, we want to avoid burning it, so checking on them after a 10-minute mark.
Is roasted asparagus healthy?
This is one of the best veggies you can get. It has a good mix of everything in it. It is a super tasty green veggie, healthy and very nutritious. Among its benefits are high fiber content, along with many vitamins. It packed with antioxidants and anti-inflammatory properties.
Similarly, studies show that it may help protect against certain forms of cancer. On top of being sure delicious, these are very good reasons to go ahead and enjoy it as often as you can!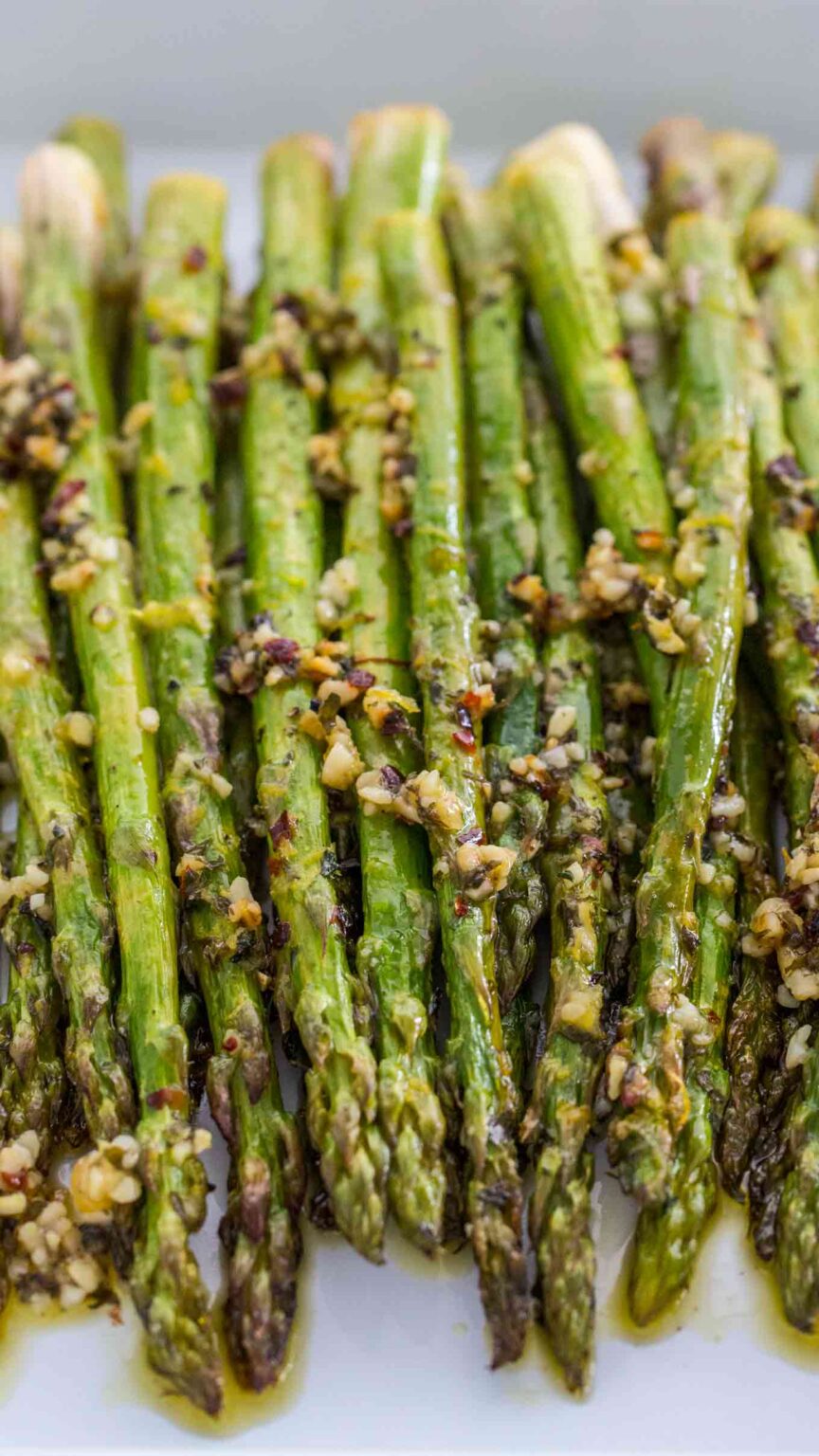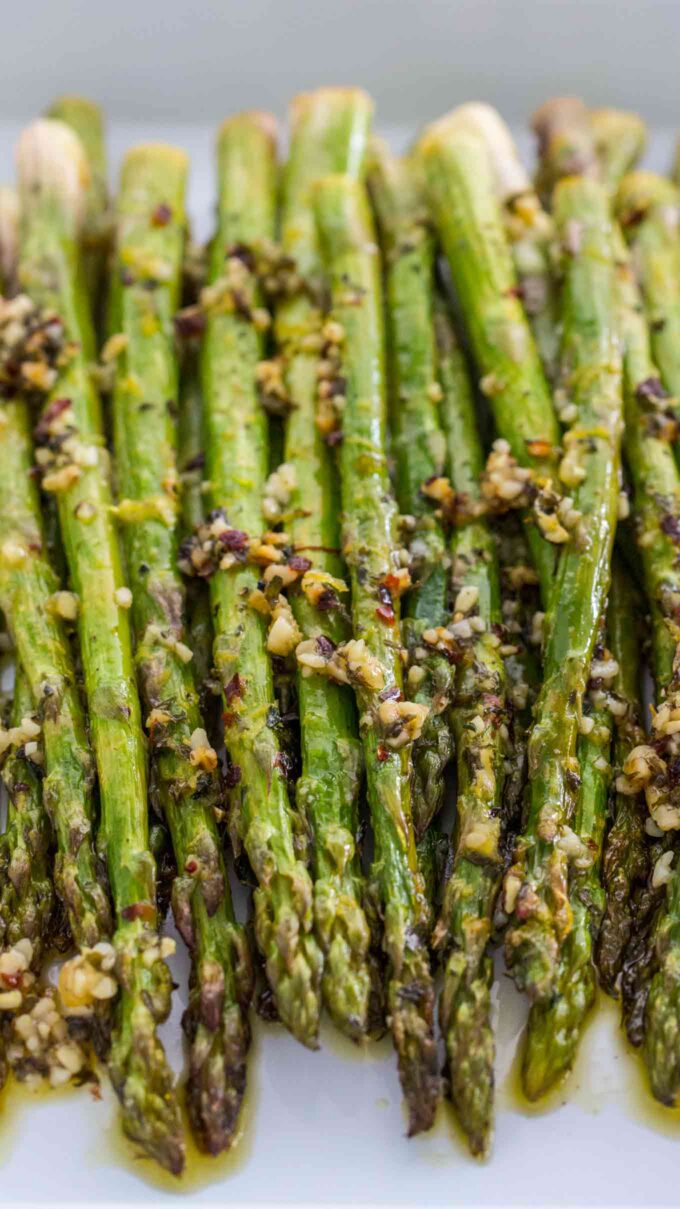 How to perfectly roast asparagus?
To get the best results, follow the below steps. Also, watch the recipe video tutorial attached.
Heat the oven to 400 degrees F.
First, make sure to wash and trim the asparagus.
Then, place it on a baking sheet (you can line the baking dish with parchment paper or foil if desired).
Sprinkle with some olive oil, salt, pepper, and some fresh lemon juice.
Lastly, place in the oven and bake for about 15 min. Check for doneness after a 10-minute mark.
Roasted Asparagus Ideas and Variations
After the veggies are roasted, squeeze some fresh lemon juice over them.
Also, for deeper and more pronounced flavor, top them with some shaved Parmesan.
For bacon lovers, roll some bacon over each stem and bake.
Add some minced garlic to them before roasting.
For a spicier kick, add some hot pepper flakes.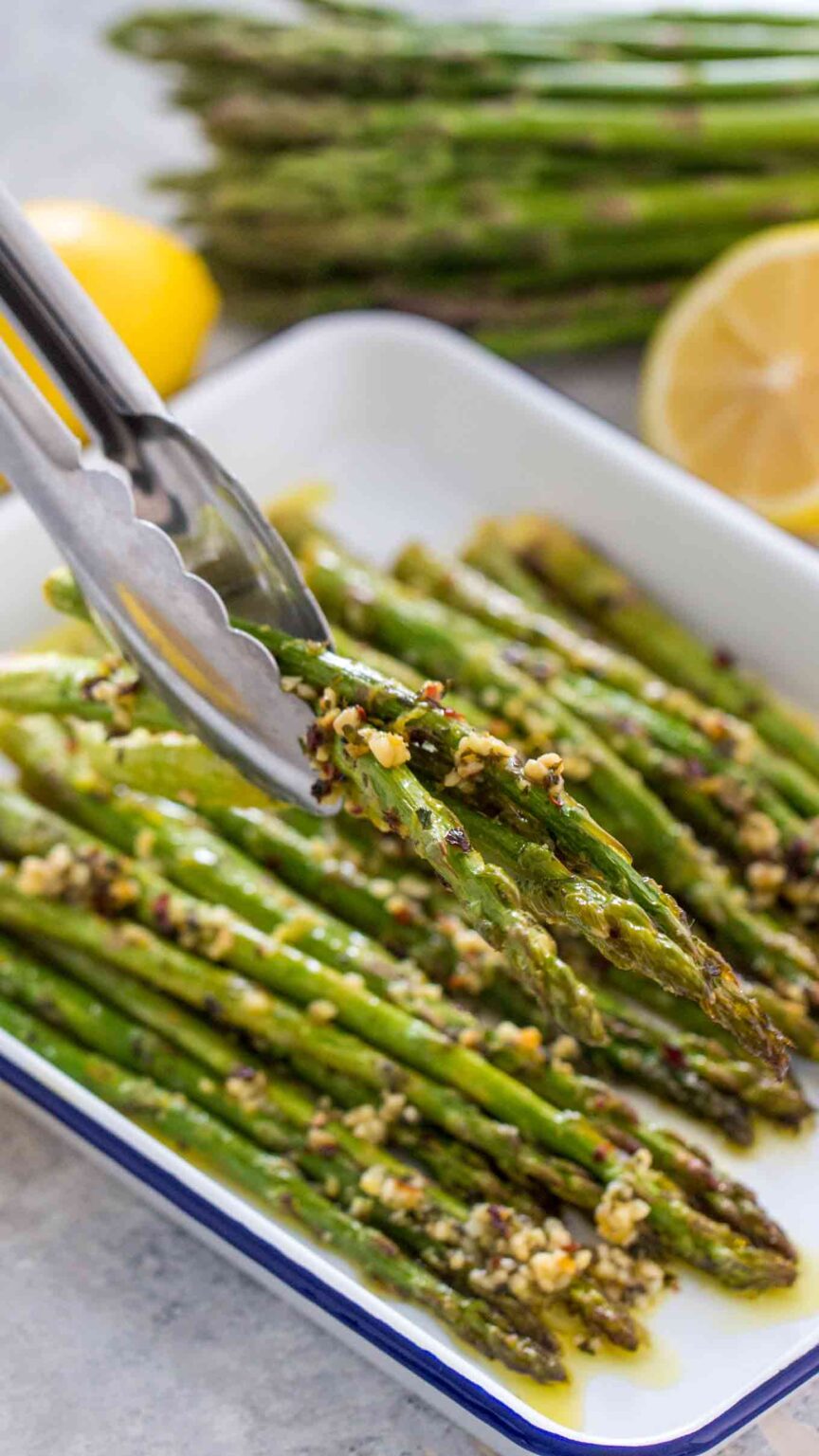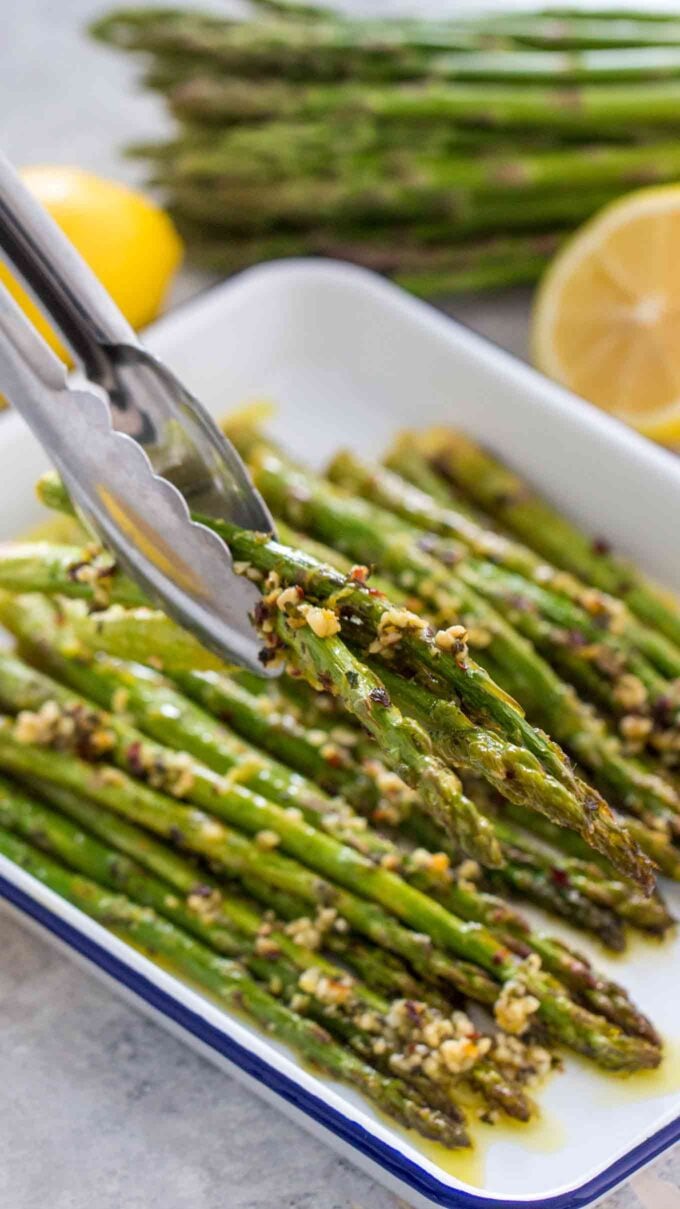 WHAT to SERVE WITH ROASTED Asparagus?
Some of our favorite suggestions would be:
Tips for Roasting Asparagus:
When buying asparagus look for freshness. You want to see bright green stalks with tightly closed tips.
Cooking time might vary based on their thickness. Also, the thicker they are the harder they are to chew. Ideally, you want to look for not too fat and not too skinny spears. If they are too skinny, they will dry out too quickly in the high heated oven.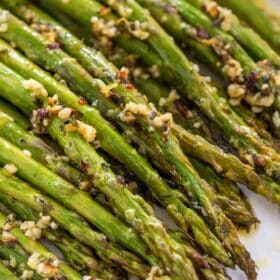 Roasted Asparagus
Roasted Asparagus is a healthy and nutritious side dish, which is also super quick to make. This delicious recipe is very versatile, as you can season it in many different ways.

Save
Share
Print
Pin
Rate
Ingredients
1

bunch

fresh asparagus

(about 18 ounces)

2

tablespoons

olive oil

(plus more for the baking sheet)

1

tablespoon

fresh lemon juice

1

tablespoon

lemon zest

1

teaspoon

dried parsley flakes

1

teaspoon

red pepper flakes

4

cloves

garlic

(minced)

salt

(to taste)

black pepper

(to taste)
Instructions
Preheat oven to 400°F.

Drizzle a rimmed baking sheet with some olive oil.

Wash and trim hard ends off asparagus and add the rest of the ingredients to a large bowl, except salt and pepper, toss to coat them evenly.

Spread them in a single layer onto the prepared baking sheet, and season with salt and pepper.

Roast in oven approximately 12-15 minutes, or until crisp.
Nutrition
Calories:
22
kcal
|
Carbohydrates:
4
g
|
Protein:
2
g
|
Fat:
0
g
|
Saturated Fat:
0
g
|
Cholesterol:
0
mg
|
Sodium:
2
mg
|
Potassium:
227
mg
|
Fiber:
2
g
|
Sugar:
2
g
|
Vitamin A:
850
IU
|
Vitamin C:
6.3
mg
|
Calcium:
27
mg
|
Iron:
2.4
mg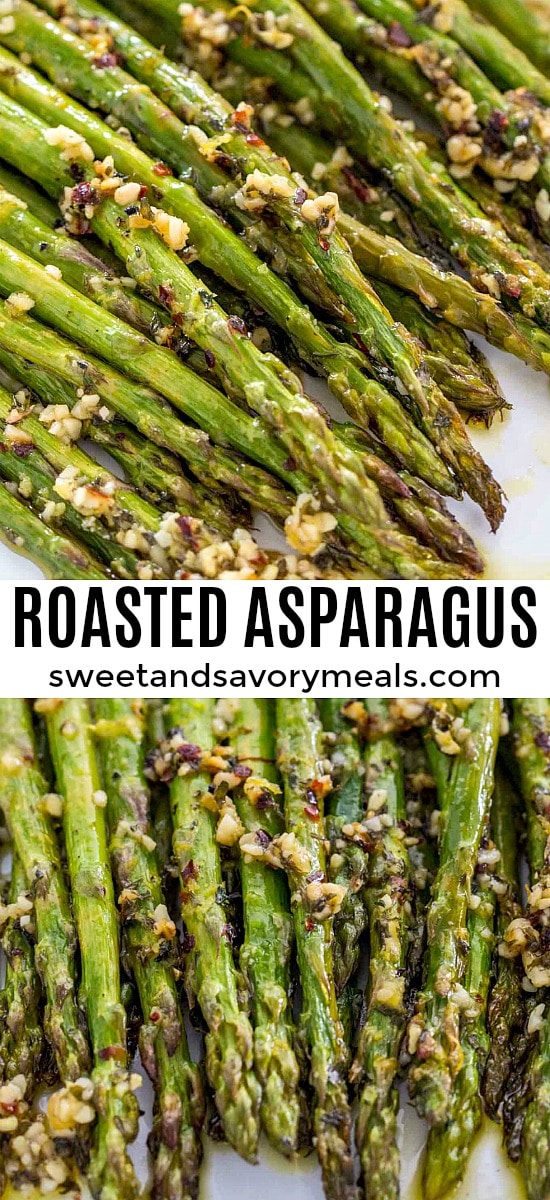 More recipes you might love