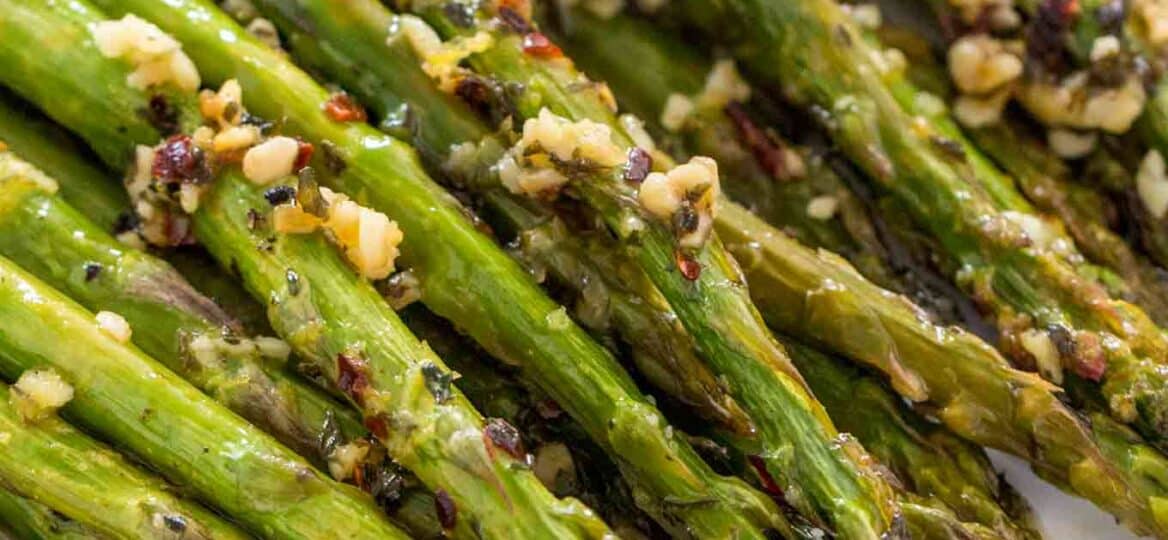 Oven-Roasted Asparagus Recipe [Video]
Roasted Asparagus is a healthy and nutritious side dish, which is also super quick and easy to make. This delicious recipe is very versatile, as you can season it in many different ways. Simply, add your favorite spices to it, or sprinkle with some shaved Parmesan cheese for enhanced flavors.
When it comes to healthy side dishes, this oven-roasted asparagus recipe is on top of our list. It is so flavorful and healthy, that you cannot get enough of it. Serve it with baked chicken, lamb, beef, pork, or fish. We love to mix it with Mediterranean Salmon, Roasted Beef Tenderloin, or Slow Cooker Corned Beef.
How to cook Asparagus in the oven
Roasted Asparagus is one of our favorite vegetables and go-to side dishes. Whenever we go out and eat steak or fish we always pair it with asparagus. It is such an easy side dish to make and can be served for a larger crowd.
Roasting this veggie is the best way to get all the flavors out. It does not require many ingredients to make this a delicious homemade dish. Also, it gives them a nice crisp texture on the outside. I love to serve this low carb side dish along with roasted Brussels sprouts during the holiday season and Thanksgiving.
Of course, oven-baked asparagus is very tasty on its own with just a touch of salt and pepper. However, in this version, we have toasted it with little olive oil, sprinkled it with salt and pepper, then added some fresh lemon juice and lemon zest. Also, feel free to add some shredded parmesan cheese for extra flavor.
Next, we roast them for about 15 minutes until perfectly done. While baking them, we want to avoid burning and overcook asparagus. Therefore, it is important to check on them after the 10-minute mark.
Is roasted asparagus healthy?
This is one of the best veggies you can get. It has a good mix of everything in it. It is a super tasty green veggie, healthy, and very nutritious. Among its benefits are high fiber content, along with many vitamins. It is packed with antioxidants and anti-inflammatory properties.
Similarly, studies show that it may help protect against certain forms of cancer. On top of being sure delicious, these are very good reasons to go ahead and enjoy it as often as you can!
Key ingredients:
Fresh asparagus: I love using medium to thick stalks for roasting. It works the best because it gives them a nice crisp texture on the outside while keeping the center tender. You can find them in the vegetable aisle at your local grocery store.
Olive oil: A little bit of olive oil is used to drizzle them.
Fresh lemon juice and lemon zest
Aromatics: Such as dried parsley, red pepper flakes, kosher salt, and black pepper. Also, feel free to use your favorite seasonings here. Such as onion powder, garlic powder, ranch seasoning, red pepper flakes, etc.
Fresh garlic: This adds a low of flavors, and I tend to use quite a lot of minced garlic!
How to perfectly roast asparagus?
To get the best results, follow the below steps. Also, watch the recipe video tutorial attached.
Preheat the oven: First, heat up the oven to 400 degrees F. The secret to getting crisp asparagus and the best flavors is to bake them at high heat.
Season: Then, place it on a baking sheet (you can line the baking dish with parchment paper or aluminum foil if desired). Sprinkle with some olive oil, salt, pepper, and some fresh lemon juice.
Roast: Lastly, place in the oven and bake for about 15 min. Check for doneness after a 10-minute mark.
Possible flavor variations:
Top with fresh parmesan: Once cooked, shave them with some freshly shredded parmesan cheese.
Add bacon: For bacon lovers, add some crunchy bacon bits on top of roasted asparagus. This will add extra flavor and crunchiness to them.
Bacon-wrapped: In addition, I love to make these Crispy Bacon Wrapped Asparagus and serve them for Thanksgiving dinner or Christmas dinner.
Air fry: Alternatively, feel free to make this Easy Air Fryer Asparagus. It is also delicious, and a healthy way to serve this side dish.
Butter: Add some butter on top.
Balsamic reduction: Drizzle some balsamic vinegar or balsamic glaze reduction.
Fresh herbs: Sprinkle them with freshly chopped parsley, rosemary, or thyme.
Do you wash asparagus before roasting?
Yes, I would recommend washing it prior to cooking. This will wash off any dirt. Also, you could use a vegetable peeler to shave off the thick outer skin.
Once washed, use a paper towel to dry them off.
How to prep asparagus?
It is a very simple process. Here are the steps:
First, make sure to rinse them under cold water to wash off any dirt.
Then, using a sharp knife, cut off the woody ends of the asparagus. Their ends can be unpleasantly tough and woody. Therefore, it is best to cut the ends off.
You could also simply snap the ends by bending the stalks.
What to serve with roasted asparagus?
Some of our favorite ways to serve this healthy side dish is with the following main dishes:
How to store leftovers?
To store leftovers, use an airtight container or a plastic bag. Then, refrigerate them for up to 4 days. You can quickly reheat them in the microwave for a few minutes.
More delicious side dishes to try:
Cooking tips:
When buying asparagus look for freshness. You want to see bright green stalks with tightly closed tips.
Cooking time might vary based on their thickness.
Also, the thicker they are the harder they are to chew. Ideally, you want to look for not too fat and not too skinny spears. If they are too skinny, they will dry out too quickly in the high-heated oven.
As stated above, to remove the woody ends, simply cut them with a sharp knife or snap them ends by bending the veggies.
In addition, if you want them extra-crispy, then arrange the asparagus in a single layer.
Ensure the oven temperature is high (400 degrees f) prior to cooking them. Also, keep a close eye on them to avoid overcooked asparagus.