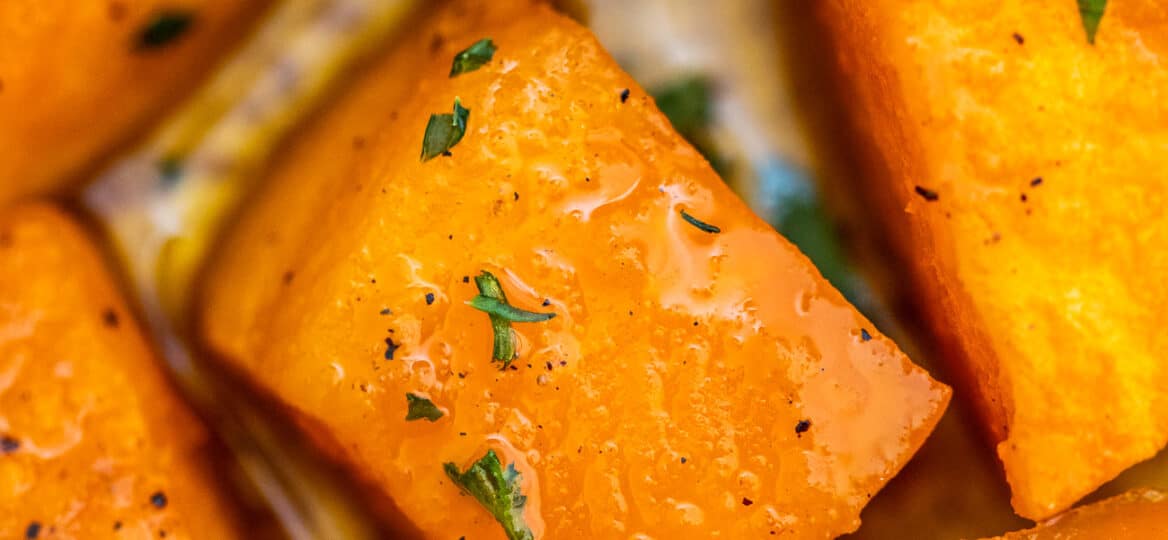 Roasted Sweet Potatoes Recipe [Video]
Roasted Sweet Potatoes are crispy on the outside and tender on the inside! Cooking this dish will only take 30 minutes making this a great dinner staple!
I like this type of spud as it is naturally sweet, and this recipe will leverage on that. You can pair it with almost anything. Try out our dinner must-haves like the Crack Turkey Pinwheels, Baked Crack Chicken, or Crispy Honey Sesame Chicken.
Perfectly Roasted Sweet Potatoes
Roasted Sweet Potatoes may seem simple, but they pack rich flavors. A mixture of sweet and savory flavors will burst in your mouth as you chew on them! The outer surface forms a slightly caramelized texture which makes it crispy while keeping the inside soft and moist.
This dish makes for a great side dish as it tastes good with almost anything making it highly versatile. I like to pair it with burgers, steaks, or pulled pork. I even serve it along with grains or salads. Also, this is a must-have side dish on the Thanksgiving table! This is a tradition of ours, so we never skip it at our Thanksgiving dinner.
This is a healthy way to enjoy the spuds as roasting it will not incorporate too much fat compared to buttery and deep-fried recipes. Try it now, and for sure, kids and adults alike will enjoy this!
What are sweet potatoes?
Like carrots, they are root tubers. This means that the plant's nutrients are stored in the roots and these are what we consume.
They are usually mistaken for yams which are native to Asia and Africa, but they are of the morning glory family. Yams, on the other hand, are of the lily family.
Are sweet potatoes healthy?
Yes! They are low-calorie and nutrient-dense. Per 100 grams of the raw veggie can yield only 86 kcal as per USDA guidelines. It is also considered paleo-friendly. And since our ancestors were already eating this vegetable, it only proves how healthful they are.
In addition, they are rich in beta carotene which can benefit the eyesight. It has lots of antioxidants and important protein.
What do you need to make roasted sweet potatoes?
You will need only the following:
Sweet potatoes
Olive oil
Butter
Honey
Light brown sugar
Paprika
Garlic powder
Kosher salt
Black pepper
Parsley (optional)
How do you make roasted sweet potatoes?
Prepare the oven: Preheat it to 400 degrees. Put parchment paper on the baking sheet pan.
Mix: Combine all the ingredients in a bowl except for the parsley. Once the glaze ingredients are combined, mix in the chunks of spuds.
Bake: Put the seasoned pieces on the baking tray in a single layer, making sure that everything is properly spaced out. After 20 minutes of baking, flip the pieces and cook for another 10 minutes or so.
Serve: Garnish with parsley if you please.
Is it necessary to peel sweet potatoes?
It may not be necessary to peel the spuds because you will be throwing away important nutrients from the skin, and fiber, too. But for this recipe, I like that it is peeled. And the shape itself gives it a larger surface area that makes it caramelize more.
If they are prepared as wedges, then, roasting with the skin on can be an option. It is a matter of personal preference, though.
How long should you roast them?
Cooking time may vary depending on how hot and powerful your oven is. In this recipe, cooking one side took about 20 minutes while the other side will take only 10 minutes until done.
How to store:
Refrigerate: Let the chunks cool completely and then, transfer to an airtight container. Refrigerate for 3 to 5 days.
Freeze: You can put them in a freezer bag and freeze them for about 10 to 12 months.
Reheat: To thaw, simply put the frozen pieces in the fridge overnight. They can last for another 4 days in the fridge until you are ready to cook them again and serve. Reheat in a pan or bake again. Don't forget to glaze.
More Sweet Potatoe recipes:
Recipe Tips
In place of honey, you may use maple syrup.
The best varieties to use are red or orange ones like the Jewel.
When buying the spuds, look for those that are firm, dry, and no discoloration. Also, whenever possible try buying organic as it has less pesticides, and is healthier.
Check for doneness by pricking the pieces with a fork.