How to Microwave a Sweet Potato [Video]
Do you know how to microwave a sweet potato? Knowing this could just be a lifesaver! Done in 10 minutes, this is perfect for a quick snack or side dish!
The result is like a baked sweet spud but done so much faster! Have this among your roster of excellent side dishes along with Crack Corn Salad, Instant Pot Cinnamon Apples, and Brown Sugar Roasted Carrots!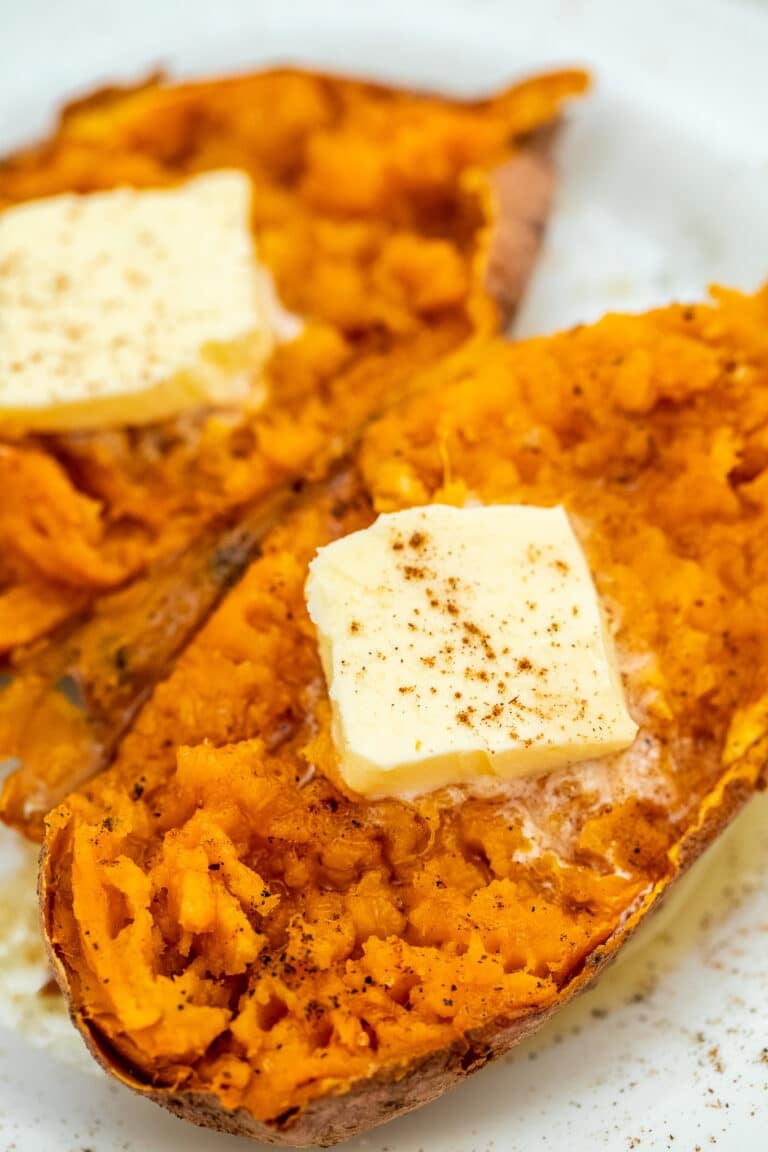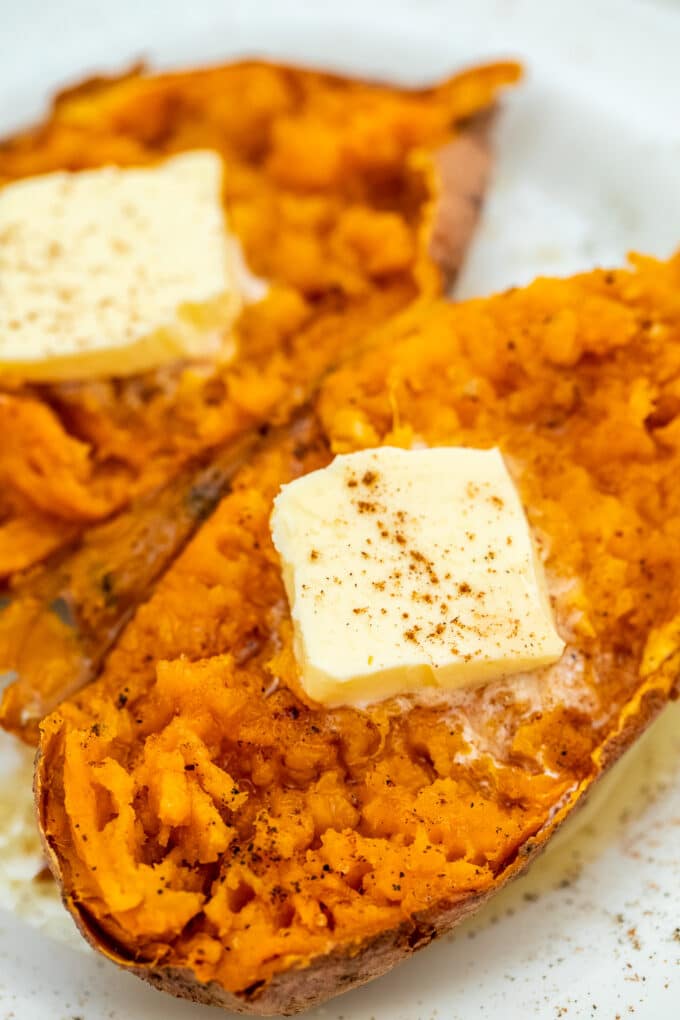 How to Microwave a Sweet Potato
Learn how to microwave a sweet potato and you will never stress out again on having so little time! This dish can be done in just under 10 minutes.
This recipe will need only 6 ingredients that are easy to find and could very well be in your kitchen all this time.
Pair it with meat and vegetables for a complete meal. So, if you are short on ingredients or on time, you will not have an excuse not to execute a complete meal with this!
It is highly versatile, too. You can have all sorts of topping options for this one from the simplest salt-and-pepper combo to sloppy joes' fillings!
Are sweet potatoes healthy?
Yes! A medium-sized baked spud will give you these nutrients in substantial amounts based on the USDA database:
vitamin C
vitamin A
fiber
potassium
protein
carbohydrates
It also has starch that can make you feel satiated for longer, which can lessen your overall food intake. Overall, this vegetable is nutritious, especially when baked.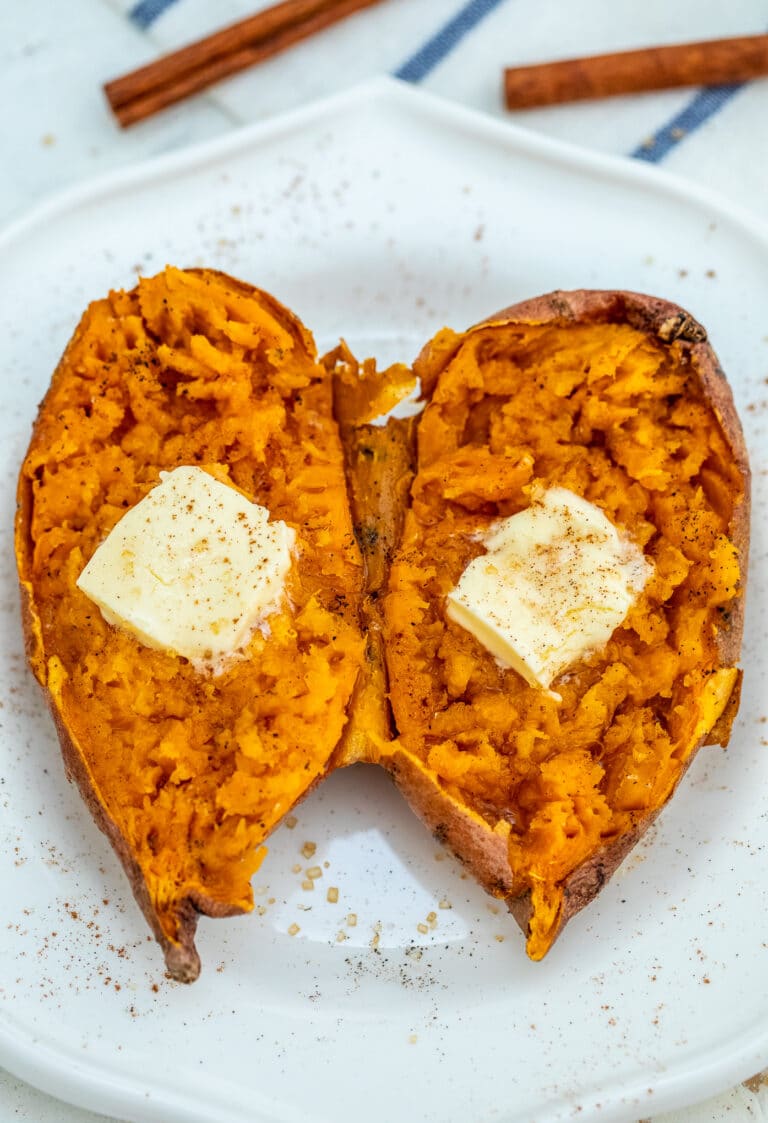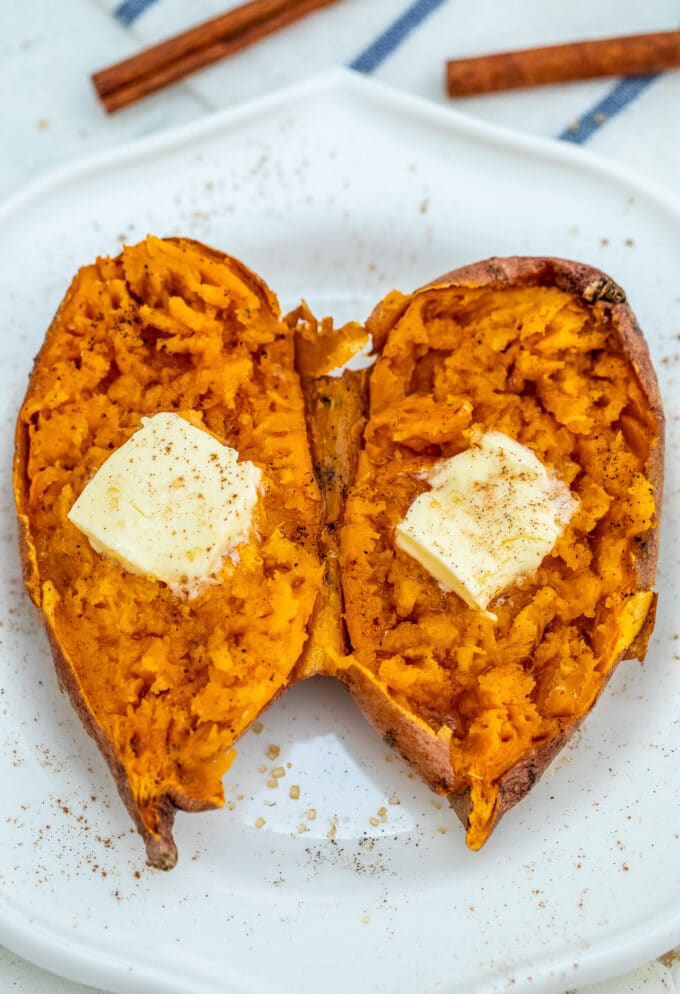 Is it safe to microwave a sweet potato?
Yes! Do not be worried about the effect of the microwave to food. Since it cooks faster, loss of nutrients may be avoided.
In general, heating food causes a loss of vitamins and nutrients. But baking the spuds could potentially be beneficial than boiling it. Baking it does not introduce fat and does not require water that may induce leaching of the nutrients.
How do you microwave a sweet potato?
Wash: Scrub the spud to get rid of any dirt and pat them dry. Leave the skin on and poke with a fork or knife about 3 to 4 times.
Cook: Put it on the plate and microwave for 5 minutes. Cook further if still not tender and check every 30 seconds.
Season: Split the spud in the middle and put kosher salt, pepper, sugar, and butter.
Serve: Sprinkle ground cinnamon on top and serve.
Do you have to pierce a sweet potato before microwaving?
Simply prick the spuds before you cook them so that they will not explode. By piercing through the skin, the steam that will form during cooking will escape through the holes.
How can you tell if sweet potato is cooked?
Pierce it with a knife and if it slides in easily, then, the spud is done! You can also give it a gentle squeeze to see if it is soft enough.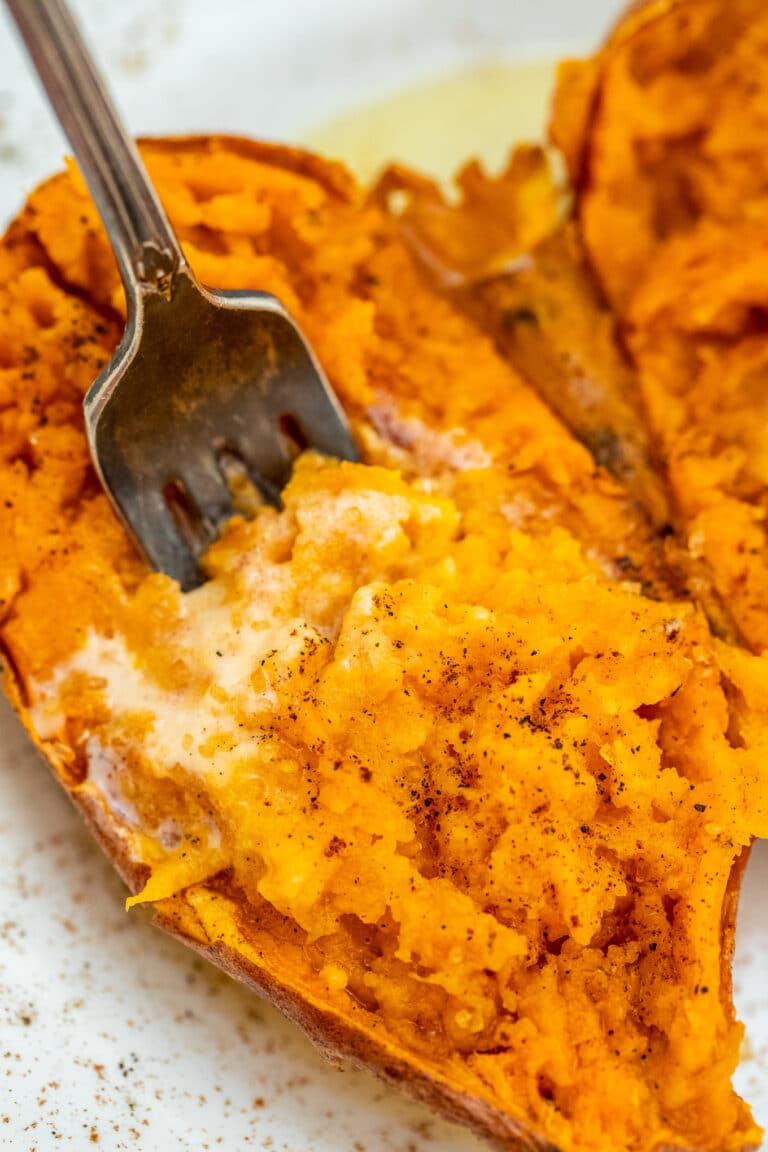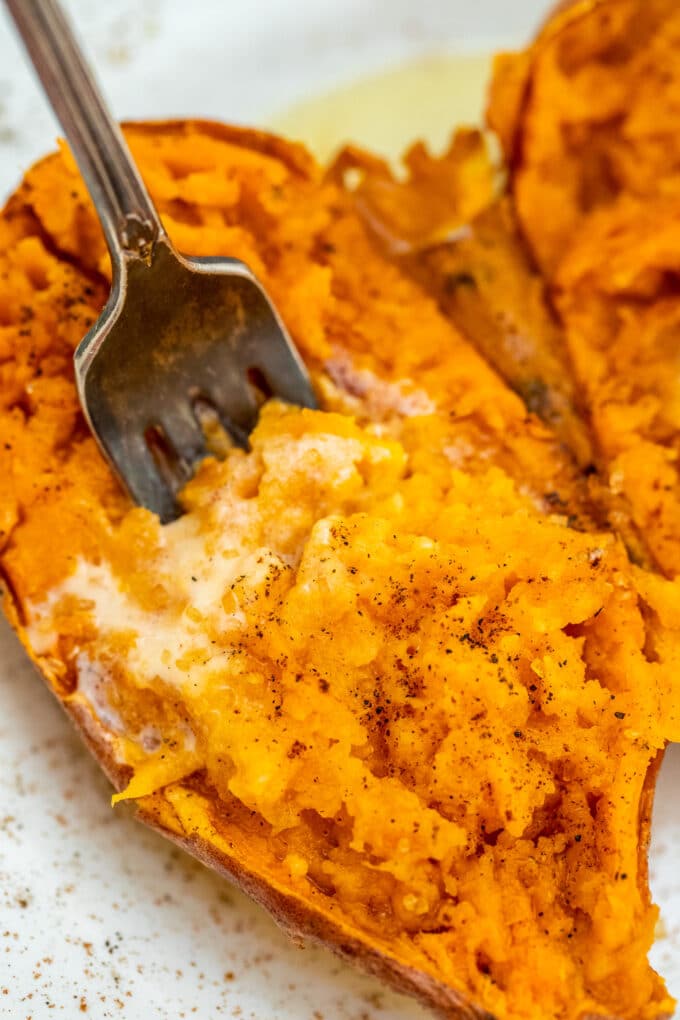 Best Toppings suggestions:
The toppings indicated here are for a sweet version. For the brown sugar, you may substitute maple syrup or honey.
For the toppings, you can experiment with a lot of combinations of spices and seasonings, protein, and fiber. You can put various cheeses, BBQ pork or chicken, salsa, guacamole, beans, or taco fillings.
What to serve with sweet potatoes?
They are the perfect and healthy side dish that can be served with pretty much anything. Some of our favorite dishes to serve it with are:
How to store it:
Refrigerate: You can keep it in the refrigerator for about 3 to 4 days.
To reheat: Simply microwave it again until heated through.
Make-ahead: Store the toppings separately. Then, reheat and garnish once ready to serve.
More sweet potato recipes:
Recipe Tips:
Remember that cooking time may vary depending on how powerful your microwave is and on the size of the spud.
When trying to squeeze it to see if it is already tender, use a mitten for safety.
While it is perfectly fine to simply place it on a plate, you may also try putting it inside a closed microwave-proof container to make it moister and creamier.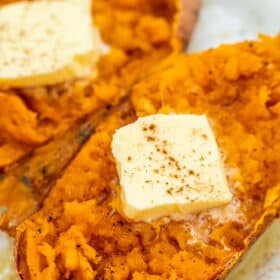 How to Microwave a Sweet Potato
Learn How to Microwave a Sweet Potato in 10 minutes, this is perfect for a quick snack or side dish! Perfectly cooked and healthy!
Save
Share
Print
Pin
Rate
Ingredients
Toppings:
Salt and pepper

(to taste)

1

tablespoon

butter

1

teaspoon

brown sugar

Ground cinnamon
Instructions
Wash the sweet potato thoroughly, pat dry, and pierce 3-4 times with a fork.

Place on a microwave-safe plate and microwave for 5 minutes. If the potato isn't fork-tender after 5 minutes, continue microwaving in 1-minute increments until ready.

Slice potato in half lengthwise, season with salt, pepper, a sprinkle of brown sugar and top with 1 tablespoon of butter.

Sprinkle with ground cinnamon and serve.
Nutrition
Calories:
227
kcal
|
Carbohydrates:
30
g
|
Protein:
2
g
|
Fat:
11
g
|
Saturated Fat:
2
g
|
Cholesterol:
0
mg
|
Sodium:
204
mg
|
Potassium:
438
mg
|
Fiber:
3
g
|
Sugar:
9
g
|
Vitamin A:
18945
IU
|
Vitamin C:
3.1
mg
|
Calcium:
39
mg
|
Iron:
0.8
mg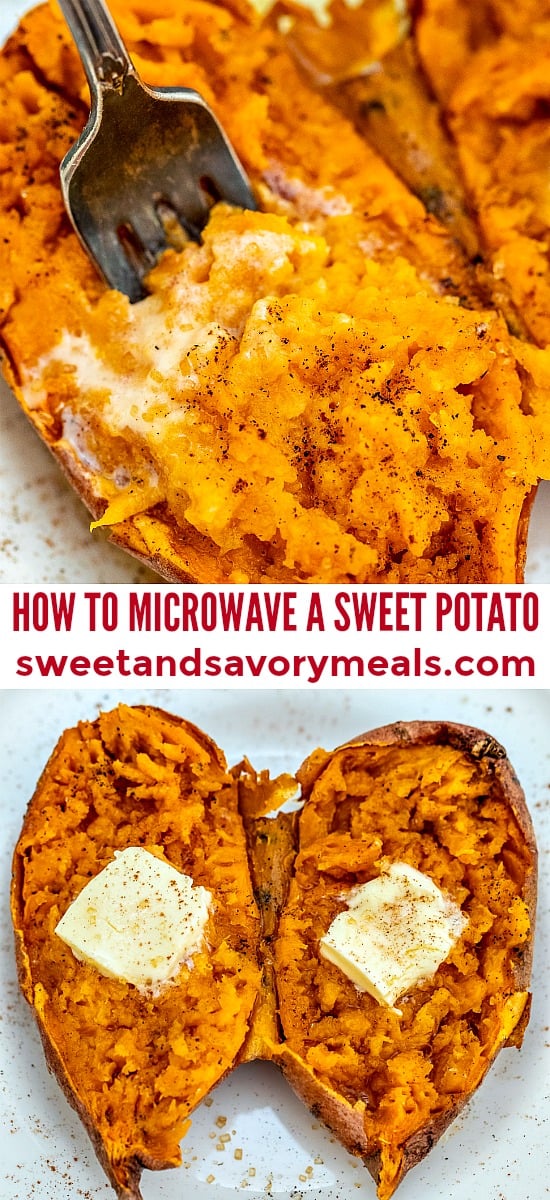 More recipes you might love