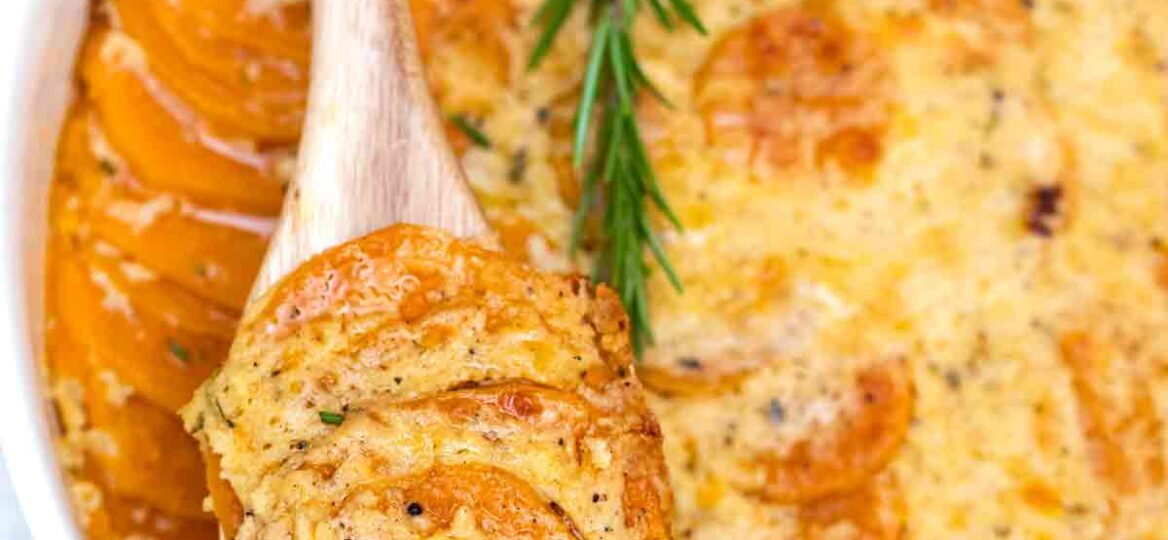 Scalloped Sweet Potatoes Recipe [Video]
Scalloped Sweet Potatoes are one of the best side dishes to have during the holiday season. The potatoes are thinly sliced and soaked in the creamiest garlic buttery sauce and loaded with cheese.
This classic Thanksgiving dish is best to serve on the holiday table alongside Slow Cooker Pineapple Ham, Oven Roasted Turkey, or Cranberry Orange Chicken.
This Scalloped Sweet Potatoes Casserole can easily satisfy the whole family. The dish is very simple and easy to make, which is really helpful during the busy and hectic holiday preparation schedule.
Thinly sliced potatoes in a rich, creamy garlic buttery sauce and loaded with cheese will please anyone! This Sweet Potato Gratin is a beautiful twist on my creamy scalloped potatoes.
Whether you are looking for a perfect holiday meal for Thanksgiving or Christmas dinner, or just a weekend dinner, this side dish is totally a winner. It is a favorite of mine because it is creamy, cheesy, and very delicious!
Cheese and spuds are already such a perfect combination! However, this casserole just takes it to the next level by baking it with a generous amount of milk and sautéed herbs. Also, it is loaded with three types of cheeses to make it extra creamy! Simply put, this dish is extraordinarily savory and mouthwatering.
I love baking it and sharing it with my neighbors and friends. That is why I am also sharing this recipe with you and I hope you have a good time making and eating it as much as I did.
Ingredients needed:
Sweet Potatoes: If possible go with organic type.
Unsalted butter, whole milk, and heavy cream: To make the creamy sauce.
Garlic: I use freshly minced garlic.
All-purpose flour
Cheese: I love using a combination of cheddar cheese, parmesan cheese, and mozzarella cheese. However, feel free to use your favorite type.
Herbs and seasoning: Sea salt, black pepper, cinnamon, ground ginger, nutmeg, fresh rosemary.
How to make Cheesy Scalloped Sweet Potatoes?
Preheat oven: First, preheat the oven to 400 degrees f.
Scallop: Next, cut your spuds thinly and evenly using a mandoline slicer.
Make the cheese mixture: In a saucepan over medium heat, sauté butter and garlic before adding in flour. Afterward, toss in a generous amount of parmesan, milk, heavy cream, cinnamon, ground ginger, nutmeg, and rosemary. Season with salt and pepper. Then, leave to a soft boil and let it cool afterward before adding shredded cheese and stir.
Prepare the casserole: In a deep casserole dish, layer the thinly sliced rounds. Then, add in your cream mixture.
Bake: Next, foil and bake the casserole at 400F for 30 minutes. To get that golden brown top, take off the foil after the first bake and broil for an additional 5 minutes.
Serve: Top it off with chopped fresh rosemary and then serve.
Creamy Scalloped Sweet Potatoes Variations:
Swap the potatoes: Feel free to substitute the sweet potatoes with other purple types, as well as Russet. Also, the Yukon gold variety works great if you are looking for a slightly crunchier bite.
Use other cheeses: If you don't like the sticky texture of mozzarella, you can instead use Gruyere cheese, cream cheese, or just increase the amount of cheddar or parmesan.
Make it dairy-free: For a dairy-free version, use dairy-free butter and milk. Also, you can substitute thick coconut milk for the cream, and vegan butter for regular butter.
Add breadcrumbs: Also, for a crunchy topping, feel free to add some Panko breadcrumbs after the first bake for a crunchy top.
Garnish with other herbs: Use fresh thyme or parsley instead of rosemary for garnish.
Add bacon: Another great option
What are scalloped potatoes?
The word scalloped is the method in which the spuds are so thinly sliced and layered. They are then baked in a milk sauce in the oven until the top turns golden brown.
In North American, this is one of the main side dishes on the Thanksgiving table or Easter dinner.
What is the difference between Scalloped and au gratin potatoes?
Both are very similar and popular side dishes during the holidays. The main difference is in the crunchy topping and the sauce.
Scalloped potatoes – are usually baked in a cream sauce (a mix of milk and heavy cream plus some type of cheese) and herbs. Also, they generally do not have a crunchy browned topping.
Au gratin potatoes – on the other hand, are a little bit more decadent and tend to have a cheesy topping. In addition, they have a breaded topping or a crispy crust. The topping is usually made with breadcrumbs, Ritz crackers.
Scalloped Swee Potatoes vs Sweet Potato Casserole
This is another frequent question I get.
Classic Sweet Potato Casserole is pretty much always made with crunchy pecans and topped with marshmallows or brown sugar. In addition, it tends to be on the sweeter side, because it combines brown sugar or maple syrup.
Sweet Potato Nutrition
According to Harvard University, these vegetables have plenty of health benefits. Firstly, they are loaded with Vitamin A – in the form of beta-carotene, Vitamin B6, Vitamin C, and others.
Also, they have fewer carbs and calories compared to regular potatoes.
Can I make it dairy-free?
Yes! For a vegan version, simply substitute regular milk with almond milk or coconut milk. In addition, go with vegan butter and vegan cheese, instead of the regular type.
What kind of cheese is best to use?
For a creamy and cheese texture, I like to use a combination of three kinds of cheese, such as Parmesan, cheddar, and mozzarella cheese. However, you can use any type you like or have on hand.
Colby Jack, Monterey Jack, Gruyère cheese, or Mexican Four cheese will work just as fine.
How to choose sweet potatoes?
The rule of thumb is to always feel the skin if it is smooth and has an even and deep color. Garnet yams or Jewel are ideal here because they have bright orange flesh.
Avoid those with bruises or cracks. As for the size, this dish is best using small to medium-sized ones.
How do I slice potatoes uniformly?
For convenience, a mandoline slicer is one of the easiest ways to get them evenly and thinly sliced.
However, if you are going to use a knife, just make sure to sharpen it out before use. A sharp knife is the best way to prevent uneven slices. Just ensure to cut the base first, and lay it flat on a cutting board.
Can I make it ahead?
Absolutely! The beauty of this dish is that you can easily prepare everything and cover it tightly with aluminum foil and refrigerate it overnight or up to 24 hours.
Before baking, let it sit at room temperature for about 30 minutes. Then, simply pop the casserole in the oven and bake it. This will save a lot of time during the busy holiday feast.
How to store leftovers?
Keep the dish in the fridge with a foil cover for up to 4 days. To make it last for up to 2 weeks, use wax paper to cover the casserole before putting it in the freezer.
Can I freeze it?
I would not recommend freezing it because it contains heavy cream and butter.
More sweet potato recipes:
Sweet spuds are the perfect side dish for Thanksgiving and Christmas time. Apart from being delicious, they are full of healthy nutrients and vitamins.
Learn how to utilize this ingredient using these delicious recipes:
Cooking tips:
You can add slices of bacon, chives, parsley, ham, brown sugar, and pork rind to increase protein content.
Also, feel free to use coconut flour to make it low-carb and keto-friendly.
Fresh herbs, not dried, will give it a more vibrant flavor.
When potatoes are done, I love to broil them for a few minutes to get that beautiful golden brown color.
Deliciousness to your inbox
Enjoy weekly hand picked recipes and recommendations