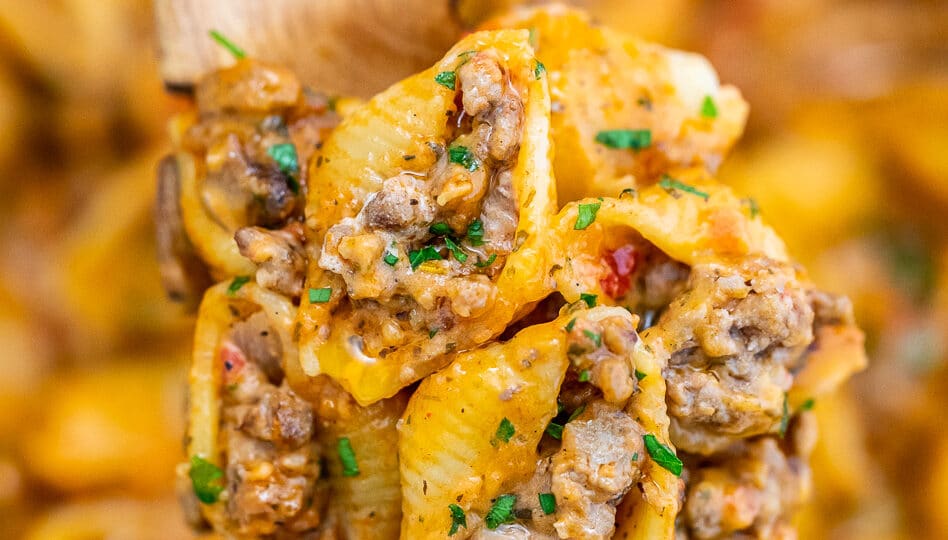 Creamy Beef and Shells [Video]
Creamy Beef and Shells is a delicious and hearty pasta dish similar to the hamburger helper, ready in just 30 minutes. This is perfect for a quick dinner for the whole family! It is rich, flavorful, and cheesy and even kids will love it!
This recipe is comfort food at its best, made with beef, pasta, and cheese, all cooked in a flavorful creamy sauce. We have a lot of pasta dishes that you can choose from and we keep on growing that list! This Philly cheesesteak Casserole and Instant Pot Taco Pasta are among readers' favorites.
Creamy Beef and Shells Recipe
This quick and easy dinner recipe is made with ground beef, marinara sauce, shell pasta, and lots of seasonings to make it flavorful. It is meaty, never dry, and it tastes awesome! Actually, the creaminess is achieved by adding heavy cream and sour cream,
The combination of marinara sauce and dairy makes it so yummy. And you get all sorts of savory flavors coming from the aromatics and the different herbs. Also, we have added a hefty amount of cheddar cheese, because obviously cheese makes everything better.
You have protein and carbs in one dish and that makes it hearty and filling. Serve it on its own or with a side of veggies, and you get yourself a complete lunch or dinner!
Kids also love this beef and pasta dish! Actually, mix in some broccoli, and you will see how they will eat the whole thing! In addition, this dish is easy to eat and each bite gives you cheesy and beefy goodness.
Busy on weeknights? That is not a problem with this recipe. You can finish cooking this in under 30 minutes!
Ingredients Needed:
Shell pasta – we use medium shell pasta, I think it is the perfect size for all the beefy mixture to get trapped into it.
Olive oil
Ground beef – I prefer 20% fat beef, and make sure to drain the grease.
Sweet onion
Garlic – Using fresh garlic will add extra flavors, but if you don't have any on hand substitute with garlic powder.
Italian seasoning – Use store bought or make your own using this Italian Seasoning recipe.
Dried parsley
Dried oregano
Smoked paprika – I prefer the subtle smoky flavor, but regular sweet paprika will work as well.
All-Purpose flour – used to achieve the slightly thickened sauce.
Beef stock – I prefer the robust flavor of beef stock, but chicken stock will work just fine.
Marinara sauce – Use store bought or make your own by following this Homemade Marinara Sauce recipe.
Heavy cream – Half and half will work as well.
Sour cream – Similarly it can be replaced with plain greek yogurt.
Cheddar cheese
Salt and Pepper
How do you make beef and shells recipe?
Cook the pasta: First, bring a large pot of water to boil and cook the pasta by following the instructions on the packaging. In addition, make sure to cook it al dente.
Brown the meat: In a skillet over medium-high heat, add the ground beef and cook stirring and breaking it with a wooden spoon until nicely browned. After that, drain the excess fat, then, set aside.
Make the sauce: In the same large skillet, sauté the sweet onion, add the garlic and cook stirring. Next, sprinkle the flour, stir and cook for about a minute. Slowly pour in the stock and also stir. After that add the marinara sauce, the herbs, and seasonings. Finally, let the whole thing boil and thicken.
Combine: Add in the cooked pasta, browned meat, heavy cream, salt, and pepper. Then, add in the sour cream and cheese.
Serve: Once the cheese has melted, serve it while hot!
Recipe Variations:
Meat: Try to replace the beef with other types of ground meat like lamb, chicken or turkey. Actually even ground pork and sausage will work well.
Kosher: To make this meal kosher, replace the dairy with vegan alternatives and skip the cheese.
Gluten-Free: Similarly, to make it gluten-free use gluten-free flour and gluten-free pasta.
Bacon: On the other hand, cook some crispy bacon, chop it and stir it into the pasta, to take this recipe over the top!
Cheese: While we used sharp cheddar cheese, you can use any other cheese, like mozzarella, Mexican cheese blend, fontina or gouda.
Spicier: Also, try making it spicer by using red pepper flakes and 1/2 cup of Buffalo Sauce.
Whole-wheat. Make this recipe using whole wheat pasta for an alternative high in fiber.
How to serve:
How to store leftovers:
Refrigerate: Let it cool completely and transfer it to an airtight container before putting it in the fridge. Consume it within 3 days. Keep in mind that once chilled, the pasta will absorb more sauce. Therefore, when reheating add a bit more heavy cream or beef stock.
Freeze: Actually, you can freeze this for a few weeks, simply thaw overnight in the fridge before reheating. This way, when you reheat, you will not be breaking the pasta into pieces.
Make-Ahead: Another great option that is perfect for those who do meal planning is to freeze the sauce and simply add cooked pasta on the day you want to serve it. Also, you can pre-cook the pasta and freeze it. Before freezing, remember to drizzle some oil to prevent sticking.
Frequently Asked Questions
What is "beef and shells"?
It refers to this dish made with short pasta and seasoned ground beef in a sauce that is both tomato-based and dairy-based.
In this recipe, we are also adding in heavy cream and sour cream aside from the cheddar cheese while others add in cheese only. This makes this dish creamier overall.
Do you need to discard beef grease?
The answer is both yes and no. You will be throwing away flavor along with the grease when you discard it. So, there are two answers to this question.
Yes, if you used the kind that has too much fat. Since too much grease is not desirable so you need to discard it. Actually in this case, I like to leave about 1-2 tablespoons in the pan.
And no, if you used extra lean meat. Then there is not much grease that will develop, so you can keep that tiny amount and not discard it.
Hence, I strongly recommend that you use extra lean meat for this one as it would be more flavorful. And since this dish has sauce, do not worry about it getting too dry.
What can be used in place of marinara sauce?
Marinara is a simple sauce made with tomatoes and some aromatics like onion, garlic, and some seasonings. For this dish, you can simply substitute it with tomato sauce and probably add more of the aromatics and seasonings. Another option is to use canned diced tomatoes, I would recommend the fire roasted ones with herbs.
More Pasta Recipes:
Recipe Tips:
You can choose from penne, elbow macaroni, or rotini as a substitute for the shells.
To prevent the pasta from being soggy, make sure to cook it just al dente so that when you combine it with the sauce, further cooking will not make it too mushy.
Equally important is to drain the beef grease, just leave in 1-2 tablespoons for extra flavor.
You can vegetables like bell peppers, zucchini and carrots, but remember to sauce them with the onion until tender.