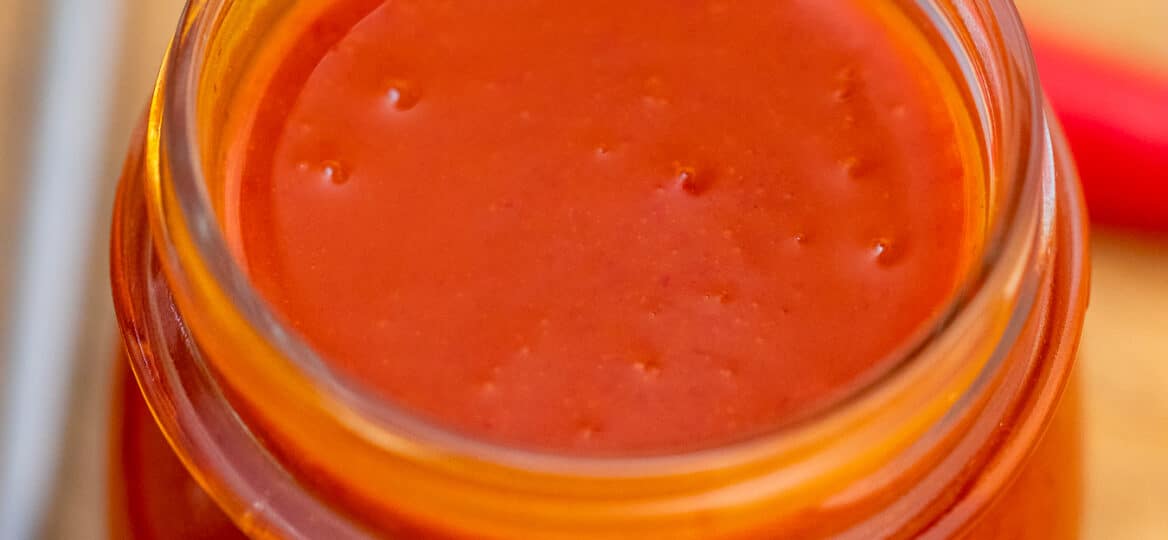 Buffalo Sauce Recipe [Video]
Homemade Buffalo Sauce is a bolder and fancier version of a hot sauce easily made in your own kitchen. It is rich and buttery, and perfect on pretty much anything!
It is made with the right amount of spice, and it is the best and our most favorite sauce ever! Pour it on Grilled Chicken Wings, Asian Short Ribs, or Crispy Roasted Potatoes.
Buffalo Chicken Wings Sauce
When it comes to the perfect sauce that goes on everything, this easy Buffalo Sauce is simply the best! It is rich, bold, super flavorful, and has the right amount of spice to it. It is made with hot sauce, vinegar, butter, garlic, and Worcestershire.
These ingredient mixes provide the perfect balance of spice and tanginess. The benefit of making it at home is that you can easily adjust the ingredients to fit your taste. Also, making it at home is simple, budget-friendly, and tastes so much better than the store-bought version.
Feel free to make it milder, spicier, add more/less garlic, or even Parmesan to it. Make a larger batch, and easily refrigerate the sauce for days and weeks to come. Enjoy it on wings, meats, veggies, on your next game-day, Superbowl, or gatherings!
What is Buffalo Sauce?
The recipe originated in 1964 in a family-owned restaurant in Buffalo, New York. It is basically an elevated level of hot sauce because is richer, smoother and tastier. It uses hot sauce as the main ingredient, along with salt, pepper, butter, and vinegar.
What is Buffalo Sauce Made Of?
You will need the following ingredients:
Hot pepper sauce – You can use any type you desire. Frank's Red Hot or Mad Dog, is usually what we use.
Unsalted butter – Best to use unsalted butter, so you can add/adjust the salt per your taste.
White vinegar – We usually go with Destlied White Vinegar, but you can pretty much use any kind.
W
Cayenne pepper – Adjust per your taste, if looking for a spicier kick, add some extra. Optional ingredient, I usually add it when I want to make the sauce extra spicy.
Freshly minced garlic or garlic powder – For a more profound flavor, use freshly minced garlic. If not, the powder works as well.
Onion Powder
Honey – sometimes I add a tablespoon or two of honey, to add a sweet undertone that balances the spiciness nicely.
How to make Buffalo Sauce?
Once you have all the ingredients ready, the rest is pretty simple. First, melt the butter over medium heat. Next, just combine the rest of the ingredients with the butter until well combined, stir, and set aside. Also, feel free to watch the video tutorial attached below.
It is that simple and easy!
Recipe Variation:
Parmesan Garlic – Add 1/2 cup parmesan cheese, grated to the mixture.
Blazin' – For an extra spicy version, you can use a few fresh habanero peppers (with seeds). Just chop the pepper evenly, and mix it in.
Mango Habanero – Add 2 cups of Mango Nectar and some habanero hot sauce to the ingredient mix, and properly stir in the pot.
How do you make healthier buffalo sauce?
You can reduce the amount of butter or use spreadable butter which has about half the saturated fats as the regular one. Similarly, feel free to substitute it with Ghee Butter which is also Certified Paleo, Keto-Friendly.
What Goes with Buffalo Sauce?
This recipe goes pretty much on anything! You can use it on:
Can you make it in advance?
Absolutely. You can make it well in advance and refrigerate. Just let it completely cool. Then, transfer it to an airtight dish, or lid-jar, and store it in the fridge for up to 2 weeks.
Remember, that unlike most store-bought versions which contain oils, the homemade buffalo sauce contains butter. Therefore, it will not hold as long even when refrigerated. So, it is best to use it within 2 weeks.
Recipe Tips:
For more enhanced flavor, always fo with freshly minced garlic instead of powder. When combined with butter, the fresh garlic will give this recipe an amazing smell and flavor.
Also, it is important to constantly whisk the sauce when cooking it in the pan to end up with the right texture.
For a dairy-free and vegan-friendly recipe, replace butter with a vegan butter substitute.
To make a large batch, simply double or triple the ingredients per the recipe card below.
Watch recipe video:
Deliciousness to your inbox
Enjoy weekly hand picked recipes and recommendations