Slow Cooker Asian Short Ribs
Slow Cooker Asian Short Ribs are so tender they fall off the bone. Cooked with lots of fresh garlic, ginger and chili peppers for fantastic flavor.
Asian Short Ribs are the perfect family meal, you can serve them with Chunky Mashed Potatoes, Instant Pot Roasted Potatoes, and Slow Cooker Rice and Beans.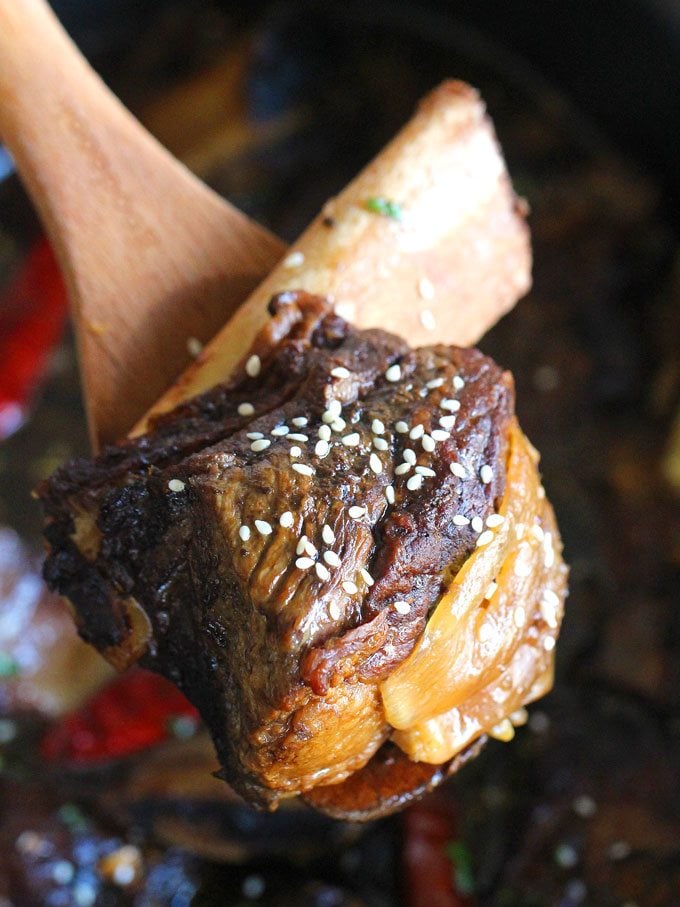 Best Slow Cooker Asian Short Ribs
Slow Cooker Asian Short Ribs are so delicious and incredibly tender that you will make them over and over again. This meal is perfect for busy families. All you have to do is add the ingredients to the slow cooker and let it work its magic.
Crockpot Short Ribs are so tasty, that you can easily make them for a holiday or special occasion. We like that the recipe can feed a small crowd, or if you make this for your family only, you will be rewarded with delicious leftovers.
The ribs are slowly cooked with lots and lots of garlic, onions, fresh ginger and dried chili peppers. We like to serve them with mashed potatoes, rice, steamed broccoli, or a light salad on the side.
Can you use a Slow Cooker for ribs?
YES. It's a perfect way to have the most tender and tasty ribs on your plate. By cooking the ribs in the slow cooker for 8-9 hours, you are guaranteed to have them cooked to perfection, and having the meat juicy and breaking down the bone.
How to make Slow Cooker Asian Short Ribs?
This is a super easy recipe to follow. We have modified this dish over the years, and by now we managed to make it the best Crockpot Asian Short Ribs recipe. The general steps are as follows:
Transfer the short ribs into the Slow Cooker. Then, in a separate large bowl, prepare the sauce by whisking the sauce ingredients together.
Cover the lid, and cook on low heat for 7-8 hours or high heat for 3-4 hours. You can even increase that by one extra hour if desired. That will result in extra tender meat, and fall off the bone ribs.
Prepare the cornstarch by mixing it with 1/4 cup water. Then, gently stir in the mixture into the slow cooker. Cover and cook on high heat for an additional 30 minutes, or until the sauce has thickened.
Serve warm and garnish with some chopped green onions or sesame seeds.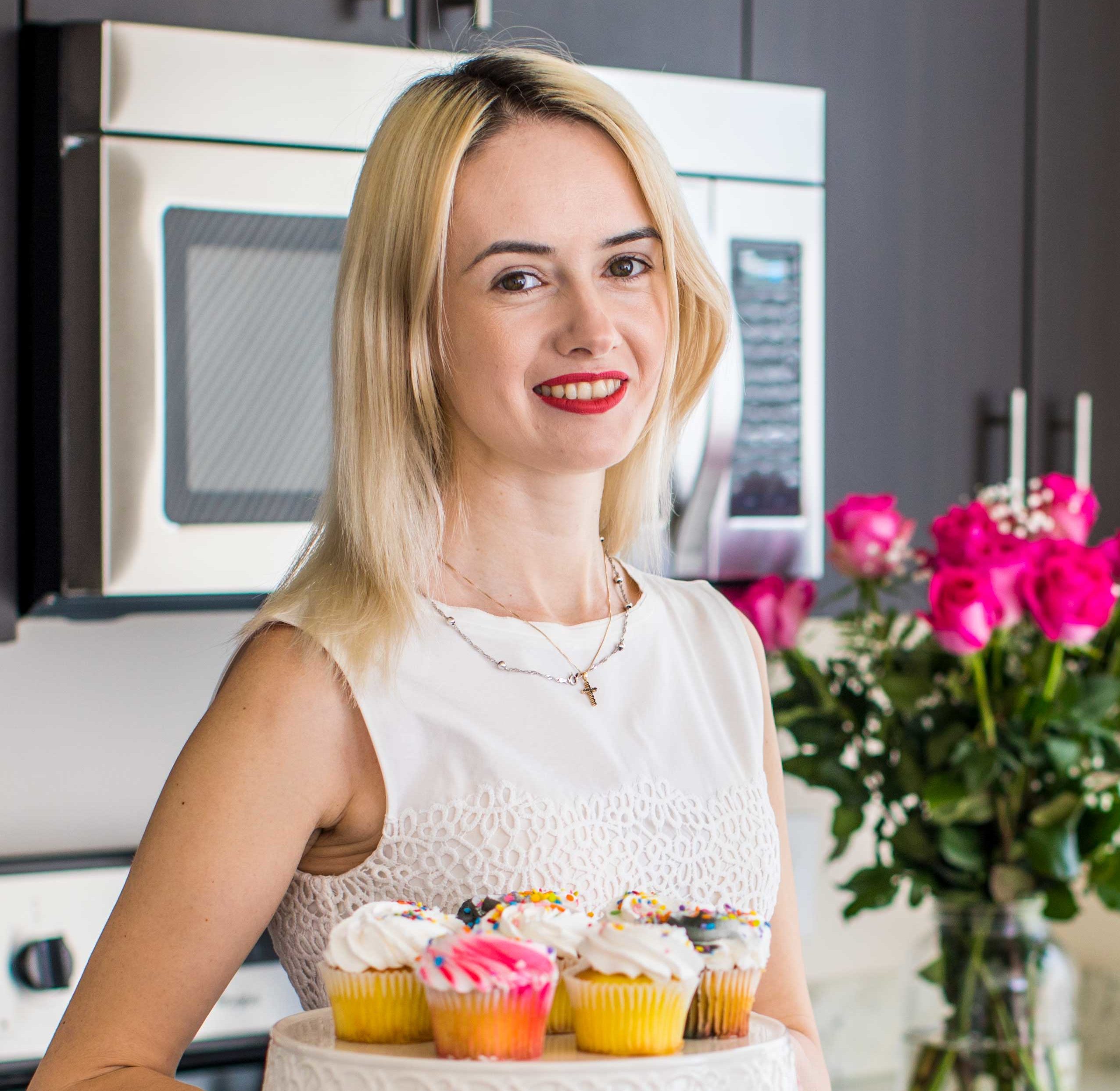 Follow us on Pinterest for more delicious recipes!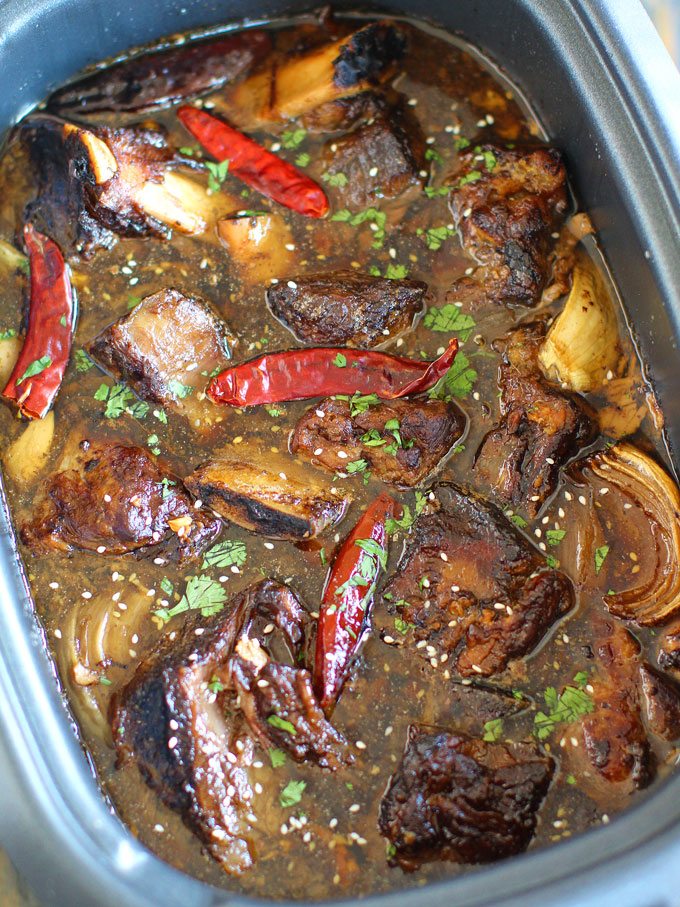 How to make Short Ribs in the Pressure Cooker?
You can also make this dish in the Instant Pot. The cooking time will be greatly reduced, and the meat will be equally tender. Check my recipe for Instant Pot Short Ribs and Best Instant Pot Ribs.
Can you store the Slow Cooker Asian Short Ribs?
Yes. Store the ribs after cooking in a large airtight container in the fridge. Make sure that the beef is at least partially covered by the sauce so it doesn't dry out. Reheat before serving.
Love Slow Cooker Recipes? I have some delicious ones! Check them here:
Tips and Tricks to make the perfect Slow Cooker Asian Short Ribs Recipe:
Use grass-fed, organic meat if possible. Because grass-fed meat tends to be extra tender, which is perfect in this recipe.
Similarly, boneless short ribs can be used here.
While not necessary, for best results and taste, I highly recommend browning the short ribs. It will take you just 10 extra minutes, but it will improve the texture and taste and also will lock in all the delicious flavors.
Also, if you are looking to make this recipe Gluten-Free, use Tamari instead of soy sauce.
You can add more garlic based on preference.
The chili peppers are optional, I think they add a nice, subtly spicy kick. You can leave them out, or add more if you prefer. Same for the red pepper flakes.
Fresh ginger works so much better in this recipe than the powder. It will add a beautiful aroma to the dish, that is refreshing and nice.
I like to add a few onions to the slow cooker, because they will add great flavor to the broth, and you can discard them after cooking.
For optimal results, using a ladle I like to pour some of the sauce on top of the ribs, I do this 2 times through the cooking process.
In addition. feel free to throw some other vegetables to the pot. For example, cabbage, mushrooms work perfectly here.
Tools/ingredients used:
Save Recipe
Slow Cooker Asian Short Ribs
Slow Cooker Asian Short Ribs are so tender they fall of the bone. Cooked with lots of garlic, ginger and chili peppers for fantastic flavor.
Author: Catalina Castravet
Serves: 10 ribs
Prep time:

15

minutes
Cook time:

8

hours
Total time:

8

hrs

15

mins
Nutrition information
Calories: 376 Carbohydrates: 15 Protein: 32 Fat: 19 Saturated Fat: 7 Cholesterol: 97 Sodium: 646 Potassium: 683 Fiber: 0 Sugar: 11 Vitamin A: 180 Vitamin C: 2.1 Calcium: 33 Iron: 4.2 g
Save Recipe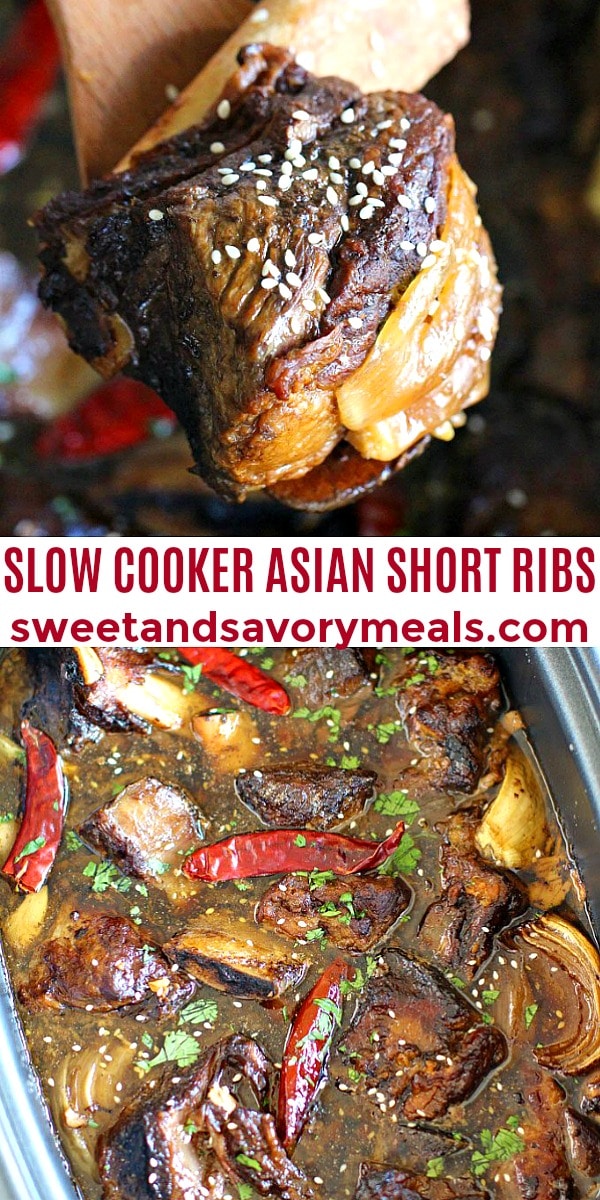 More recipes you might love
Categories: