The Ultimate Instant Pot Short Ribs [VIDEO]
Last updated on June 18th, 2021 at 06:13 pm
Instant Pot Short Ribs are juicy and fall of the bone, cooked in the most amazing garlic and wine sauce, and ready to eat in just 2 hours! Check out the short recipe video tutorial attached below.
Instant Pot recipes are a staple around here. We love making Ribs in the pressure cooker and serve with side dishes such as Corn Casserole, Mac and Cheese Casserole, or Corn on the Cob.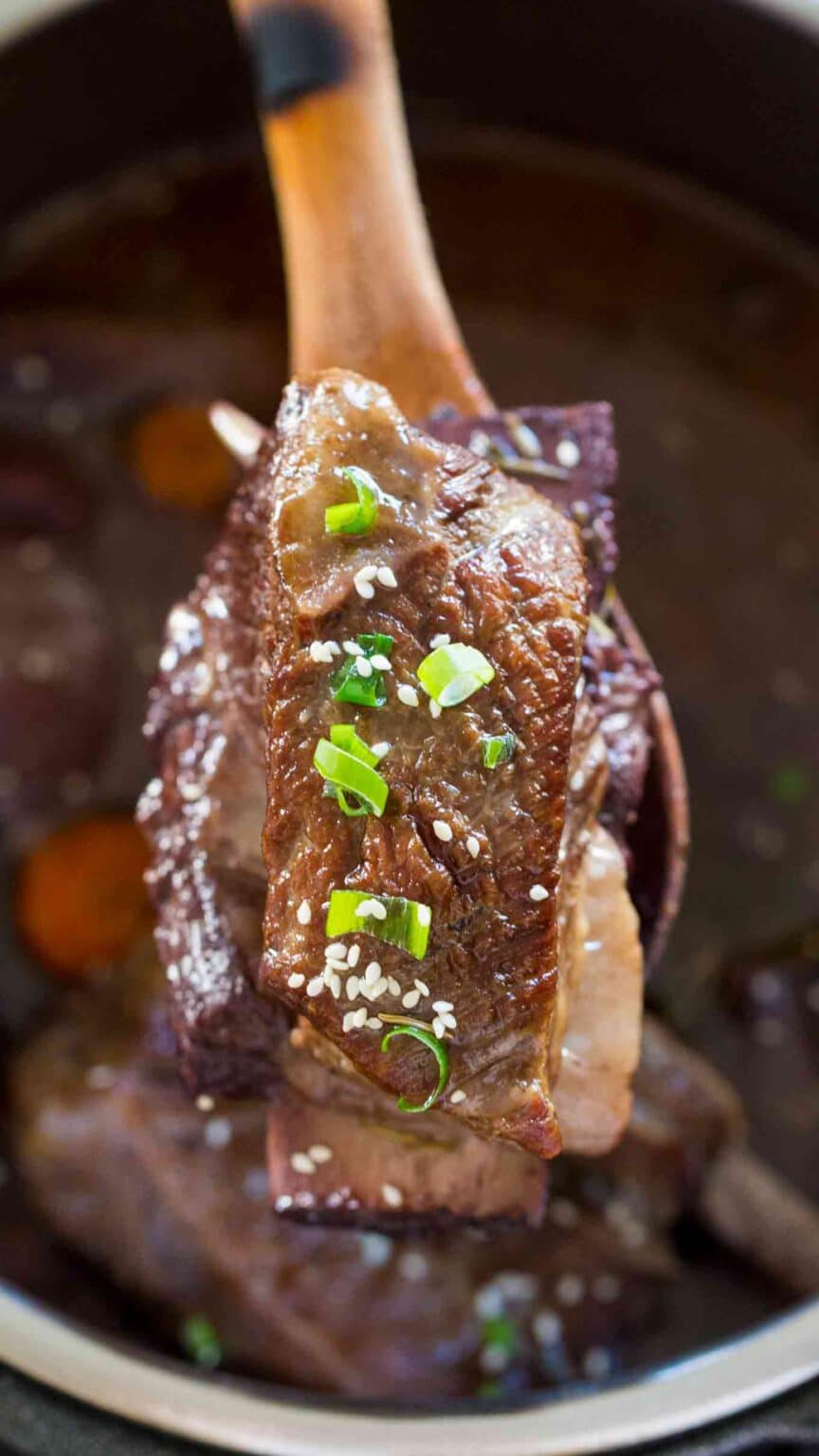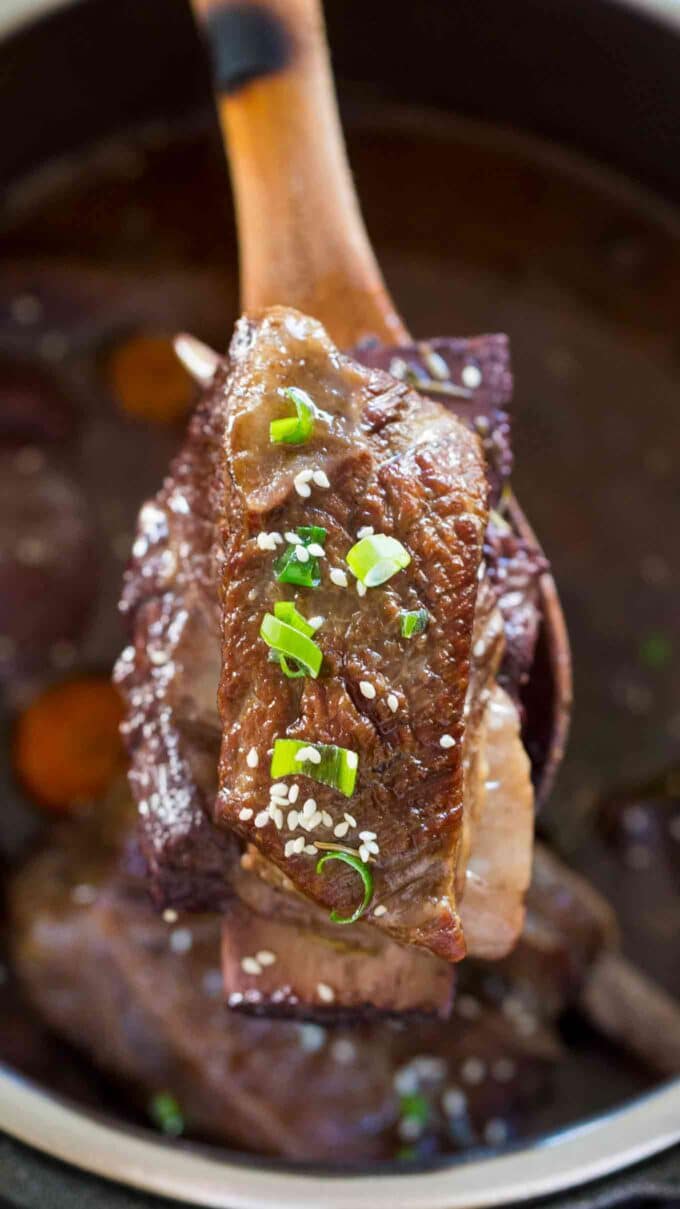 The Ultimate Instant Pot Short Ribs
Instant Pot Short Ribs are so incredibly tender, juicy, and flavorful that this may become one of your favorite meals! I love short ribs, in fact, I am a huge fan, but we all know how time-consuming it is to make them, as it takes hours and hours to cook. Well, with a pressure cooker this problem is solved!
These delicious homemade ribs are ready in 2 hours, with only 30-minute active work. Now when you crave some fall-off-the-bone ribs, cooked in the most divine wine sauce! This Best Pressure Cooker Short Ribs recipe was perfected over many years, and I've also used this same recipe for lamb chops as well.
In addition, it works perfectly for any kind of red meat, so feel free to use it. Give them a try and you will see why they are pretty much the BEST short ribs in the world!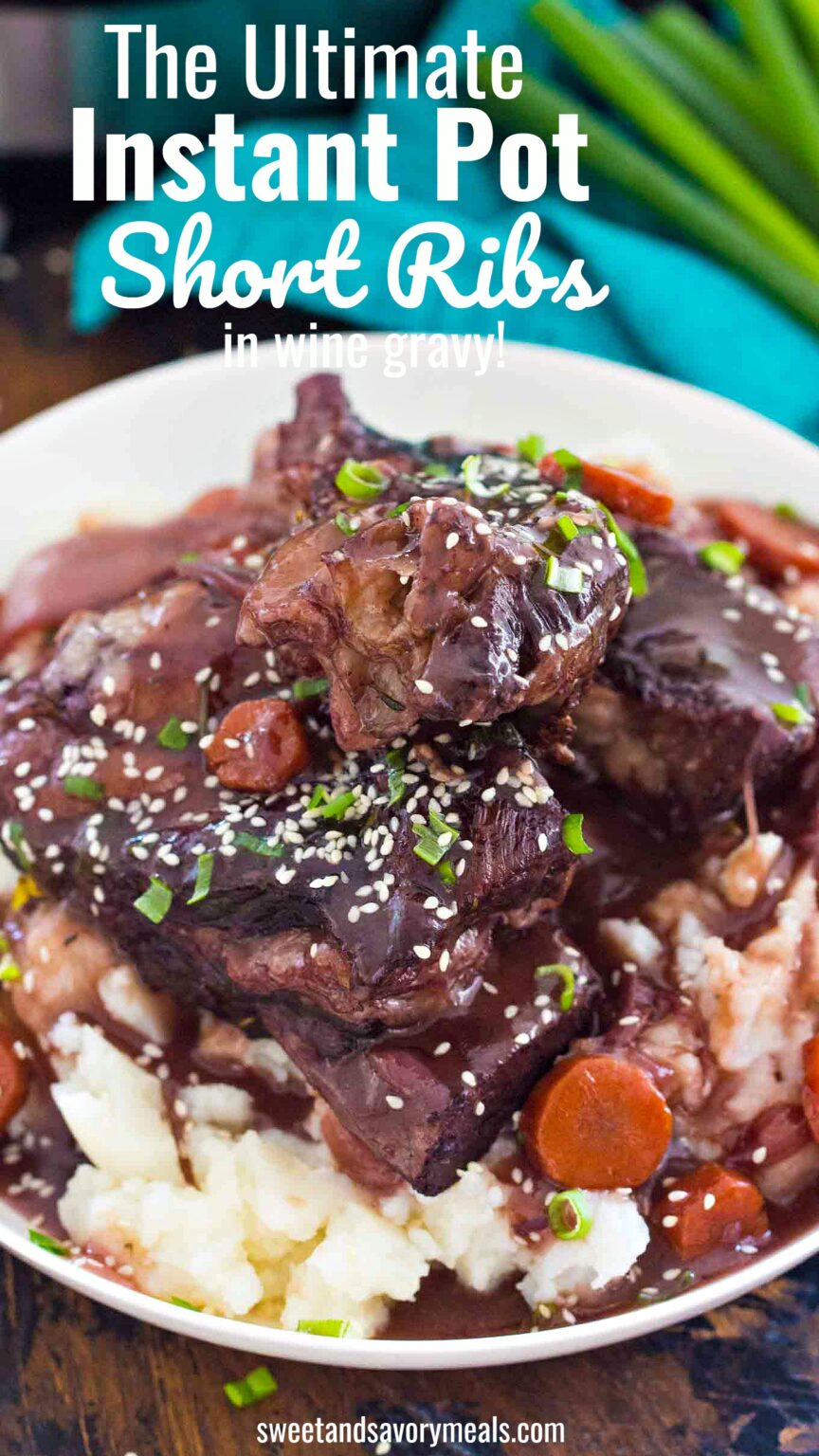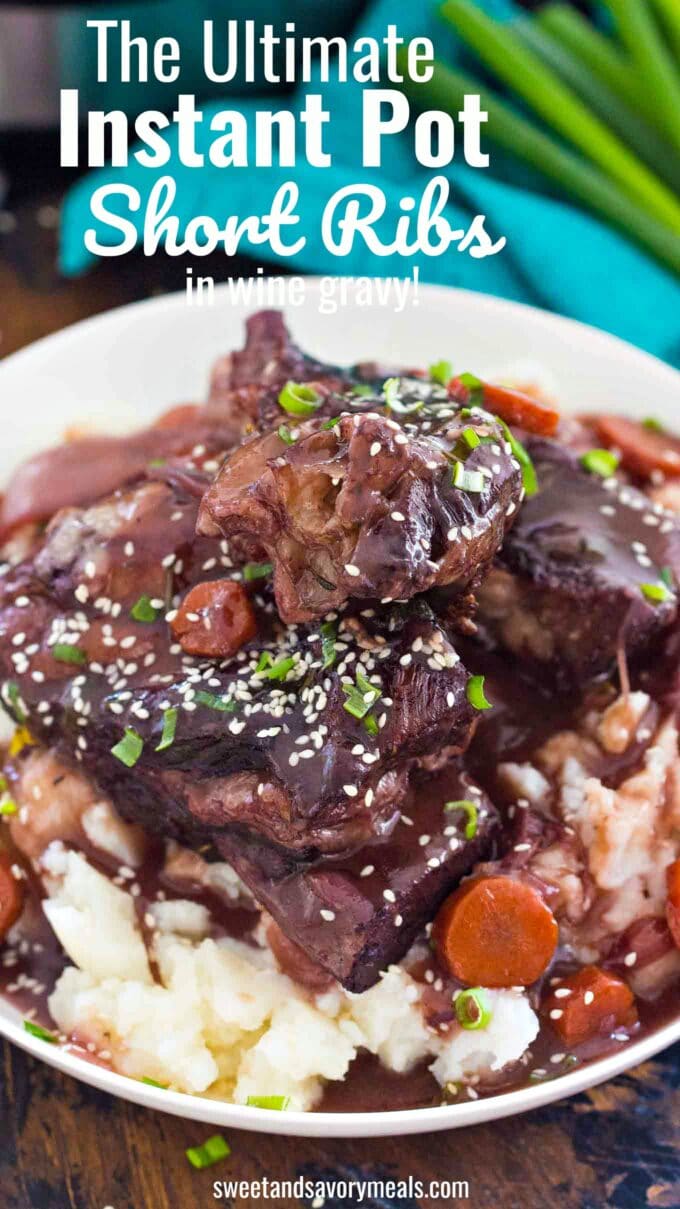 What is an Instant Pot?
It is a Canadian brand name with its primary products being electronic kitchen appliances. The name is mostly associated with pressure cookers. It is used for cooking and preparing food "under the pressure cooking method". Basically, you end up cooking a particular food much faster as opposed to the regular stovetop method.
One of the most popular models, and which we mainly used is this one – Instant Pot.
Why cook ribs in the Instant Pot?
First, the cooking time is reduced by a lot in comparison to smoking, grilling or roasting them.
In addition, the results are falling off the bone tender ribs, that everyone can enjoy in just a little over an hour.
Lastly, it requires minimal prep work for a great dinner!
How to make the best Instant Pot Short Ribs?
To get the best results, follow the below steps:
Soak the beef short ribs in wine: This is optional, but if you have some extra time, we highly recommend marinating them in wine for at least 30 minutes, or up to 8 hours, or even overnight. This will allow the meat to absorb the moisture and give it a nice and rich flavor.
Season the meat: Whether you marinate them or not, ensure to pat dry each piece with a pepper towel prior to seasoning. Then, season them with some salt and pepper, or with your desired spices.
Sear the ribs: We highly recommend following this step. Using the "Sautee Function of the pressure cooker" sear them on each side for a couple of minutes. This process will caramelize the top part, and lock in the flavors, resulting in some of the best and moist ribs you have ever tasted!
Prepare the sauce: Combine the sauce ingredient in a bowl as described in the recipe card, and mix them together. Then, use the mixture to cover the ribs when cooking in the IP.
Cook the beef: Lastly, using the pressure cooker, cook the meat to perfection. Follow the timing from the recipe card below, and you will end up with the best, and most tender ribs you can have!
Slow Cooker Ribs:
If you want fall-apart tender and flavorful ribs, then you can also make them in the slow cooker. Check out my Slow Cooker ribs recipe here.
Flavor VARIATIONS:
This recipe is great because it is super easy to make and very versatile. Once you learn how to cook the ribs in the IP, you can easily modify and adjust the flavors for various occasions. For example, feel free to experiment with your favorite seasoning. Some great flavors can be added by using Teriyaki sauce, BBQ sauce, or Szechuan sauce.
In addition, if you like Korean style short ribs, substitute the marinade with the mixture of soy sauce, 2 tsp brown sugar, 2 tbsp honey, 2 tbsp red wine, 1 tbsp minced garlic, and 1 tsp sesame oil. It is a fun recipe to experiment and adjust the flavors based on your needs and licking without much effort!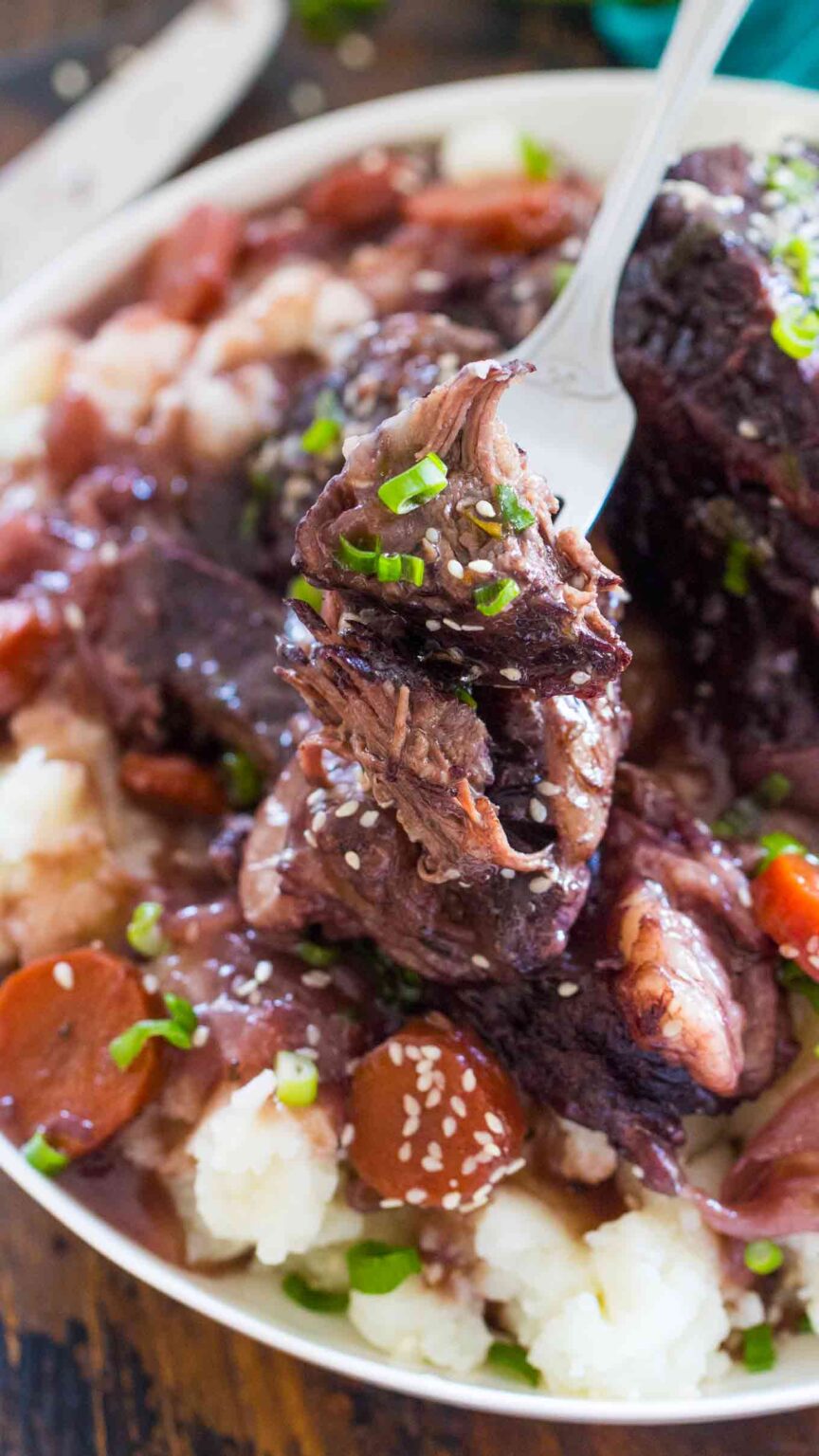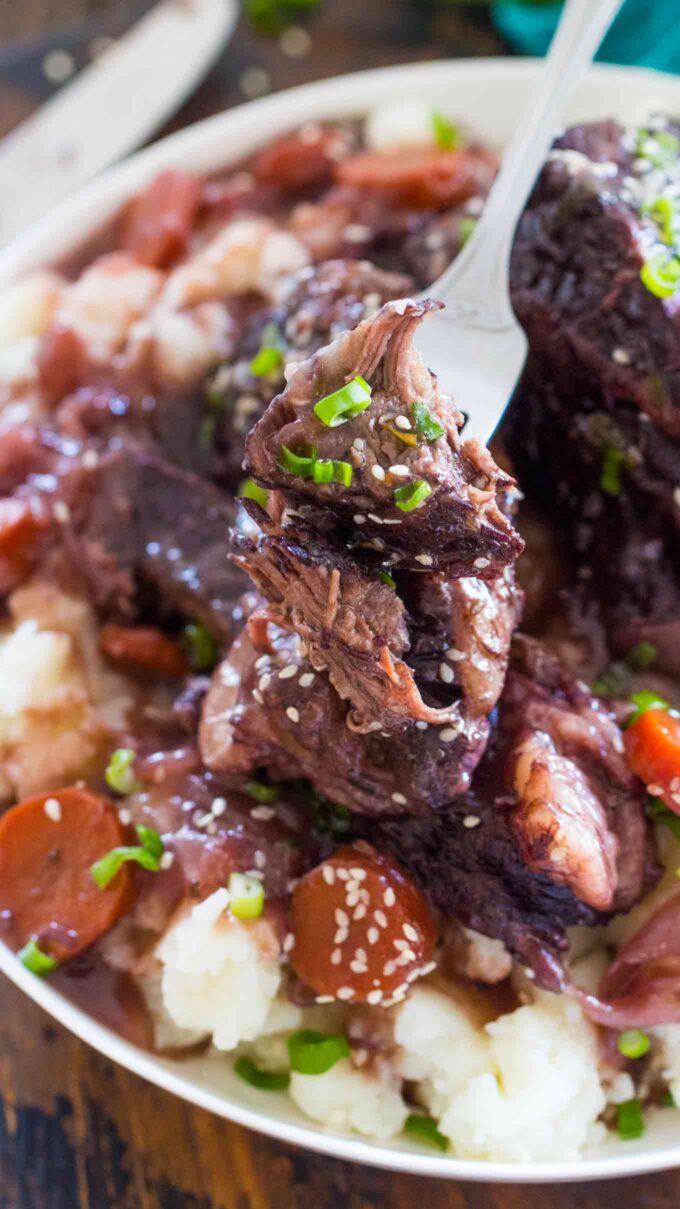 Can you use a Slow Cooker for Ribs?
YES. It's a perfect way to have the most tender and tasty ribs on your plate. By cooking the ribs in the slow cooker for 8-9 hours, you are guaranteed to have them cooked to perfection, and having the meat juicy and breaking down the bone.
Also, you can check out the detailed recipe of how to cook short ribs in the slow cooker.
What to Serve with Instant Pot Short Ribs with?
Here are some delicious suggestions that will go well with this dish:
HOW TO STORE Instant Pot Short Ribs?
Leftovers: If you end up with leftovers, feel free to use the meat in tacos, salad, enchiladas, sandwiches, or even burrito.
Store: The best way to store them is in an airtight container. Simply, transfer the ribs to an airtight container and store in the fridge for up to 4 days.
Freeze: Use a freezer-proof container and free for up to 6 months.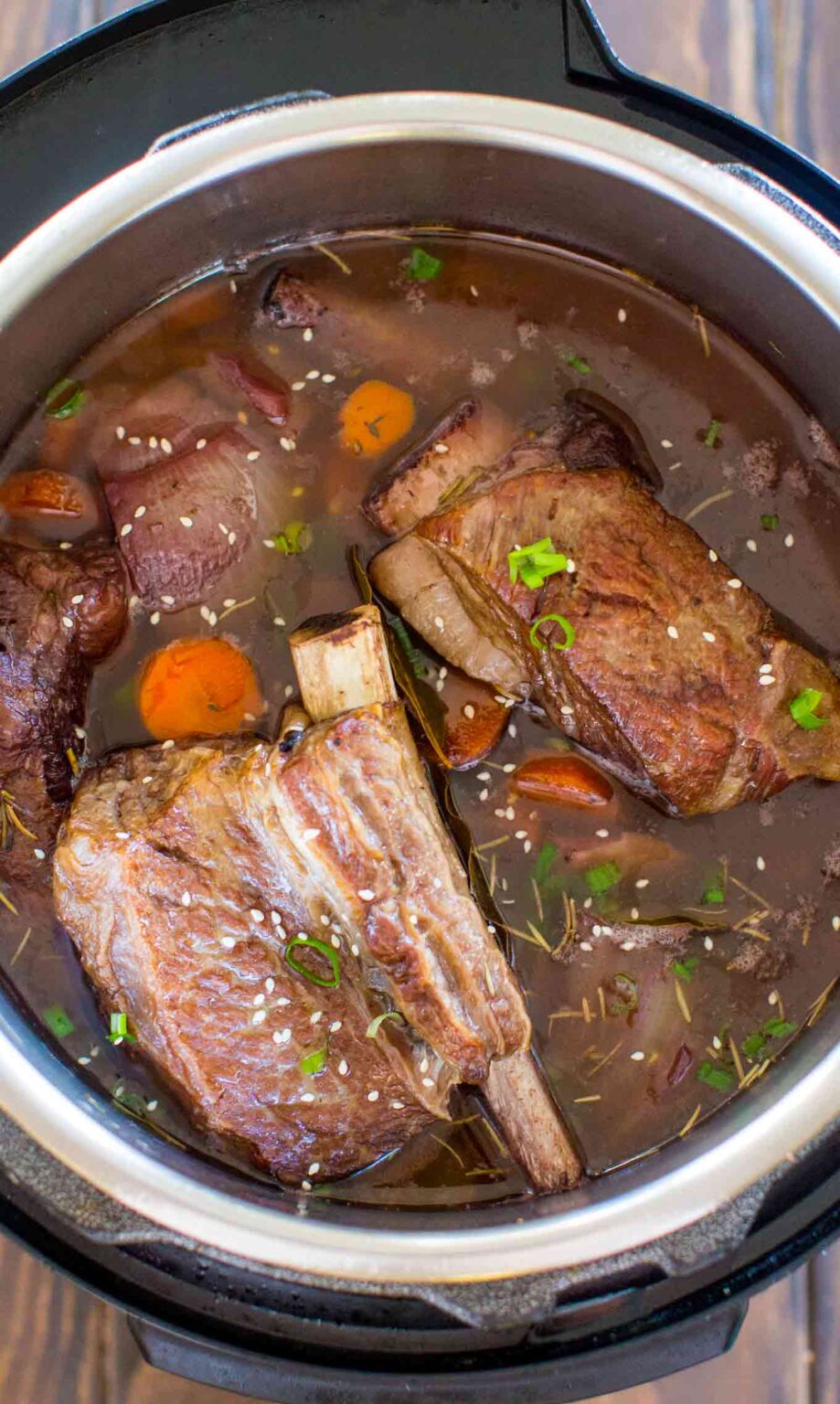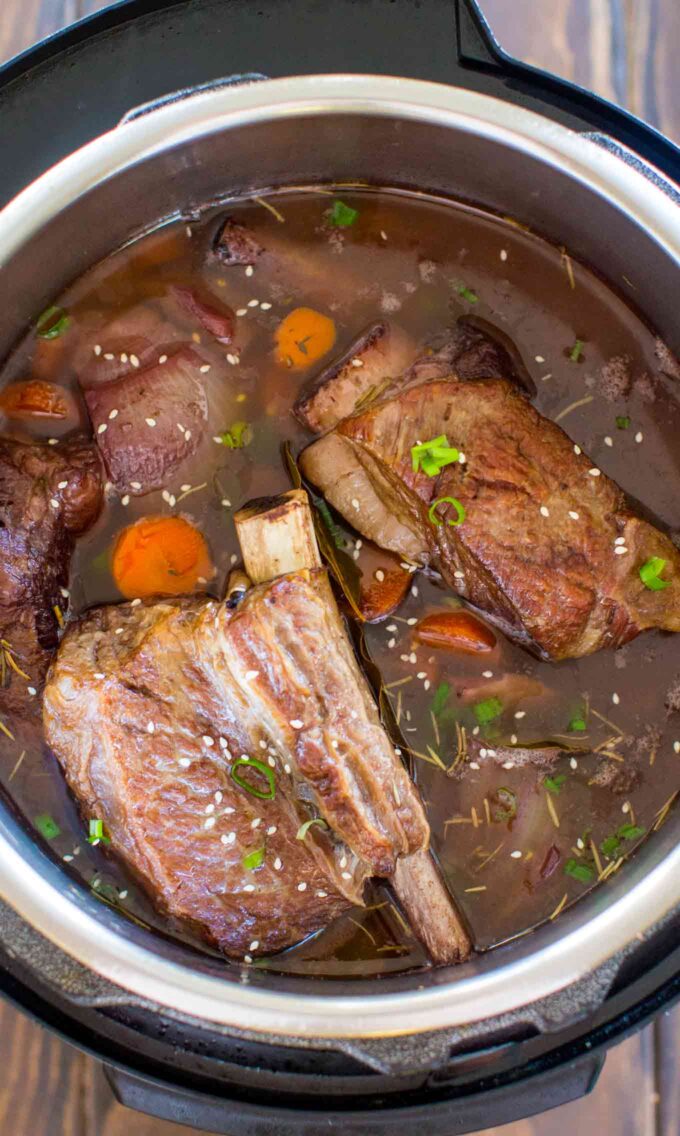 Recipe Tips:
Make sure you brown/sear the short ribs, don't skip this step in an attempt to save time. It will make a huge difference in taste!
Also, sear them in batches, you should have one layer of ribs in the pot at a time. I like to sear them on all the sides after that remove them to a plate and cover them with foil to keep them warm.
You can also make this recipe with beer instead of red wine. Another secret ingredient you can use is bourbon whiskey! It works perfectly in this recipe, and it will give a deep flavor to the meat.
In addition, if you would rather skip the alcohol, you can use unsweetened apple juice or even cranberry juice! To avoid to have overly sweet ribs, you can use half juice and half beef broth!
Similarly, I love adding molasses and balsamic vinegar to the sauce. It makes it thicker and sweeter, which goes hand in hand with the succulent ribs.
The carrots are optional, you can skip them if you prefer.
You can add more or less garlic, based on your own preference. I also like to crush the garlic, not mince it in this recipe. But feel free to mince it, if you have a texture preference.
Tools/Ingredients I used to make this Recipe:
Instant Pot – I use it all the time, I have the 6 quarts one.
Cornstarch – I prefer using cornstarch instead of flour to thicken sauces, and this organic brand is my favorite.
Instant Pot Short Ribs
Instant Pot Short Ribs are juicy and fall of the bone, cooked in the most amazing garlic and wine sauce, and ready to eat in just 2 hours!
Save
Share
Print
Pin
Rate
Ingredients
5-6

large beef short ribs

(about 1 lb. each)

1/2

teaspoons

salt

1/2

teaspoons

black pepper

2

tablespoons

olive oil

(canola or peanut oil)

8

garlic cloves

(crushed)

1

teaspoon

dried rosemary

1

teaspoon

dried thyme

3

cups

red wine

2

tablespoons

soy sauce

1

tablespoons

Worcestershire sauce

1

cup

beef broth

1

large onion

(quartered)

2

medium carrots

(sliced into 1/4 inch pieces)

5

bay leaves

2

tablespoons

light molasses

1/4

cup

balsamic vinegar
Optional:
2

tablespoons

cornstarch

2

tablespoons

water
Garnish:
Chopped green onions

sesame seeds
Instructions
This is an optional step, but if you have time and can plan ahead: pour the red wine over short ribs in a large bowl, cover with plastic wrap and marinate in the refrigerator, 8 hours to overnight.

When ready to cook, season ribs with salt and pepper.

Select the "Saute" setting on an electric pressure cooker and Adjust it to High. Once it reads HOT, add olive oil.

Add 2-3 short ribs to hot oil, you want to sear the short ribs in batches, in one layer in the Instant Pot.

Cook until the bottom is browned, about 8 minutes. Cook a few more minutes on the other side. Transfer browned short ribs to a plate and cover with foil. Repeat cooking with remaining short ribs.

Once the ribs have been seared and are resting now covered in foil on a plate, add to the pot the crushed garlic, cook for 1 minute. Add the rosemary and thyme, stir and cook for 1 minute.

In a large cup, mix together 1 cup of red wine, the soy sauce, and the Worcestershire sauce. Add the sauce to the pot to deglaze it. Using a wooden spoon scrape the bottom of the pot really well to remove any pieces the stuck to it.

Add one more cup of wine.

Add one layer of short ribs, the quartered onion, and the carrots. Top with the remaining ribs and the remaining wine. Add bay leaves.

After you added all the wine if the second layer of short ribs is not covered in liquid at least to its half than add one cup of beef broth. The bulk of the ribs need to be submerged in liquid.

Ensure that the total volume does not go above the maximum fill line.

Close and seal the pressure cooker. Turn the venting knob on top to "Sealed".

Press the "Manual" button and set the timer for 40 minutes on High Pressure. For bone in, larger short ribs, add 15 more minutes to the cooking time. Note: the pot has a lot of liquid, so it may take over 20 minutes to come to pressure.

When it beeps do a natural pressure release for 15 minutes and then release any remaining pressure.

With tongs, remove ribs to a platter and cover with foil to keep warm.

Optional: Use a fat separator or a mesh strainer to separate the fat from the juices, keep in mind that you won't be able to do this if you added the carrots. If you added the carrots, skim the sauce off with a spoon to remove the fat.

Remove and discard the bay leaves. Return juices to the pot.

In a small bowl, combine molasses and balsamic vinegar and add it to the pot.

Select Sauce function and Adjust to Medium heat. Simmer the sauce for about 30 minutes, stirring occasionally until it thickens.

If the sauce is not as thick as you want, in a small bowl, combine cornstarch and water and add it to the pot, stir to combine and bring to a boil. Turn pressure cooker off.

Optional: Add ribs back to the pot and gently coat with the sauce. Put the lid back on the pressure cooker and let the ribs absorb some of the sauce for about 10 minutes.

Serve over mashed potatoes.
Notes
If after the cooking time, the ribs are not as tender as you want, pressure cooker ribs longer until the meat is fall off the bone tender.
Nutrition
Serving:
0
g
|
Calories:
257
kcal
|
Carbohydrates:
22
g
|
Protein:
2
g
|
Fat:
5
g
|
Saturated Fat:
0
g
|
Cholesterol:
0
mg
|
Sodium:
878
mg
|
Potassium:
512
mg
|
Fiber:
1
g
|
Sugar:
11
g
|
Vitamin A:
4075
IU
|
Vitamin C:
5
mg
|
Calcium:
63
mg
|
Iron:
2.1
mg

More recipes you might love