Best Mac and Cheese Casserole [VIDEO]
Mac and Cheese Casserole is creamy, cheesy and very easy to make. This version of homemade baked Mac and Cheese Casserole is my most favorite and it's a huge hit with kids and adults alike.
Casserole recipes are a favorite around here. They are easy to make and usually make enough leftovers so we don't have to worry about cooking dinner the next day again.
Also, they can be prepared ahead of time and stored in the freezer. When the time is ready, you can easily reheat them. Among our most popular once are Cheesy Crack Chicken Casserole, White Pizza Casserole, and Chicken Hash-brown Casserole.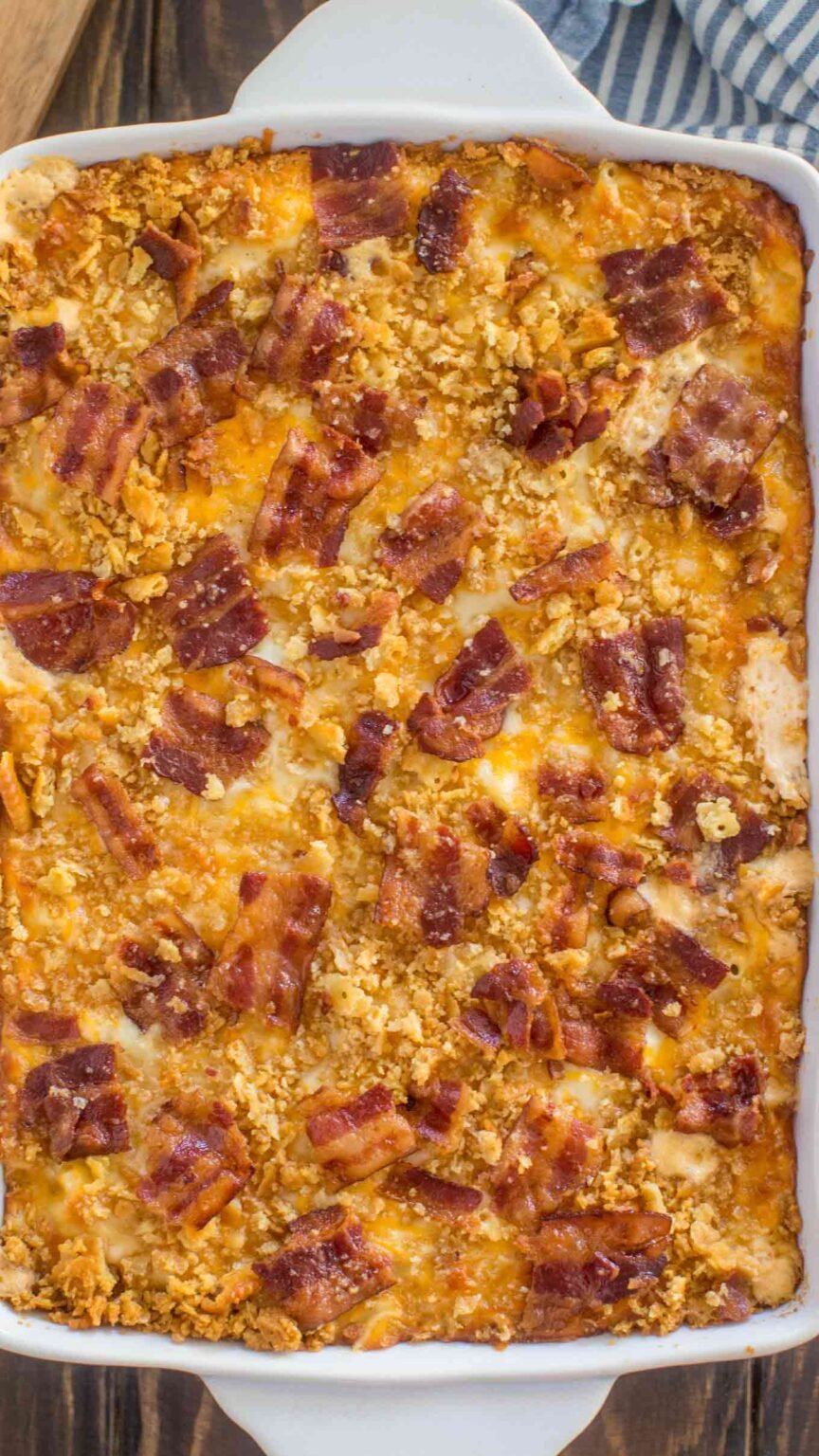 Best Mac and Cheese Casserole Recipe
This easy Mac & Cheese Casserole is all you need for a comforting and tasty meal. It is creamy and smooth, with strong cheesy flavors that will melt in your mouth. The bacon topping is the perfect finish for this dish since it adds some crunchiness to it and some additional flavor. The casserole is also made with three types of cheese: cream cheese, mozzarella, and sharp cheddar cheese.
The homemade sauce is rich and creamy thanks to the mix of sour cream, heavy cream, and cheese. I used the classic roux-based cheese sauce, where butter and flour are cooked together, and then the heavy cream and sour cream are added. As a result of this technique, you will have the creamiest and cheesiest casserole possible.
Due to mixing the ingredients together, and then adding pasta into it, the cheese proportionally and evenly integrates into this dish. Additionally, baking the casserole for 30 minutes after assembling it together, ensures you have a perfectly balanced and cheesy casserole. To make it even more amazing, I have added a buttery topping made of Ritz crackers!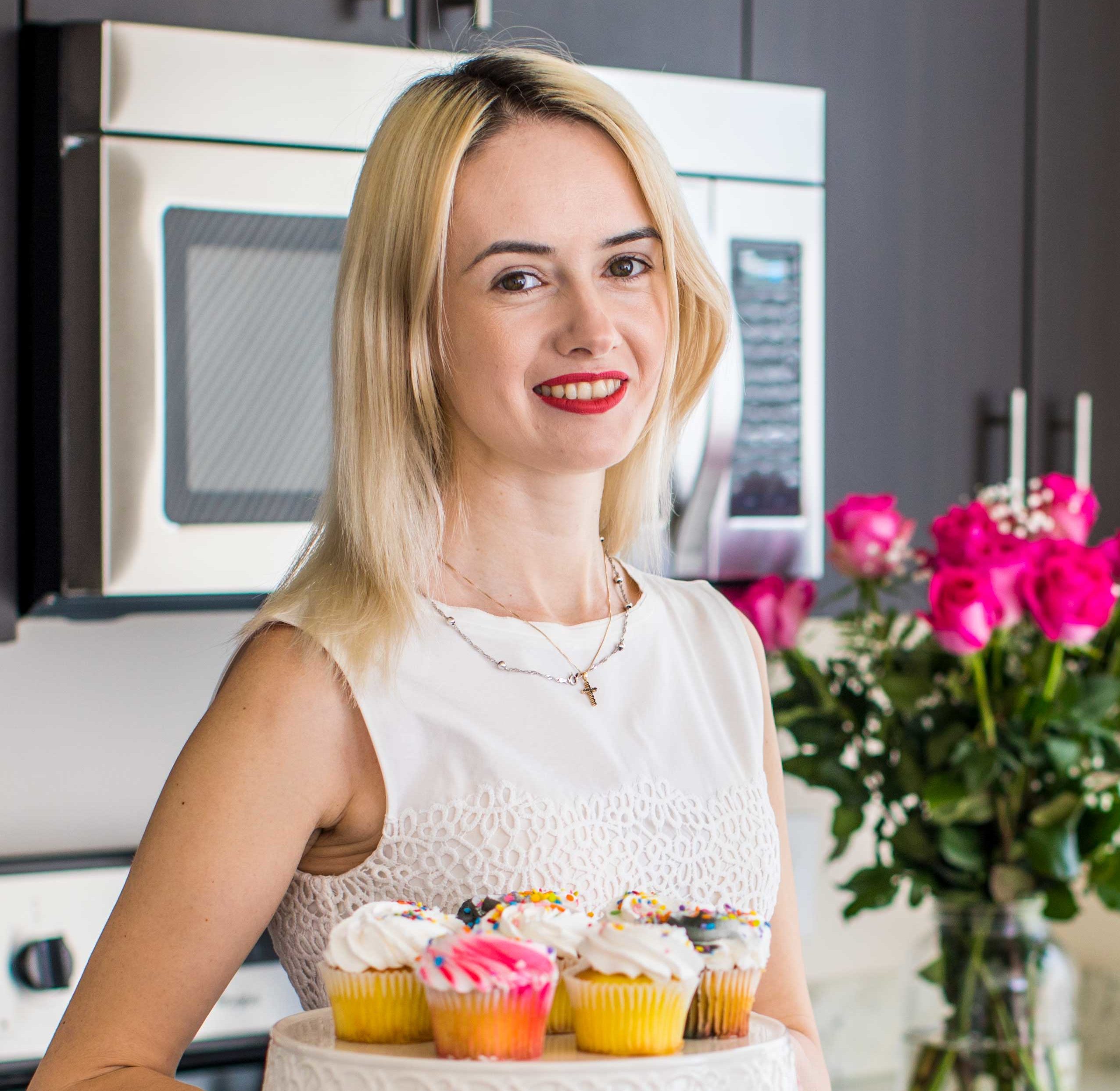 Follow us on Pinterest for more delicious recipes!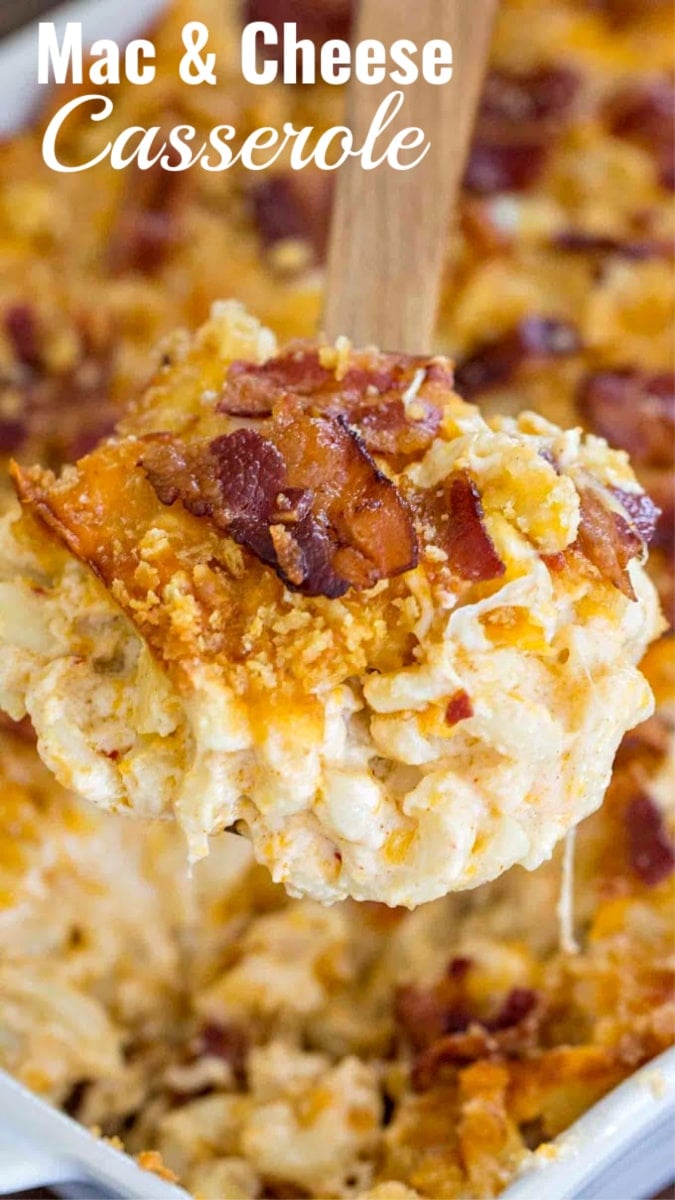 Do I have to bake my Mac and Cheese Casserole?
For this recipe, I went ahead and baked the Mac and cheese casserole. However, if you are short of time, you can actually eat it right from the pan or just stick it under the broiler for a few minutes to brown the top. This will work just as well and is a great shortcut when you are running low on time.
How to make creamy Mac and Cheese Casserole?
For the exact direction, please see the recipe card below. Also, watch the short video tutorial attached for quick guidelines. But the general steps are as follows:
Firstly, preheat oven to 350 degrees and butter a casserole dish.
Next, cook pasta until just tender. Preferably al dente.
Melt the butter in a large saucepan and add the flour. Stir to combine.
Then, add the milk, heavy cream with cornstarch and evaporated milk. Add seasoning.
Simmer and add the sour cream, cream cheese, cheddar, and mozzarella cheese.
Mix the sauce, then add the cooked pasta into it.
Season with salt and pepper to taste.
Pour into prepared dish and sprinkle with remaining cheese.
Bake for 30 to 35 minutes.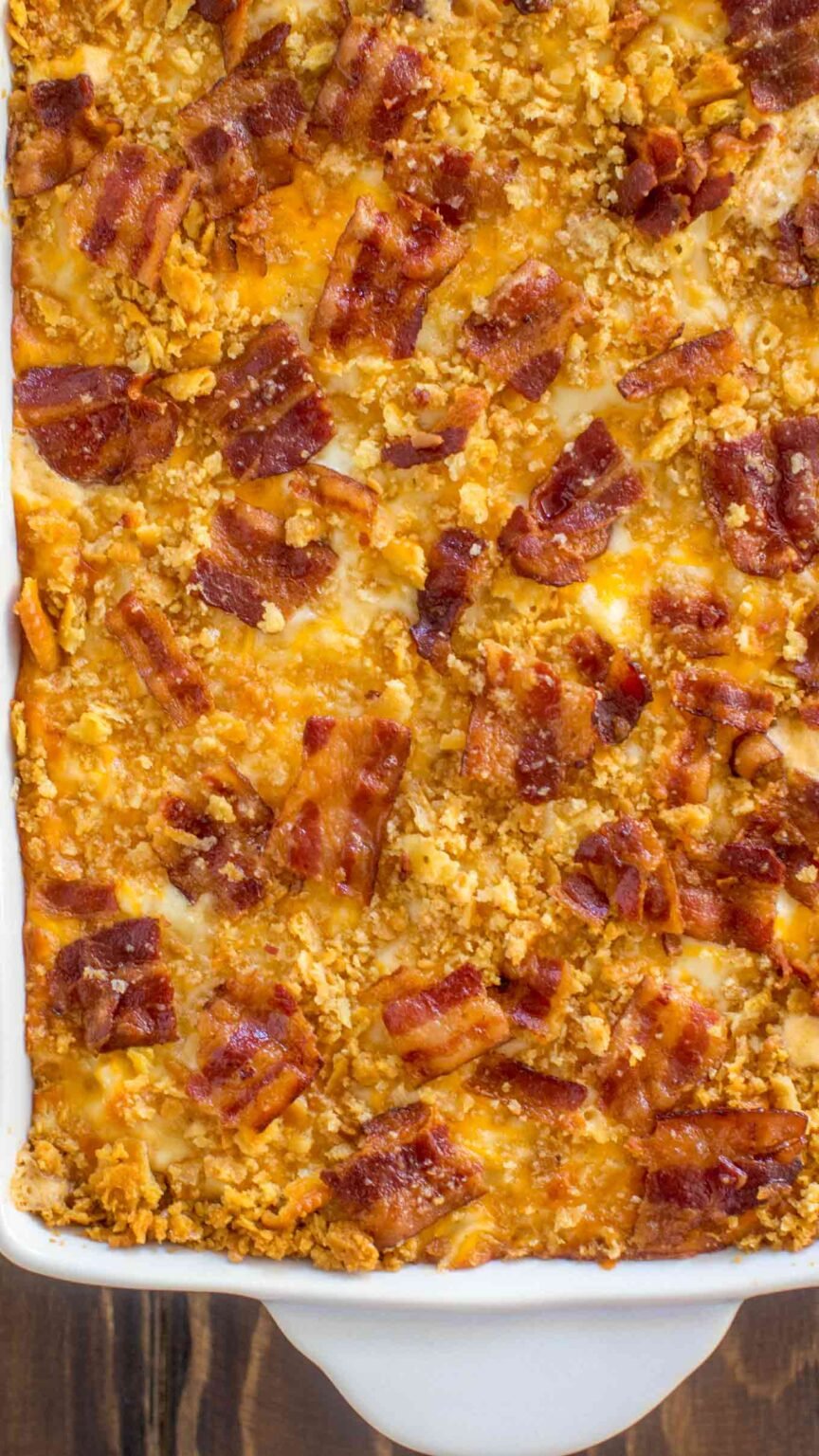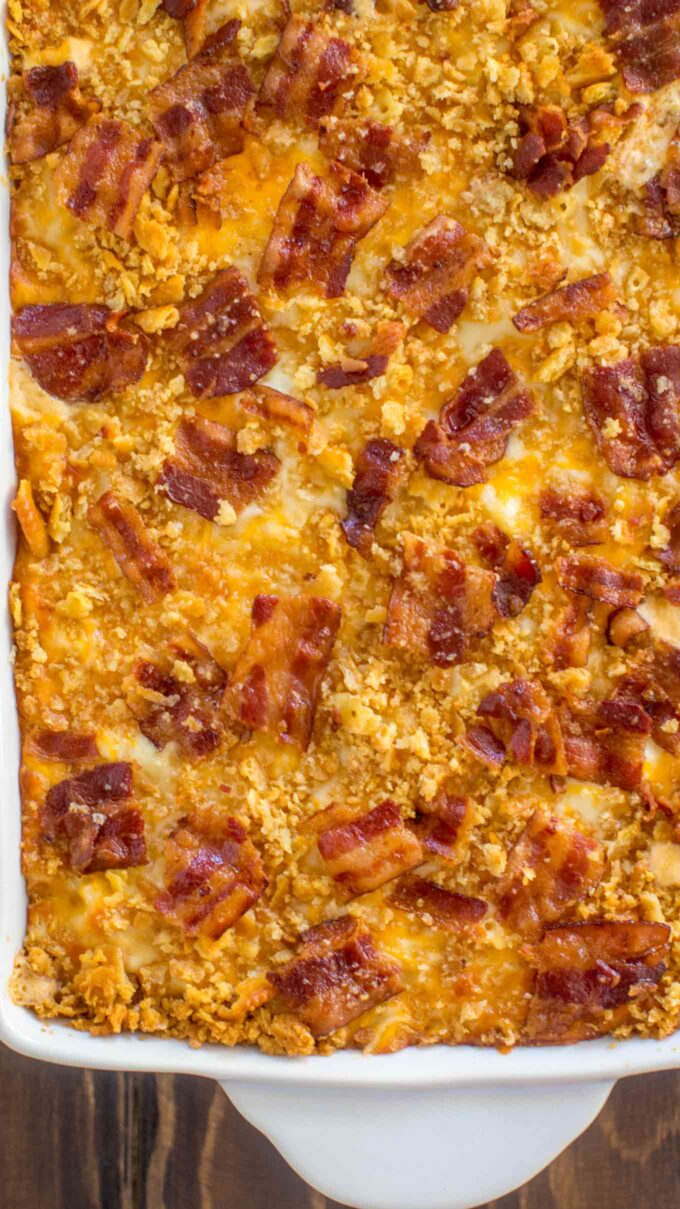 What is the best cheese to use for Mac and Cheese Casserole?
This totally depends on your taste and preference. Any good quality melting cheese will perfectly work for this dish. A combination of cheddar, mozzarella, and Parmesan is what I usually use. Similarly, a sharp white cheddar cheese, Monterrey, or Asiago will produce a smooth, rich and creamy sauce.
What should I serve with Macaroni and Cheese Casserole?
This dish is very versatile, and can be served as it is, or with various pairings. Some suggestions would be: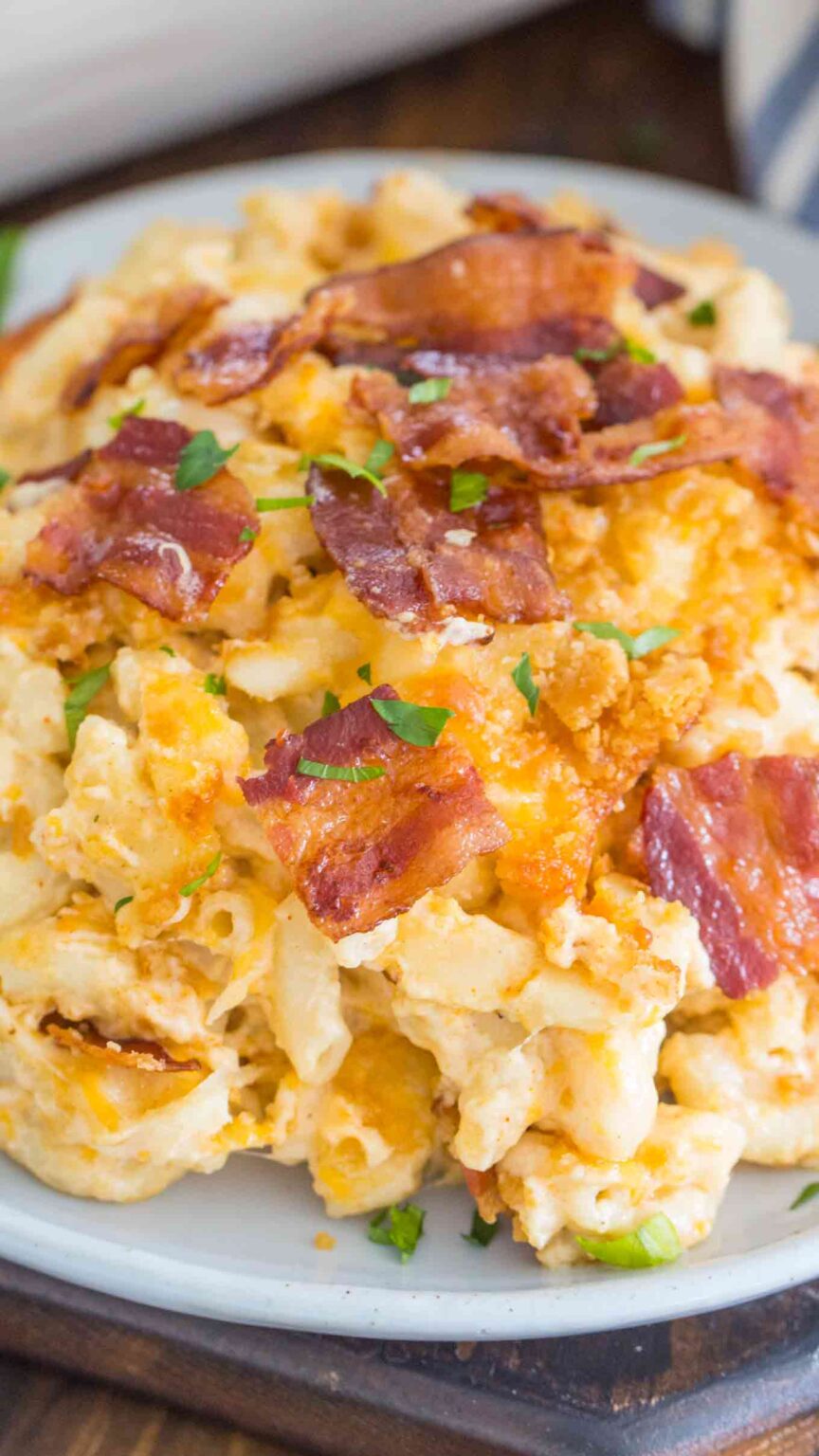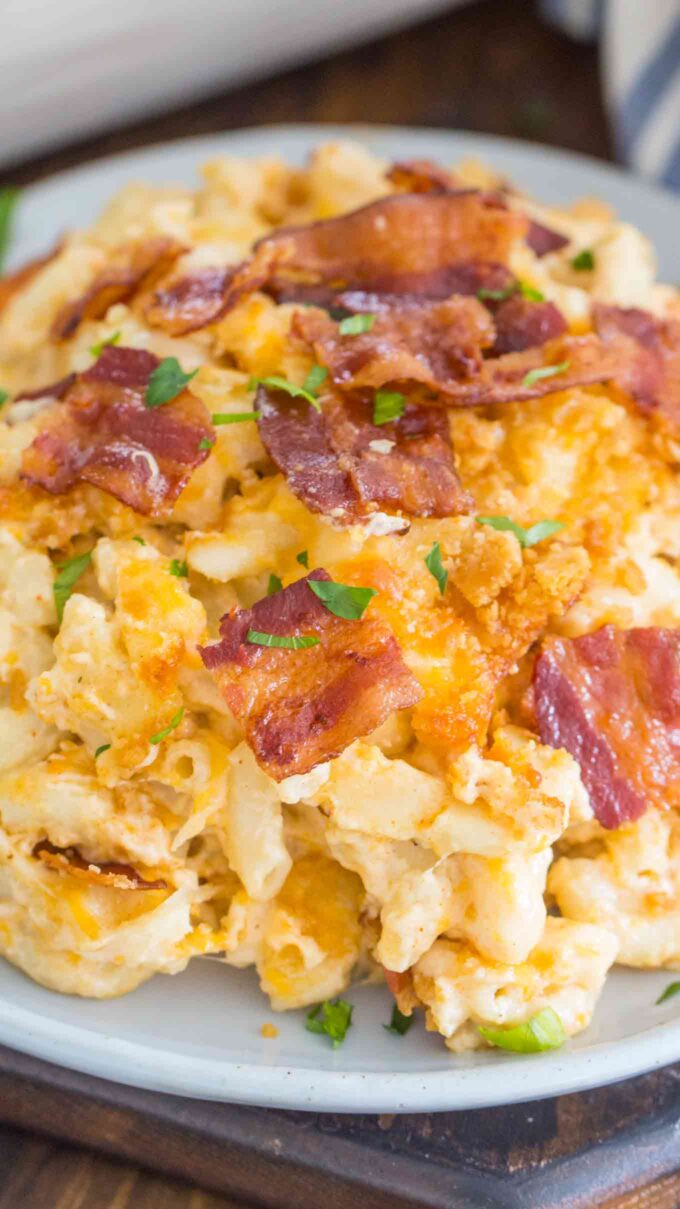 How to freeze mac and cheese casserole?
To freeze, transfer the mixture to a buttered 9-by-13-inch freezer-to-oven baking dish.
Cover tightly with aluminum foil and wrap in plastic wrap.
Freeze for up to 6 months.
Bake, frozen and covered with foil, at 350°F, for 1 hour.
Macaroni and Cheese Casserole Recipe Tips:
Before baking the casserole, make sure the pasta is not overcooked. Preferably, the pasta has to be al dente, since it will cook some additional time in the oven.
Similarly, you do not have to cover the casserole with foil when baking. This way, the topping will get golden brown and crunchier.
Additionally, use quality cheese. If you want a truly creamy texture, it is best not to use pre-shredded cheese. Take the extra few minutes and shred your own cheese.
You don't need to rinse the cooked pasta for this recipe especially if you will be using pre-shredded cheese. This way the starch from the pasta will thicken the sauce.
Feel free to swap cheeses for a combination of whatever you have on hand. Such cheeses as Asiago, Gouda, smoked Cheddar, Monterrey, will work just as well.
Save Recipe
Best Mac and Cheese Casserole
Mac and Cheese Casserole is creamy, cheesy and very easy to make. This homemade version is made with there different types of cheese and topped with bacon.
Author: Catalina Castravet
Serves: 8 servings
Prep time:

30

minutes
Cook time:

30

minutes
Total time:

1

hr
Ingredients
Cheese Sauce:
Buttery Cracker Topping:
Other Toppings:
Instructions
Cheese Sauce:
Buttery Cracker Topping:
Other Toppings:
Bake:
Nutrition information
Calories: 496 Carbohydrates: 21 Protein: 32 Fat: 31 Saturated Fat: 11 Cholesterol: 55 Sodium: 1094 Potassium: 344 Fiber: 1 Sugar: 7 Vitamin A: 945 Vitamin C: 0.2 Calcium: 681 Iron: 1.5
Save Recipe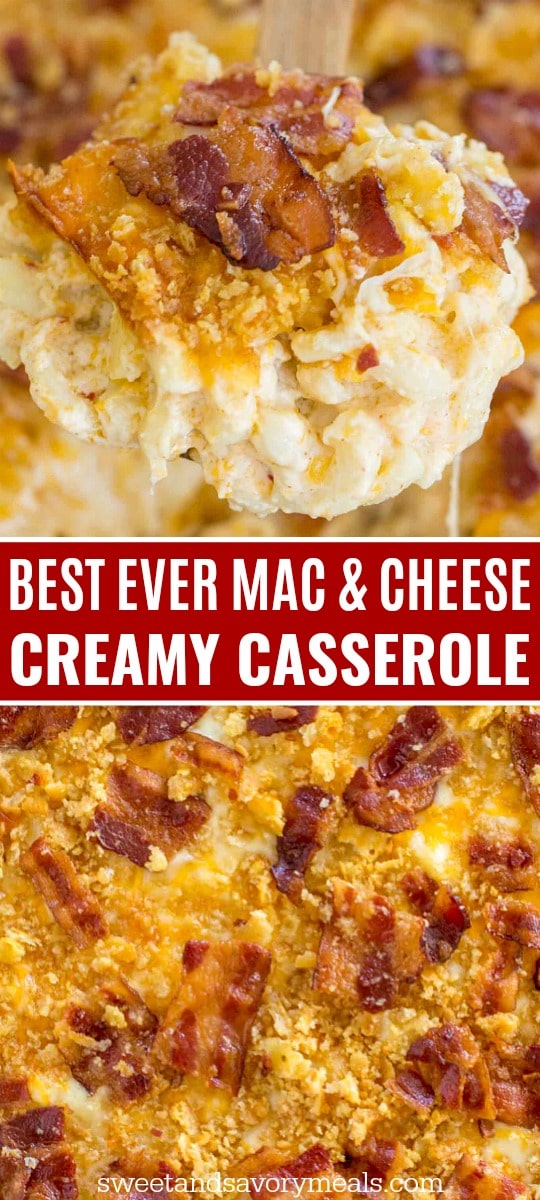 More recipes you might love