Mac and Cheese Balls [video]
Mac and Cheese Balls are the PERFECT comfort food that is crisp on the outside and creamy on the inside. They are the BEST finger food that can be enjoyed at a party, or game day!
These delicious homemade balls are very easy to make with leftover pasta. You can enjoy them as a cheesy appetizer, or mix them up with crab cakes, salmon patties, or fried cheese sticks.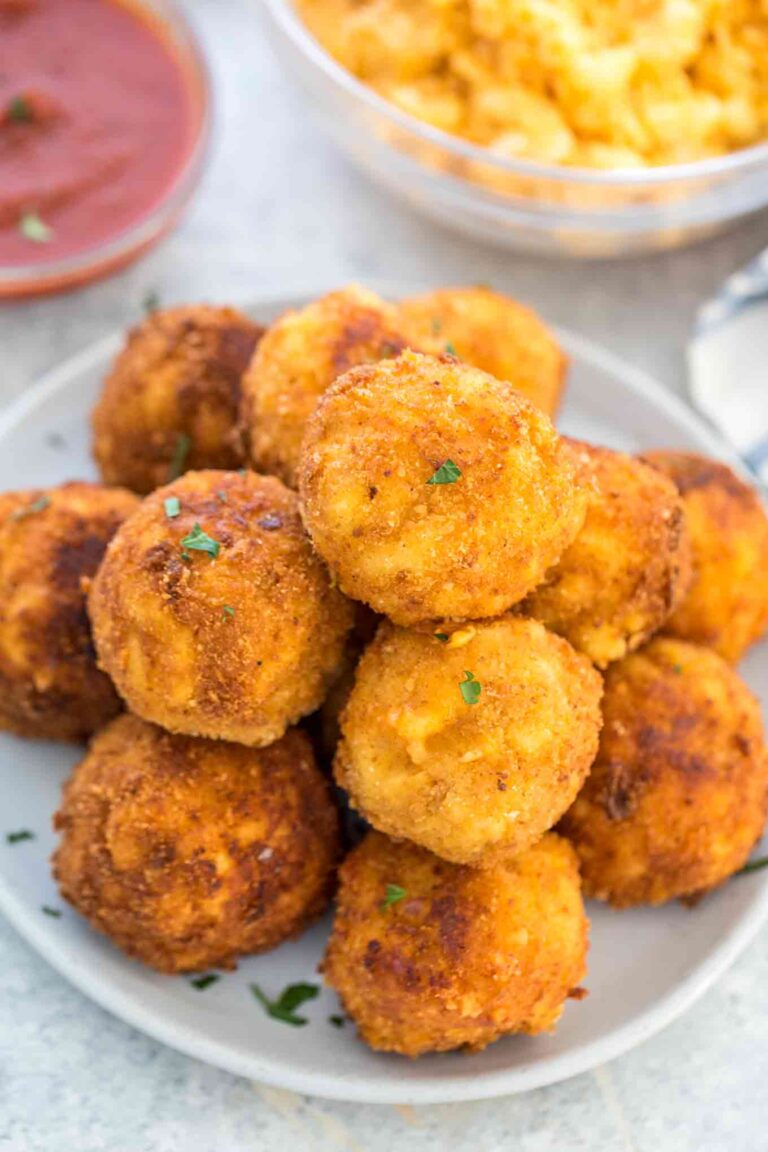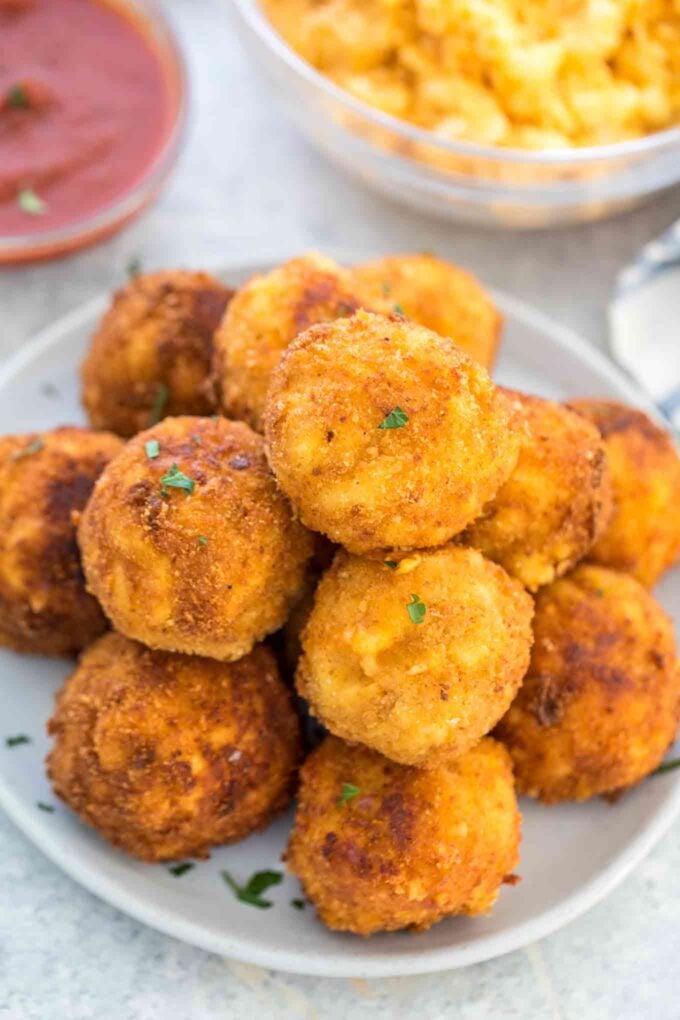 Best Mac and Cheese Balls
Mac and Cheese Balls are filled full of cheddar cheese and fried to a perfect crispy texture. Seriously, it doesn't get better than this. If you a leftover mac & cheese, then this becomes the easiest recipe to make. It is recommended to use refrigerated leftovers because it will be easier to shape the balls.
You turn a delicious comfort food, into balls and then roll them into breadcrumbs and fry them. As a result, you will end up with a portion of phenomenal homemade comfort food!
The best part is that if you don't even need any leftovers to make this recipe. You can use the On-Cor Macaroni and Cheese entrée to make these dishes. I like the quality of it and obviously the convenience. Life's demanding enough and dinner shouldn't be another worry. On-Cor does the prep work, so you can take care of other to-do's that need to doing. Now you basically have dinner in a cheesy, super fun and tasty macaroni ball!
We shaped them into meatball sized balls, but you can make them smaller or bigger based on preference. Important to remember to put them back in the freezer, after breading, for at least 1 hour before frying.
This way they will turn out crunchy and crispy on the outside while being cheesy on the outside. Next time you host a party, go ahead and try these. They will be a huge hit with everyone!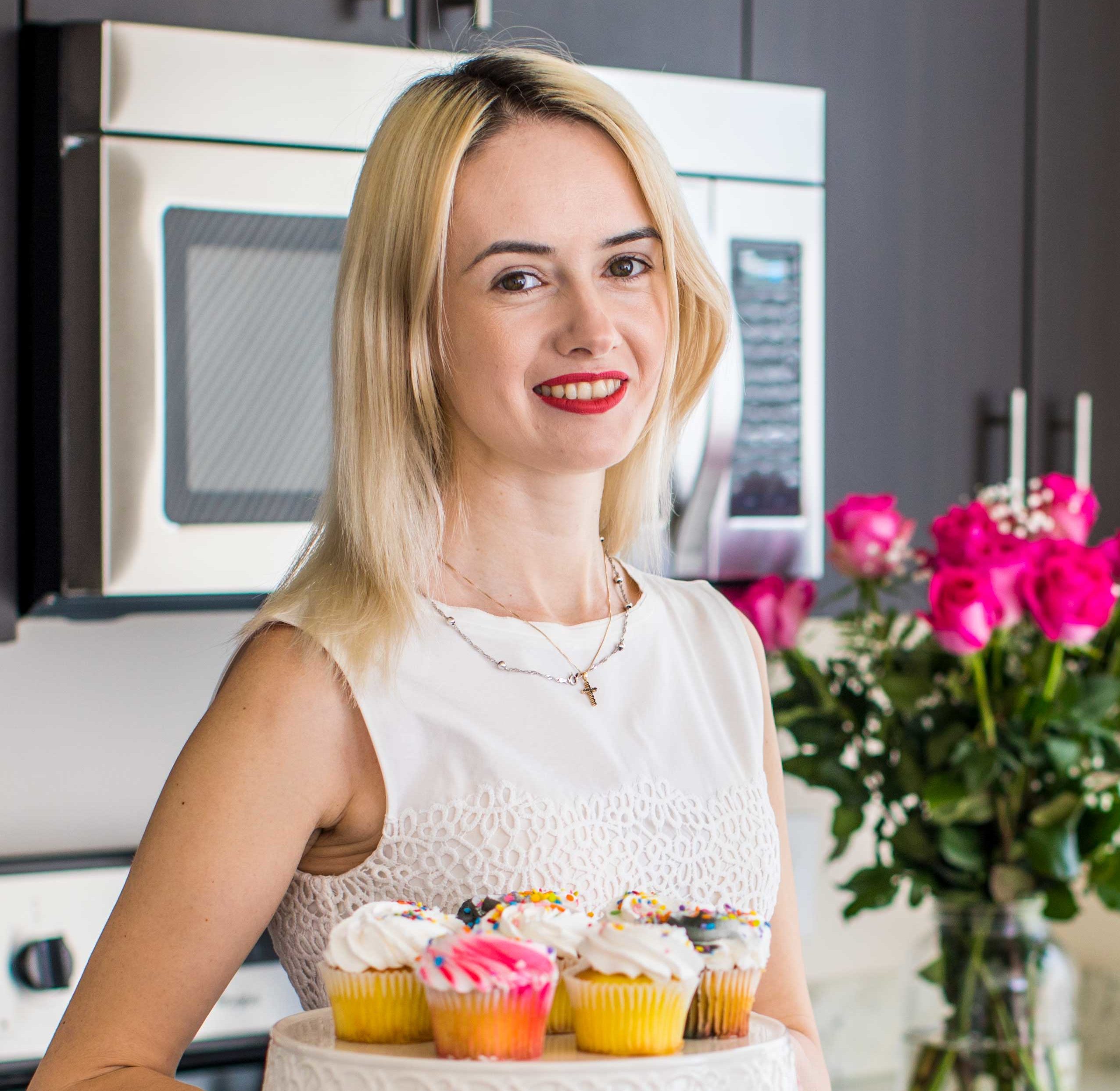 Follow us on Pinterest for more delicious recipes!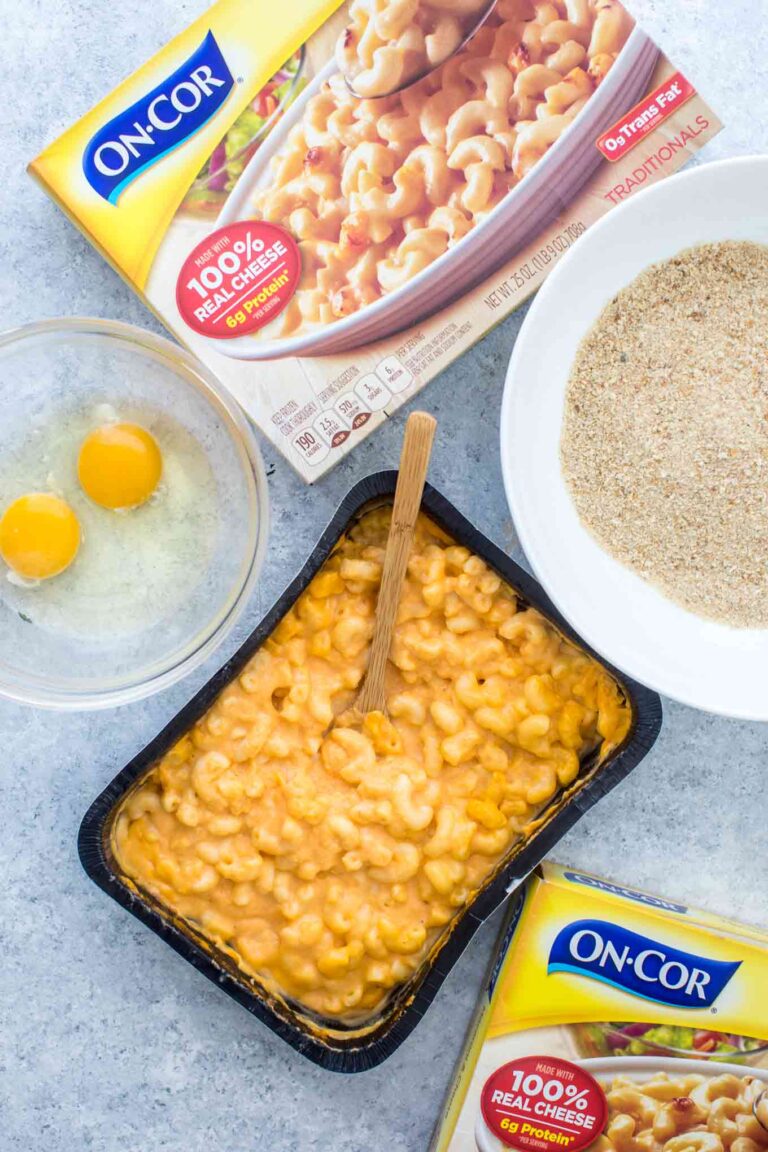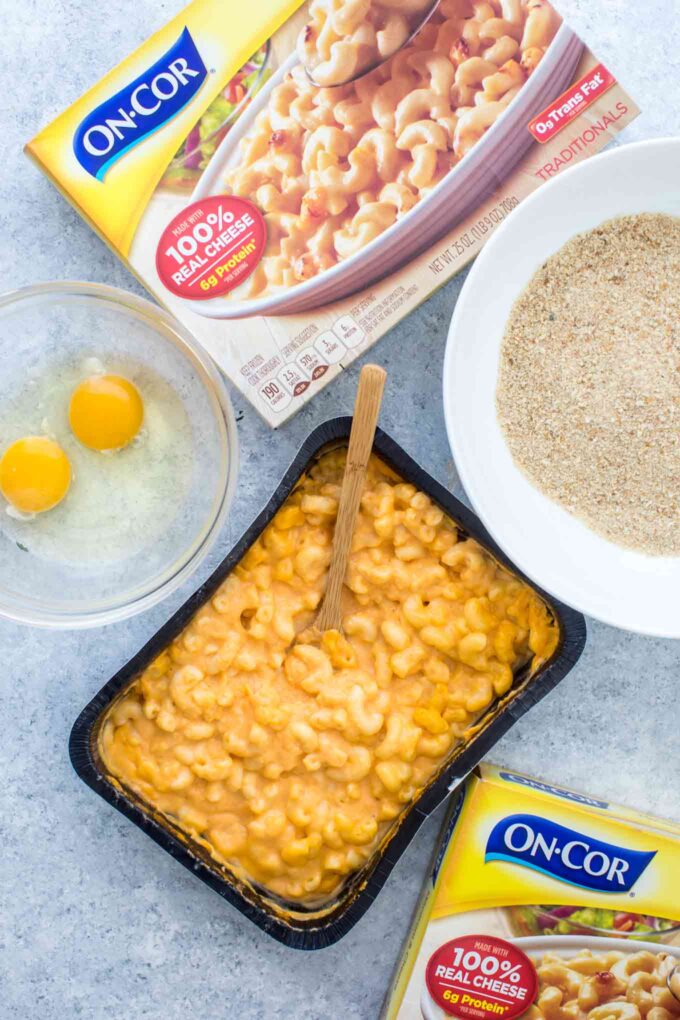 WHAT DO YOU NEED TO MAKE THIS RECIPE
Cheddar Cheese
Parmesan Cheese
Eggs
Macaroni & Cheese
Bread Crumbs
Oil
How to make fried mac and cheese balls?
Start with refrigerated leftovers that have been in the fridge overnight. If you don't have leftovers, ensure to place the macaroni and cheese into the refrigerator for at least 3-4 hours to firm up.
Mix more cheese into it, makes it easier to roll, especially if the starting texture is more on the creamier side.
Using a scoop, roll out about 15 individually sized balls.
Dip each ball in the egg wash and then dredge in breadcrumbs to form a nice and uniform coating.
Once all the balls have been breaded, put them back in the refrigerator for at least 30 minutes before frying. However, if you are short of time, you can move straight to frying.
Heat vegetable oil in a large stockpot or Dutch oven over medium-high heat.
Then, add the balls to the Dutch oven and cook for about 4 minutes, until evenly golden and crispy.
Transfer to a paper towel-lined plate.
Serve immediately.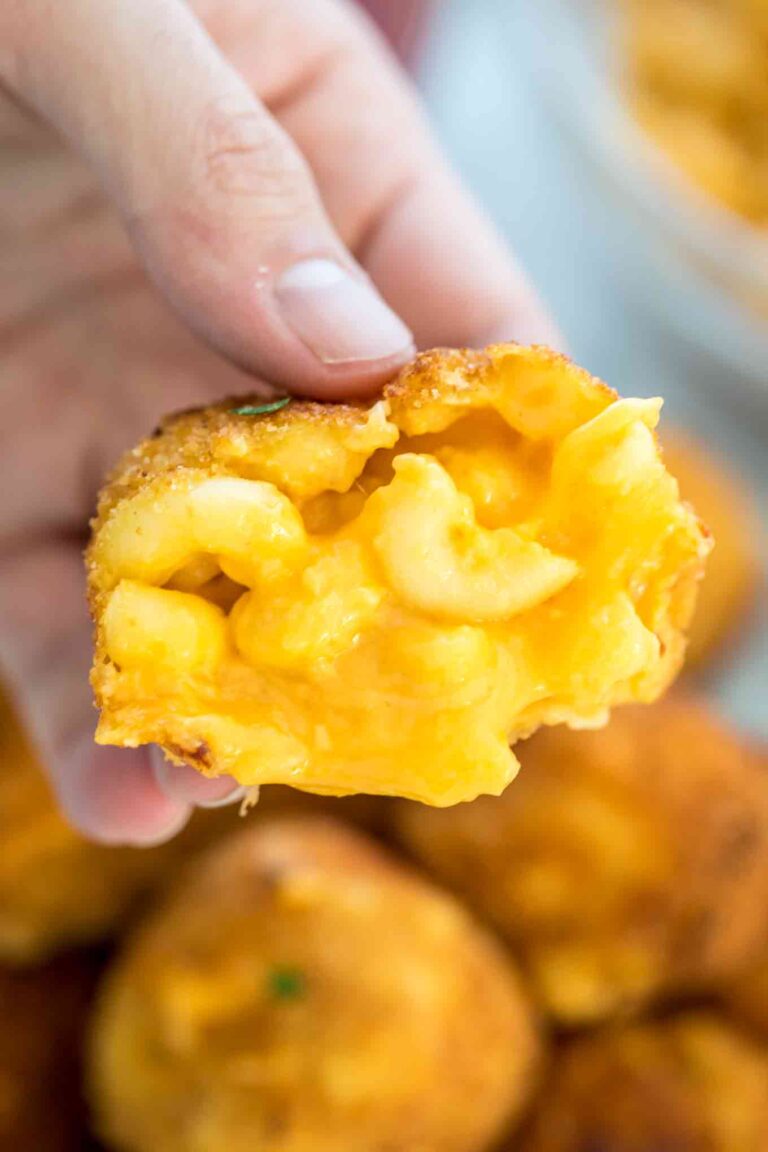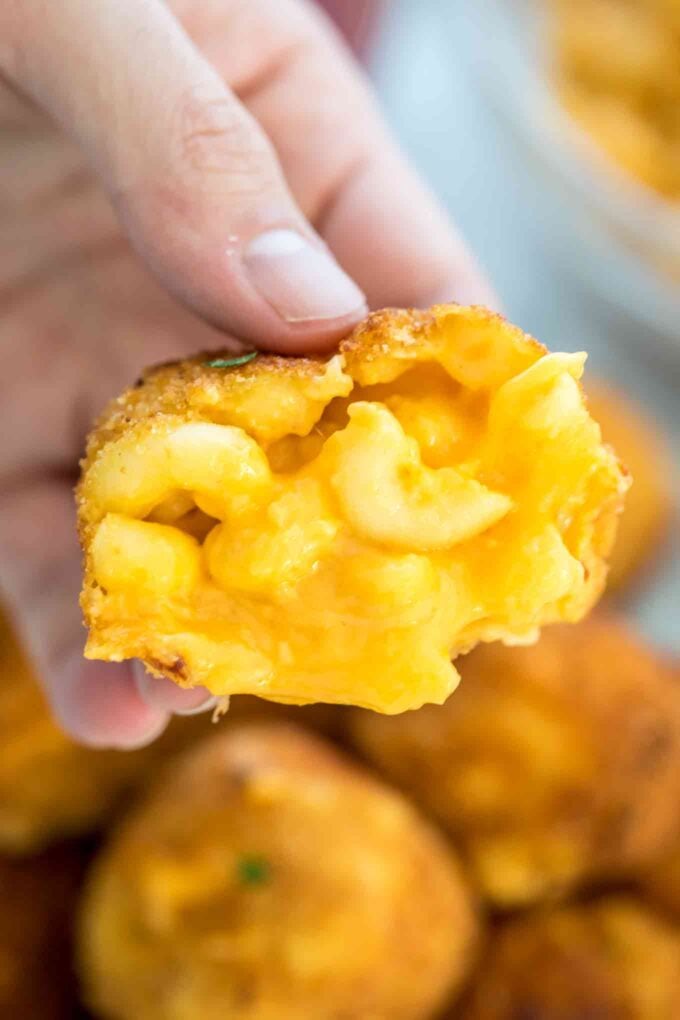 Can you bake mac and cheese balls?
Absolutely! While baking might not give them the same crispiness on the outside, they will end up similarly delicious. Also, if you are not a fan of fried food, then baking is definitely a healthier option for you. Simply, follow the same steps above up to frying the balls in the Dutch oven.
Instead, put them in the preheated oven at 350 degrees F, and bake for about 20-30 minutes, depending upon how crusty you like them. Also, remember to flip them around every 10 minutes to make sure all sides are cooked evenly.
What dipping sauces go well with these Balls?
Many people enjoy dipping them in a classic marinara sauce, but you could also use ranch, homemade alfredo sauce, or even enchilada sauce. However, we also enjoy these crispy cheesy bites as a side dish with a bowl of tomato soup for a fun lunch or dinner!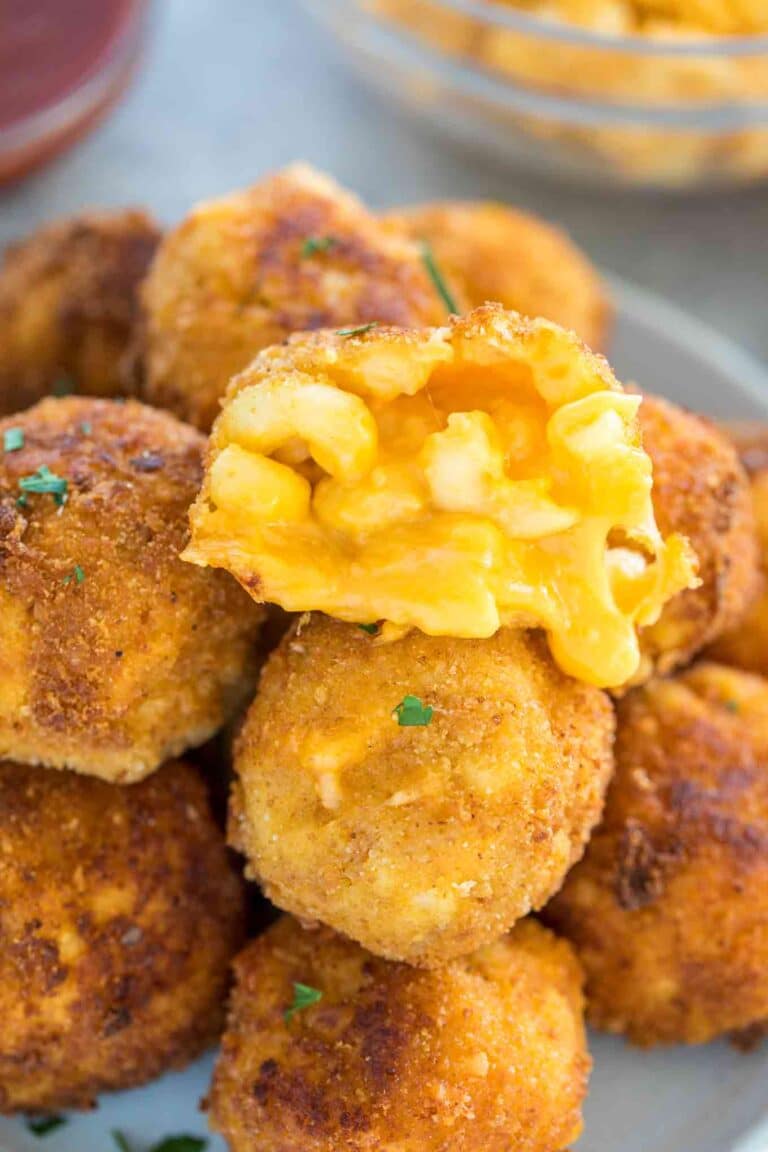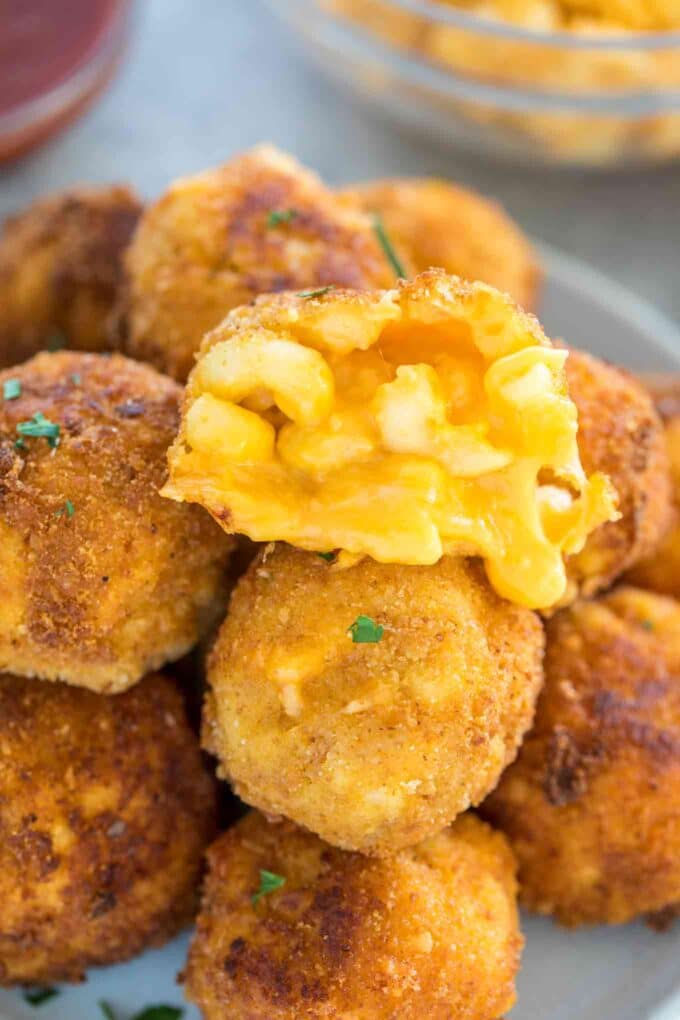 Recipe tips:
This is a fun and easy recipe to make with kids, and they will love it! It's super cheesy and absolutely one of our favorites to make with kids.
Use the On-Cor Macaroni and Cheese entrée to save time. All On-Cor entrées have no monosodium glutamate (MSG) added, which makes me like convenience even more.
Make sure the balls are refrigerated before you begin, this will result in a crispy outside texture.
Also, take some extra care to press the breadcrumbs into each ball. When frying, you want the oil to get at the breadcrumbs, not the cheese inside.
Similarly, you can use your hands or a food processor to turn toast into crumbs for the topping.
Do not overcook them. Keep an eye on them, and when the breading gets crispy, it means they are done. If they cook them for too long, the cheese will melt and begin to ooze out.
Save Recipe
Crispy Mac and Cheese Balls
Mac and Cheese Balls are the PERFECT comfort food that is crisp on the outside and creamy on the inside.
Author: Catalina Castravet
Serves: 15 balls
Prep time:

30

minutes
Cook time:

30

minutes
Total time:

1

hr
Nutrition information
Calories: 225 Carbohydrates: 25 Protein: 11 Fat: 9 Saturated Fat: 3 Cholesterol: 35 Sodium: 500 Potassium: 113 Fiber: 1 Sugar: 1 Vitamin A: 164 Calcium: 210 Iron: 2
Save Recipe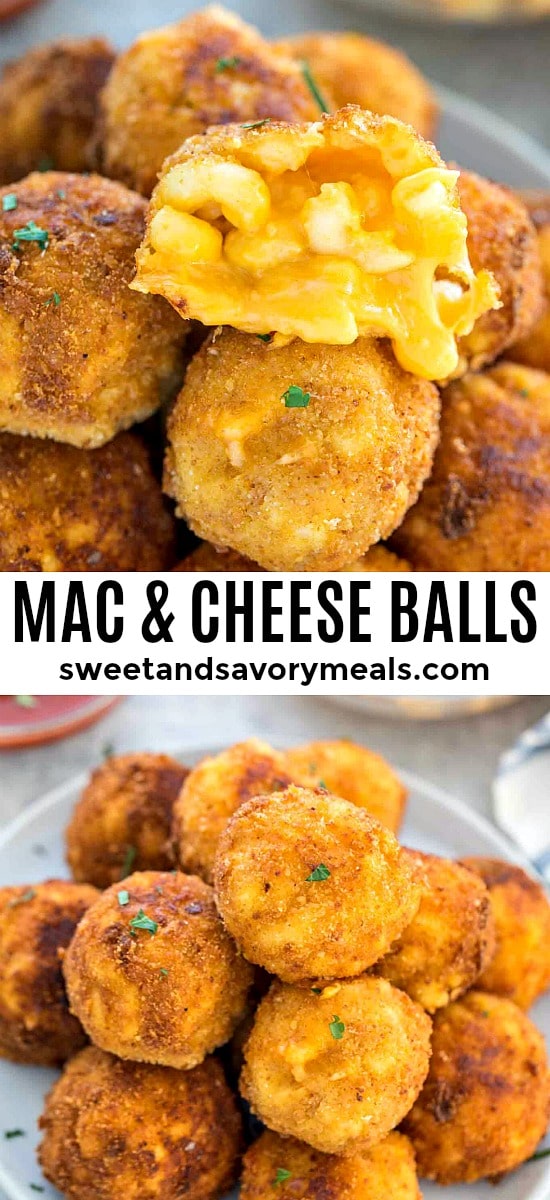 More recipes you might love
Categories: