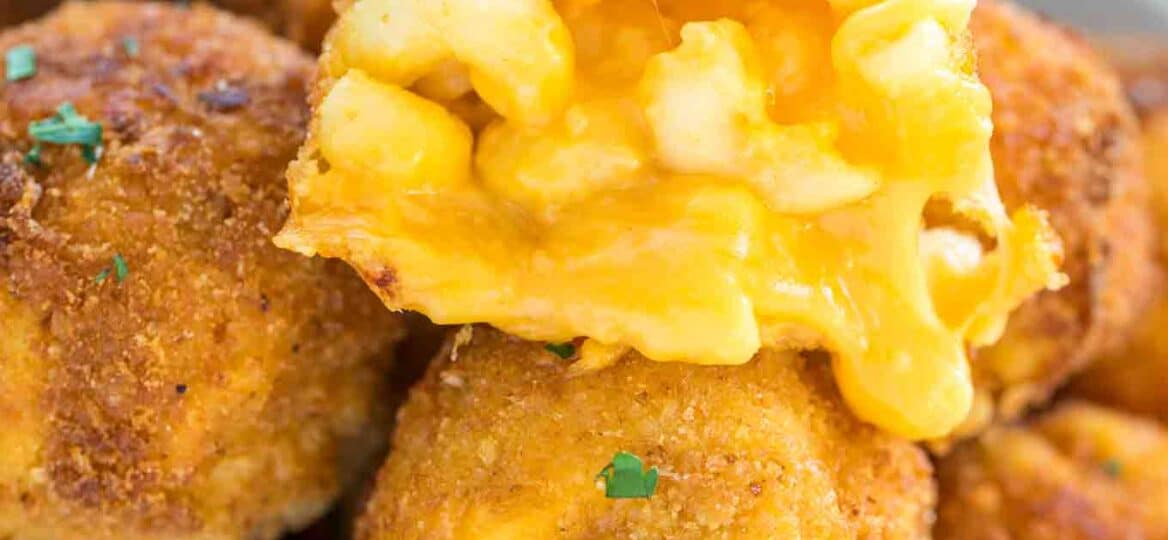 Mac and Cheese Balls [video]
Mac and Cheese Balls are the PERFECT comfort food, they are crispy on the outside and cheesy on the inside. Made with leftover mac and cheese, these are the BEST finger food that can be enjoyed at a party, or game day!
Easy appetizer recipes are perfect for when you host a party or you have to feed a crowd during game day. These delicious homemade balls are very easy to make with leftover pasta. You can enjoy them with some blue cheese sauce or marinara sauce, along with some fried cheese sticks.
Best Fried Mac and Cheese Balls
These cheesy appetizer balls are filled full of cheddar cheese and fried to a perfect crispy texture. Seriously, it doesn't get better than this. If you have leftover mac & cheese, then this becomes the easiest recipe to make. It is recommended to use refrigerated leftovers because it will be easier to shape the balls.
You turn delicious comfort food, into the perfect finger food, by rolling them into breadcrumbs and frying. As a result, you will end up with a portion of phenomenal tasty comfort food!
The best part is that if you don't even need any leftovers to make this recipe. You can use store-bought Macaroni and Cheese to make this dish.
Just shape the leftovers into meatball-sized balls, or make them smaller or bigger based on your preference. It is important to remember to put them back in the freezer, after breading, for at least 1 hour before frying.
This way they will turn out crunchy and crispy on the outside while being cheesy on the inside. Next time you host a party, go ahead and try these. They will be a huge hit with everyone!
Ingredients Needed:
Cheddar Cheese: Or your favorite cheese.
Parmesan Cheese: Love the tanginess.
Eggs and Milk: For the egg wash.
Macaroni & Cheese: Either leftovers or store-bought.
Bread Crumbs
Oil: For deep frying.
How to make fried mac and cheese balls?
Refrigerate: Start with refrigerated leftovers that have been in the fridge overnight. If you don't have leftovers, ensure to place the mac and cheese into the refrigerator for at least 3-4 hours to firm up.
More Cheese: Next, mix more cheese into the mixture, it makes it easier to shape and roll the balls, especially if the starting texture is more on the creamier side.
Scoop: Using a scoop, make about 15 individually sized balls and place them onto a baking sheet covered with parchment paper. Also, add the beaten eggs mixture to a shallow bowl, and the bread crumbs to another one.
Breading: After that, dip each ball into the egg wash and then dredge in breadcrumbs to form a nice and uniform coating.
Refrigerate: Once all the balls have been breaded, put them back in the refrigerator for at least 30 minutes before frying. However, if you are short of time, you can move straight to frying.
Heat the oil: Heat vegetable oil in a large stockpot or Dutch oven over medium-high heat.
Fry: Then, remove the balls from the freezer and add them in batches to the Dutch oven, fry about 4 minutes, until evenly golden brown and crispy.
Drain grease: Transfer to a paper towel-lined plate.
Serve: Serve immediately with your favorite dipping sauce.
How to bake these:
While baking will not give them the same crispiness on the outside, they will end up similarly delicious. Also, if you are not a fan of fried food, then baking is definitely a healthier option for you.
Simply, follow the same steps above up to frying the balls in the Dutch oven. Instead of frying, arrange them onto a baking sheet and cook in the preheated oven at 350 degrees F, for about 20-30 minutes. However, the cooking time may vary, depending upon how crusty you like them.
Also, remember to flip them around every 10 minutes and make sure that all sides are browned evenly.
Recipe Variations:
Change the flavor: Make this recipe using leftover Buffalo Chicken Mac n Cheese.
Different cheese: Also, choose your favorite cheese to mix in, just make sure it's a harder cheese, like fontina, gouda, or mozzarella.
Bacon: Everything is better with bacon, so stir in some crispy chopped bacon into the mixture.
Gluten-free: Actually this recipe can be easily made gluten-free, just use gluten-free pasta and bread crumbs.
Coating: Instead of bread crumbs use panko bread crumbs or make a potato chip coating by crushing some potato chips.
Spicy: Alternatively, add a spicy kick to these by adding some Sriracha sauce or red pepper flakes into the mix.
Air Fry: Also, make these in the Air Fryer, follow the recipe, and after that air fry at 380 degrees F for about 8 minutes, turning halfway.
How to serve:
Serve part of an appetizer platter, with a cheeseball, fresh chopped veggies.
Also, have on the side some dipping sauces, like marinara, ranch, buffalo sauce, or Catalina dressing. Similarly, try these topped with homemade alfredo sauce or enchilada sauce.
Optionally serve them on top of a salad.
Alternatively, serve them as a side dish to crockpot meatloaf or steak.
A great alternative is to add them as part of a lunch box, kids enjoy them and they are delicious cold as well.
How to store:
Store: Add the leftovers to an airtight container and store them in the fridge for 3-4 days. However, in case you have quite a few balls, and you intend on arranging them in layers, make sure to add parchment paper between them.
Freeze: Alternatively, place these in a freezer-safe airtight container, add parchment paper between layers. Or wrap them in plastic wrap and after that in foil and add to a freezer bag. After that, freeze for up to 3 months.
Thaw: When ready to serve, plan in advance and transfer the frozen balls into the fridge to thaw overnight.
Reheat: Either reheat in the microwave or preheat over to 350 degrees F, arrange onto a baking sheet and bake for 10 minutes or until warmed up.
Recipe tips:
This is a fun and easy recipe to make with kids, and they will love it! However, when making it with kids be careful with the hot oil. Alternatively, bake them or air fry them.
For a crispier texture make sure to refrigerate the balls before frying.
Also, take some extra care to press the breadcrumbs into each ball. When frying, you want the oil to get at the breadcrumbs, not the cheese inside.
Similarly, use your hands or a food processor to turn toast into crumbs for the topping, in case you don't have any on hand.
Do not overcook these. Keep an eye on them, and when the breading gets crispy, it means they are done. Because if you cook them for too long, the cheese will melt and begin to ooze out.