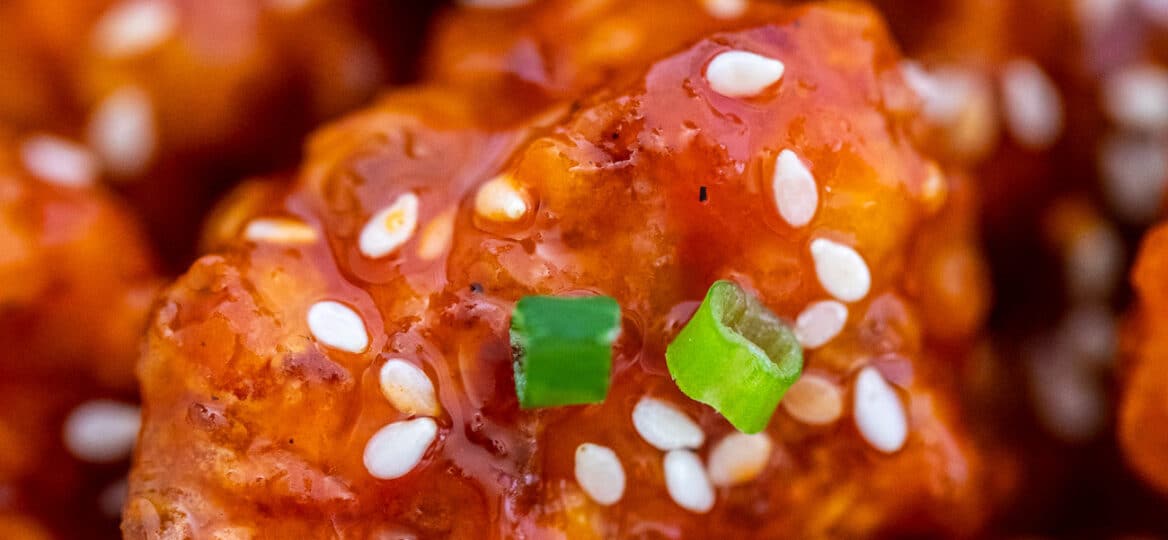 Firecracker Chicken Recipe [Video]
Firecracker Chicken is made with crispy white meat chunks in a sweet, sour, and spicy sauce. This dish is perfect for those who can take the heat!
If you like spicy dishes, then, you will love our other popular sweet and spicy recipes such as Hunan Beef, Bang Bang Shrimp, and General Tso Chicken!
The Best Firecracker Chicken Recipe
Firecracker Chicken is the solution for your Chinese dish craving, and it tastes a million times better than any take-out!! It is easy to make and even if it requires only a handful of ingredients. Moreover, it is super tasty and never short on flavor!
The name itself indicates how fiery this dish is. When you taste it, the spiciness explodes in your mouth. So, if you are like me who is adventurous and won't back out from chilis and peppers, then, you will enjoy this dish just as much!
Take note that the sauce is made with buffalo hot sauce, not the regular hot sauce. This gives the glaze a more buttery and garlicky taste. In addition, it adds more depth and flavor to it.
What is firecracker chicken?
This is a traditional Asian dish, that became very popular in the USA over the past decades. It has fried and breaded white meat as the base that is glazed with a sticky sauce that is sweet, sour, and spicy all at the same time.
There are many versions of this dish, and it pertains to just any spicy chicken dish. But then, this recipe is a homemade version of the popular takeout.
The sauce itself screams Asian flavors with the use of garlic, ginger, chili paste, and rice vinegar.
How do you make firecracker sauce?
Simply combine the following ingredients in a bowl:
buffalo hot sauce
ketchup
garlic
ginger
chili paste
brown sugar
rice vinegar
red pepper flakes
Once prepared, set it aside while you work on the meat.
How do you make firecracker chicken?
Prep the breading: In a bowl, combine the cornstarch and flour, and then, season with salt and black pepper. In another bowl, beat the eggs. To coat, dip the meat in the egg, then, dredge into the cornstarch mixture.
Fry: Heat 2 inches of oil in a deep frying pan. Then, fry the meat until golden brown. Set aside.
Glaze: Next, toss the meat in the sauce.
Serve: Sprinkle green onion and sesame seeds if you like, then, serve!
Recipe Variation
You can lower the carbs in this dish by leaving out the breading. What you can do is to bake the breasts whole.
Brown the white meat first on a skillet. Then, continue cooking in the oven at 400 degrees. After, baste with the sauce.
How do you make crispy chicken?
The secret to crispy chicken lies in the coating and the frying technique. The use of cornstarch does the trick as well as frying at a high enough temperature of 350 degrees Fahrenheit.
Can you make baked firecracker chicken?
Definitely! To prepare crispy white meat in the oven, follow our recipe for oven-baked tenders. Then, simply take off from that and finish the recipe. Please note, while baking is a healthier option, it will make the meat less crispy.
How do you serve firecracker chicken?
I like mine served with a heap of rice or quinoa. However, you can also serve it with salads, such as with Arugula Salad or Greek Salad. However, this dish is very versatile, and can be served with pretty much any dish, and during any time of the day!
Storing Instructions:
Refrigerate: Let the dish cool completely then, transfer into an airtight container. Store for 3 to 4 days.
Freeze: You can transfer the dish into freezer-proof containers. Store for up to 3 to 4 months.
Make-ahead: Also, you can cook the meat first and when ready, just make the sauce and toss.
Reheat: Simply bake at 350 degrees until heated through.
More delicious Asian dishes:
Recipe Tips
To make this dish paleo-friendly, replace the cornstarch with arrowroot powder and the flour with coconut flour.
In deep-frying, you can use your Dutch oven. It is deep so it will be easier to manage the splatters.
Since frying has a target temperature of 350 degrees, feel free to use a candy thermometer to monitor. Also, adding a few more pieces while frying will lower the temperature. Hence, keep an eye on the temperature to adjust the heat.
Feel free to change up the proportions of the sauce, especially if you are not a fan of spicy food.
Deliciousness to your inbox
Enjoy weekly hand picked recipes and recommendations