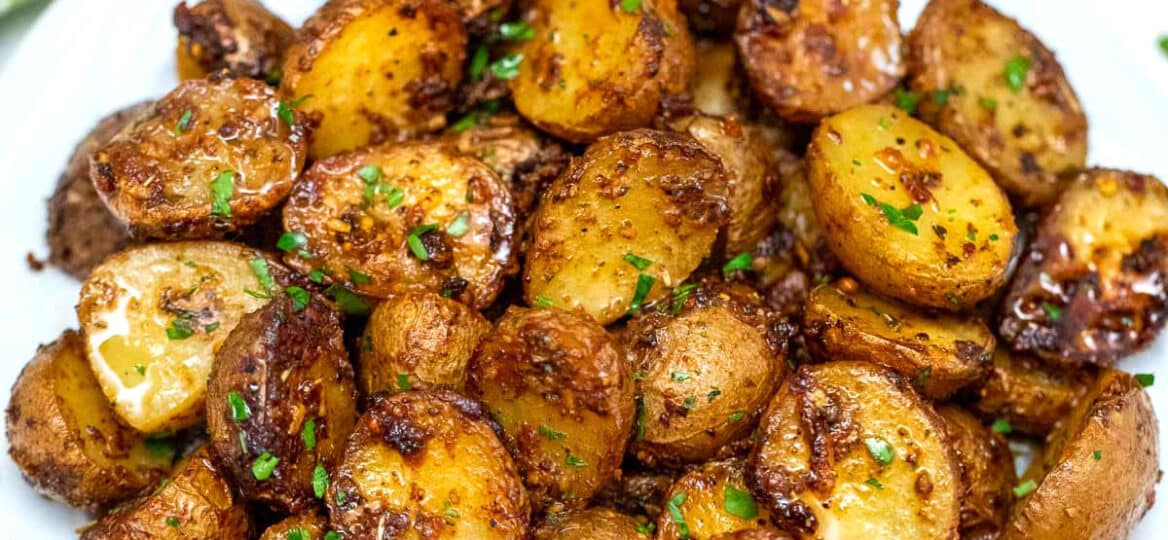 Crispy Air Fryer Potatoes [Video]
Air Fryer Potatoes are perfectly seasoned and crispy on the outside but fluffy and tender on the inside! A super easy and delicious side dish that goes with any meal. Snack on them without the guilt!
These are extra crispy and so addictive, that are probably by far our favorite air fryer recipes to date. If you love this dish, then, you will surely love my other recipes like the Slow Cooker Mashed Potatoes, Grilled Potatoes, and Slow Cooker Baked Potatoes!
To date, I thought that there is not a better side dish than our Garlic Roasted Potatoes. But it turned out that this Crispy Air Fryer Potatoes took the first spot.
The AF does an excellent job because you end up with extra crispy skin, while the inside remains tender and soft. Also, they are quite healthy because little oil is used compared to the oven-baked version. You end up with the same great texture, minus all the unhealthy fats from the oil!
We are loving this kitchen appliance and this recipe is one of the best ones you can make using it. If you are wondering how it works, let me break it down for you.
That nice crisp on the surface of the spud, or any food for that matter, is the result of the Maillard reaction that happens somewhere between 140 to 165 degrees Celsius. To create that, hot air is made to circulate around and through the pieces of food placed inside.
Unlike the traditional frying method that uses a ton of oil, you only use a light coating in extra virgin olive oil in this recipe. So, if you want to lessen your oil intake, use the Air Fryer to cook your food!
Ingredients for Roasted Potatoes:
Potatoes: I like using baby red potatoes for this recipe. They are smaller in size and just work perfectly for roasting, resulting in extra crispy potatoes all the time.
Olive oil
Seasoning: Garlic powder, onion powder, homemade Italian seasoning, smoked paprika, salt, and pepper.
Cheese: Grated parmesan cheese.
Fresh parsley: To garnish.
How to make Air Fryer Roasted Potatoes?
Cut potatoes: First thing I like cutting the spuds in half. Simply use a sharp knife, and cut them evenly into smaller pieces.
Season: Next, simply toss the potatoes in a large bowl along with oil, seasonings, and shredded cheese.
Cook: Place the pieces in the air fryer basket and set them to cook at 400 degrees Fahrenheit.
Shake: After 10 minutes, shake the basket. Then, return it.
Serve: Check 8 to 10 minutes after to check if already golden brown. Then, serve with a drizzle of lemon juice and parsley.
Recipe Variations:
Spuds: Feel free to use your favorite type of spuds. Gold potatoes, Yukon golds, white potatoes, or yellow potatoes are great alternatives. Just remember, if you use larger potatoes, simply cut them into smaller pieces using a sharp knife.
Seasoning: You can use your favorite seasonings. I like to use homemade ranch seasoning, cajun seasoning, or chili powder, etc.
Instant Pot: Do you have an Instant Pot? Then, make these Roasted Instant Pot Potatoes.
Oil: I mostly use extra virgin olive oil. However, you can use avocado oil, sesame oil, canola oil, or vegetable oil.
Best potatoes to use for Air Fryer?
For this recipe, I use baby potatoes or tri-color ones. I like how easy it is to prepare them since they are very small, you only need to halve each one.
Use whatever you have, and it will be fine — Yukon Gold, Russet potatoes, etc. But since you like the outside to be crispy, you may sometimes not remove any skin. Just make sure to scrub the surface well to get rid of any dirt. Also, buy organic!
Can you bake whole sweet potatoes in the air fryer?
Absolutely! Want an even healthier dinner for the whole family to enjoy? Then, learn how to make this Air Fryer Sweet Potatoes recipe.
Are French fries healthier in an air fryer?
Yes! Traditional french fries are deep-fried in a lot of oil, and by all means, they are not a healthy side dish.
On the other hand, when cooking them in the air fryer, you use only a little bit of oil. The main secret of it is that it uses a continuous circulation of hot air to fry the food. Making it a way healthier alternative.
Do you need to boil potatoes before frying?
Yes and no. Others swear by this method of parboiling the spuds before actually frying them. Sometimes, they even refrigerate the pieces after boiling. Parboiling removes the starch.
While they report that this method keeps the center moist and the outside crispy, you can achieve the same outcome without boiling the spuds. Following this recipe is one way of skipping the boiling part entirely!
How to avoid uneven cooking in the Air Fryer?
Do not overload the basket and arrange them into a single layer. This way, there is enough space for the air to go around. If you have lots to prepare, cook in batches. Also, give it a shake in between cooking to rearrange the pieces.
What to Serve with Crispy Air Fryer Potatoes?
This dish goes well with meaty dishes of all sorts of textures and flavors. They are great on the side of this crispy shake and bake pork chops. Here are some delicious examples of what to include in your meal plan:
How to Store leftovers?
Refrigerate: Place them in an airtight container and put them in the fridge for 3 or 4 days.
Freeze: They will last 10 to 12 months when frozen in freezer bags.
To reheat: Simply microwave them for a few minutes until warm.
More amazing air fryer recipes:
Recipe Tips:
When storing uncooked spuds, place them in a cool and dry place.
Also, if you are cooking a larger batch then cook them in pieces. First, cook the first batch in a single layer, then repeat with the rest.
Use tongs to remove them from the basket.
Add cayenne or chili flakes if you want more kick.
Because we cook them with the skin on, you have to always wash them prior to cooking to remove the dirt.
In addition, preheat the air fryer prior to cooking for maximum crispiness.
For a creamier flavor, serve them with a dollop of sour cream on top.
Watch recipe video:
https://youtu.be/DN_taKCncY0