Crispy Air Fryer Potatoes [Video]
Air Fryer Potatoes are perfectly seasoned and crispy on the outside but fluffy and tender on the inside! Snack on them without the guilt!
This simple side dish is a winner every time! If you love this dish, then, you will surely love my other recipes like the Slow Cooker Mashed Potatoes, Grilled Potatoes, and Slow Cooker Baked Potatoes!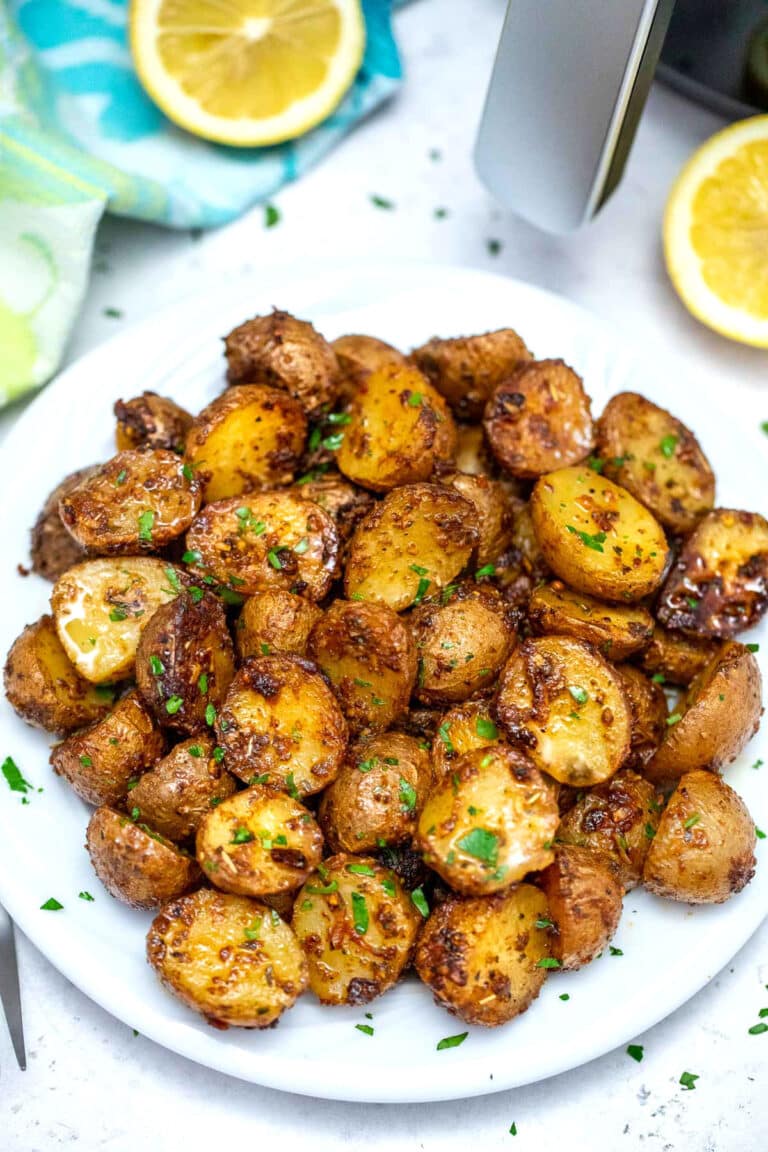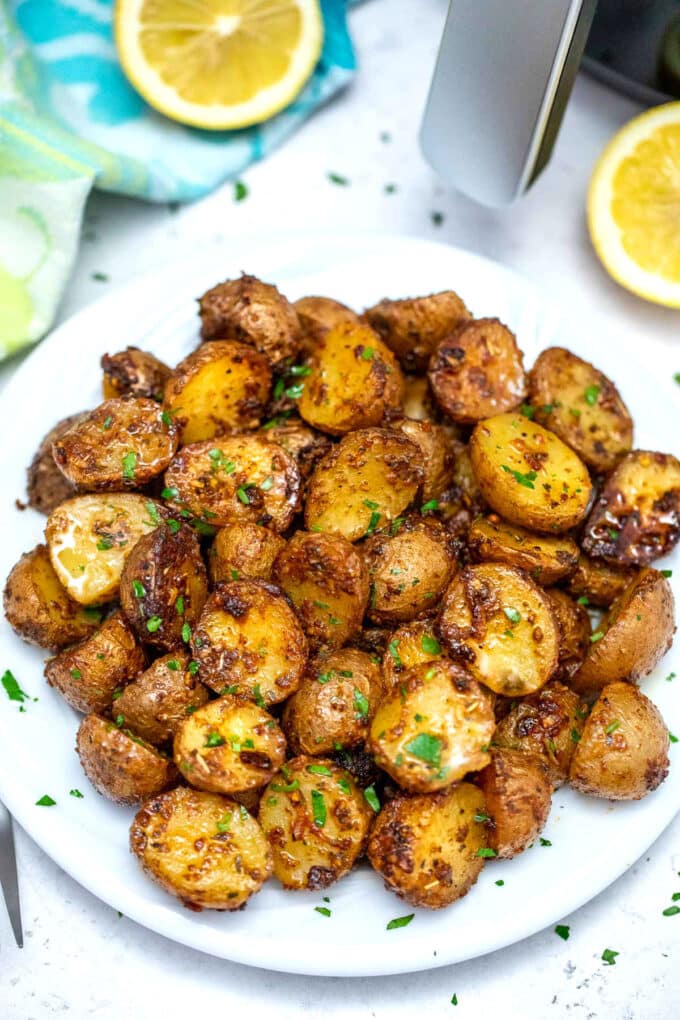 Crispy Air Fryer Potatoes Recipe
Air Fryer Potatoes are a healthier version of the oil-fried ones using. Same great texture, minus all the unhealthy fats from the oil!
We are loving this kitchen appliance and this recipe is one of the best ones you can make using it. If you are wondering how it works, let me break it down for you.
That nice crisp on the surface of the spud, or any food for that matter, is the result of the Maillard reaction that happens somewhere between 140 to 165 degrees Celsius. To create that, hot air is made to circulate around and through the pieces of food placed inside.
Unlike the traditional frying method that uses a ton of oil, you only use a light coating in extra virgin olive oil in this recipe. So, if you want to lessen your oil intake, use the Air Fryer to cook your food!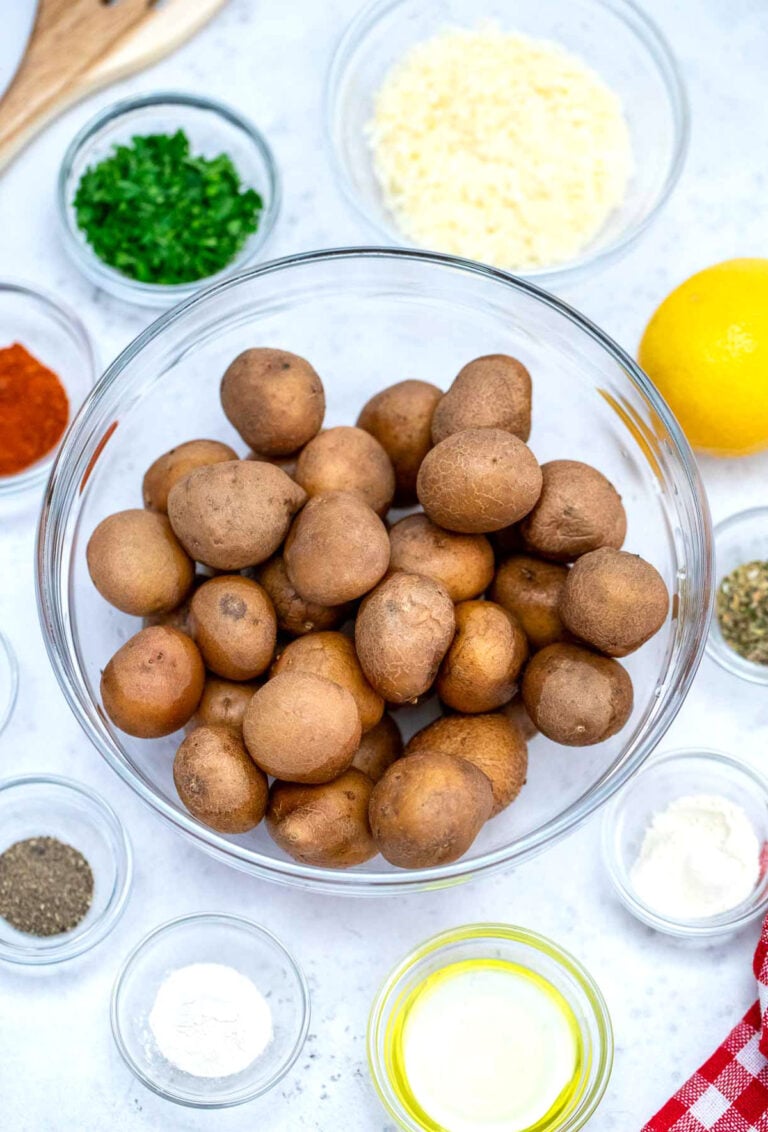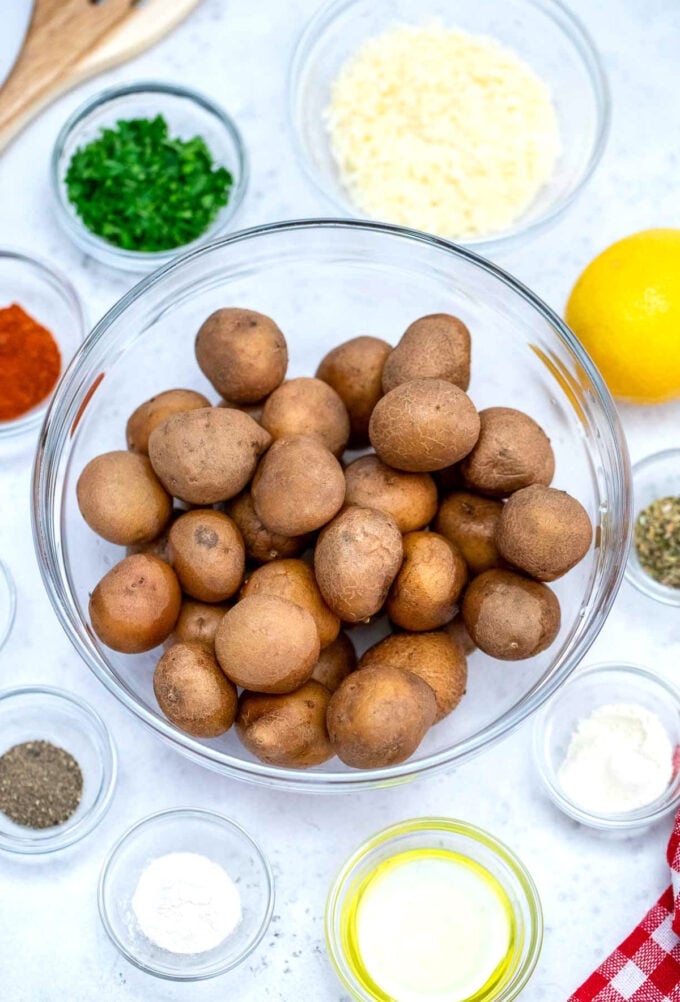 Do you need to boil potatoes before frying?
Yes and no. Others swear by this method of parboiling the spuds before actually frying them. Sometimes, they even refrigerate the pieces after boiling. Parboiling removes the starch.
While they report that this method keeps the center moist and the outside crispy, you can achieve the same outcome without boiling the spuds. Following this recipe is one way of skipping the boiling part entirely!
How to make Air Fryer Roasted Potatoes?
Season: Simply toss the oil, seasonings, and cheese with the spuds.
Cook: Place the pieces in the basket and set to cook at 400 degrees Fahrenheit.
Shake: After 10 minutes, shake the basket. Then, return it.
Serve: Check 8 to 10 minutes after to check if already golden brown. Then, serve with a drizzle of lemon juice and parsley.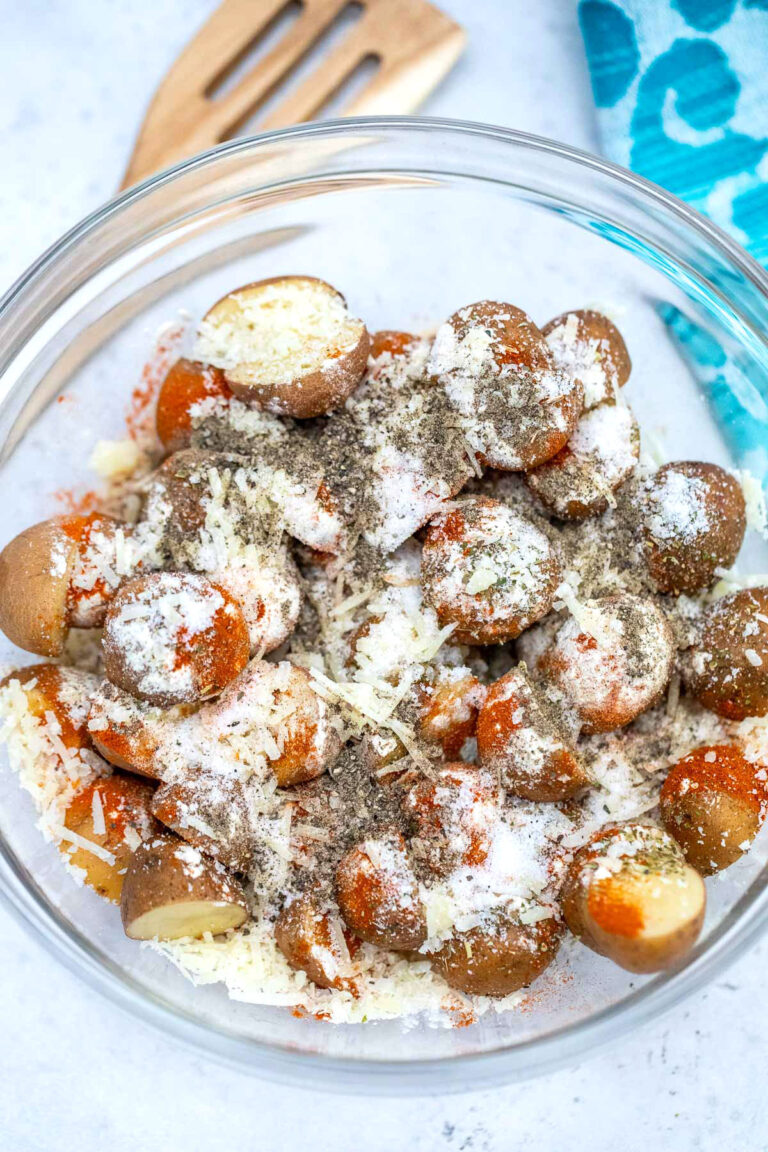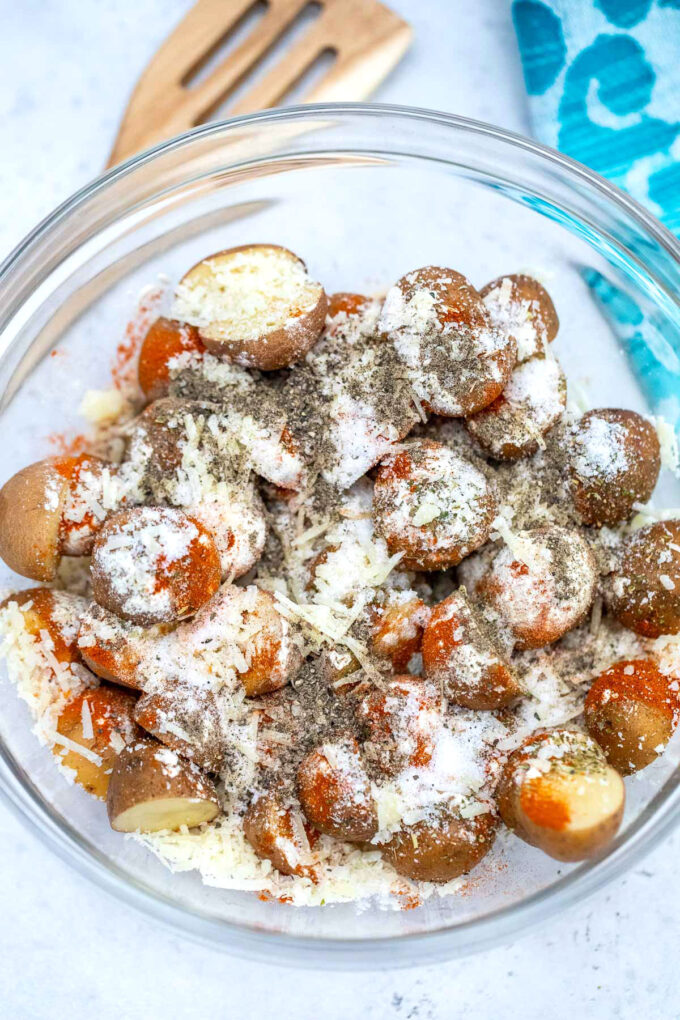 How to avoid uneven cooking in the Air Fryer?
Do not overload the basket so that there is enough space for the air to go around. If you have lots to prepare, cook in batches. Also, give it a shake in between cooking to rearrange the pieces.
What to Serve with Air Fryer Potatoes?
This dish goes well with meaty dishes of all sorts of textures and flavors. Here are some delicious examples of what to include in your meal plan: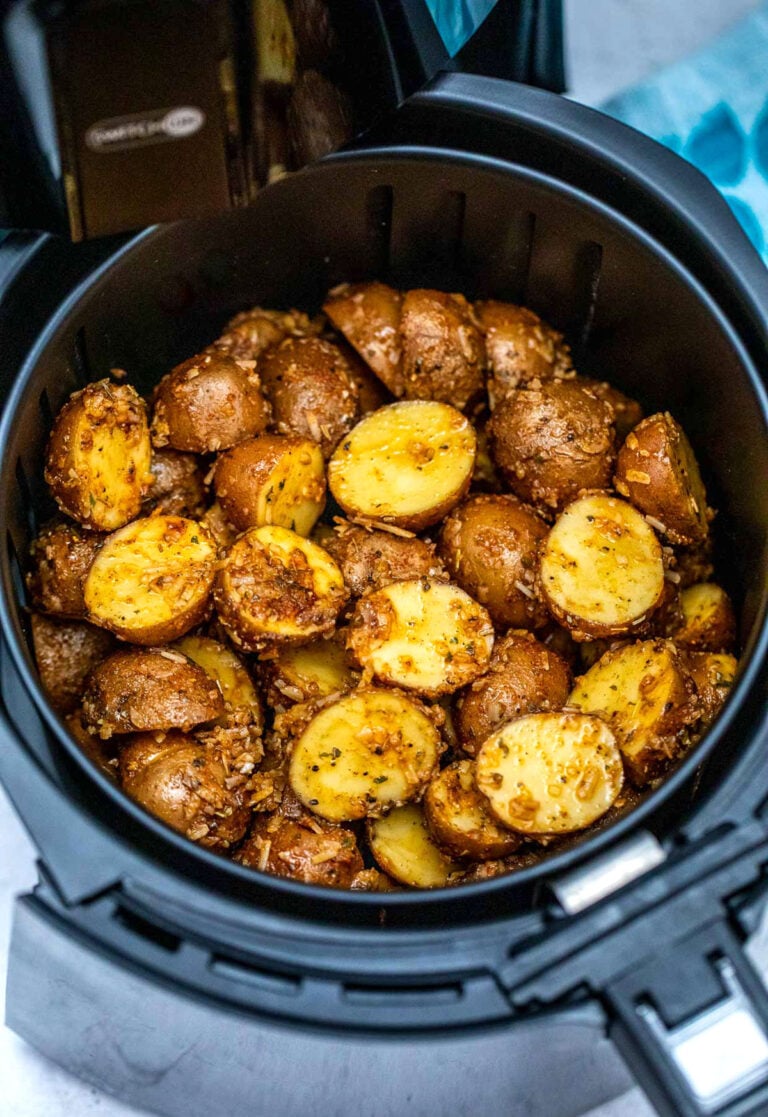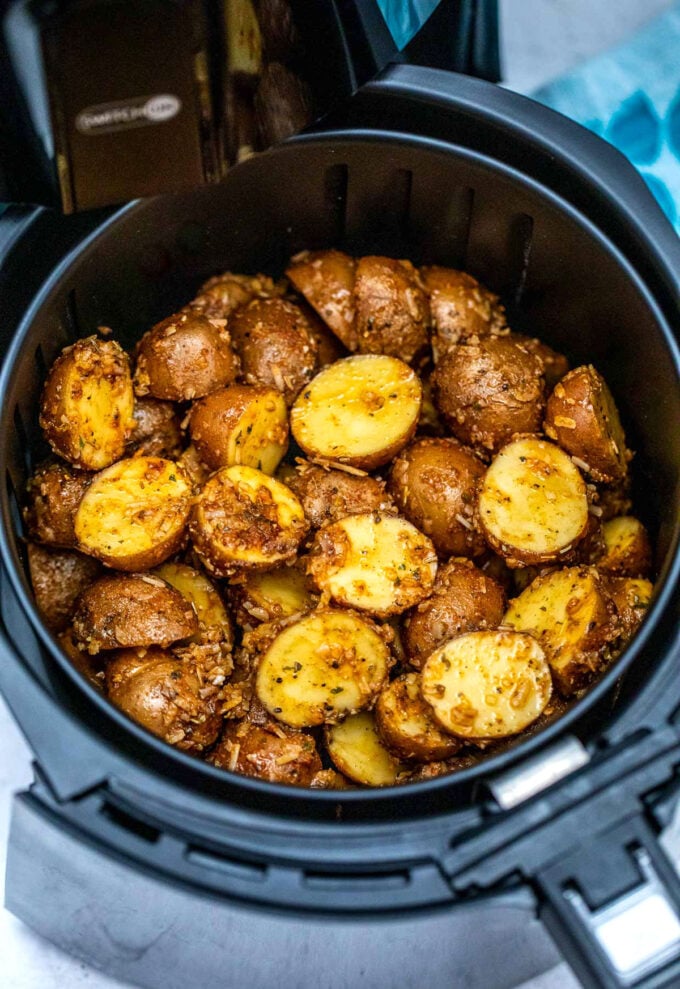 Best potatoes to use for Air Fryer?
For this recipe, I use baby potatoes or tri-color ones. I like how easy it is to prepare them since they are very small, you only need to halve each one.
Use whatever you have, and it will be fine — Yukon Gold, Russet spuds, etc. But since you like the outside to be crispy, you may sometimes not remove any skin. Just make sure to scrub the surface well to get rid of any dirt. Also, buy organic!
How to Store:
Refrigerate: Place them in an airtight container and put in the fridge for 3 or 4 days.
Freeze: They will last 10 to 12 months when frozen in freezer bags.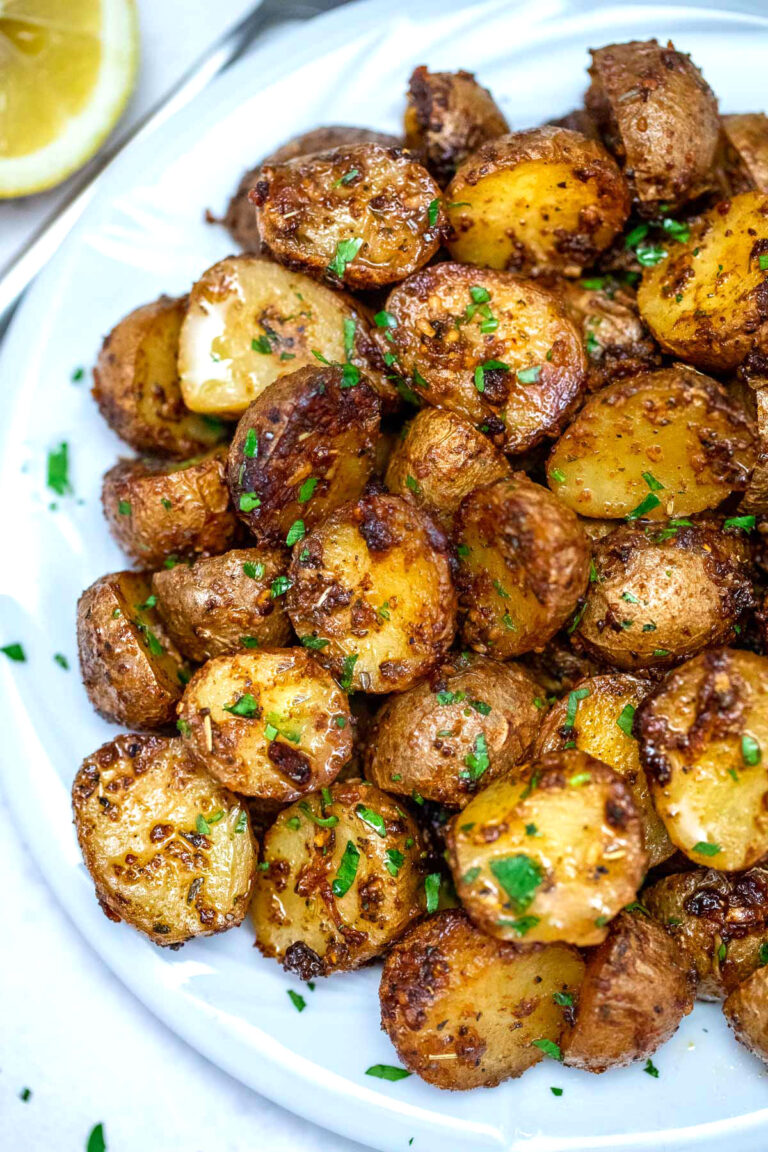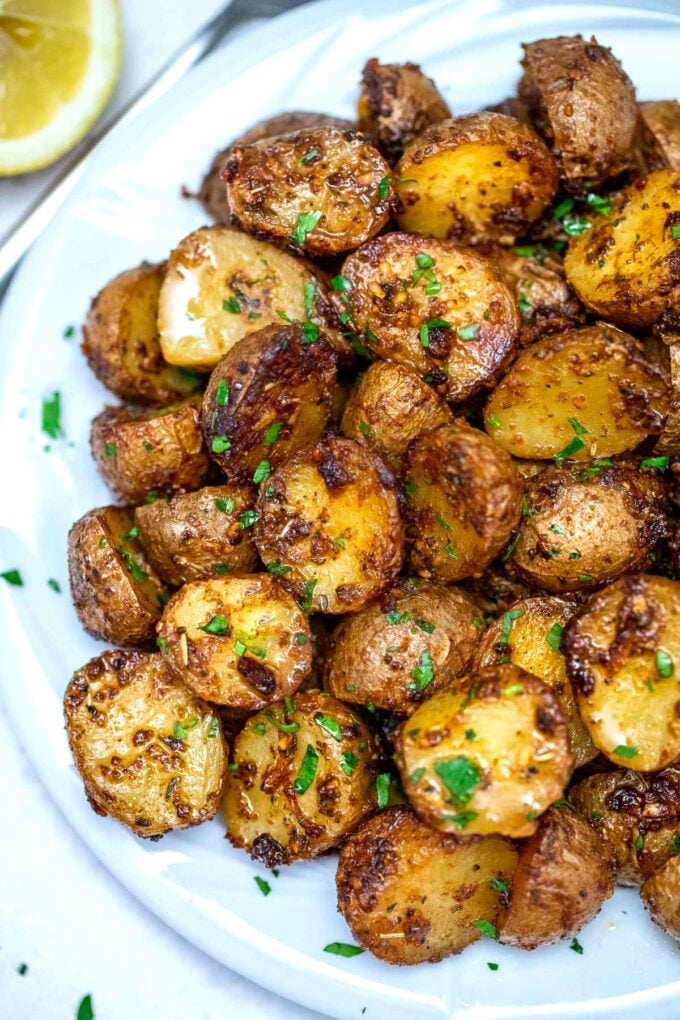 Recipe Tips:
When storing uncooked spuds, place them in a cool and dry place.
Make the Italian seasoning from scratch with this recipe.
Add cayenne or chili flakes if you want more kick.
Watch recipe video: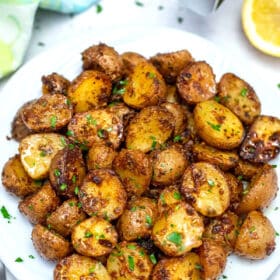 Crispy Air Fryer Potatoes
Air Fryer Potatoes are perfectly seasoned and crispy on the outside but fluffy and tender on the inside! Snack on them without the guilt!
Save
Share
Print
Pin
Rate
Servings:
4
servings as a side dish
Ingredients
1

lb.

baby red potatoes

(washed and halved)

1

tablespoon

extra-virgin olive oil

1

teaspoon

garlic powder

1

teaspoon

onion powder

1

teaspoon

Italian seasoning

1

teaspoon

smoked paprika

¼

cup

grated parmesan cheese

Kosher salt

(to taste)

Freshly ground black pepper

(to taste)
Instructions
In a large bowl, toss the halved potatoes with the rest of the ingredients.

Place potatoes in the basket of the air fryer and cook at 400 degrees F for 10 minutes. Try not to overload the basket, if needed cook in batches.

After 10 minutes, shake basket and stir the potatoes. Cook for 8-10 more minutes, or until the potatoes are golden, crispy on the outside and tender inside.

Serve with a squeeze of lemon juice and chopped parsley.
Nutrition
Calories:
144
kcal
|
Carbohydrates:
20
g
|
Protein:
5
g
|
Fat:
6
g
|
Saturated Fat:
2
g
|
Cholesterol:
6
mg
|
Sodium:
117
mg
|
Potassium:
536
mg
|
Fiber:
2
g
|
Sugar:
2
g
|
Vitamin A:
300
IU
|
Vitamin C:
10
mg
|
Calcium:
89
mg
|
Iron:
1
mg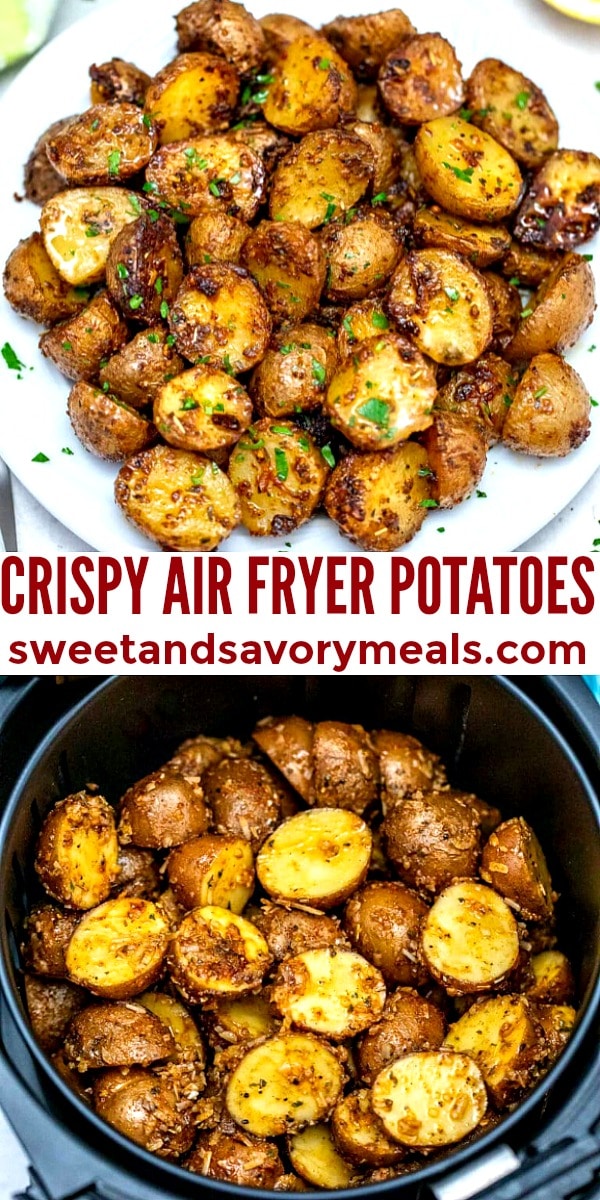 More recipes you might love