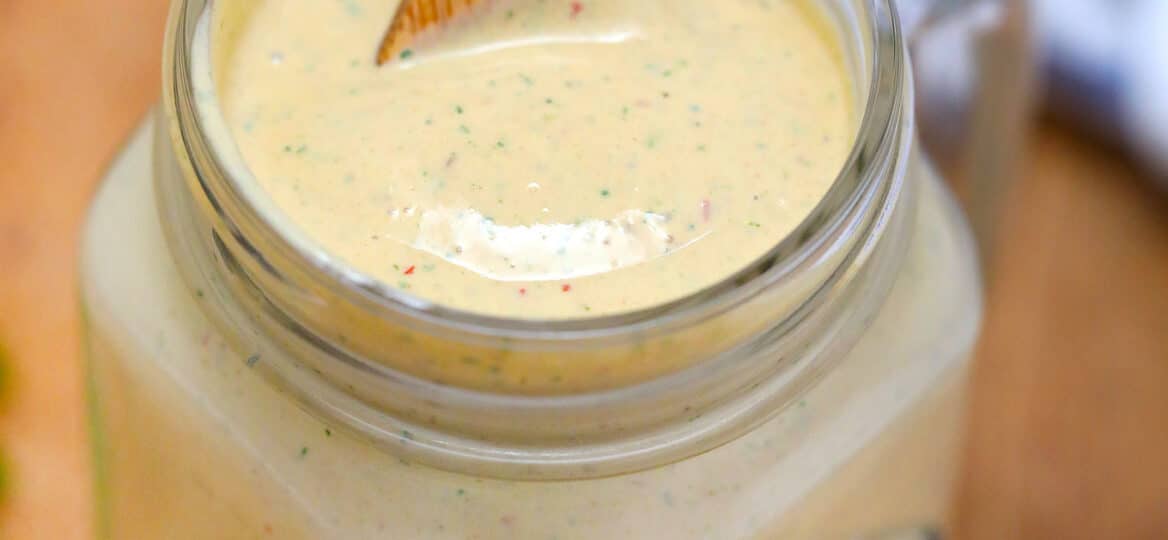 Chipotle Sauce Recipe – 5 Minutes [Video]
Chipotle Sauce is super easy to make and is great on salads, as a dipping sauce and even as a marinade. Spicy, creamy and refreshing, ready in just 5 minutes. Check out the short recipe video bellow for quick tutorial steps.
Serve it with some delicious Chicken Wings, or pour it on top of a Homemade Taco Salad. It also works great on the side of this Slow Cooker Pineapple Pork.
The Best Chipotle Sauce Recipe
Chipotle Sauce Recipe will take you 5 minutes to prepare and you can enjoy it right away on your favorite salad. This sauce is a staple in our house, its incredibly creamy and flavorful with just the right amount of spiciness.
Packed with fresh cilantro, the Chipotle Sauce is also refreshing. For a more citrusy flavor, you can go ahead and add some lime zest to it.
I like to pour it over Chicken Lettuce Wraps, use it as a delicious sauce for homemade IP Chicken Wings, or simply use it as a dipping sauce for Roasted Potatoes.
Also, you can make a double batch from the start, as it can be refrigerated for up to 1 month. You can also replace the pesto in this Chicken Kabobs Recipe and make Chipotle Chicken Kabobs.
Where is a chipotle sauce from?
This sauce is basically a chili used primarily in Mexican and Mexican-inspired cuisines, such as Mexican-American, Tex-Mex, and Southwestern dishes. It comes in different forms, such as chipotles en adobo, and is widely used now all over the world.
What is Chipotle Sauce made of?
This is one of the easiest dishes you can make with only 5 simple ingredients. You will need:
Chipotle Pepper
Mayonnaise
Whole Milk Greek Yogurt
Cilantro, Cumin and Ground Coriander
Lime Zest – Optional
How to make lime zest?
Follow these easy steps below:
First, rinse the lime.
Set your tool over a cutting board. A Microplane produces a very fine zest, perfect for baking and cooking. If you don't have a microplane, use the smallest holes on an ordinary grater.
Then, grate the green skin of the lime only. Grate just enough to get through the green skin, this way you can avoid the bitter white pith underneath.
Rotate the lime and repeat. Once the white pith is exposed, rotate the lime and zest the next strip of peel. Repeat until most of the peel is removed, or until you have enough zest for your recipe.
Chipotle Sauce Recipe Tips:
When making a mayo-based sauce, I recommend using full-fat mayo. However, you can totally make a "skinnier" version by using Fat-Free Mayo. But please be aware that the sauce will be a bit more watery.
Also, you can use either sour cream or whole milk Greek yogurt. I like both options, but prefer the sour cream as it adds a bit more tanginess to it.
In addition, using fresh cilantro is key, please don't try to substitute, the fresher the better. Make sure your cilantro is washed and towel-dried.
If you are vegan, make this with Veganaise or silken tofu. A flavor booster for sure!
You can adjust the spiciness as you please by adding more or less chipotle peppers in adobo sauce. I usually add 2, but if you like the sauce extra spicy add more.
Similarly, the cumin and coriander complement the sauce nicely. You can also add a little fresh lime zest for a more citrusy and refreshing flavor.
If you want to customize it, even more, a few garlic cloves will add a nice punch of flavor too.
What goes good with chipotle sauce?
It goes pretty much on anything. We love to use it on meats, fish, or tacos. Some good mixes are:
Tools/ingredients that I used to make the Best Chipotle Sauce Recipe: