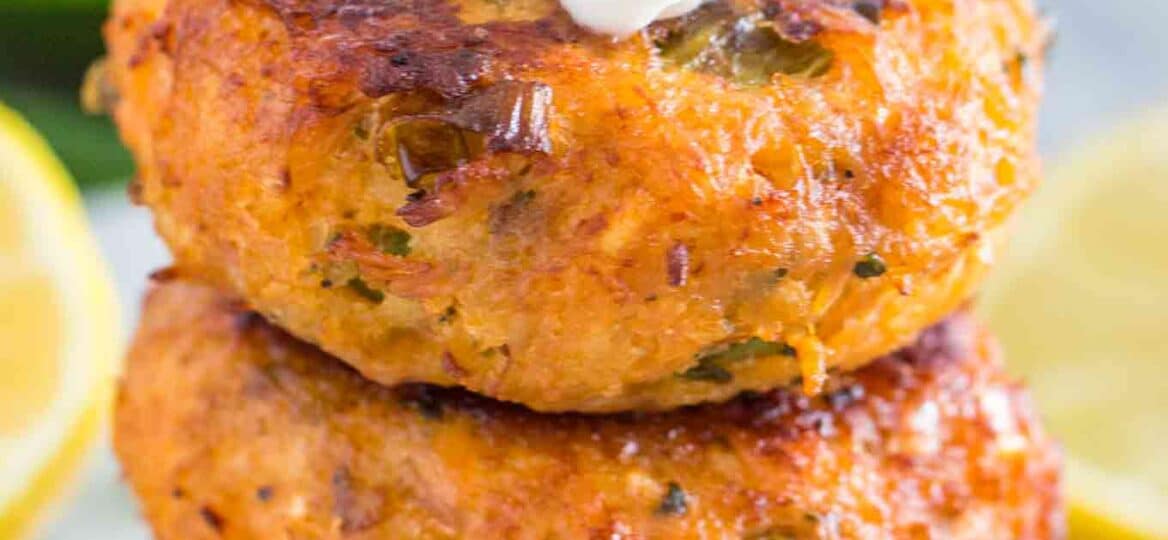 Salmon Patties Recipe [Video]
Salmon patties recipe is quick, easy, and bursting with flavor, these crispy salmon cakes make for a healthy and satisfying meal or appetizer. Southern salmon patties can be made with canned salmon or fresh salmon, but the salmon mixture has to be moist and sticky to stay together. With a variety of seasonings, onions, and bread crumbs mixed with eggs, mayo, and hot sauce, these salmon patties are full of flavors.
Old-fashioned salmon patties were made with just salmon, bread crumbs, and some kind of binder like eggs. The first salmon patties were actually called salmon croquettes. They originated in France back in the 1700s. It was Chef Georges Auguste Escoffier who was given the credit for the recipe although he had help from a man named Philias Gilbert too.
Not only are these salmon patties delicious but they are also very healthy with a variety of vitamins, minerals, antioxidants, and healthy fats. Of course, this depends on whether you fry them in oil or bake them in the oven. You could also use an air fryer to make salmon patties. Just follow the same recipe instructions until you get to the pan-frying part and then air fry for three minutes on each side.
Follow us on Pinterest for more delicious recipes!
Ingredients needed:
Here are the basic ingredients for this delicious recipe. When you are ready to start, scroll down to our recipe card for the precise measurements and directions.
Salmon: Cooked and flaked.
Chopped green onions
Minced garlic
Large eggs: Slightly beaten.
Mayonnaise
Lemon zest
Lemon juice
Hot sauce: Optional.
Canola or vegetable oil: For cooking.
Fresh ginger: Grated.

Panko breadcrumbs

Italian seasoning
Paprika
Dried parsley
Salt

Pepper
How to make salmon patties from scratch?
Preheat oven: First, preheat the oven to 425 degrees F.
Bake salmon: While you wait, place salmon on a prepared baking sheet with the skin side down. Brush with olive oil and add salt and pepper to taste. Bake for 10 minutes.

Flake the fish: Once it is finished cooking, remove the skin and flake the salmon with a fork. Remove any bones you see.

Mix it all up: Then, add the rest of the salmon patty ingredients and mix together using clean hands.

Make the patties: Next, use a large cookie scoop or an ice cream scoop to make salmon patties. Press them down to make them flat.

Pan fry salmon patties: In a large skillet over medium heat, add a tablespoon of oil and let it get hot before adding the salmon patties. Cook for four to five minutes on each side or until golden brown.

Drain and serve: Last, let patties drain on paper towels, patting them dry to remove excess oil before serving.
Can I bake salmon cakes instead?
Absolutely. If you prefer baking the patties rather than frying, by all means, do so. Follow the same steps above prior to placing the patties into the skillet. Instead, preheat the oven to 375 degrees F, and bake them for about 10 minutes in the preheated oven.
Turning them over after about 5 minutes of baking will ensure even and uniform baking.
Recipe variations:
Canned tuna: You could also make tuna patties or crab cakes. Any kind of fish cake is delicious and healthy.

Red pepper flakes: Those who love spicy food will appreciate a pinch of red pepper flakes added to this easy salmon patties recipe.

Other veggies: Feel free to add your favorite veggies like minced bell pepper and diced onion.

More flavor: Add Worcestershire sauce or Old Bay Seasoning to your salmon patty mixture for extra flavor.

Parmesan cheese: You can also mix in some grated parmesan cheese to add a rich and salty flavor.

No breading: Corn meal and almond flour are two other great substitutes for bread crumbs.

Fresh herbs and spices: Add your own favorite herbs and spices like fresh dill, thyme, oregano, onion, and garlic powder.
How to serve:
This delicious salmon cake recipe can be made in less than 30 minutes for a scrumptious and healthy dish any night of the week. Try one of our awesome serving ideas here or share some of your own in the comments section.
Serve salmon patties with slices of cheese on a bun with Dijon mustard and mayo for a delicious sandwich. A salmon pattie sandwich is a perfect after-school snack for the kids.
Do not forget the tartar sauce! We have a great recipe for McDonald's Tartar Sauce.

Serve with a green salad on the side for an extra healthy and filling meal.

Leftover salmon patties can be crumbled up and added to salads, casseroles, and soups. Try our easy recipe for salmon soup.

You can also use it to make salmon croquettes. They taste amazing dipped in sour cream or Greek yogurt.
This smoked salmon dip is another great way to use up your leftover salmon patties.
These salmon patties will also make a delicious meal served with french fries or chips.
Frequently asked questions
What is the best salmon for this salmon patty recipe?
You can use any kind of salmon you like. There are many kinds to choose from and some work better than others, but it is really just what you prefer. You can even use canned salmon instead of fresh salmon to save you a lot of prep time. Making salmon cakes is easiest with moist salmon that will stick together better.
What are the different kinds of salmon?
The fresh salmon from the Pacific Ocean includes sockeye, Coho, Chinook, Chum, and Pink salmon. From the Atlantic Ocean, you will only find one kind which they have aptly named Atlantic salmon. Canned salmon comes in several varieties as well including canned red salmon, pink, and sockeye salmon. You may also hear these salmon types referred to as silver, dog, keta, or king salmon.
What about smoked salmon?
Smoked salmon has been smoked with wood to give it more flavor and a different texture. It is similar to lox, but lox is not smoked. It is usually high in sodium with about 1,000 mg per serving compared to regular salmon which only has about 75 mg per serving. However, it is also a great source of protein, omega-3 fatty acids, antioxidants, and vitamin B.
What is the difference between salmon croquettes, burgers, and patties?
When making croquettes, the salmon is ground into a paste and mixed with flour or cornmeal. Then, they are shaped into balls or patties before frying. Salmon burgers are the same as patties, but you make them larger to fit on a bun. Also, you may find other ingredients in salmon burgers like minced onions and bell peppers.
Why do my salmon patties fall apart?
The most common reason for crumbly salmon patties is that they are too wet. They need a certain amount of bread crumbs or some other dry breading to hold them together. Since salmon types vary in the amount of fat and moisture, you may have to adjust your recipe. If you overmix your salmon, this can also make them too dense, and they can fall apart when cooking them. Try chilling your patties for 30 minutes before cooking and do not handle them too much.
Can I use canned salmon to make Salmon Patties?
Using canned salmon is a great alternative. It will also save you some time.
Drain and reserve liquid from canned salmon.
Next, add the rest of the ingredients, and mix them together using your hands.
Use an ice cream scoop for portioning so each patty is about the same size.
In a skillet, heat some canola or vegetable oil. Place patties in the pan. Brown on each side for about 4-5 minutes, turning gently.
Drain on paper towels and serve.
More recipes with salmon:
How to store leftovers:
Store: You can store your leftover salmon patties in an airtight container. Place parchment or wax paper between each one to keep them from sticking and refrigerate for up to three days.
Freeze: You could also freeze salmon patties. You can freeze uncooked patties wrapped individually in plastic wrap or put a piece of parchment or wax paper between each one. To freeze cooked patties, wrap them in plastic wrap and then put them in a freezer bag. They will stay fresh for about 90 days.
Thaw: Put frozen fish patties in the fridge overnight before serving for the best results.

Reheat: To reheat, put them in the microwave and cook them on medium-high heat for 45 to 90 seconds. You could also reheat them in the air fryer for a few minutes if you want them crispy.
Recipe tips:
If you do not have fresh onions and garlic, you can use onion powder and garlic powder instead.
Making salmon patties is a kid-friendly recipe. Let the kids form the fish patties so you do not have to get your hands dirty!
In a pinch, you can even use flour or saltine crackers instead of bread crumbs.

Fresh fish is best, but it can be substituted with canned salmon. A canned salmon patties recipe is so much faster and easier. Just make sure you drain it first. Drained salmon makes the best salmon patties but save some of the juice in case they are too dry.
If your salmon patties are a little dry, use some of the salmon juice and start over.

You could also use leftover cooked salmon from dinner the night before.

Only flip your salmon patties one time. Handling them too much can make them fall apart.

Check out our food blog to see some of our other salmon recipes.
Salmon Patties
Ingredients
1

lb

salmon

cooked and flaked

1/2

cup

green onions

chopped

4

cloves

garlic

minced

1

teaspoon

fresh ginger

grated

1 1/2

cups

Panko bread crumbs

plain

1/2

teaspoon

Italian herbs seasoning

1/2

teaspoon

paprika

1

teaspoon

dried parsley

1/4

teaspoon

salt and pepper

or to taste

2

large eggs

lightly beaten

1/4

cup

mayo

1

tablespoon

lemon juice

2

tablespoons

hot sauce

optional

zest of one lemon

Canola or vegetable oil

to cook the patties
Instructions
Place salmon skin-side down on a lightly greased baking sheet, and season with some salt and pepper. Brush with olive oil, and bake it for 10 minutes (uncovered) in the oven at 425˚F.

Once baked, discard the skin, and flake the salmon with a fork. If it has any bones, remove them.

Next, add to the salmon the rest of the ingredients, and mix them together using your hands.

Use an ice cream scoop for portioning so each salmon patty is about the same size, and make it into patties.

In a skillet, add some canola or vegetable oil, about 1 inch from the surface. Once the oil is sizzling, add the patties to the pan. Cook on each side for about 4-5 minutes, or until golden brown, turning gently.

Drain on paper towels and serve as is with a dipping sauce, or make salmon burgers, serve with rice, or on top of salads.