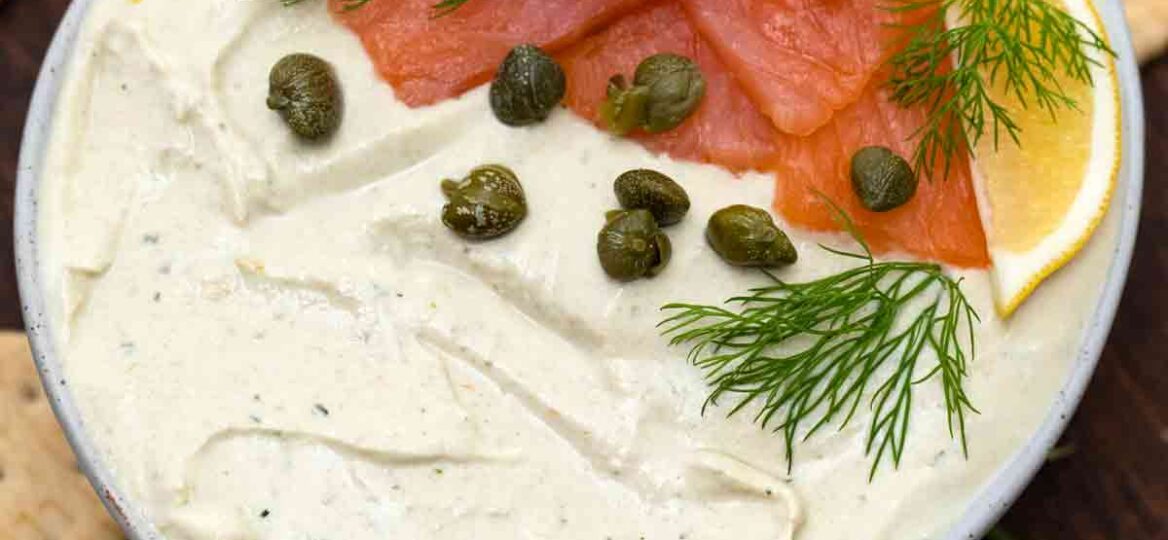 Smoked Salmon Dip is an elegant appetizer bursting with bold flavors. The smokiness of the salmon really shines through the zesty cream cheese loaded with capers, herbs, and spices. An easy but impressive hors d'oeuvre!
Got an upcoming dinner party? Treat your guests to these Fondant Potatoes, Wine Roasted Beef Tenderloin, and the Perfect Crème Brûlée for dessert! All of these look beautiful on the table and taste even better.
Easy Salmon Dip
Smoked Salmon Dip is seriously 100% better than anything you can buy at the store. Those ready-made ones are usually bland and only have the faintest hint of cured fish. Not this recipe!
We're using great ingredients like lemon juice plus zest, freshly-chopped herbs, high-quality cream cheese, and real cured salmon. We're not holding back on the flavors!
Make sure you use the highest-quality smoked salmon available because it really defines the taste of this dip. Aside from tasting heavenly, it also looks sophisticated when plated up. No one will guess that it only took you a few minutes from start to finish!
Smoked Salmon Dip Ingredients:
For the creamy base: For the zestiest and creamiest base, we're combining cream cheese with the richness of mayo and tangy sour cream. Perking up the creaminess is the juice and zest of one lemon. Horseradish, garlic, green onion, and a dash of hot sauce add savory bite. Capers bring tangy saltiness while fresh dill gives it a bright finish. Set some kosher salt aside so you can adjust the seasoning.
Salmon: Get the best product you can get. We want that fresh smokiness to be the star flavor of the dish.
Garnishes: Capers, thinly-sliced lemons, and more chopped fresh dill
How to make the best Smoked Salmon Dip?
Combine the cream cheese base. Blend the components of the cream cheese base together. Go for a mostly smooth consistency instead of completely smooth. Also, a few small chunks of capers are fine.
Blend in the salmon. After scraping down the mixture, add the pieces of smoked fish. Pulse finely until incorporated well.
Season. Add kosher salt to taste.
Garnish and serve as desired. Lastly, arrange garnishes on top and serve.
Recipe Variations and substitutions:
Make it healthier: For a healthier version, sub the sour cream and mayo with Greek yogurt.
Make it spicier: Blend in some chopped jalapenos or cayenne pepper into the base.
Use flavored cream cheese: Load up the dip with more flavors using garlic one or herbed cream cheese.
Add nuts: Also, for more texture, add pine nuts or whatever nuts you prefer.
Bacon: Want some crunchy bacon flavor?! Then, feel free to add some bacon crumbs. You can also make your own bacon at home.
What to serve with smoked salmon dip?
Serve the dip in a bowl surrounded by crostini, crackers, beer bread, or brioche bread. . It also tastes amazing with herby or plain breadsticks.
You can also use sliced fresh bagels, rolls, toasted bagel chips, or baguettes. Fresh vegetables like celery, carrots, and raw broccoli also taste amazing with this dip.
Can you eat smoked salmon straight from the packet?
Yes. The smoking process thoroughly cooks the fish. So, feel free to sneak a few bites while you're making this dish!
How long does smoked salmon dip last in the refrigerator?
It depends on the type of cured fish you use. Consume the dish within two days if you're using cold-smoked.
The hot-smoked variety allows the dish to last longer, up to five to seven days.
More delicious appetizers:
Recipe Tips:
If making ahead of time, use the hot-smoked variety because it lasts longer once out of the packet. Then, when ready to serve, let it reach room temperature so it's scoopable instead of too firm.
Also, this dip is nice when the texture is a little chunky with bits of capers or bacon bits.
Don't forget the mayo and splash of sour cream. The sour cream loosens up the cream, while the mayo makes it richer.
Use block cream cheese, not the spreadable kind because it won't give you the correct consistency.

Before beginning with the recipe, let your cream cheese come to room temperature. Because this makes it easy to incorporate with the rest of the ingredients. If it is too cold, you may end up with pockets of plain cream cheese in the finished product.