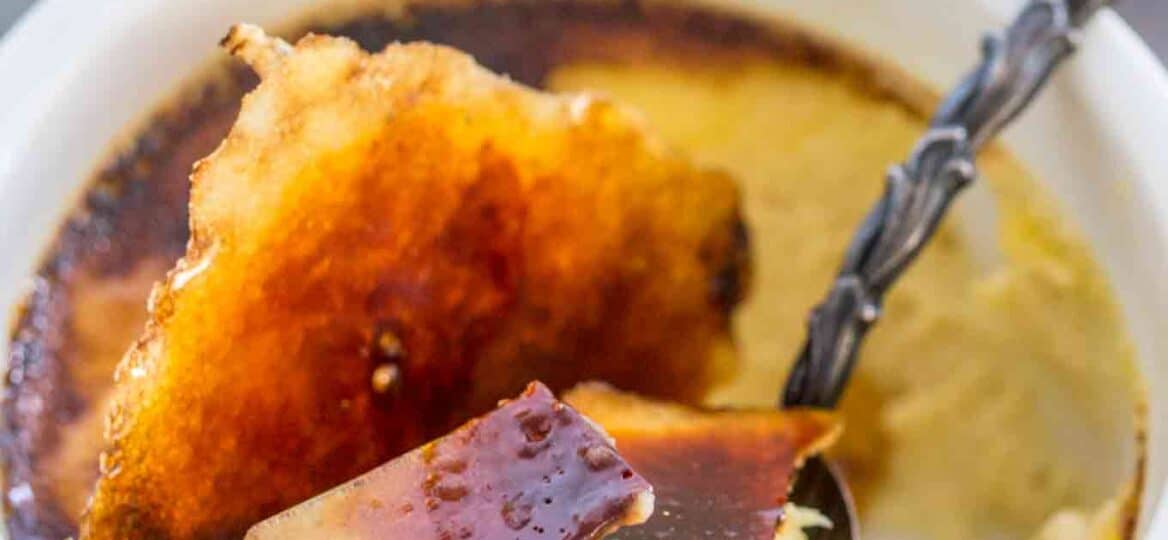 Perfect Creme Brulee [Video]
Creme Brulee is a perfect dessert of rich custard and topped with caramelized sugar. It is festive and delicious to make for a special occasion, such as Valentine's Day.
This is easily one of our favorite desserts to make, especially when it comes down to Valentine's Day. If you plan to serve something special for this occasion, or any other for that matter, this is the dessert to make. You can also try our Pink Chocolate Fudge and the White Chocolate Raspberry Truffles.
Easy Creme Brulee
Creme Brulee is a well-known and loved dessert, yet many think it's too difficult to make. It is actually not true, and with the right recipe and ingredients, this is a surprisingly easy dessert to make.
It is something between a flan and a pudding, just richer, more flavorful, and topped with a hard caramelized shell. This is definitely the treat that you should try to make. There are different variations of this dessert, but they are all delicious and a must-try for dessert lovers.
Creme Brulee is also the perfect dessert to make in advance. It refrigerates well, and it even tastes better when refrigerated. We recommend serving in individual ramekins, as it looks more festive and presentable. Before serving, spread the sugar over the top, and with a blow torch caramelize it into a crispy shell.
What is creme brulee?
Creme Brulee is a classic French dessert consisting of a rich custard base and topped with a contrasting layer of caramelized sugar. It is usually served cold, with a warm top.
Because the sugar on top is caramelized with a torch or in a broiler, it makes the top warm, while the main base cold. The custard base is normally vanilla-based but can be made of other flavors as well.
Can you make creme brulee in advance?
Absolutely! Actually, this is one of the perfect recipes to make in advance, as it has to cool in the fridge after cooking. You can make this delicious dessert up to four days ahead of time. Just remember, before serving, to caramelize the top with a blow torch or under a broiler.
Can you make creme brulee without blow torch?
Yes! Using a lighter or grill lighter is also possible to make the crispy top. However, if you don't like using these methods, or don't have a blowtorch, the best option is to use the broiler.
This is a very easy and practical method. Before using this method, make sure the custard is cold and fully set, ideally refrigerated overnight. Then, simply, heat your broiler to super-hot, and put the ramekins just underneath. Only 2-3 minutes should be enough to get the perfect caramelization.
What is the best sugar for creme brulee?
Creme brulee is such a refined, delicate and rich dessert, that you want to make sure it is perfectly finalized. As a general rule, the sugar that is too coarse will not caramelize easily, and might not caramelize evenly. Or worse, you will end up with uncooked sugar at the top of your brulee.
Therefore, the best sugar for topping it off is superfine sugar, because it has very tiny crystals that caramelize quickly, which is ideal for this dessert.
Is creme brulee served hot or cold?
Usually, it is recommended the bottom of the creme brulee to be cold, and the caramelized top to be hot. The hot and cold combination together will make a great tasting dessert, with nice contrast. To get it cold at the bottom and hot at the top, you can follow this tip.
Cool the dessert down by refrigerating it overnight. Just before serving, caramelize the top sugar layer with a blowtorch or broil for 2-3 minutes. This way you will have a cold a hot contrast in your perfectly rich dessert.
Can you freeze creme brulee?
Yes, it can be frozen if it is done correctly.
First, foil wrap the baked custards individually, or place them in an air-tight container.
Then, place in the freezer for up to one month.
When ready to serve, remove from the freezer, and let them thaw enough so that they are cold, but not frozen.
Lastly, sprinkle with some sugar, and then caramelize the top with a blowtorch, or broil for 2-3 minutes before serving.
Tips for perfect Creme Brulee
We recommend using small ceramic ramekins that are heavier than glass custard cups. They stand up to the intense heat of a flame or broiler much better.
If broiling method is used to caramelize the sugar, it is best to use fine sugar as it melts best under the broiler.
Similarly, if a torch is used for melting, use superfine sugar as it tends to melt best.
Other Versions:
Tools used to make creme brulee
Watch Recipe Step-by-Step Video: