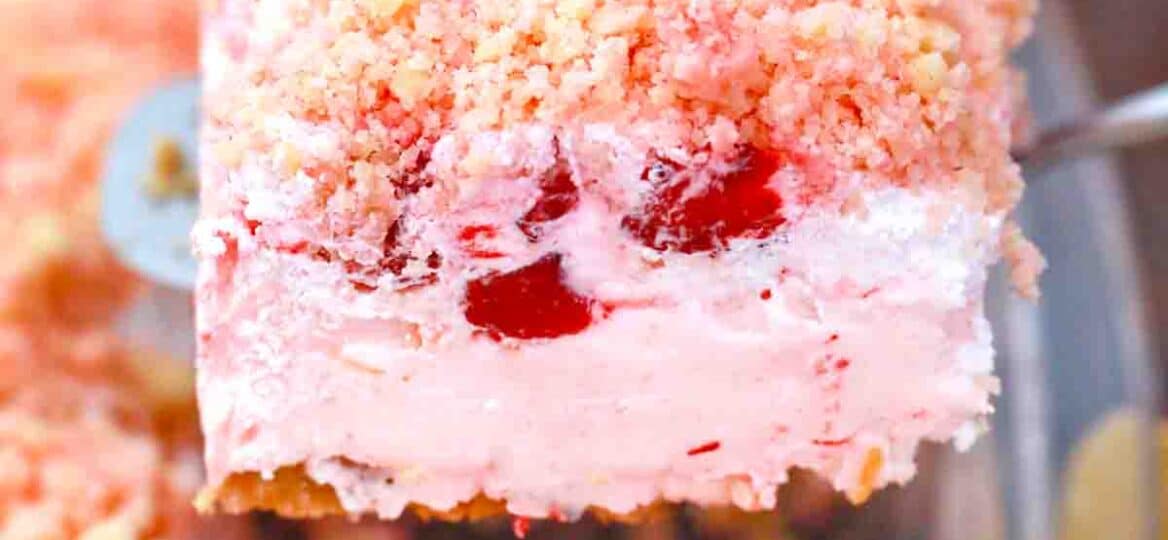 Strawberry Dream Dessert Recipe [Video]
Strawberry Dream Dessert is made with strawberries, layers of whipped cream, and cream cheese on a graham cracker crust, topped with strawberry crumbles. And if you think this sounds delicious, this actually may be the best thing that has ever happened to strawberries
Our scrumptious No-Bake Pineapple Dream Dessert is made from cream cheese, crushed pineapple, and graham cracker crumbs. If you would rather stick to strawberries, try this Creamy Strawberry Pie recipe made with fresh strawberries, brown sugar, and sour cream.
Also known by many as strawberry delight, this dessert salad is a southern recipe featuring strawberry, cream cheese, whipped cream, and Jell-O over a graham crumbs crust. Some other varieties include walnuts, mandarin oranges, and pineapple. You can add or omit anything you want to make it your own.
No-bake desserts are a family favorite of ours because they are so easy and fast. In this recipe, it tells you to bake the crumbles but we give you directions for no-bake crumbles below.
If you plan ahead, you can make the crumbles first and just put the dessert together when you are ready to eat it.
Looking for some more no-bake strawberry desserts? Our no-bake strawberry cheesecake is the best cheesecake I have ever tasted. Or try our original recipe for strawberry tiramisu made with Savoiardi cookies, mascarpone cheese, and strawberry pudding mix.
Another great recipe for strawberry lovers is this decadent Strawberry Fudge. Keep reading for more delicious recipes you can try.
Ingredients needed:
You will need these basic ingredients to make this strawberry dream dessert recipe. For the full recipe and exact measurements, scroll down to our recipe card.
Strawberry crumbles topping:
Strawberry flavored Jell-O
Unsalted butter: Cold, divided.
White granulated sugar
Vanilla: 100% pure vanilla extract.
All-purpose flour: Divided.
Crust:
Melted butter: Unsalted.
Pecans: Finely chopped in a blender or food processor
Graham cracker crumbs
Strawberry pie filling:
Strawberry Jell-O
Chopped strawberries
Frozen whipped topping or Cool Whip: Thawed.
Cream cheese: Softened to room temperature.
Butter: Also softened to room temperature.
Powdered sugar: Or confectioners' sugar.
Lemon juice and zest from one lemon
Vanilla: 100% pure vanilla extract.
How to make strawberry dream dessert from scratch?
Preheat: First, preheat your oven to 350 degrees F and line a baking sheet with parchment paper.
Make the strawberry crumble: While waiting, stir 1/4 cup butter, 1/2 cup flour, and Jell-O with a fork in a small bowl until it is finely crumbled.
Make the vanilla crumble: Next, in another small bowl, combine 1 teaspoon vanilla, 1/4 cup butter, 1/2 cup sugar, and 1/2 cup flour. Use a fork to mix until you have fine crumbles.
Bake: Then, sprinkle both of the crumbles on the prepared baking sheet and gently mix them with your hands. Bake for seven to eight minutes and do not stir.
Chill: Once the crumbles cool completely, pour them into an airtight container and keep them refrigerated until you are ready to use. Again, do not stir until you are ready to use them.
Make the graham cracker base: Meanwhile, mix the crust ingredients together in a medium bowl and stir until combined. Pour two cups of the crust crumbs into a 9×13-inch baking dish. Press it firmly into the bottom of the dish with the back of a wooden spoon or your hands. Chill for 15 minutes.
Make the creamy filling: In the meantime, use an electric or stand mixer to beat the butter and cream cheese mixture until it is creamy.
Stir the cream cheese mixture: Next, add powdered sugar and Jell-O, beating on low to medium speed until it is smooth. Be sure to scrape the sides and bottom of the bowl with a rubber spatula to get it all completely combined. Add the vanilla, lemon juice, and zest, keeping the mixer on low speed until mixed. Spread creamy filling over the chilled crust.
Whipped cream topping: Then, combine the strawberries and whipped cream in a separate bowl and spread it on top of the cream cheese layer gently with the back of a spoon.
Chill: Lastly, sprinkle the crumbles on top and cover them with plastic wrap. Let it chill in the fridge for at least four hours but preferably overnight.
Serve: When ready, slice and serve.
Recipe variations:
Instant pudding: Go ahead and try using strawberry pudding instead of Jell-O.
Other berries: Any kind of frozen berries will do fine in this recipe.
Chocolate strawberry dream dessert: For rich chocolate flavor, use chocolate pudding instead of strawberry Jell-O in the creamy filling.
Favorite fruit: Feel free to add your own favorite fruits like blueberries, blackberries, raspberries, or whatever you want.
Strawberry puree: You can also use pureed strawberries instead of lemon juice for an intense strawberry flavor.
Lime juice: For a distinctive change of flavor, try using lime juice and zest instead of lemon, and add some lime extract too.
Other cheese: Alternatively, you can use mascarpone cheese instead of cream cheese for a sweeter taste.
How to serve:
This light and fluffy strawberry delight is perfect to serve when you are trying to tame a sweet tooth or at any time. It is easy to make and is one of the best dessert recipes we have ever tasted. It is a big hit and my whole family loves it. Here are some cool serving ideas or you can share some of your own in the comments below:
This dish is perfect for serving as the dessert to our one-pan lemon chicken.
Add a handful of chocolate chips and syrup to the top before slicing for those who love chocolate.
Another delicious way to top this strawberry delight is with our homemade strawberry sauce recipe.
You can also top your strawberry dream dessert with sliced strawberries.
Use leftovers to make this tasty strawberry mousse or strawberry ice cream with chocolate chunks.
You can enjoy this strawberry delight with burgers, and fried chicken, or serve it at your next backyard BBQ.
Strawberry desserts all go great with these cherry pork chops.
Frequently asked questions
What is the difference between whipped cream and whipped topping?
Whipped cream is made from heavy cream and will have real cream as the number one ingredient. While, whipped topping has cream in it as well, but the main ingredients are sugar, oil, milk, and water.
However, whipped cream will hold its shape longer and is easier to work with for no-bake dessert recipes like this one.
Do I have to bake the crumble topping?
No. In fact, you can make this crumble the same way without heating up the house with the oven. Just combine the ingredients of the strawberry crumble and put it in one covered baking dish and put the vanilla crumble in another.
Allow them to chill for an hour or put them in the freezer for 30 minutes before mixing together and using them for your strawberry dream dessert.
What can I do with all my leftover strawberries?
Sometimes you just cannot eat all your strawberries no matter how delicious they are. And they do not last as long as you would like. So, you can freeze them by putting them in the freezer on a parchment paper-lined baking sheet for three hours before packing them in freezer bags.
But if you want to use them instead of freezing them, try some other recipes like strawberry butter by mixing chopped or smashed strawberries with soft butter. Or make some smoothies with milk and ice cubes. You could also make strawberry jam, ice cream, or strawberry pie filling.
What are the daily values of vitamins and other things in this special treat?
One serving of strawberry dream dessert has 250 calories, 10% of protein, vitamin A, and vitamin C as well as 6% of your daily values of calcium and 5% of your iron needs. There are also 14 grams of fat with 9 grams of saturated fat and 30 grams of carbs.
More strawberry recipes:
How to store leftovers:
Store: This delicious recipe will stay fresh for up to a week in the refrigerator in an airtight container.
Freeze: You can also freeze this dessert, but you will need to wrap it in plastic wrap and use a freezer bag.
Thaw: Remember to put your frozen leftovers in the fridge to defrost the night before.
Recipe tips:
Shorten prep time by using a prepared graham cracker crust instead.
You can also use frozen strawberries if it is not a strawberry season where you are.
If you do not have a blender or food processor, just put your graham crackers into a zipper bag and beat them with a rolling pin. This is actually kind of fun (especially for the kids) and it minimizes dirty dishes.
Go ahead and make two pies and freeze one. Make sure it is completely cool first and you wrap the entire pie pan in plastic.
If you only have frozen strawberries, let them thaw out before trying to slice them. Frozen berries are challenging to cut.
For our latest recipes, check out our food blog often. We post new recipes every day.
Strawberry Dream Dessert
Ingredients
Strawberry Shortcake Crumble Topping:
3

ounces

box strawberry flavored Jell-o

1

cup

all-purpose flour

divided

1/2

cup

unsalted butter

cold and divided

1/2

cup

white granulated sugar

1

teaspoon

vanilla extract
Graham Cracker Crust:
2

cups

graham cracker crumbs

1/2

cup

pecans

finely processed in a food processor - or use more crumbs

1/2

cup

unsalted butter

melted
Filling:
8

ounces

cream cheese

softened to room temperature

1/2

cup

butter

softened to room temperature

2 1/3

cups

powdered sugar

8

ounce

container frozen whipped topping

thawed

2 1/2

cups

chopped strawberries

1

lemon

juiced and zested

3

ounces

package strawberry Jell-o

1

teaspoon

vanilla extract
Instructions
Strawberry Shortcake Crumble Topping:
Preheat the oven to 350 degrees F.

In a medium bowl using a fork stir Jell-o with 1/2 cup flour and 1/4 cup butter. Make a fine and crumble.

In another medium bowl stir 1/2 cup flour, with 1/2 cup sugar, and 1/4 cup butter, plus 1 teaspoon vanilla extract. Also, use a fork to mix and make crumbles.

Line a baking sheet with parchment paper and sprinkle on it the strawberry crumbles. Next, sprinkle on the vanilla crumbles, and slightly mix them by hand.

Bake for 7-8 minutes and do NOT stir.

Remove from the oven and let cool completely before storing in an airtight container in the fridge. When ready to use, take a fork and stir them first.

The recipe makes 3 cups of crumbles.
Make the crust:
In a large bowl mix all the crust ingredients and stir until combined.

Transfer the mixture to a 9 x 13 baking dish and press it firmly into the bottom of the pan.

Chill in the fridge for 15 mins.
Make the filling:
In the bowl of a stand mixer or using an electric mixer, beat the cream cheese and butter together until light and creamy.

Add the powdered sugar, and Jell-o, and beat on low-medium speed until smooth. Stop to scrape the sides and bottom of the bowl from time to time.

Next, add lemon juice, zest, and vanilla extract. Stir to combine.

After that, spread the cream cheese mixture over the chilled graham cracker layer.

In a separate bowl, combine the whipped topping with the chopped strawberries. Stir well until fully combined.

Spread the whipped topping mixture over the cream cheese, and gently using the back of a spoon even it out.

Finally, sprinkle the strawberry crumbles on top.
Chill:
Cover the baking dish with plastic wrap and refrigerate it for at least 4 hours or for the best results overnight.
Deliciousness to your inbox
Enjoy weekly hand picked recipes and recommendations