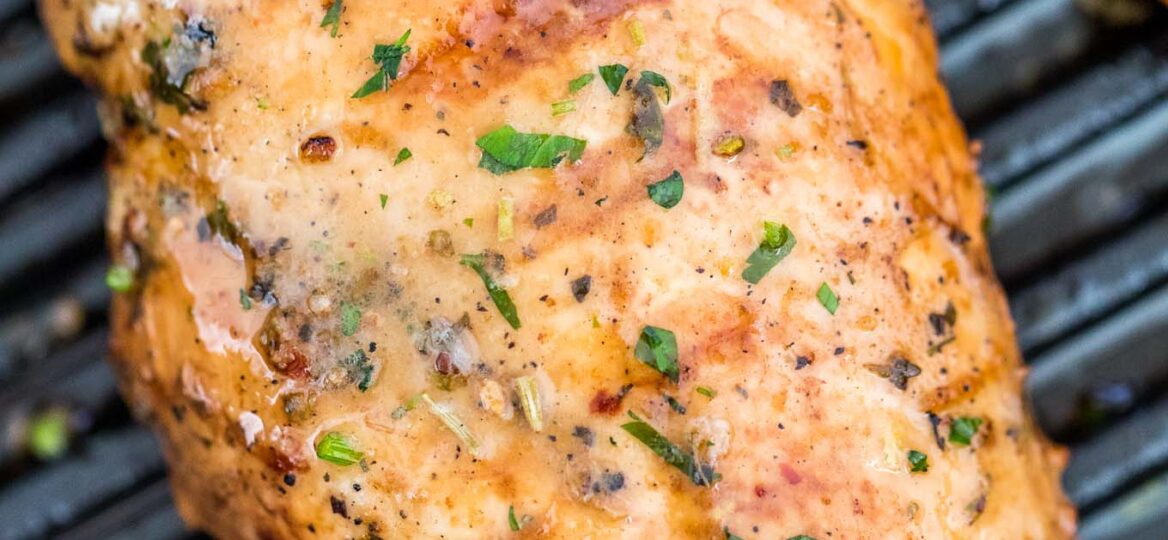 Best Ever Grilled Chicken [VIDEO]
Grilled Chicken is marinated chicken, browned, and charred to perfection. In this recipe, learn how to grill perfectly moist and tasty chicken breasts!
For a well-balanced meal, this is best served with salads and pasta dishes such as the arugula strawberry salad and garlic shrimp pasta. Finish your meal with something cool for the summer like the avocado lime smoothie or grape salad.
Best Grilled Chicken Recipe
Grilled chicken is a versatile dish that can be the foundation of many other dishes like the taco fries and fire-grilled chicken and hash brown chicken jalapeno casserole recipes that we have had in the past. Hence, it is almost a requirement for home cooks to learn how to properly grill it.
Grilling the meat is probably one of the best and easiest way to prepare it. It always results in a perfectly cooked, tender, and juicy meal. With summer around the corner, this is our favorite way to cook the chicken. All you need is the chicken breast, some herbs, and spices, and some time to marinate before grilling.
Is grilled chicken healthy?
This dish is a healthy choice for all your outdoor parties this summer. It is a good source of protein, and we are using the leanest part of the chicken which is the breasts. Also, grilling helps seal in the flavors and nutrients of the meat and in the process, fats come off.
Lastly, we are using a homemade marinade for this one, which is a lot healthier than what you can find in your grocery stores.
How to make grilled chicken?
The first step is to prepare the marinade. In a separate bowl, combine the ingredients: extra virgin olive oil, red wine vinegar, fresh lemon juice, lemon zest, chopped fresh parsley, minced onion, minced garlic, dried basil, dried oregano, Italian herbs, red pepper flakes, sugar, salt, and pepper.
Let the poultry marinate for at least 30 minutes up to 4 hours before grilling. While waiting, you can prepare your other dishes. Pre-heat the grill to medium-high heat. It is okay if you don't use the grill, you can always rely on the good old cast-iron grill pan over medium-high heat also. Just ensure to brush it with olive oil.
Then, grill the chicken for about 7 to 8 minutes per side. Once cooked, let the meat rest for 3 to 5 minutes before slicing. That's it!
What temperature to grill chicken?
The internal temperature must read at least 165 °F for safety as recommended by the US Department of Agriculture.
How to marinate chicken for grilling?
Pierce the poultry with a fork about two times before placing it in the marinade. This ensures that the flavors penetrate the meat.
How to season grilled chicken?
You can skip the waiting time of marinating the meat by directly seasoning the chicken. Just combine a mixture of your favorite spices and coat it. This coating may include salt, pepper, dried basil, dried oregano, Italian herbs, garlic powder, onion powder, and sugar.
Notice that the ingredients have flavors similar to our marinade? You can also make your own version depending on your preference. Just remember to put oil on your grill to prevent the meat from sticking.
If you season it this way, the flavors are concentrated only on the outside. Marinating will still give you more flavorful meat overall.
Is grilled chicken keto-friendly?
It is keto-friendly because it has zero carbohydrates, making it the perfect dish to eat if you are on a Keto diet.
How many calories in grilled chicken?
One piece of a cooked chicken breast of approximately 172 grams is about 284 calories. This value increases as you add in more ingredients.
How long does grilled chicken last in the fridge?
If marinated, it is best to refrigerate it for up to 2 days. Just remember that the longer you marinate the chicken, the more intense the flavors will be.
If cooked, then store the meat in an airtight container, and refrigerate for 3 to 4 days.
How to reheat grilled chicken?
Brush the meat with olive oil, wrap it in foil, and then, place it in the baking sheet. Preheat the oven to 350 °F, and bake for about 5 minutes until reheated. Alternatively, you could reheat leftovers in the microwave. Simply, heat it up in the microwave for about 2 minutes, or until fully reheated.
What to do with the leftover?
There are plenty of choices to make with leftover grilled chicken. A few examples are Chicken Carbonara, Chicken Parmesan Casserole, and Chicken Cordon Bleu Casserole.
What to serve with grilled chicken?
You can pair this dish with the following:
How to grill chicken in oven?
You can precook it in the oven at 300 °F for about an hour. The long cooking time will ensure that the meat will be thoroughly cooked. Wrap the meat in aluminum foil prior to baking. Once done, you can transfer it to the grill or cast-iron grill pan for further cooking.
This also ensures that the chicken breasts come out juicy. As it is very lean, its tendency is to dry out. Marinating addresses this concern as well as pre-cooking it in the oven.
Grilled Chicken Recipe Tips
If your chicken has an irregular thickness, you can pound on the thick areas to even it out.
Also, if you do not have a thermometer, cut the meat with a knife to check if the juices are clear and not pink and the flesh is opaque. If not, prolong the cooking.
You can use dark meat for this. Though thighs and wings could have higher calories in them, they are high in iron and much juicier and tastier than breasts. Therefore, they are both a perfect alternative.