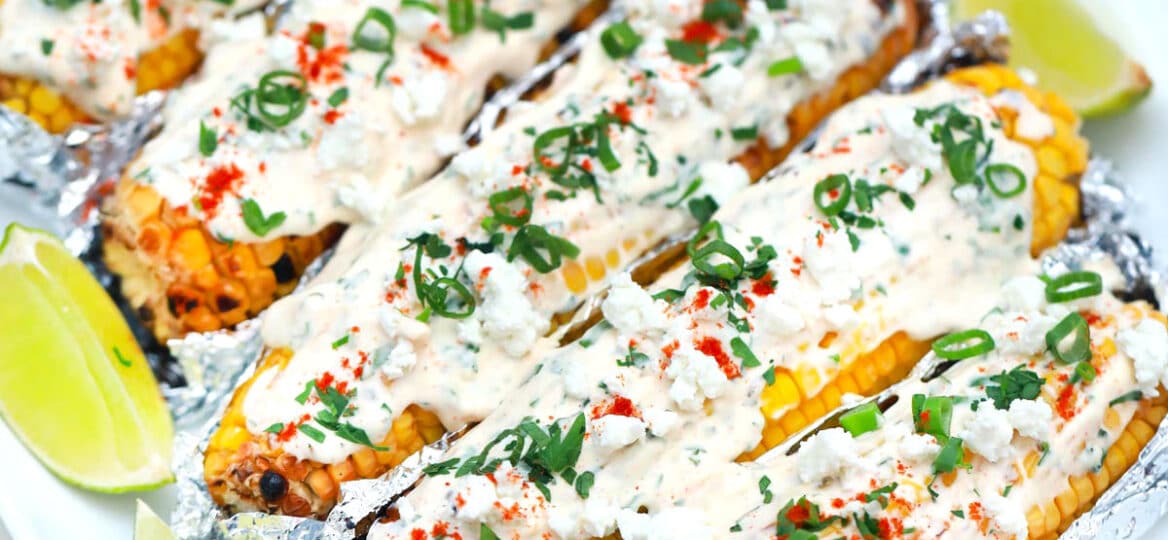 Mexican Street Corn Recipe [Video]
Mexican Street Corn is a classic summer staple that works perfectly with any dish! Perfectly seasoned and served with a mixture of creamy cotija cheese.
Having a Fiesta themed party? Check out some of my recipes delicious delicacies such as Mexican Taco Breakfast Burrito, Instant Pot Fajita Pasta, and Baja Fish Tacos.
Grilled Corn Recipe
Mexican Street Corn, also known as Elote, is an absolute must-have when it comes to throwing a party. You can have it in a simple backyard event and even on fancy dinners.
I absolutely love Mexican food as they are full of flavors and unique spices. This recipe in particular is so easy to follow that every summertime, my family immediately requests me to make it.
You are probably already familiar with this as you can also see it in a lot of food trucks. It perfectly works as an afternoon snack or even for a quick lunch.
In addition, Mexican Street Corn can be served both as a side dish or the main course. It is truly great to be sharing with you this recipe that I have been using for a long time.
How to make Mexican Street Corn
Grill the corn. Wrap the cob generously with foil making sure that all sides are covered. Let it grill until the kernels are tender. Make sure to let it cook on every side.
Make the sauce. In another container, mix together sour cream, mayo, cilantro, garlic, cayenne, cumin, and lime juice.
Apply sauce. Once it is done grilling, let it cool first. Afterward, apply sauce by using a brush.

Serve. You can add some cheese, chili powder, and cilantro on top. However, make sure to have lime available on the sides. Serve.
Can I use frozen corn?
Yes. Frozen ones are perfectly fine. Just be sure to thaw it out or reheat it.
However, it may not be as juicy as what you would usually have when using fresh produce.
How to eat Mexican Street Corn?
This street food is traditionally eaten on the cob. However, you could also eat it off the cob by using shucked kernels and eating it off a bowl with the sauce on top.
How to store Mexican Street Corn?
Place the cobs on a plate or bowl then cover the top with saran wrap. Keep it cool in the fridge for up to five days.
For other similar recipes, you might want to take a look at some of my delicious recipes that are great even as leftovers:
How do you reheat it?
While this recipe is best consumed when it is fresh and hot, you can still enjoy it even after days of cooking it. Just be sure to follow these instructions properly depending on if you have a microwave or an oven.
If you have a microwave, cover the cob with damp towel and heat for 20 seconds with 10-second intervals in between, until it is warm.
When using an oven, wrap the cob with foil. Preheat the oven at 350 Fahrenheit and place the leftover for 7 minutes maximum.
Recipe Tips:
When grilling, you can also dash seasonings for added flavor. Slicking it with butter also makes it creamier once it is done.

While it is perfectly fine to grill with the husk on, it is still much easier to do when it is not sticking out. Try to remove all husks first before putting it on the griller to avoid it from taking fire or burning the ends of the cob.
For a more delicious meal, try to pair Elote with Pan Seared Steak, Bacon Wrapped Chicken Breasts, or Sticky Honey Garlic Beef.