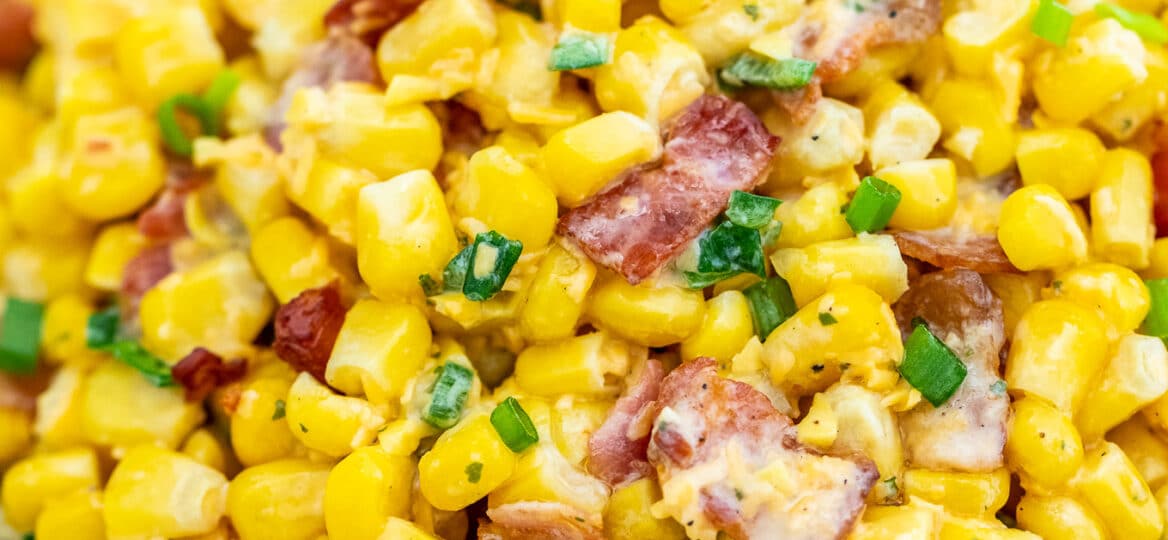 Crack Corn Salad Recipe [Video]
Crack Corn Salad is crunchy, creamy, sweet, sour, and savory all at the same time! Make it with fresh or frozen corn, Ranch dressing, bacon, and cheddar cheese. This summer salad is ready to serve in just about 15 minutes. Make this quick side dish for your cookouts this summer!
If you need a quick side dish for your bbq or picnic, then, make this recipe! Also, watch the recipe video to see how simple this is to make! It pairs well with our other cookout regulars like the Grilled Chicken Wings, BBQ Pork Chops, and Grilled Steak! And if you want to make a lighter version of this salad, try Avocado Corn Salad.
Fresh and Easy Corn Salad Recipe
This side dish recipe makes for a great crowd-pleaser! Not only because it is yummy, but because you can prepare so much in so little time. The salad is made with ingredients like fresh or frozen corn, bacon, cheese, jalapeno, green onion, and Ranch dressing. Actually, the combination of flavors and textures is out of this world.
I did not even think it was feasible for me to create a dish in just a few minutes with minimal effort. But I did it! You see, I forgot that some friends will come over for a cookout. I went to the kitchen, looked over my groceries, and when I found some corn, I just knew instantly what to prepare!
This is just how quick and easy to prepare this tasty side dish is! It is simply perfect for emergencies like this, or perhaps, on days that you feel extra lazy. Let's get started!
I always keep my famous crack ingredients on hand for emergencies like this, so lucky me, I was able to whip up this side dish in no time! I know calling it "crack" is a bit controversial, it actually references the addicting combo of bacon, ranch dressing, and cheddar cheese.
Ingredients needed:
Using fresh ingredients is the key here. During summer times, I usually go to the local farmer's markets to get the freshest ingredients possible. I highly recommend doing the same. Here is the list:
Sweet corn: Use raw fresh sweet corn on the cob, grilled, air-fried, canned corn kernels, or frozen, but first thaw them.
Bacon: Either buy cooked bacon to save time or make your own using the air fryer bacon recipe or oven-baked bacon recipe.
Green onions: Actually they add a nice refreshing touch to the recipe, also you can use red onion or chives instead.
Jalapeno: First, the jalapeno adds some subtle spiciness and secondly a nice crunch. Actually, it is up to you to use it or skip it.
Ranch dressing: You can easily find it at the local grocery store. However, I like using my homemade Ranch dressing.
Shredded cheese: Use yellow sharp cheddar cheese, preferably aged, and shred it yourself to make sure it is fresh.
Juice of one lime: Actually the citrus elevates the flavors and also adds a lighter flavor layer.
Garlic powder: Similarly, fresh garlic can be used instead.
Kosher salt and freshly ground black pepper.
How do you make Crack Corn Salad from scratch?
Prepare the ingredients: First, chop the vegetables, shred the cheddar cheese, and cook the bacon, if it has not been cooked already. Also, cook the corn if needed.
Combine: After that, put everything in a large bowl combine, and toss all the ingredients together. Equally important making sure that you are coating each piece in the dressing.
Serve: Next, garnish with desired herbs, chill, and then serve.
Refrigerate: However, if you have leftovers, refrigerate the whole thing by putting it first in an airtight container. Then, store it for up to 4 days. Meanwhile, the ranch dressing will keep for about one week in a separate sealed container.
Freeze: Actually we do not recommend freezing this recipe. However, if you want to, just add it to a freezer-safe container or Ziploc bag, then freeze for up to 3 months. Finally, to defrost, just place it in the fridge overnight to thaw. When ready to serve, stir it and adjust for dressing and seasoning.
Make-ahead: In addition, considering these storage factors, you can make it in advance, put it in a cool and dry airtight container.
Recipe Variations:
Mexican street corn salad: Instead of Ranch dressing make this dressing that we used for the Mexican street corn recipe. Actually, mix in some black beans for extra flavor and protein.
Taco seasoning: For another variation on this side dish, use thousand chipotle dressing and taco seasoning. Also, mix in lime juice, some cherry tomatoes, and cilantro.
Make it spicier: Actually, for a spicier version, add more jalapeno peppers, chili powder, and also chili peppers. Another option is to add a few tablespoons of hot sauce.
Cheesier: Make the salad cheesier by adding a variety of cheeses like fontina, feta cheese, and crumbled blue cheese.
Add more veggies: Want it even healthier?! Then, add some avocado, bell pepper, green peppers, red pepper, cherry tomatoes, and crunchy Persian cucumbers into the mix.
Gluten-free: In addition this salad is naturally gluten-free, just make sure the ingredients you use are free of gluten.
Warm: Use warm ingredients, like warm bacon and grilled or air-fried corn, and make it as a warm salad.
How do you make homemade Ranch dressing?
It is very simple as you will only combine the following ingredients:
mayonnaise
sour cream
milk
buttermilk
dill
parsley
chives or green onion
onion powder
garlic
salt pepper
Fresh lime juice or lemon juice
You can find the exact steps for the best homemade ranch dressing here.
What to serve with:
This is a perfect meal on its own. Similarly, this recipe makes an outstanding side dish that everyone will end up raving about:
Frequently Asked Questions
Can you make corn salad with frozen corn?
While I prefer to make this recipe with either fresh or canned corn, you can make it easy with frozen as well. First, make sure to choose a sweet variety. Next, let the kernels thaw in the fridge.
Another option is to run them under cold water and drain them well in a colander. Similarly, it is very important to drain any excess water.
Is corn healthy?
Treated as a vegetable and a grain at the same time, it has many health benefits including the following:
rich in carotenoids that aid good vision
high in dietary fibers that are beneficial for the digestive system
low-fat and gluten-free
However, despite these benefits, watch your intake because it is starchy after all. The starch can elevate your blood sugar levels quickly after a meal.
What can you do with raw corn?
Can you make it ahead of time?
This recipe is actually great after it has been chilled. However, if you want to make it one day in advance, it is possible, just stir in the bacon before serving. Actually, we recommend so the bacon stays crispy!
First, prepare the ingredients.
After that, toss the salad dressing and store it into a jar in the fridge.
Next, mix the rest of the ingredients in a bowl, cover with plastic wrap, and chill. Preferably, mix in the bacon when ready to serve.
Finally, when ready to serve combine with the sauce, stir and serve.
Recipe Tips
You can either buy the whole ones including the cob. Then, blanch and then, run a knife from one end to the other, placing the blade closely to the kernels. Or, you can use the commercially available ones. Just remember that fresh and homemade beats any dish.
If the jalapeno is too hot, then, you can remove the membranes and seeds which add up to the spiciness.
You can add the bacon at the last step in order to retain its crunch up to the last minute of preparation.
Popcorn is a healthy snack, enjoy it!