Crack Corn Salad is crunchy, creamy, sweet, sour, and savory all at the same time! Make this quick side dish for your cookouts this summer! Also, watch the recipe video to see how simple this is to make!
If you need a quick side dish recipe, then, make this recipe! It pairs well with our other cookout regulars like the Grilled Chicken Wings, BBQ Pork Chops, and Grilled Steak!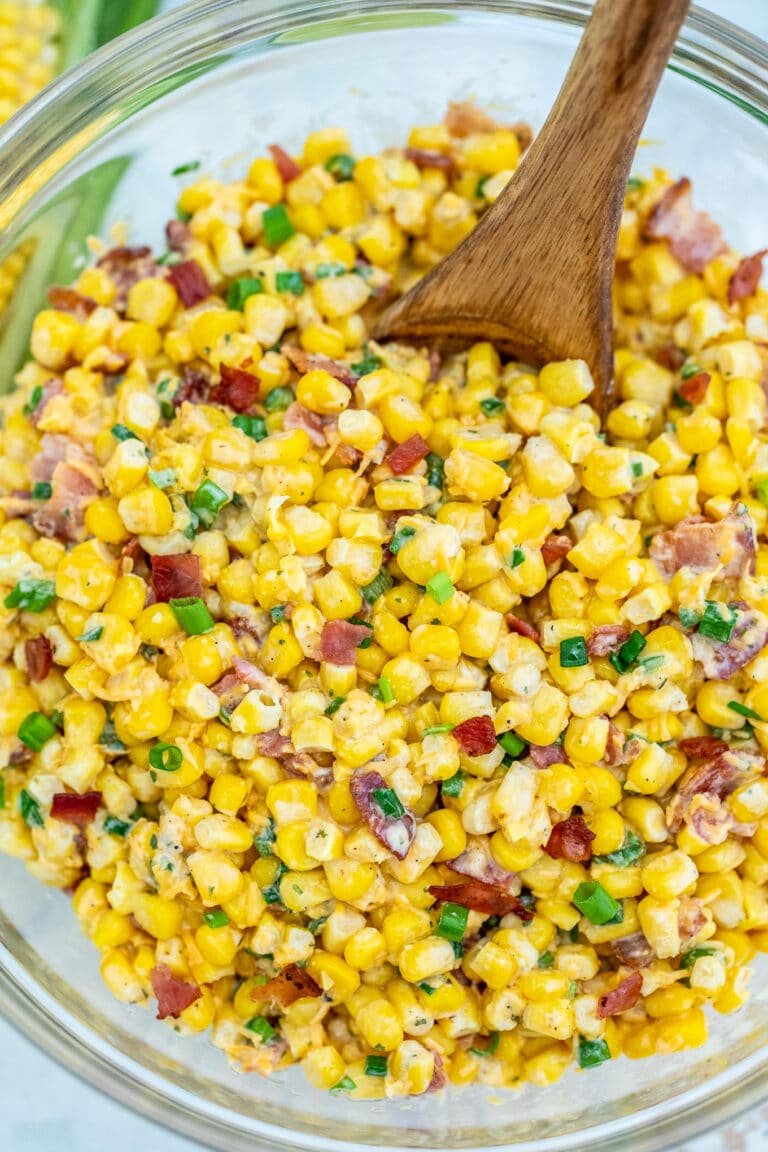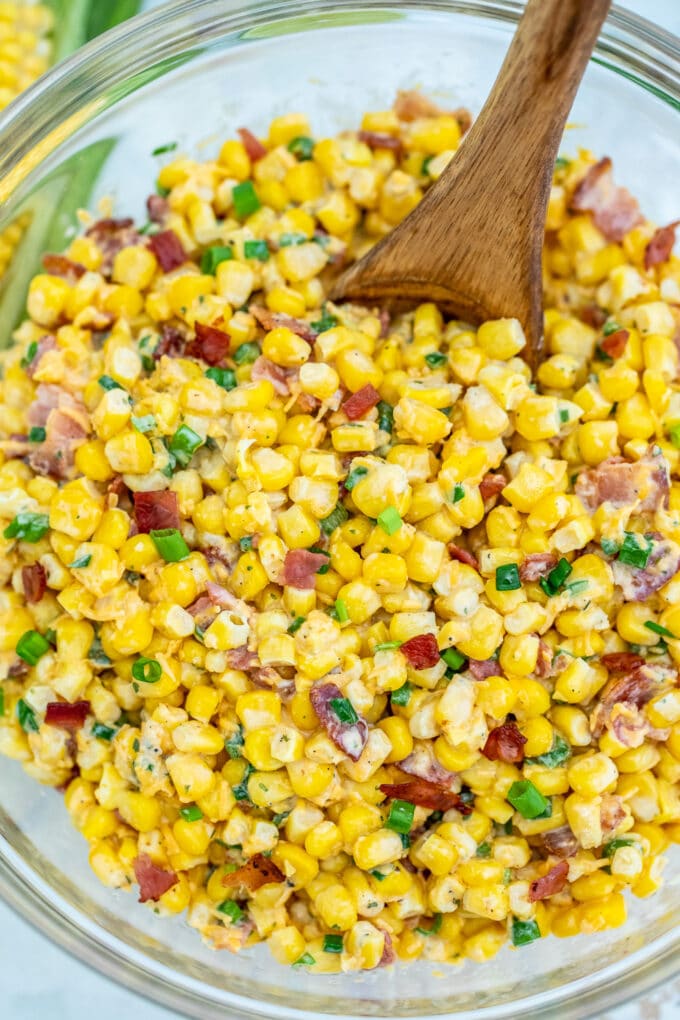 Corn Salad Recipe
Crack Corn Salad makes for a great crowd-pleaser! Not only because it is yummy, but because you can prepare so much in so little time.
I did not even think it was feasible for me to create a dish in just a few minutes with minimal effort. But I did it! You see, I forgot that some friends will come over for a cookout.
I went to the kitchen, looked over my groceries, and when I found some corn, I just knew instantly what to prepare!
I always keep my famous crack ingredients on hand for emergencies like this, so lucky me, I was able to whip up this side dish in no time!
This is just how quick and easy to prepare this tasty side dish is! It is simply perfect for emergencies like this, or perhaps, on days that you feel extra lazy. Let's get started!
What is corn salad?
It refers to any kind of salad that has corn as the main ingredient. For this recipe, I used sweet corn kernels and ranch dressing to coat the other ingredients.
Also, I incorporated the crack trio – a combination of bacon, cheese, and ranch. These ingredients add another dimension to the sweet taste of the kernels.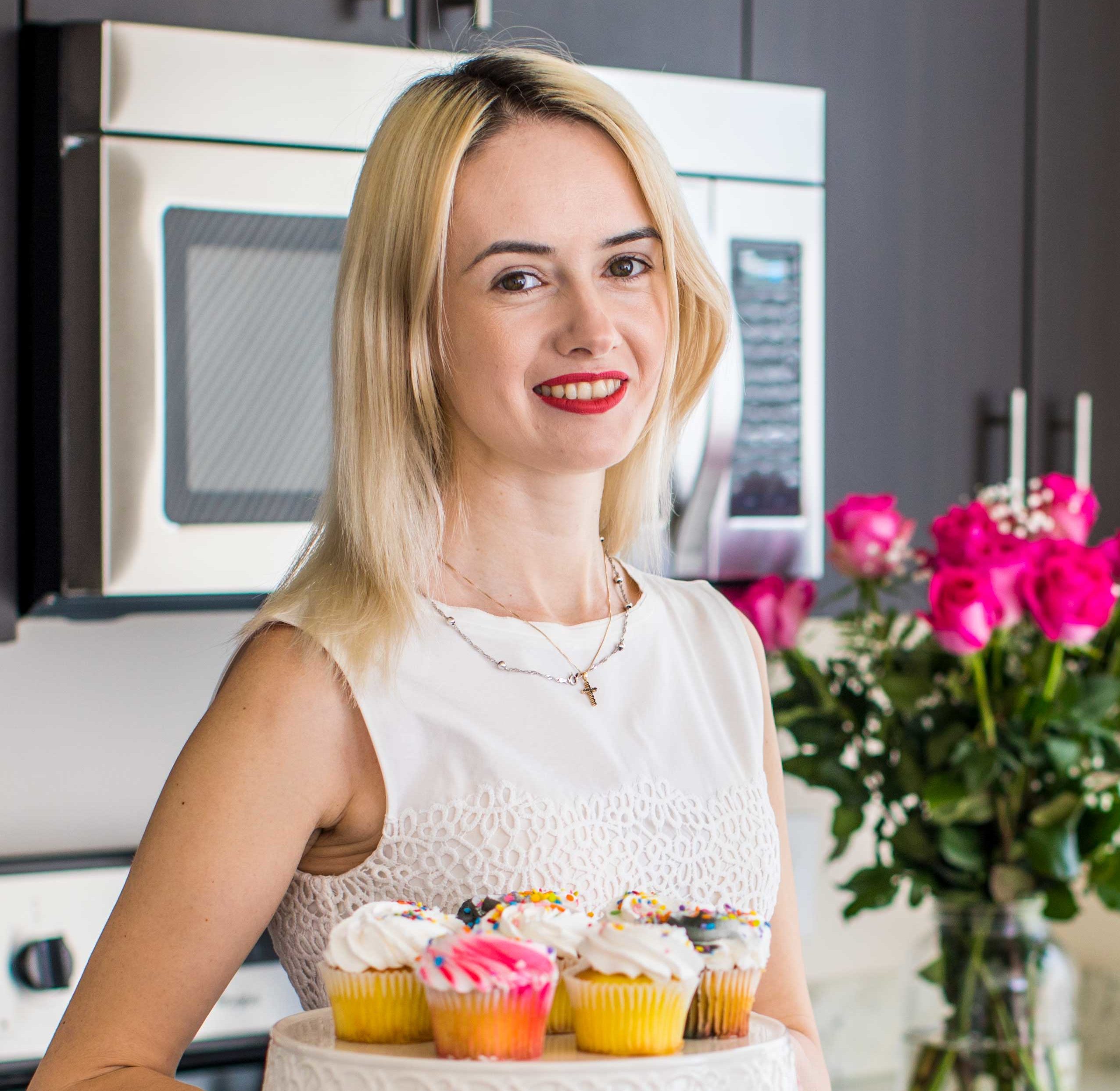 Follow us on Pinterest for more delicious recipes!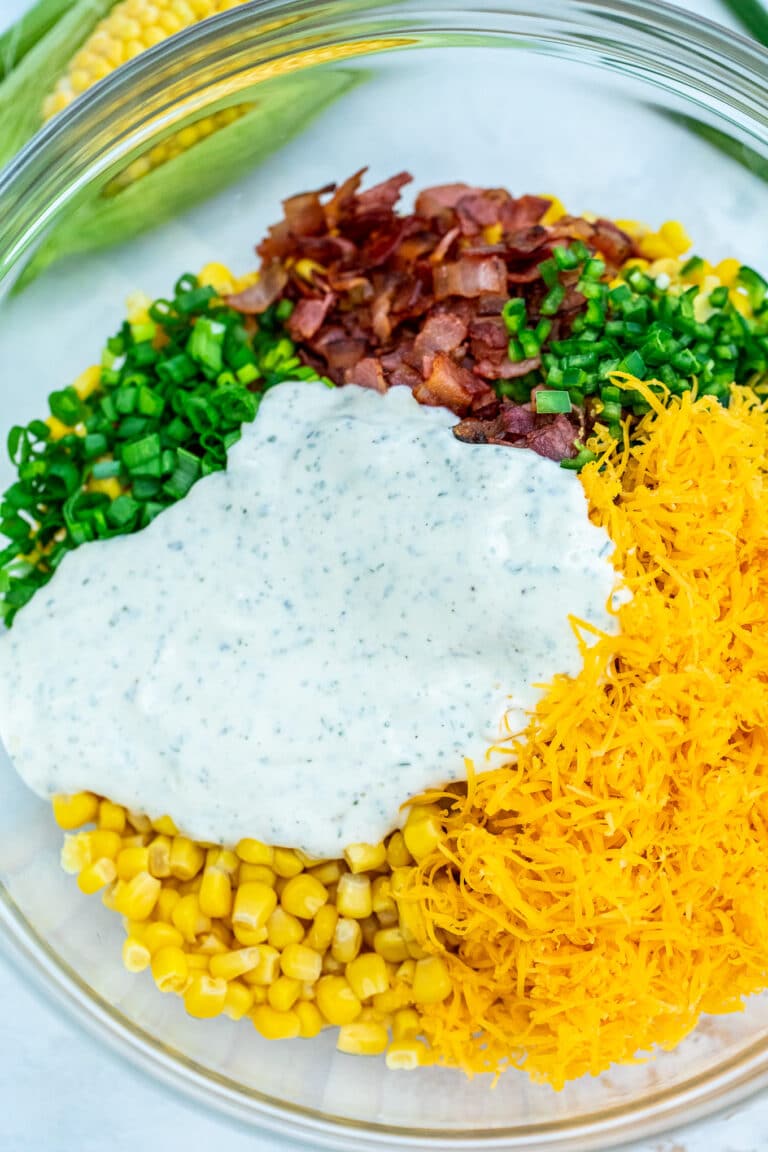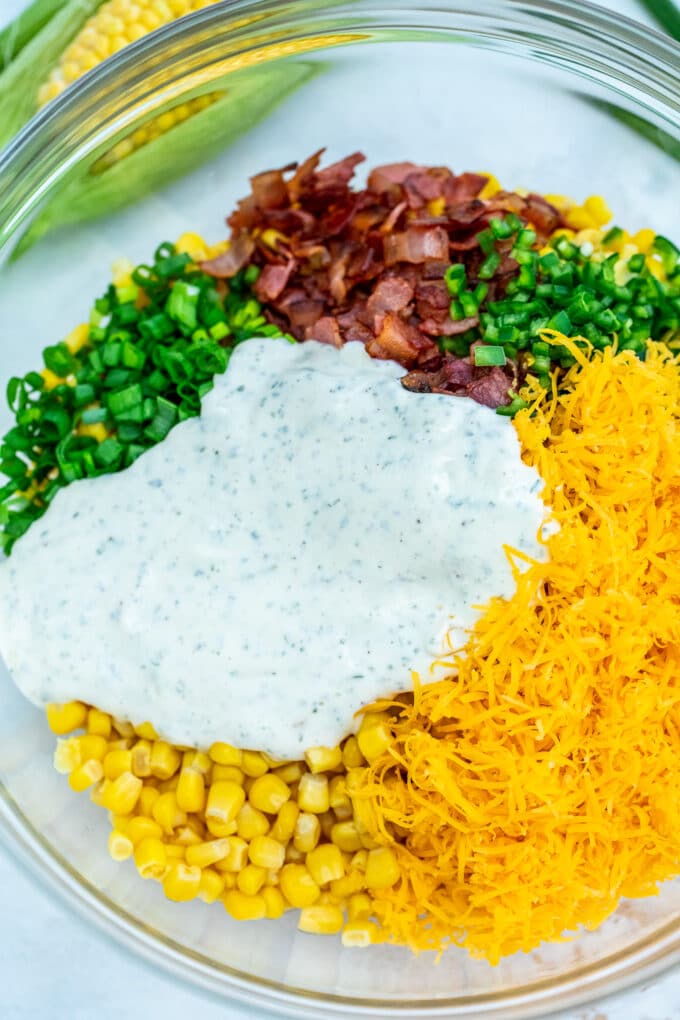 Is corn healthy?
Yes! Treated as a vegetable and a grain at the same time, it has many health benefits including the following:
rich in carotenoids that aid good vision
high in dietary fibers that are beneficial for the digestive system
low-fat and gluten-free
However, despite these benefits, watch your intake because it is starchy after all. The starch can elevate your blood sugar levels quickly after a meal.
What do you need to make Crack Corn Salad?
You need the following ingredients:
sweet corn
bacon
green onions
jalapeno
ranch
cheddar cheese
juice of one lime
garlic powder
kosher salt
black pepper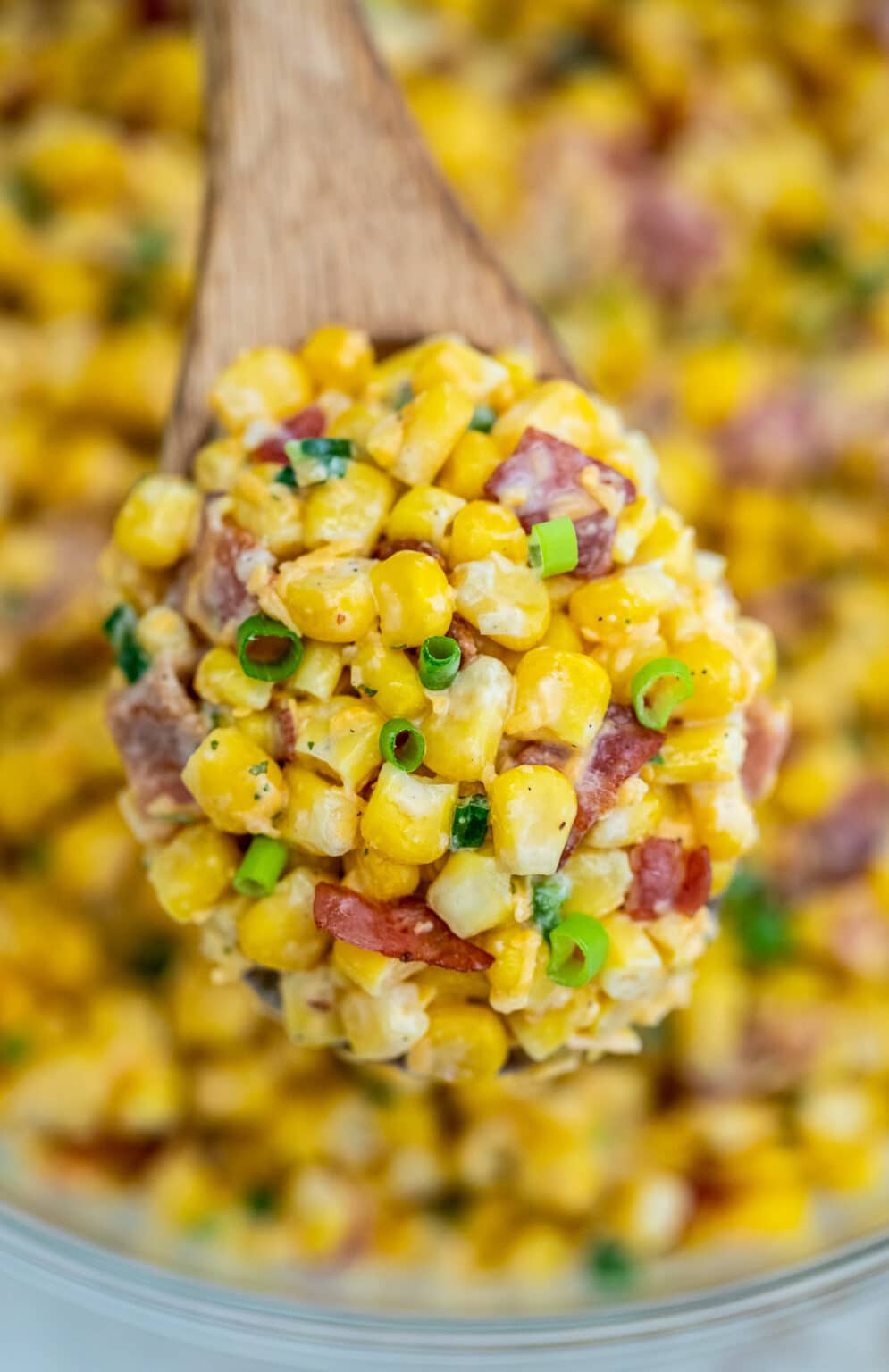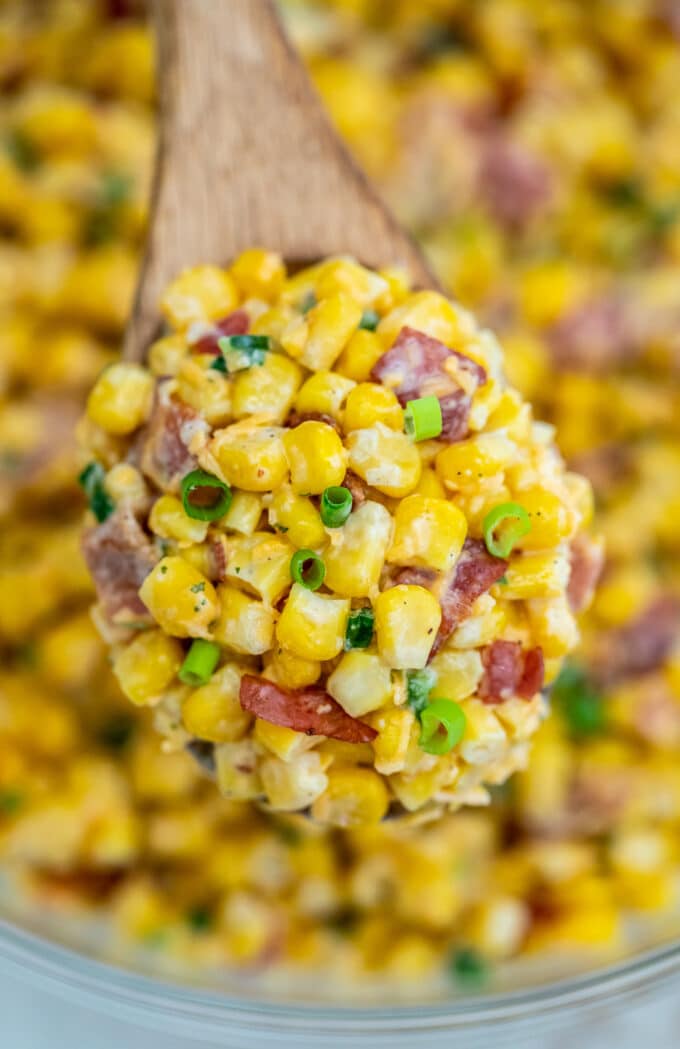 How do you make Crack Corn Salad?
Prepare the ingredients: Chop the vegetables, shred the cheddar cheese, and cook the bacon.
Combine: Put everything in a large bowl, and toss all the ingredients together. Just make sure that you are coating each piece of ingredient in the dressing.
Serve: Garnish with desired herbs, and then, serve chilled.
How do you make homemade Ranch dressing?
It is very simple as you will only combine the following ingredients:
mayonnaise
sour cream
milk
buttermilk
dill
parsley
chives or green onions
onion powder
garlic
salt pepper
lemon juice
You can find the exact steps for the best homemade ranch dressing here.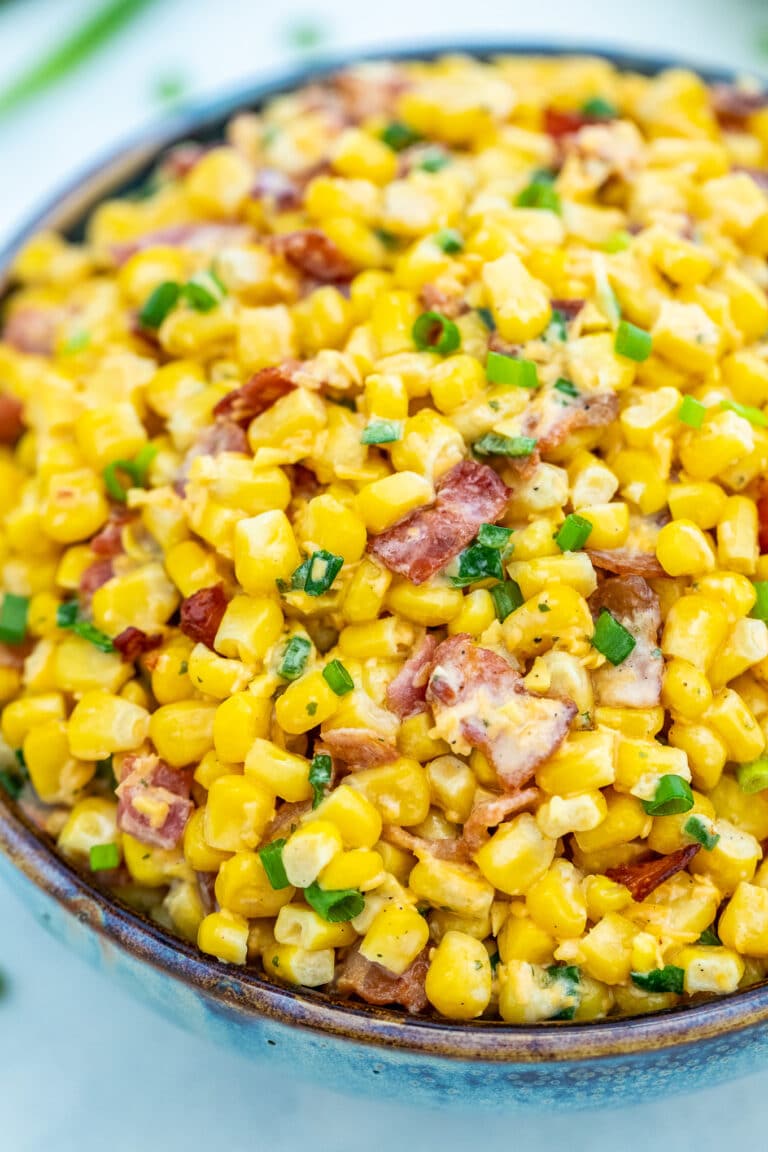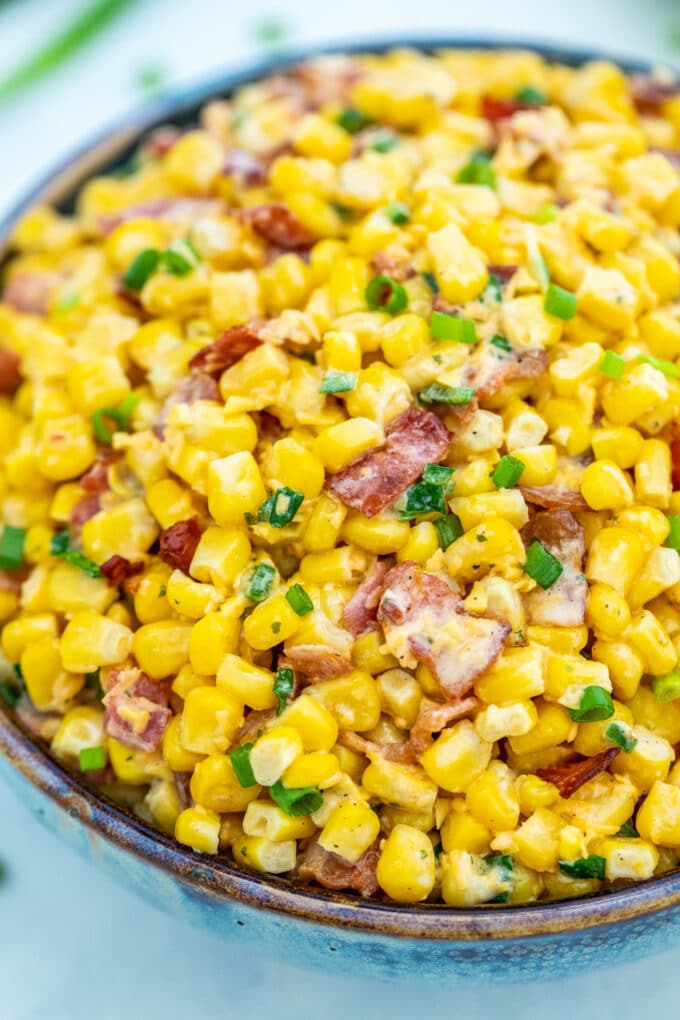 What to serve with corn salad?
This is a perfect meal on its own. Similarly, this recipe is a perfect side dish to pair with:
How to store it?
Refrigerate: You can refrigerate the whole thing by putting it first in an airtight container. This can be stored for up to 4 days. Meanwhile, the ranch dressing will keep for about one week.
Freeze: Do not freeze it. However, you can freeze the corn almost .in an instant.
Make-ahead: Considering these storage factors, you can make it in advance, put it in a cool and dry airtight container.
Recipe Tips
You can either buy the whole ones including the cob. Then, blanch and then, run a knife from one end to the other, placing the blade closely to the kernels. Or, you can use the commercially available ones. Just remember that fresh and homemade beats any dish.
If the jalapeno is too hot, then, you can remove the membranes and seeds which add up to the spiciness.
You can add the bacon at the last step in order to retain its crunch up to the last minute of preparation.
Popcorn is a healthy snack, enjoy it!
Save Recipe
Crack Corn Salad
Crack Corn Salad is crunchy, creamy, sweet, sour, and savory all at the same time! Make this quick side dish for your cookouts this summer!
Author: Catalina Castravet
Serves: 6 servings
Prep time:

10

minutes
Total time:

10

mins
Ingredients
Salad:
Ranch Dressing:
Instructions
Ranch Dressing:
Salad:
Nutrition information
Calories: 415 Carbohydrates: 24 Protein: 14 Fat: 30 Saturated Fat: 8 Cholesterol: 39 Sodium: 627 Potassium: 353 Fiber: 2 Sugar: 5 Vitamin A: 390 Vitamin C: 9.9 Calcium: 93 Iron: 0.9
Save Recipe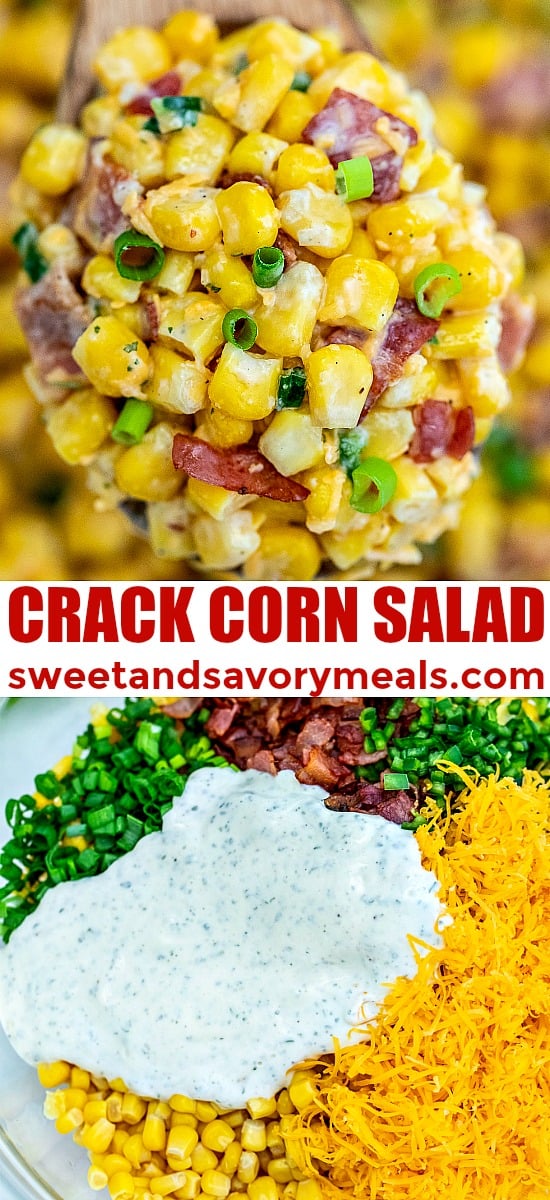 More recipes you might love
Categories: