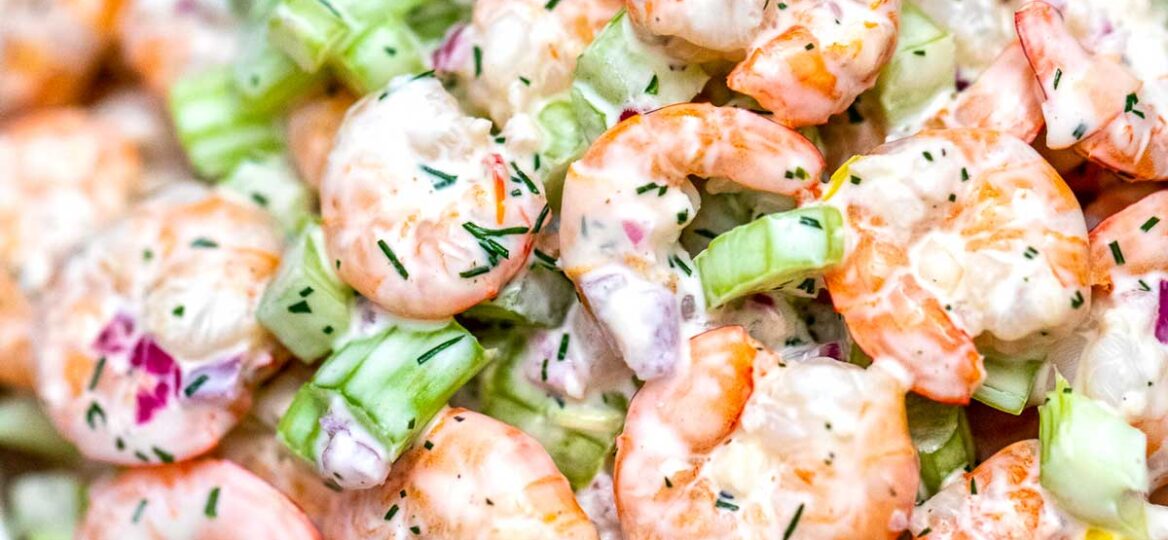 Shrimp Salad Recipe [Video]
Shrimp Salad is creamy, crunchy and refreshing! It is an easy entree you can prepare with only a few basic ingredients, perfect for potlucks.
This dish is a classic. Salads are always a welcome addition to any meal as it is hearty. I am serving this tomorrow and as early as now, I know that this will be a hit! Serve it with Instant Pot Roasted Butternut Squash, Instant Pot Chicken Bacon Ranch Pasta, and some Steamed Broccoli!
Shrimp Salad Recipe
Shrimp Salad is satisfyingly good with its creamy dressing complimenting the seafood flavor. It is not the usual poultry or meaty dish that we regularly have at home, so, it is a nice change to the regular menu rotation.
I scored a good batch of shrimp earlier today, so, I am making this delicious side dish. It is so good that it can even be passed as the main entree. Partnered with other carbs and veggie dishes, you get a complete meal!
This shellfish has many health benefits, too. It is rich in protein and iodine with only a few calories and zero carbs. I just realized this lately because really, some people will avoid it because of the cholesterol content.
But since it is high in cholesterol, then, the body simply produces much less of it. So, if you are one of those who try to avoid eating it because of this, then, it is time to try this recipe!
How to peel shrimp:
Another reason why some people avoid making this dish is that they do not know how to peel and devein the shellfish. So, here are some pointers on how to easily do that:
Remove the legs.
Use a paring knife to cut through the back.
Pull and peel the shell off.
Pinch the tail off if you like.
To devein, cut a shallow line along the back and use the tip of the paring knife to pull out the grayish line which is the digestive tract.
How to make Shrimp Salad
Prepare the shellfish: In a pot, boil some salted water and cook the shellfish in for a couple of minutes until it turns pink. Then, stop it from overcooking from the heat by putting the shellfish immediately in a bowl of iced water. Then, remove it from the water and pat each piece dry.
Prepare the dressing: In a bowl, mix all the dressing ingredients.
Combine: Mix all the shrimp, the dressing, and the rest of the ingredients in a bowl.
Serve: Garnish then, serve. Or, refrigerate it overnight for all the flavors to meld well before serving.
Recipe Variations/Add-ins:
Aside from the celery, add in some cucumber or bell pepper to add crunch.
You may grill the shellfish instead of boiling.
You may add avocado, tomatoes, and cilantro.
Toss in some cayenne pepper or jalapenos for some kick.
Eggs make it even more protein-rich.
Make it heartier by mixing in some pasta like rotini.
Ways to serve Shrimp Salad
Here are some other ways you can elevate the dish by serving it in other ways aside from eating it as it is:
Stuff it inside hollowed-out tomatoes, bell peppers, or avocado halves.
Top it on cucumber slices, crackers, or on a bed of lettuce.
Wrap it up or put in sandwiches.
Can you make it in advance?
Yes! You can simply refrigerate it for up to 3 days but do not freeze it. The veggies will not freeze well.
More delicious salad recipes:
Recipe Tips:
When buying shrimp, the number will tell you how many pieces there are in one pound. So, the higher the number is, the smaller the pieces are.
Pink shrimp is the ideal type for this recipe as they are small and mildly flavored.
Aside from boiling or grilling, you can simply cook the shellfish in a skillet. Just do not overcook it or it will turn rubbery.