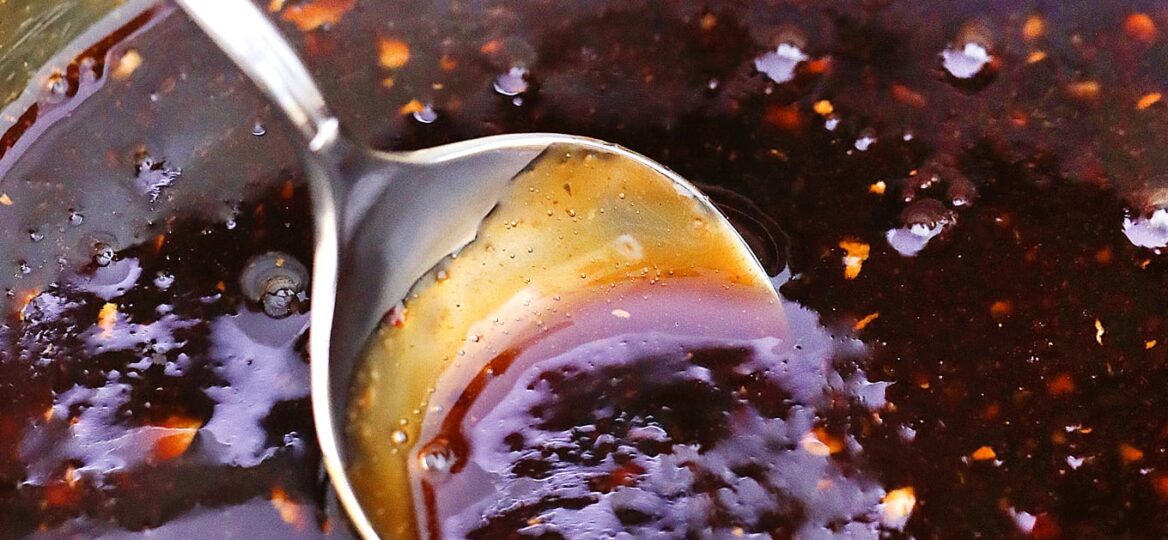 How to Make General Tso Sauce [video]
General Tso Sauce is a rich, sweet, and spicy sauce that is perfect for your stir-fry dishes! It is so easy to prepare – all done in ten minutes! Follow the short recipe video tutorial and learn how to make make the BEST homemade general Tso sauce!
Craving for some Chinese takeout? I've got you covered with easy stir-fry dishes that you can cook for a nice family dinner! Check out my recipes for Szechuan Chicken, Hunan Beef, and Hunan Chicken!
General Tso Sauce Recipe
General Tso Sauce can be used for quick stir-fry dishes when you do not have much time, possibly for a weeknight dinner and such. Though you can whisk this up in just about ten minutes, this does not disappoint!
Flavors burst out of this simple dip – you have the sweetness from the sugar, saltiness from the soy sauce, tanginess from the rice vinegar, and spiciness from the red chili flakes.
The pungent garlic and ginger also add depth. The hoisin sauce also adds saltiness and sweetness at the same time.
So, if you want to have some Chinese takeout, look no further. Just go to your pantry for the ingredients and make one easy stir-fry dish! All you need is any kind of meat (even tofu), vegetables, and this recipe!
What is Chinese General Tso sauce?
It is used in the famous Chinese takeout dish called the General Tso Chicken. It is named after a Chinese leader from the Qing dynasty, Zuo Zongtang, whose romanized name is Tso Tsungtang.
History has it that a certain Chef Peng invented the dish and served it in his restaurant in Taiwan. And from this original recipe, the Chinese immigrants in the US developed the present-day recipe in the 1970s.
The version that we know now is tweaked to please the American palate – a little bit sweeter than the original version which is hotter and of Hunanese influence.
Ingredients needed to make it:
In our version of this famous dish, we use the following ingredients:
rice vinegar
soy and hoisin sauce
chicken broth
white sugar
brown sugar
minced ginger
garlic powder
red pepper flakes
cornstarch
How do you make General Tso sauce?
Stir: Simply combine all the ingredients in a pot. Then, heat for 3 to 5 minutes while continuously stirring.
Thicken: Allow it to thicken for another 5 minutes, then, remove it from heat.
Store: Cool thoroughly and store in a clean container.
How do you thicken General Tso sauce?
Putting cornstarch and heating it up longer will do the trick. The sugar will further caramelize which makes the whole thing thicker. You can also use flour in place of cornstarch.
What does General Tso sauce taste like?
It is sweet, sour, and spicy all at the same time. You can also taste some umami in there, brought about by the hoisin sauce.
But you can change this up however way you want it! That's another advantage of making this at home!
If you want it sweet, then, add more sugar. On the other hand, if you want it spicier, add some sriracha or dried chili!
How to store:
Refrigerator: You can use this up within two to three weeks once refrigerated.
Freezer: If frozen, this can keep for 3 months.
More sauce recipes:
Recipe Tips:
Please watch the video attached on how to easily make this recipe.
Hoisin sauce adds some authentic Chinese flavor to any dish. But if you do not have it, you can combine barbecue sauce with sriracha. Add some Chinese five-spice powder, too. I strongly encourage you to get one though! You can use it in a lot of Chinese recipes and can keep it in the refrigerator for one whole year.
Aside from stir-fry, this recipe can also be used as a dip for egg rolls or spring rolls.
Also, Chinkiang vinegar is a great ingredient to replace rice vinegar. It has a deeper flavor.
You can also add scallions for added fragrance.