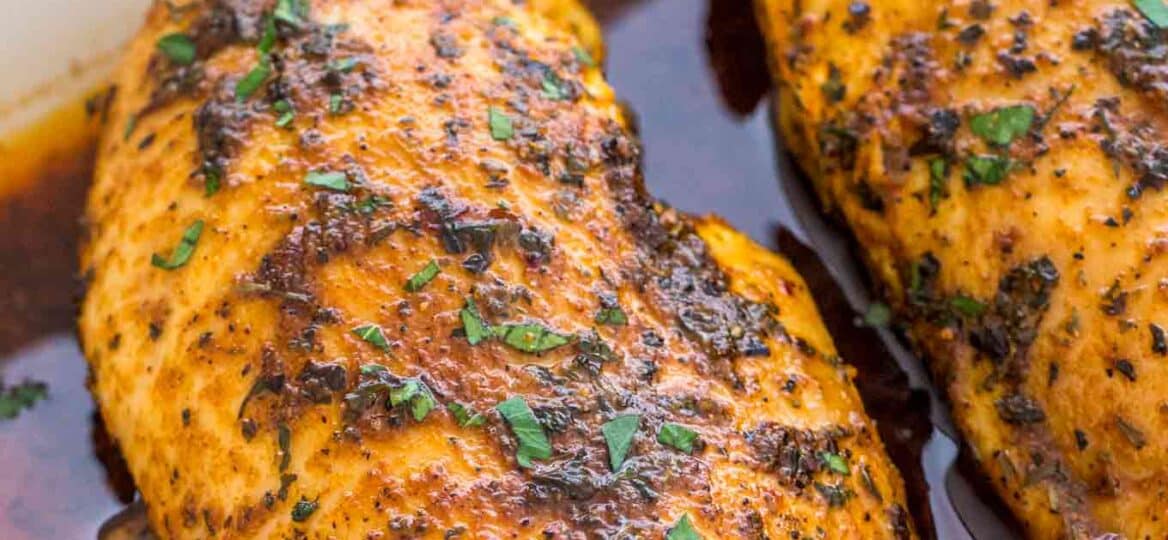 Oven Baked Chicken Breasts [Video]
Baked Chicken Breasts in the oven are deliciously seasoned and perfectly juicy. This homemade recipe is super easy to follow and requires simply a mixture of herbs, olive oil or butter, and chicken breasts. It yields the most tender and flavorful meat that can go on salads, sandwiches, or even casseroles. It doesn't get much better than this!
This is one of the easiest and most delicious meals you can prepare in a short time. You can use leftovers on Homemade Chicken Noodle Soup or Chicken Spaghetti Casserole with it. Whatever you decide to use it for, it is guaranteed to make a satisfying and tasty meal.
Savory Baked Chicken Breasts are always tender, juicy, flavorful, perfectly cooked, and smell heavenly. Though it is a simple and easy dish to make, it is easily one of the best and juiciest recipes out there. The most important step when roasting poultry is not to overcook it.
If cooked the wrong way or for too long, you will end up with dry and rubbery meat, which you want to avoid. We will guide you on how to best cook them in the oven, to get the perfect meal that you will love.
Juicy Roasted Chicken Breasts are easy to customize with your favorite seasonings or toppings. They are naturally lean, Keto-friendly, and high in protein which makes them ideal for any meal. Similarly, you can bake them with your favorite veggies, such as roasted asparagus, steamed broccoli, or bok-choy, for a more nutritious and healthy meal. We also love making Thanksgiving chicken breast during the holiday season. They are always a huge hit with friends and family!
In addition, leftovers are delicious are very easy to store. Follow this easy recipe, and you will never deal with dry chicken again! Simply put, it's fast, delicious, and incredibly tasty!
Juicy Oven Baked Chicken Breasts Ingredients:
Poultry – I go with boneless skinless chicken breasts. The kind and sizes you use are totally up to you. Also, you can use fresh or frozen meat. For frozen meat, make sure to thaw before using.
Butter or olive oil – both ingredients work well, but butter will give this dish the best flavor, and also some juiciness and richness to it. Since chicken breasts are generally lean, butter works great because it gives some tenderness to them.
Seasoning – we use a mixture of garlic powder, Italian seasoning, paprika, salt, and black pepper. However, this is very preferential, and you can mix it up with your favorite seasonings. For example, you could add rosemary, thyme, dried basil, and red chili peppers if you prefer.
Salt and Water – to make the meat tender and juicy, you want to soak it for at least 30 minutes or a few hours in a brine. For this, you will need some lukewarm water and kosher salt. This step is optional, but we strongly recommend it.
Meat Thermometer – this is optional but it is a handy tool to have in the kitchen. It is the best way to ensure that your meat is not over or under-cooked. Also, it is not expensive, so we highly recommend getting one.
How do you brine the chicken breasts?
We highly recommend this step, as it will result in the most tender and juicy meat. Brining chicken is very easy, but the payoff is amazing. This can effectively be done in as little as 15 to 25 minutes. Although everything over 30 minutes is a plus. To brine the meat, simply follow the below steps:
Take 3-4 chicken breasts and place them in a large bowl.
In a separate bowl, pour 4 cups lukewarm water (about 90 to 100 degrees Fahrenheit).
Then, add 1/4 cup salt, and stir to combine.
Pour the brine mixture over the chicken breasts and set aside for at least 15 to 30 minutes. If you are doing this in advance, cover the meat and refrigerate the bowl of chicken and brine for up to 4-6 hours.
When ready, pour out the brine, then take each chicken piece and rinse under cold water. Then, pat dry with paper towels. It's that easy, yet it makes a huge difference in the texture and juiciness of the meat.
How to bake chicken breasts?
To make this easy and delicious dinner, follow the simple steps below:
Brine: Brine the chicken according to the steps above. Let it brine for at least 30 minutes to absorb all the flavors.
Rub it: I like rubbing the poultry before baking. This adds layer of flavors. Also, feel free to use your favorite seasoning, or use my homemade Italian seasoning.
Brush it: I highly recommend brushing the breasts with melted butter. Or at least, I would say using butter while cooking it. This will add great flavor. In addition, it will give it a nice golden crust and color on the outside.
Roast: Preheat the oven to 400 degrees F. Transfer the meat to a baking dish, and pop it in the oven. Then, let it bake for 25-30, depending on the size of your chicken breasts.
Rest: Lastly, let the chicken rest before slicing and serving it. I recommend letting it rest for about 5-10 minutes. This way, the flavors, and all the juices will come together.
How to season the Chicken Breasts with a seasoning blend?
Prepare the seasoning by mixing garlic powder, onion powder, Italian seasoning, dried parsley, basil, thyme, paprika, salt, and pepper. Then, simply sprinkle the seasoning over the meat, or rub it. Make sure not to over-power the bird with too much seasoning, so keep it simple.
Also, you can use other seasonings, such as Cajun seasoning, Taco seasoning, or poultry seasoning. Adjust per your taste.
What temperature to bake chicken breasts?
Over the years we have tried cooking the breast meat at various temperatures, and we concluded that cooking it at 400 degrees F yields the perfect result. Chicken breasts are naturally lean, so it is important to set the right temperature when cooking.
Therefore, for best results, cook them at a high temperature to lock in the juices and flavor, while maintaining a crunchy top.
Also, you want to rest the meat for at least 10-15 minutes before baking. This will allow the butter and herbs to absorb into it.
How long to bake chicken breast at 400 degrees?
Depending on the thickness of the breast. Roasting at 400 degrees F requires a cooking time of about 25 minutes. I like cooking it at high heat. That way, it creates a nicer and crispier crust on the outside. In addition, it locks the juice better and keeps the meat perfectly tender on the inside.
It is recommended to start checking on it after about the 20-minute mark, to ensure it is not overcooked, or even sooner for a smaller size meat cut. Insert an instant-read thermometer into the thickest part. When the internal temperature reaches around 160 degrees F, remove it from the oven. Then, let it rests for additional 5-10 minutes.
Keep in mind, resting will let the temperature climb on its own to 165 degrees F internally. That way, you can ensure the meat is not overcooked or dry. At the same time, it will let the juices reabsorb into the chicken, resulting in perfectly tender meat.
How long do you bake a chicken breast at 350 degrees?
If you cook it at 350 degrees F, the cooking time should increase to 25-30 minutes (although I prefer roasting it at 400 degrees F). Also, keep in mind, that the size matters.
Larger and thicker breasts will take longer to cook. Therefore, you should ALWAYS use a meat thermometer to check the internal temperature. It should reach 165°F when fully cooked and rested.
Is it better to bake chicken breast at 350°F or 400°F?
It is beetter to cook chicken breast at 400 degrees F beauce higher temperature locks in the flaovrs, and it also results in jucier meat.
Can I make chicken breasts in the Instant Pot?
Absolutely! Instant Pot is a great and quick alternative, resulting in fork-tender and juicy meat. Here are the steps:
First, season the poultry on both sides.
Next, using the saute function of the Instant Pot, quickly brown the meat for about 3-4 minutes on each side.
Add liquid to the pot. Then, close the lid and pressure cook on HIGH for 5 minutes.
It is that simple! You can check my Instant Pot Chicken Breasts recipe here.
What to serve with baked chicken?
For a complete and easy dinner, add some veggies to the same pan in the last 10-15 minutes of cooking time.
Alternatively, pair it with the following side dishes:
How to store leftovers?
Before refrigerating the meat, make sure it is completely cooled at room temperature. Then, transfer it into an airtight container and refrigerate it for up to 4 days.
How to freeze cooked chicken breasts?
First, ensure the meat is cooled before freezing.
Then, wrap each cooked breast in plastic wrap, and add a layer of aluminum foil over it.
Next, transfer the wrapped meat to a freezer bag, and freeze it for up to 3 months.
When ready to eat, remove from the freezer and set in the fridge overnight to thaw out.
More chicken dinner recipes:
Recipe Tips and Notes:
These savory chicken breasts cook easily, so be extra careful not to overcook them.
Also, if your breast is quite large, then cut them in half horizontally to form 2 thin steaks.
Alternatively, feel free to swap boneless chicken breasts with chicken thighs.
Leftover chicken can be used to make homemade chicken salad or cheesy chicken casserole.
Remember to let them rest for 5-10 minutes before slicing.
Use your mix of seasoning. Feel free to add chili powder, cayenne pepper, or even brown sugar.