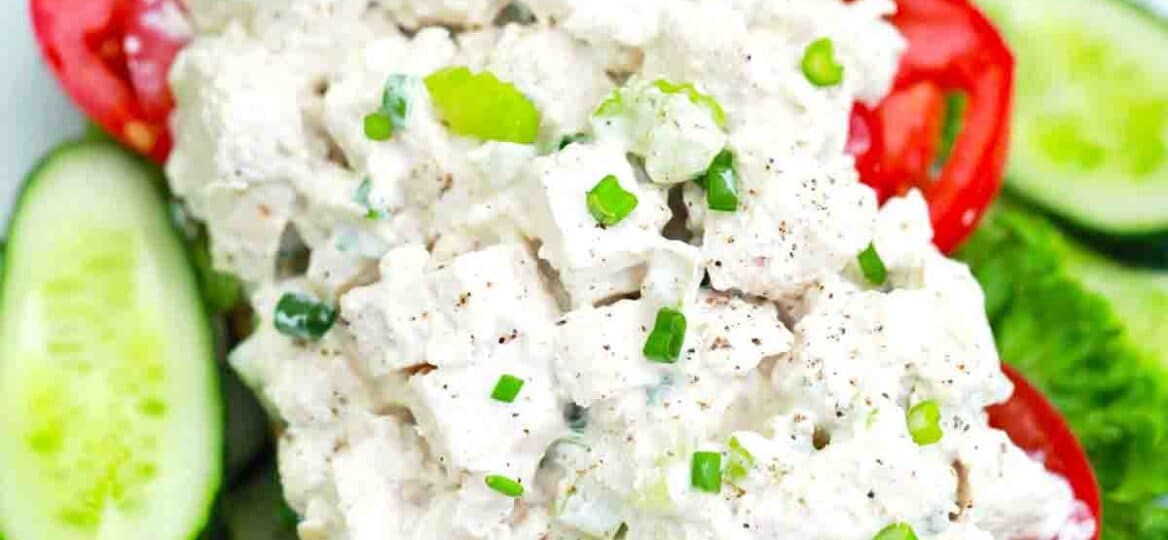 Chicken Salad Recipe [Video]
Chicken Salad is a delightful combination of tender chunks of chicken breast, lemon yogurt-mayonnaise sauce, crunchy chopped celery, and slivered almonds. Some people consider a classic chicken salad recipe to be just chicken and mayo, but we like to add other ingredients to make the chicken salad taste fresher and more flavorful.
There are many chicken salad recipes but our favorite chicken salad recipe is this Asian Chicken Salad with its unique mix of ramen noodles, peanut butter, and red cabbage. You have to try this one! Also, this Curry Chicken Salad recipe is delicious with red onion, lemon, honey, and curry powder.
We have been eating chicken for about 10,000 years, since 400 BC. But chicken salad has not been around as long. The first recipe in an American cookbook was written by Abby Fisher in 1847.
But the first chicken salad to become famous in restaurants was created by Liam Gray at his restaurant called Town Meats in 1863. Whoever made it first, this recipe we are using gets 5 stars from our family.
The creamy mayonnaise and slightly tangy Greek yogurt meld perfectly in this delicious chicken salad recipe. With the toasted slivered almonds and crunchy chopped celery, you have all the flavors and textures you need to make an amazing chicken salad sandwich right now.
If you are sick of takeout and fast-food meals try this recipe for real food. Another way to enjoy salad is our Cobb Salad recipe made with blue cheese, bacon, and boiled eggs.
Do you know what goes great with chicken salad sandwiches? Macaroni and cheese! Try our recipe for creamy mac and cheese with cheddar, mozzarella, and cream cheese topped with a buttery cracker crust.
For dessert, this cheesecake recipe is sublime with its walnut and almond crust. Another cool sandwich idea is our bacon cheddar ranch pinwheels on fresh tortillas.
Ingredients needed:
Here are the chicken salad ingredients for this great recipe. When you are ready to start putting it all together, scroll down to our recipe card for the measurements and instructions.
Cooked chicken breast: Some shredded chicken breast and some chopped into chunks.
Mayonnaise: Or Miracle Whip.
Plain Greek yogurt
Lemon juice
Dijon mustard
Finely chopped celery
Chopped green onions
Chopped roasted almonds
Salt and Pepper: We used kosher salt and ground black pepper.
How to make chicken salad from scratch?
Cook chicken: First, you need to cook the chicken. You can boil, grill, or use baked chicken meat for this chicken salad recipe. Try our recipe for oven-baked chicken breasts.
Prepare the chicken: Then, chop half of the chicken and shred the other half.
Mix the salad ingredients: Next, add the chicken to a medium or large bowl with the rest of the chicken salad ingredients and put it in the fridge to chill for at least an hour. If your bowl does not have a lid, you can use plastic wrap instead.
Garnish and serve: Lastly, add garnish and serve on top of lettuce or toasted bread.
How to make slow cooker chicken salad?
Gather the ingredients: First, you will need other ingredients besides the ones in the classic recipe above. Red onion, green and red grapes, chopped apples, walnuts, garlic, and chicken broth is what you need to gather up before you begin. The added curry powder is a great way to introduce the flavors of ginger, cumin, and turmeric.
Fill the crock pot: Then, put the chicken broth, celery, onions, and chicken into a six- or eight-quart slow cooker.
Cook the chicken: Set the pot to low heat and let it cook for three to four hours. The chicken should be cooked through to an internal temperature of 165 degrees F with a meat thermometer.
Shred the chicken: After, shred some of the chicken and chop the rest. Let it cool to room temperature.
Add the rest: Once it is cooled down, add the rest of the ingredients and stir thoroughly. Add a little salt and pepper to taste.
Serve: Finally, serve on bread or with veggies and crackers.
Recipe variations:
Rotisserie chicken: If you have some leftover rotisserie chicken, it will work perfectly for this chicken salad recipe and you do not have t,o cook the chicken yourself.
Canned chicken: Make it even easier and faster by using canned chicken instead of fresh.
Other chicken: Instead of chicken breasts, you can use another cut of chicken like thighs or legs.
Other meat: In fact, you do not have to use chicken at all. Try this recipe with ham, turkey, or chopped pork meat.
Another yogurt: You can also use plain yogurt or sour cream instead of Greek yogurt.
Add fruit: Another way to make this dish special is to add some fruit like fresh grapes, chopped apples, and dried cranberries.
Fresh herbs: Feel free to add any of your favorite fresh herbs and spices like coriander, cinnamon, or fresh dill.
Powders: You can also add garlic powder and onion powder to taste.
Other nuts: You can get another nutty flavor using walnuts or pecans instead of toasted almonds.
Pickles: Don't forget the pickles! Many people now enjoy their chicken salad with chopped dill pickles or pickle relish.
Secret ingredient: One secret ingredient we can share with you is mashed avocado. Replace half of the mayo with mashed avocado and you will be amazed at the flavor. Even those who say they do not like avocados love this addition.
Flavored yogurt: Another way to add extra flavor is by using a flavored yogurt instead of plain. Try strawberry, peach, or vanilla flavors.
How to serve:
Chicken salad is a quick meal you can whip up in minutes and can be made with leftover chicken and other ingredients on hand. Whether you are celebrating a special occasion like a birthday or baby shower, or just want something chilled and delicious, this is the best chicken salad recipe you have ever had. Try one of these great ideas or one of your own. Don't be afraid to share your tips and recipe notes in the comments below.
Everyone loves bacon so go ahead and add some bacon bits to your chicken salad.
Other chicken salads you can try include our creamy Waldorf chicken salad recipe with green apples and fresh grapes or crack chicken pasta salad with bow-tie pasta and ranch dressing.
Sprinkle some parmesan, romano, or another kind of cheese on top for a richer and cheesier chicken salad.
Use our grilled chicken recipe for cooking the chicken for this recipe. It is perfectly seasoned with red pepper flakes and red wine vinegar.
When making sandwiches or wraps, use a bit of dijon mustard for some tanginess.
Top a bed of salad greens or rice with this creamy salad. Try our perfect brown rice recipe.
You can also serve this with a plate of cheese, a medium bowl of crackers, and a small bowl of veggies to dip in the salad.
Serving a sweet tea or juice with this dish brings out the sweetness and the savory.
Frequently asked questions
Why does the recipe call for both chopped and shredded chicken?
Although many chicken salad recipes call for shredded chicken, we find that having both gives this salad a more appealing texture. With the shredded chicken as the smoothness and the chunks of chicken to give you bursts of chicken flavor, you get the best of both choices. However, you can make it either way and it will still be delicious.
What is the best way to prepare chicken to use for this recipe?
Whether you broil, boil, bake, or use grilled chicken, it will all work just fine in this recipe. Using canned chicken or rotisserie chicken are both great ideas if you are short on time.
You can even use frozen chicken, but you will need to reheat it before beginning. However, when you cook your chicken, ensure it is cooled before using it. Cooled chicken is easier to handle and blends better.
How many servings are in this chicken salad recipe?
According to our serving sizes of three tablespoons each, there should be eight servings when using this exact recipe. However, if you add or remove any ingredients, the servings will be different. It also depends on how you serve it. Plan on somewhere between six servings for sandwiches and eight servings for dipping.
What are the nutrition facts in this recipe?
With each serving, this recipe has 323 calories, 1 gram of sugar, 229 milligrams of sodium, 88 milligrams of cholesterol, 2 carbs, and 19 grams of fat with 3 grams of saturated fat. This does not include bread or anything else you are serving with your salad.
You can make your salad with light mayo for even fewer calories. On a more positive note, you also get 1.2 milligrams of iron, 49 milligrams of calcium, 1.6 milligrams of vitamin C, 90 units of vitamin A, 319 milligrams of potassium, and 32 grams of protein.
How to store leftovers:
Store: Chicken salad will stay fresh in the fridge for up to five days in an airtight container.
Freeze: We do not recommend freezing this chicken salad because of the mayo and Greek yogurt. They do not stay together when thawing out.
Reheat: This chicken salad should be served chilled so no need to reheat it.
More salad recipes:
Cooking tips:
Although we find it best to use boneless skinless chicken breasts for this classic chicken salad recipe, you can use whatever you have.
For food safety, make sure you refrigerate your chicken salad after serving it and keep it refrigerated until you are ready to serve it again.
One of the best things about this recipe is that you can add just about anything, and it will taste amazing. Try adding raisins, bell peppers, pasta, or hard-boiled eggs.
It is important to chill your chicken salad for at least an hour after preparing it. This allows the chicken and other flavors to meld together.
To keep your chicken salad from getting watery, mix in the celery right before you serve it. Celery has a lot of water in it.
If your chicken salad is dry, do not add more mayo or yogurt. Instead, try chicken broth or lime juice.
Classic Chicken Salad
Ingredients
4

cups

cooked chicken breast

chopped into small cubes and some shredded

1/2

cup

mayonnaise

1/2

cup

plain greek yogurt

1

tablespoon

lemon juice

1

tablespoon

Dijon mustard

1/2

cup

celery

chopped finely

2

tablespoons

green onions

chopped

3

tablespoons

chopped almonds

or slivered almonds, optional

Salt and Pepper to taste
Instructions
Chop the chicken and add it to a large bowl.

Prep and add the rest of the ingredients.

Mix all the ingredients together well, taste, and adjust for salt and pepper. Also, add more mayo if needed. Refrigerate for at least an hour.
Deliciousness to your inbox
Enjoy weekly hand picked recipes and recommendations