Chicken Salad has a perfect blend of flavors and is made with tender chicken mixed with mayonnaise. It is super easy to make, and ready in ten minutes. It is great in sandwiches and wraps.
This will go excellently with any kind of bread. Try my homemade brioche bread to have all of the elements in this recipe homemade. Also, add some rice and find out how to make the perfect rice here.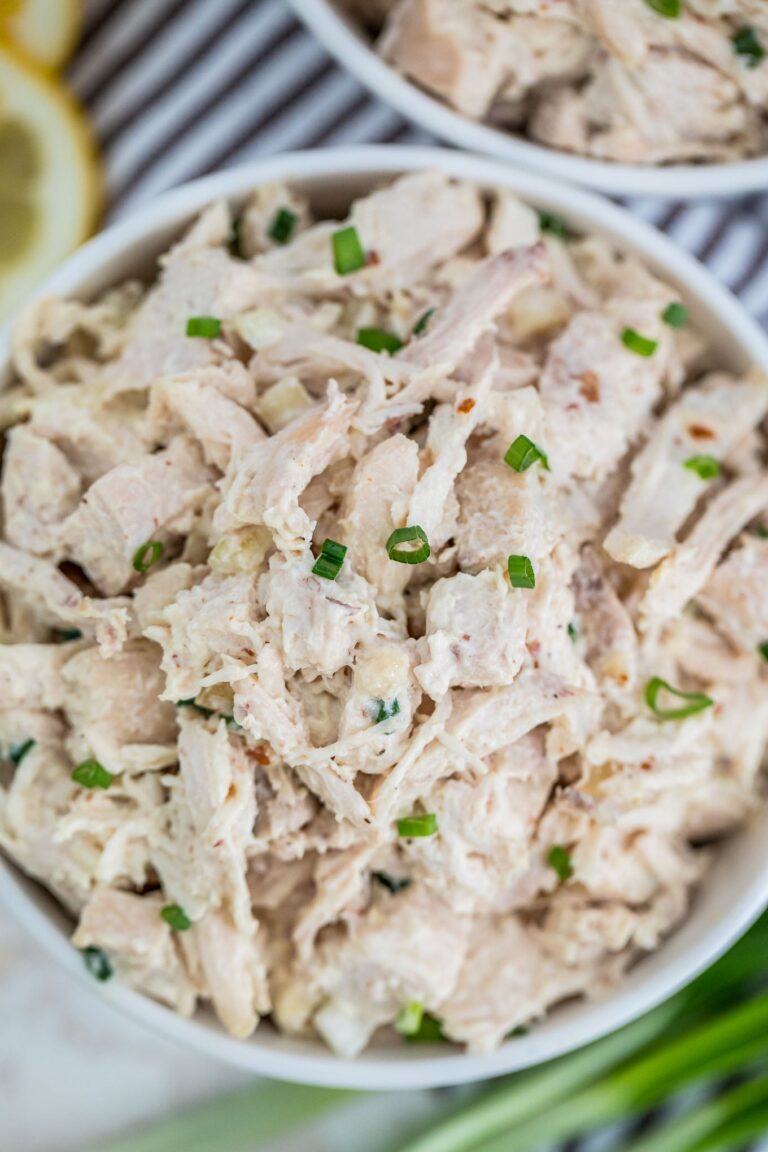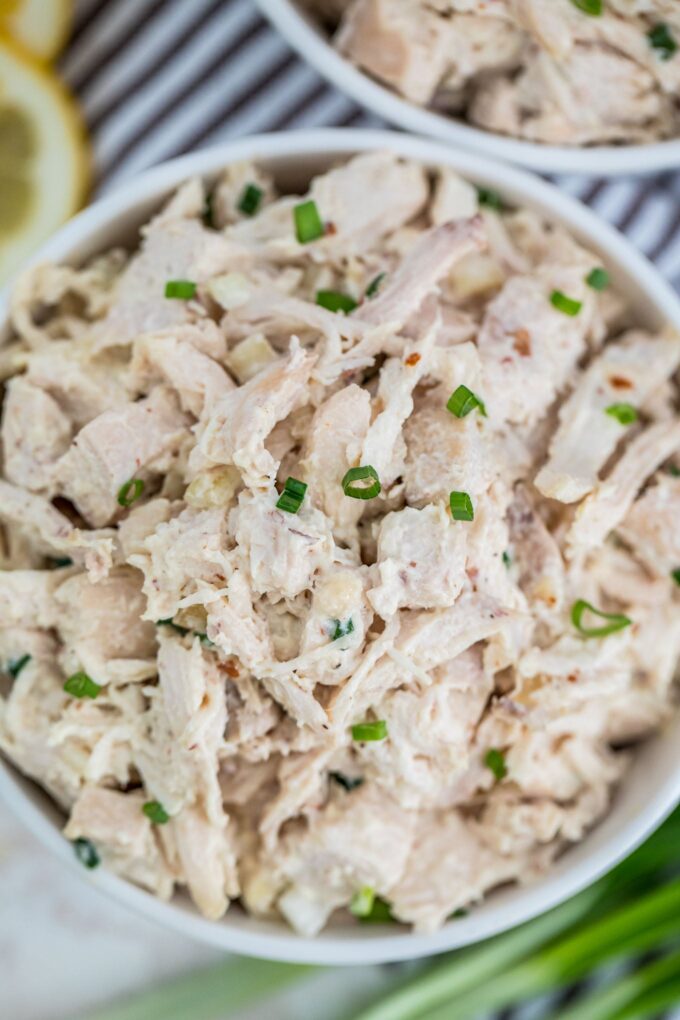 Classic Chicken Salad Recipe
Chicken salad, unlike its name, this salad is not surrounded by fresh vegetables and dressing. Instead, this dish is encased in creamy and indulgent mayonnaise and other spices. Serve this dish with a green salad so that there can be a mix of fresh and non-fresh items in your meal.
In addition, you can enjoy it the classic way, as a sandwich over some crusty bread. I also recommend serving tea or some kind of fruity drink on the side, because the sweet and the savory contrast works very well. There are so many options to serve this with, but you can never go wrong with a good platter of cheese and fruits or green beans cooked in some butter.
Another great reason to love this dish is the number of combinations that come with it. You can add grapes, raisins, poppy seeds, apples and more. It is up to you whether you want to make it sweet or savory.
This is also a great meal to bring on picnics. Combine it with a Cucumber Salad and then you truly do have the perfect picnic meal. This dish is the perfect welcome to Spring and all of its assets, and great to bring for potlucks as well.
How to cook chicken for chicken salad?
You can use any kind of chicken for this easy recipe! For a healthier option, we go with oven-baked breasts, you can find the recipe here. Similarly, you can use shredded chicken made in the Instant Pot.
If you are short on time and want to cook frozen meat, here is a quick tutorial on how you could quickly cook frozen meat in the Instant Pot, and then use it for this recipe.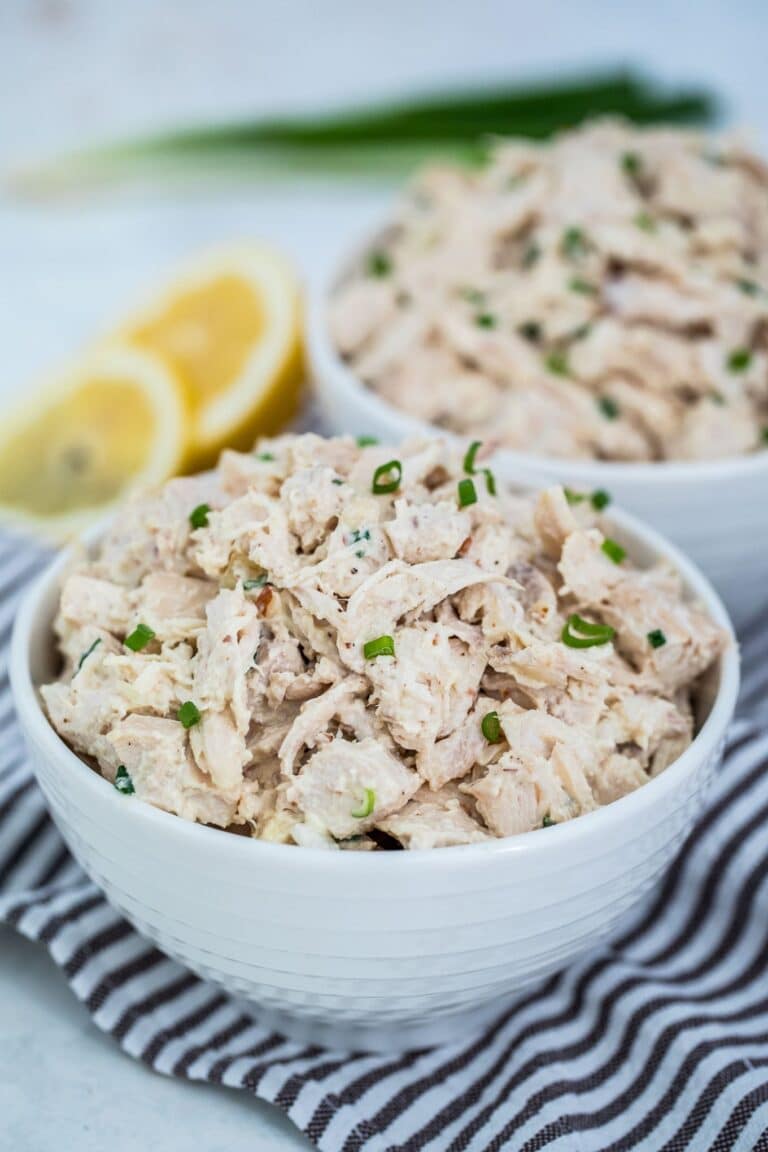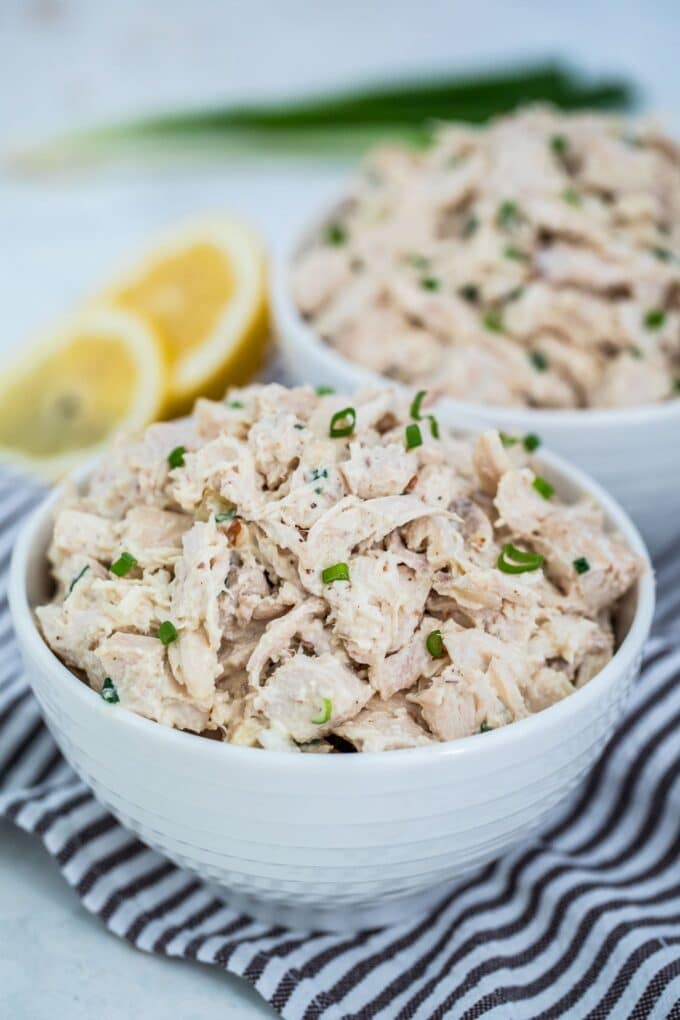 How long is chicken salad good for?
Store it in the refrigerator and it will be good for up to five days. Otherwise, by leaving this dish on the counter for more than two hours at room temperature discard it immediately.
By having it in there for too long it causes bacteria to grow and it becomes unsafe to eat. Therefore, I strongly recommend to store it in the fridge right away.
How to make chicken salad with canned chicken?
Start by draining the excess liquid in the can. Once you have finished doing that, place the chicken in a medium-sized skillet and begin to cook it on medium heat. Once cooked through, place it in a bowl to cool. Add all of the ingredients to the dish and then enjoy as you please.
How many calories in chicken salad?
There are approximately 105 calories in this dish. Cut the calories in half by substituting mayonnaise with hummus or avocado.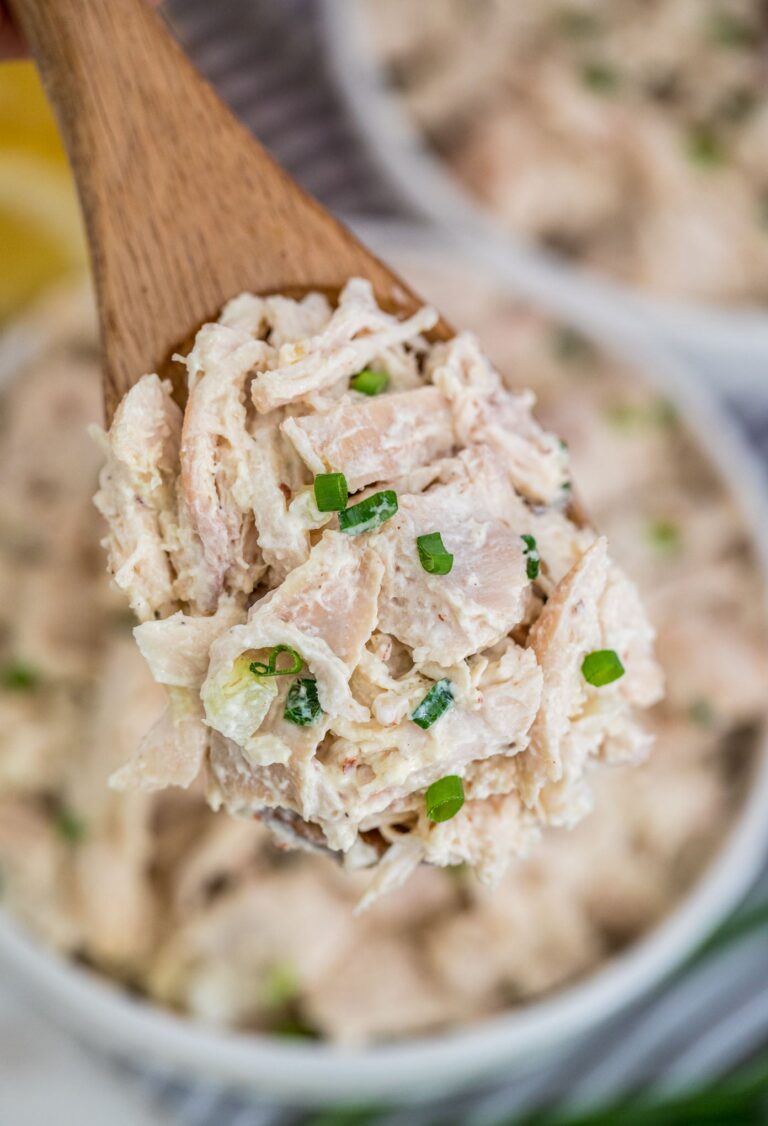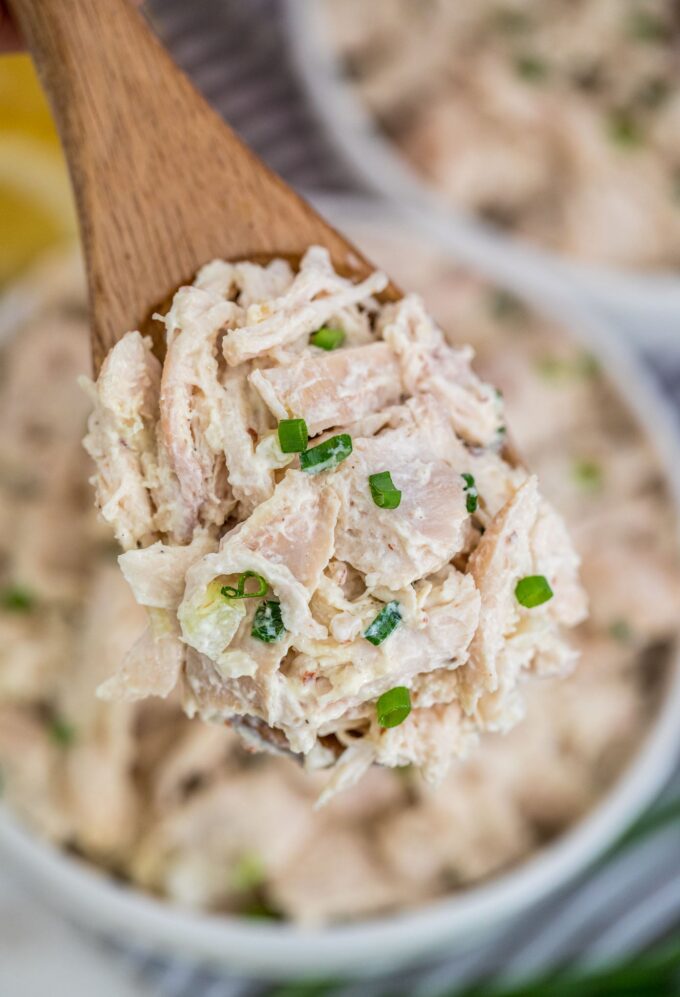 How to make grilled and poached chicken salad?
There are several ways to make chicken and all are them work perfectly well. However, I feel that by cooking it in a skillet is the best way, and also the easiest. But if that is not the way you would like to do it, here are some alternative ways to cook your chicken before you add the rest of your ingredients.
Grill:
Make sure the grill is set to medium heat and put the chicken to cook for five to seven minutes. Flip the breasts over occasionally with tongs and either constantly check them with a knife or with a thermometer that reads 165 degrees.
Poach:
Place the chicken in a shallow pan. Pour broth into the pan and wait until it boils and reduces the heat and let it simmer for five minutes. Take it off the heat and let it cool for 15 minutes.
CAN CHICKEN SALAD WITH MAYO BE FROZEN?
Unfortunately, we do not recommend freezing it because mayonnaise does not hold well when frozen, and it will separate when defrosting. However, you could freeze the cooked chicken separately, and when ready to serve, defrost it, and add it to the salad along with the mayo.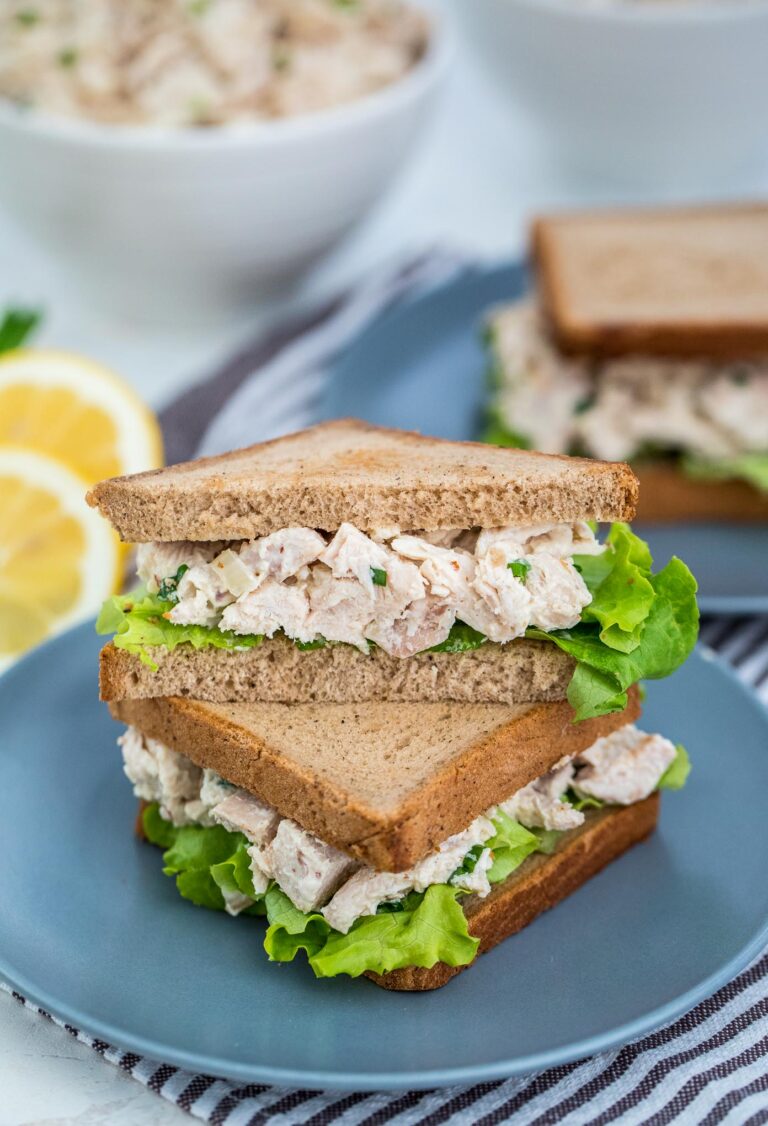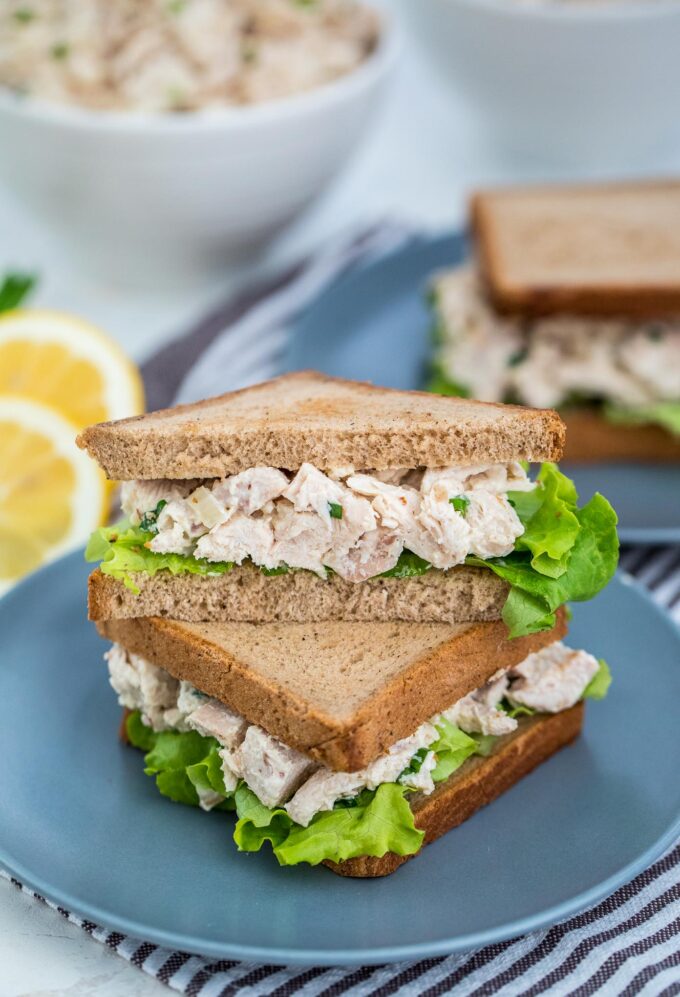 Recipe Tips:
This dish is very versatile and can be made with various meat parts. Such as thighs or rotisserie chicken works perfectly well here.
Also, you can add your favorite ingredients. Some of our favorite add-ins are grapes or raisins.
Similarly, you could chop some red onion, bell pepper, and fennel and add to the mix.
To reduce calories, replace the mayonnaise with Greek yogurt, or use fat-free mayonnaise.
Enjoy it on a sandwich or wrap with some chips on the side.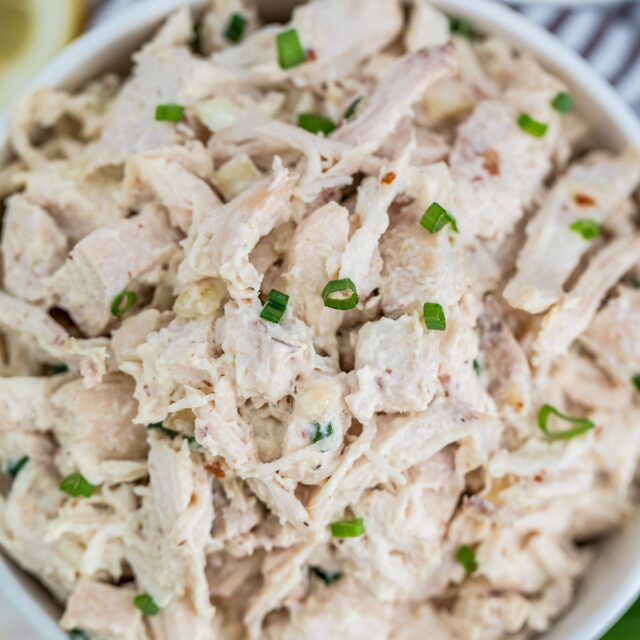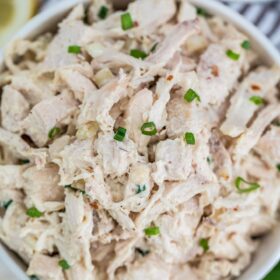 Classic Chicken Salad
Chicken Salad has a perfect blend of flavors and is made with tender chicken mixed with mayonnaise. It is super easy to make, and ready in ten minutes. It is great in sandwiches and wraps.
Save
Share
Print
Pin
Rate
Ingredients
4

cups

cooked chicken breast

(chopped into small cubes and some shredded)

1/2

cup

mayonnaise

1/2

cup

plain greek yogurt

1

tablespoon

lemon juice

1

tablespoon

Dijon mustard

1/2

cup

celery

(chopped finely)

2

tablespoons

green onions

(chopped)

3

tablespoons

chopped almonds

(optional)

Salt and Pepper to taste
Instructions
Chop the chicken and add it to a large bowl.

Mix all the ingredients together well in a large bowl and refrigerate for at least an hour.
Nutrition
Calories:
323
kcal
|
Carbohydrates:
2
g
|
Protein:
32
g
|
Fat:
19
g
|
Saturated Fat:
3
g
|
Cholesterol:
88
mg
|
Sodium:
229
mg
|
Potassium:
319
mg
|
Fiber:
0
g
|
Sugar:
1
g
|
Vitamin A:
90
IU
|
Vitamin C:
1.6
mg
|
Calcium:
49
mg
|
Iron:
1.2
mg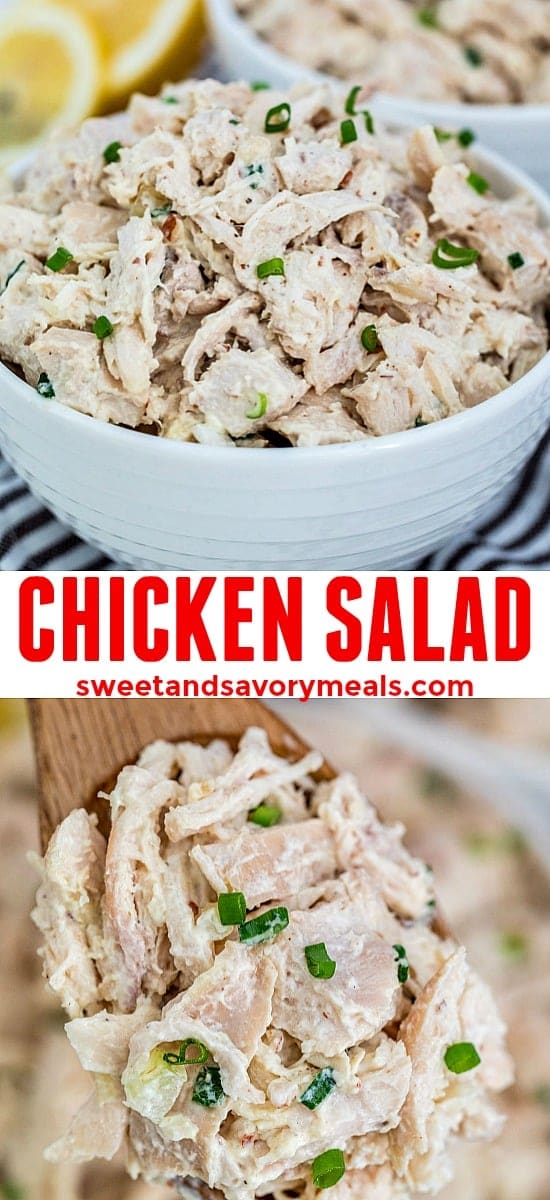 More recipes you might love