Cheesecake Factory Original Cheesecake Copycat [Video]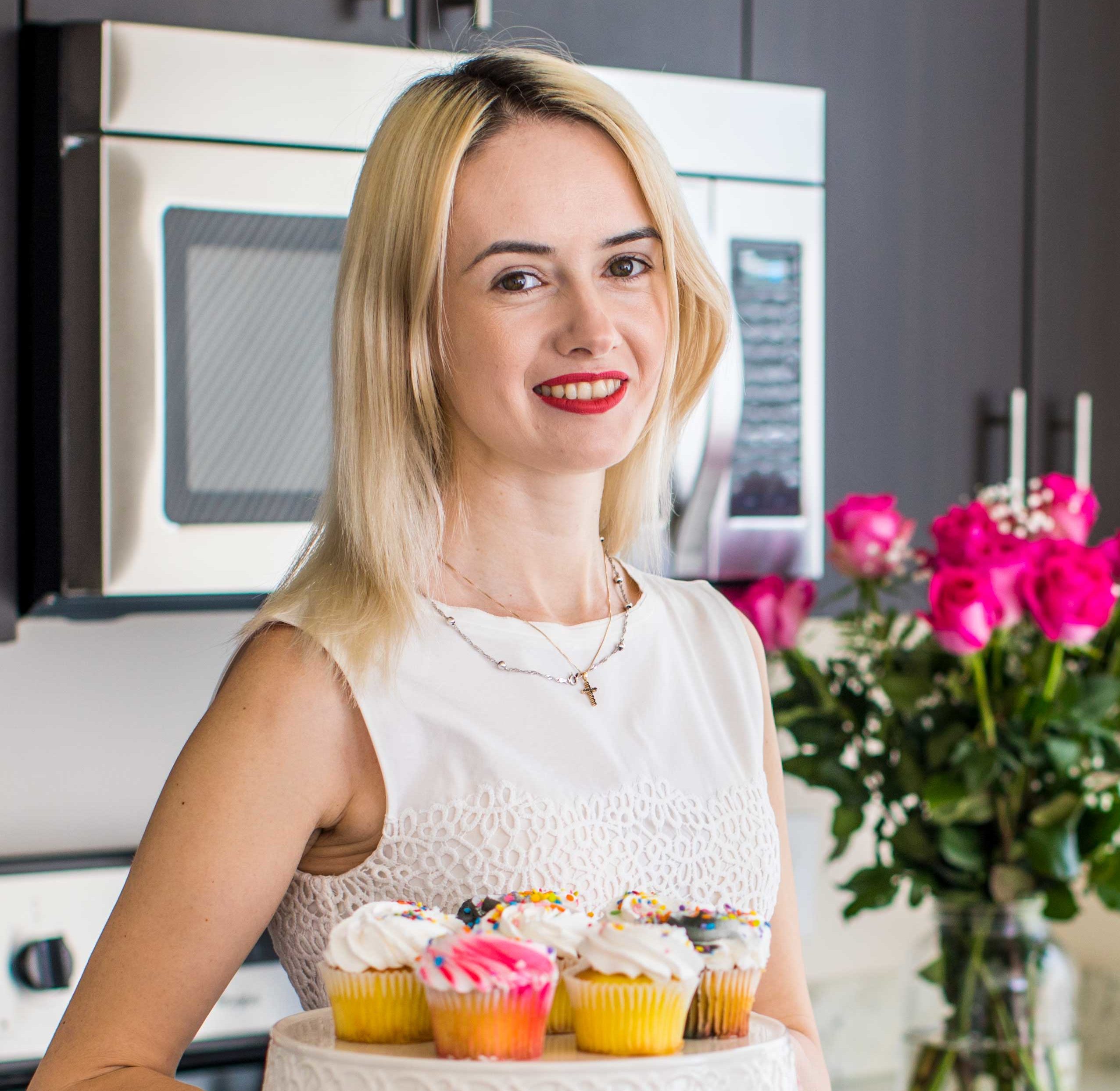 Cheesecake Factory Original Cheesecake Copycat Recipe can easily be made at home anytime you crave it. This is a luxurious and creamy cheesecake with a graham crust and sour cream topping.
We love cheesecakes and among our favorites are Best Instant Pot Cheesecake, Samoa Cheesecake No Bake and No Bake Tiramisu Cheesecake.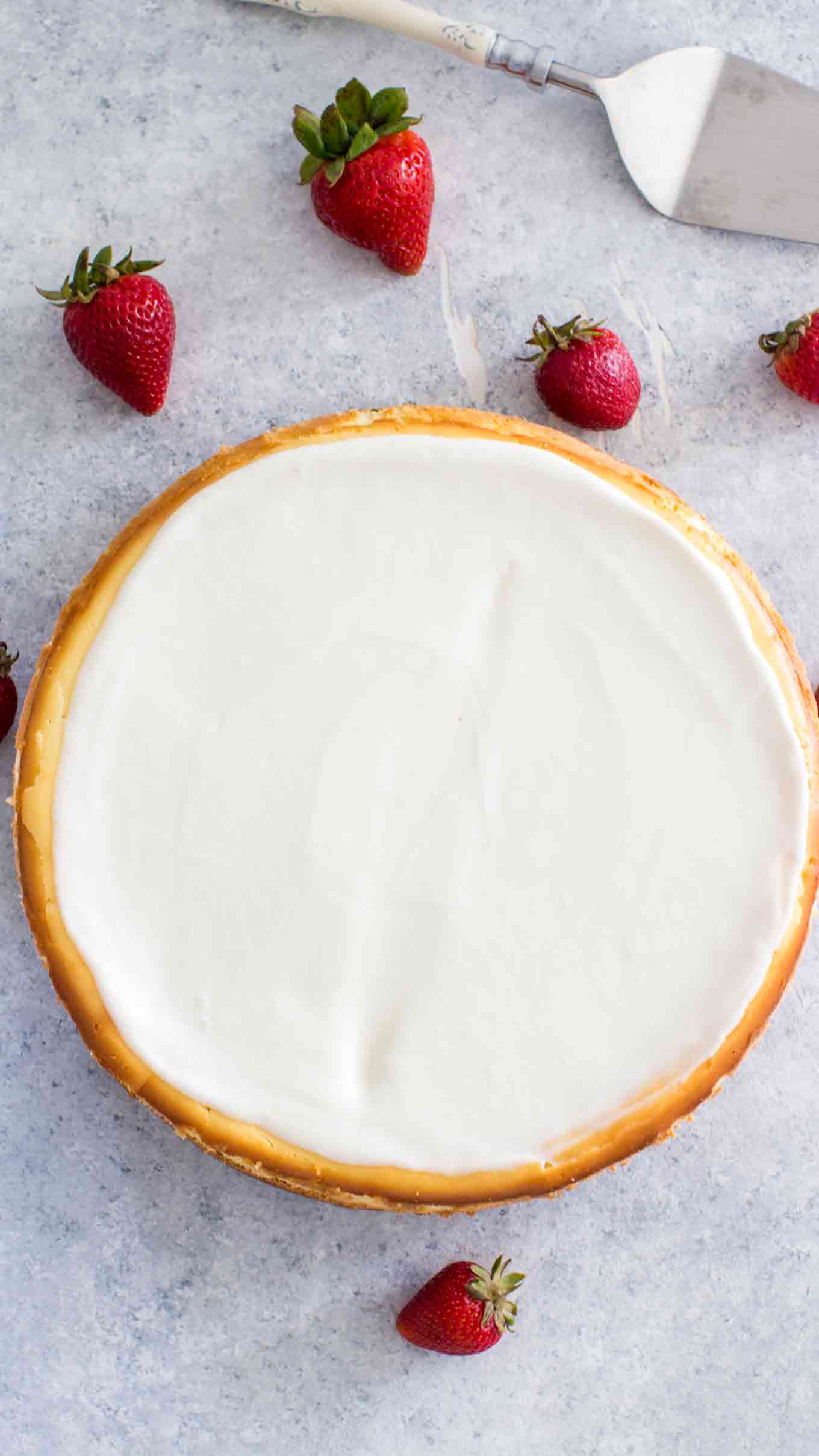 Cheesecake Factory Original Cheesecake Recipe
Cheesecake Factory Original Cheesecake Copycat Recipe is made with just a handful of ingredients. It uses easy technique that will result in one of the most delicious homemade desserts you have ever had. I love this recipe because it is not overly sweet.
You can taste the cheesecake glory that is front and center here, but not over-powered by any other flavors. The cheesecake rests on a buttery graham cracker crust that is made with a mix of nuts for extra flavor and texture.
The Cheesecake Factory Original Cheesecake is topped with a thin sour cream layer, that nicely balances the sweetness in it. It is light and refreshing, yet rich and dense, making it the perfect dessert. I love serving this delicious sweet treat with just a touch of whipped cream on the side and sometimes fresh strawberries for a pop of color. If you are a cheesecake fan, you have to try this one!
What do you need to make a basic cheesecake recipe:
First, you will need a springform pan.
Hand mixer or stand mixer.
Graham crackers or graham cracker crumbs.
Also, cream cheese, lots of cream cheese.
White granulated sugar.
Unsalted butter for the crust.
Eggs that should also be at room temperature, just like the rest of the ingredients.
Sour cream and a littler of all-purpose flour.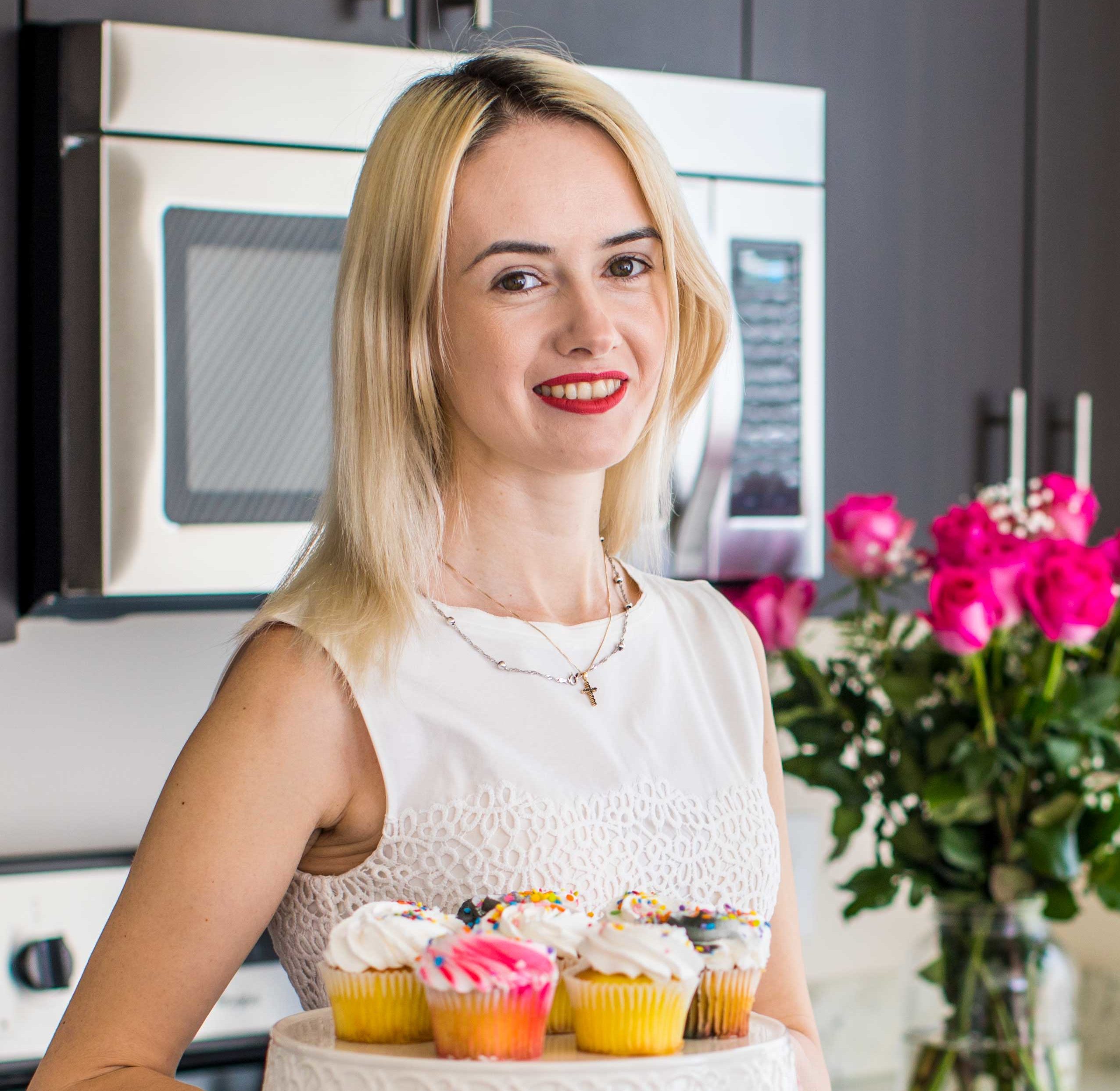 Follow us on Pinterest for more delicious recipes!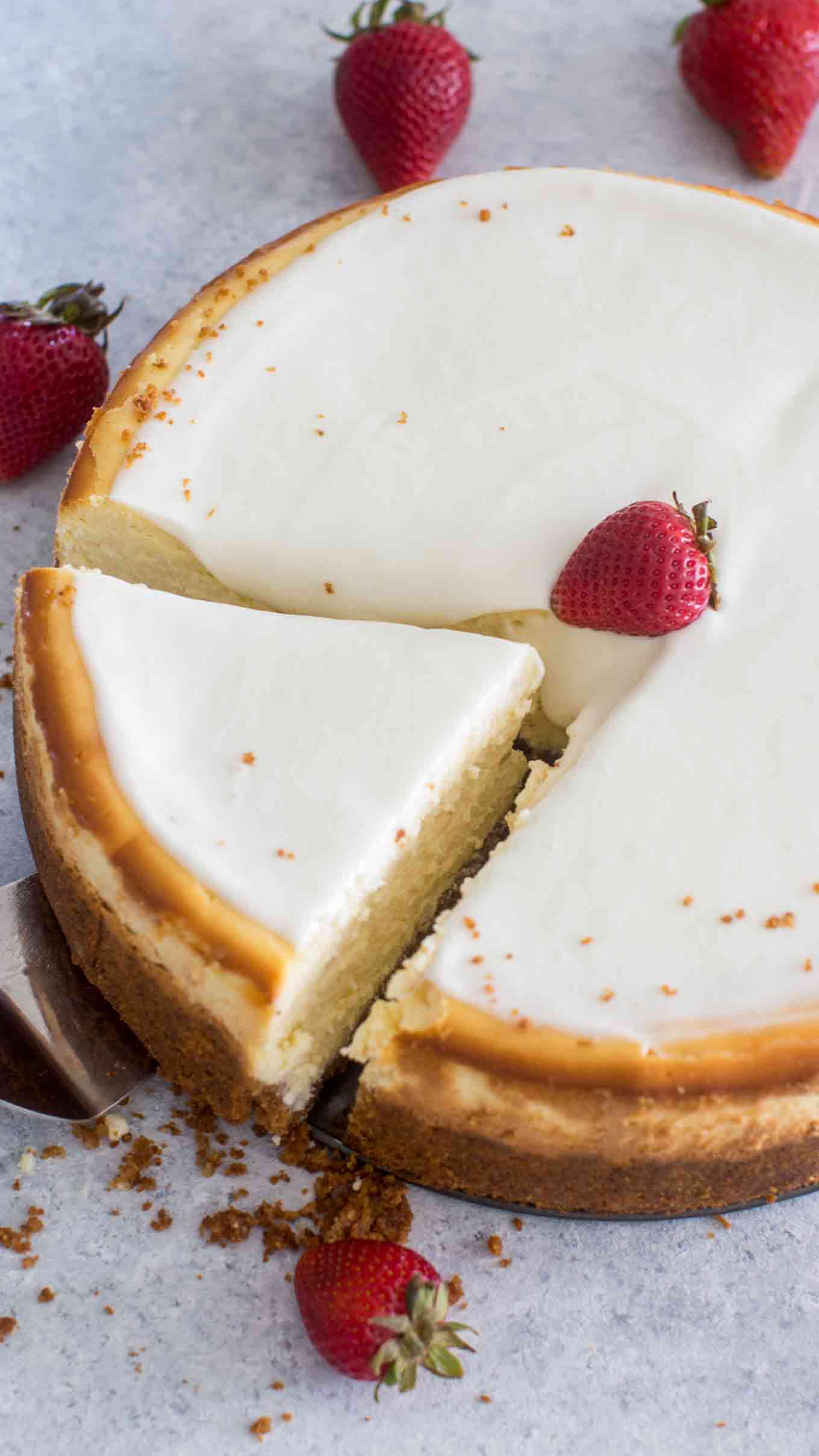 How to prevent cracks in cheesecake?
First, make sure that all the ingredients are at room temperature and well combined after being mixed.
Adding flour or/and cornstarch to the batter (more on this below).
Also, avoid opening the door oven while baking the cheesecake.
Watch it closely to avoid overtaking it. When the sides are puffed and the center of the cheesecake is just slightly wobbly, it means is done.
In addition, cooling the cheesecake in the oven, with the door slightly cracked is also very important. Because the sudden change in temperature can cause cracks.
Bake the cheesecake in a water bath, its one of the most successful techniques to avoid cracks on it (more on this below).
Adding flour or cornstarch to a cheesecake:
Usually the flour and/or the cornstarch are added to the cheesecake batter to avoid cracks. About 1/3 cup of flour and/or 1 tablespoon to 1/4 cup of cornstarch is added to the batter with the sugar.
How to bake cheesecake in a water bath?
Wrap the outside of the springform pan in a double layer of foil. Covering the bottom and sides of the pan, you need to cover the sides only from outside. Because this will prevent the cheesecake from water leaking in.
Set the prepared springform pan in a large roasting pan that is deep enough to add water to it. Pour HOT water into the roasting pan, about halfway up the sides of the spring form pan.
Next, transfer to a pre-heated oven and bake, until the center jiggles slightly like Jell-O, and the sides are puffed and are light golden brown. The residual heat will cook the center of the cheesecake. If your cheesecake doesn't wobble in the center, it means it has been over-baked, and most likely will crack. Hence pay extra attention when baking.
Cool it in the oven with the door slightly cracked for one hour.
How to fix a cracked cheesecake?
There are a few easy ways to hide or fix a cracked cheesecake top, here are my favorites:
First, let the cheesecake be completely cooled and refrigerated as per recipe instructions. Only when you have a cold cheesecake on hands, you can start fixing the cracks. This technique will work on small to medium cracks. If the crack is too dip, imagine splitting the cheesecake in half. I would recommend using this method to fix the crack as much as possible, and after that, continue by adding some topping to it.
You will need: 1) small offset spatula 2) hot water 3) kitchen towel.
Now into fixing it: use the spatula dipped into hot water (or you can use your fingers, wet them in hot water first) to gently push and press down in the area of the crack and spread to fill it in until the top is smooth. Clean the spatula with the towel as needed. In the end, clean the offset spatula with the kitchen towel again, and dip it again into warm water and smooth the top of the cheesecake.
You can add a thin layer of sour cream topping if the cracks are small.
You can add a layer of whipped cream topping and garnish the cheesecake with fresh fruits.
See the video below on How to Fix a Cracked Cheesecake:
[adthrive-in-post-video-player video-id="HBypGiSp" upload-date="2018-11-07T03:38:30.000Z" name="How to Fix a Cracked Cheesecake Video" description="https://sweetandsavorymeals.com/cheesecake-factory-original-cheesecake-copycat-recipe/"]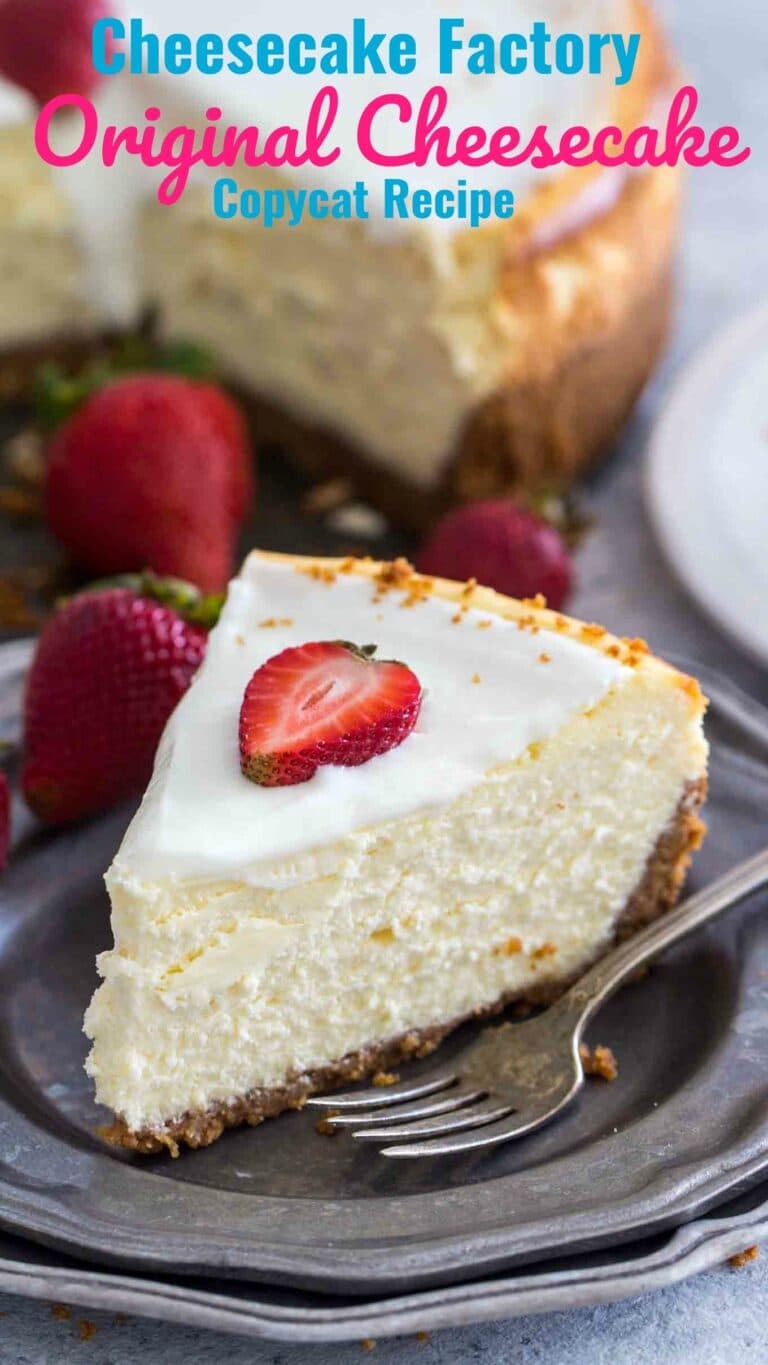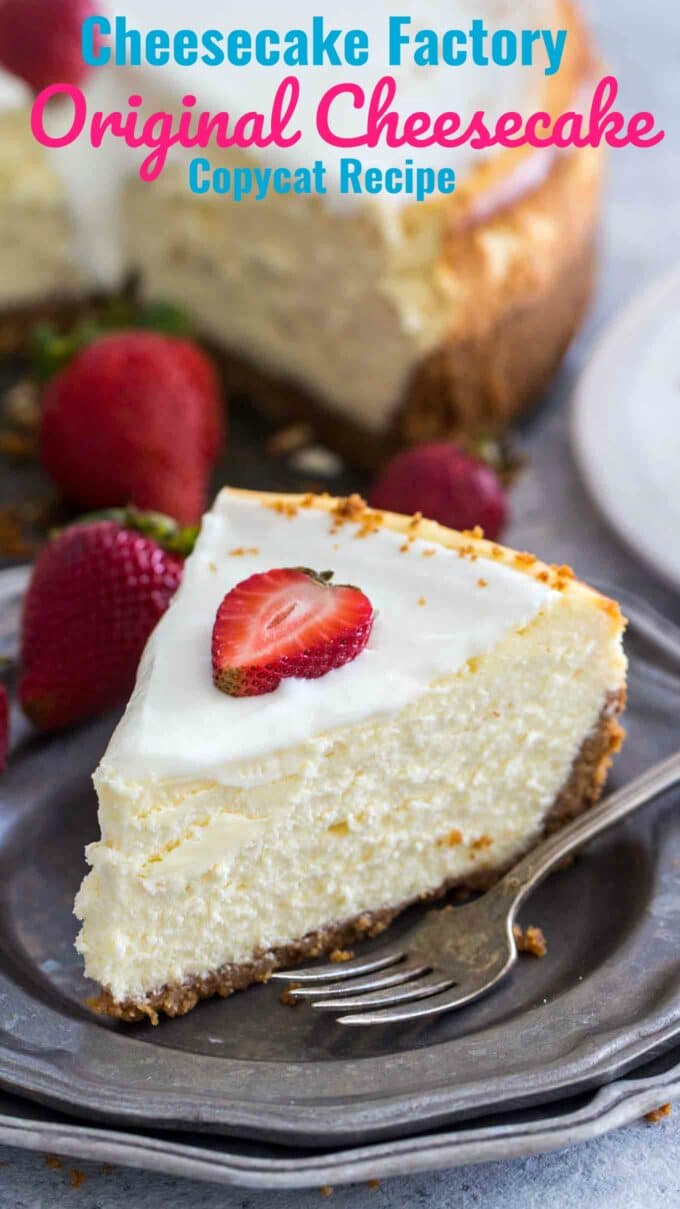 How do I know when a cheesecake is done baking?
Gently shake the cake, If the cheesecake looks nearly set and only a small area in the center jiggles slightly, it is done. The center will firm up during the cooling time, as it will cook from the residual heat. Therefore, make sure you don't overcook it, since it will also cook later from residual heat.
How to remove a cheesecake from the springform pan?
Carefully run a small knife around the edge of the pan, starting all the way up and working your way down. This way you will loosen and bits that stuck to the pan.
Also, unbuckle the spring form pan and remove the circular band only after the cheesecake has been properly chilled and becomes cold.
Similarly, to transfer the cheesecake to a serving dish, run a long, thin spatula between the crust and the pan bottom, and gently slide the cheesecake onto the serving dish.
How to slice a cheesecake?
Run a long, sharp thin-bladed slicing knife under hot tap water or dip it into a glass of hot water prior to slicing the cheesecake.
Then, wipe the knife clean and run it it under hot water before making another cut.
An easy, mess free way to cut even slices is to use cheese wire or unflavored dental floss. Clean the bits that stuck to the wire/floss before every cut.
How to freeze a cheesecake:
Preferably, freeze the cheesecake BEFORE you top it with sour cream.
First, make sure the cake has fully cooled and also was refrigerated for at least 6 hours.
Then, wrap it tightly with aluminum foil and after with plastic freezer wrap, or place in a heavy-duty freezer bag.
You can also wrap and freeze individual slices.
Properly stored, it will maintain best quality for about 2 to 3 months.
Thaw overnight in the fridge one day before serving.
Cheesecake Factory Original Cheesecake Copycat Video:
Save Recipe
Cheesecake Factory Original Cheesecake Copycat Recipe
Author: Catalina Castravet
Serves: 12 slices
Prep time:

30

minutes
Cook time:

1

hour
Total time:

1

hr

30

mins
Ingredients
Cheesecake crust:
1 cup graham cracker crumbs
1/4 cup almonds (finely chopped)
1/4 cup walnuts (finely chopped)
2 tablespoons white granulated sugar
1 teaspoon cinnamon
1 stick unsalted butter (melted)
Cheesecake filling:
6 packages 8 ounces each full fat cream cheese (room temperature)
2 cups white granulated sugar
5 large eggs (room temperature)
16 ounces full fat sour cream (room temperature)
1/4 cup all purpose flour
2 tablespoons cornstarch
1 tablespoon vanilla extract
Topping:
2 cups full fat sour cream
1/4 cup white granulated sugar
Instructions
Preheat oven to 325 degrees Fahrenheit.
Adjust the top rack to be positioned in the middle of the oven.
Cheesecake crust:
Finely chop the nuts or add the to a food processor.
Add all the ingredients to a large bowl and stir until well combined.
Press the mixture into a 10 1/2 inch buttered springform pan. Using a measuring cup, press the crust and try to line the sides about to the middle of the pan edges, set aside.
Refrigerate for at least 20 minutes.
Cheesecake Filling:
Make sure all the ingredients are at room temperature before your begin.
In the bowl of a stand mixer or in a large bowl using a hand mixer, beat the cream cheese until light and fluffy on medium-low speed.
Add the sugar a little at a time and continue beating until well combined and creamy.
Add the eggs one at a time and beat after each addition until well combined.

Mix cornstarch with flour and add to the batter, whisk until fully combined. Careful not to over-mix.

Add vanilla extract.
Add the sour cream and beat well, stopping to scrape the sides and bottom of the bowl.
Pour cheesecake batter into the prepared springform pan.
Bake:
Read the post for "water bath" tips if you want to bake the cheesecake using a "water bath".
Bake in the preheated oven for one hour and 15 minutes.

Try not to open the door to the oven. At the 60 minute mark check on the cheesecake if its done. A small area in the center should wobble slightly and the edges should be puffed and light golden brown.

Turn oven off and prop open oven door and leave the cheesecake to cool in oven for one hour.
Chill:
After one hour, remove from oven and place on a cooling rack for about 2 hours, until the cheesecake is cool enough to be transferred to the refrigerator.

In a medium bowl, whisk together on medium-low speed sour cream and sugar until creamy and fully combined. Taste and add more sugar if needed.

Spread the topping over the cool cheesecake using an offset spatula.
Transfer to the refrigerator and chill for 24 hours.
0 Calories: 582 Carbohydrates: 62 Protein: 15 Fat: 30 Saturated Fat: 16 Cholesterol: 155 Sodium: 658 Potassium: 509 Fiber: 0 Sugar: 48 Vitamin A: 970 Vitamin C: 0.7 Calcium: 302 Iron: 1.1
Save Recipe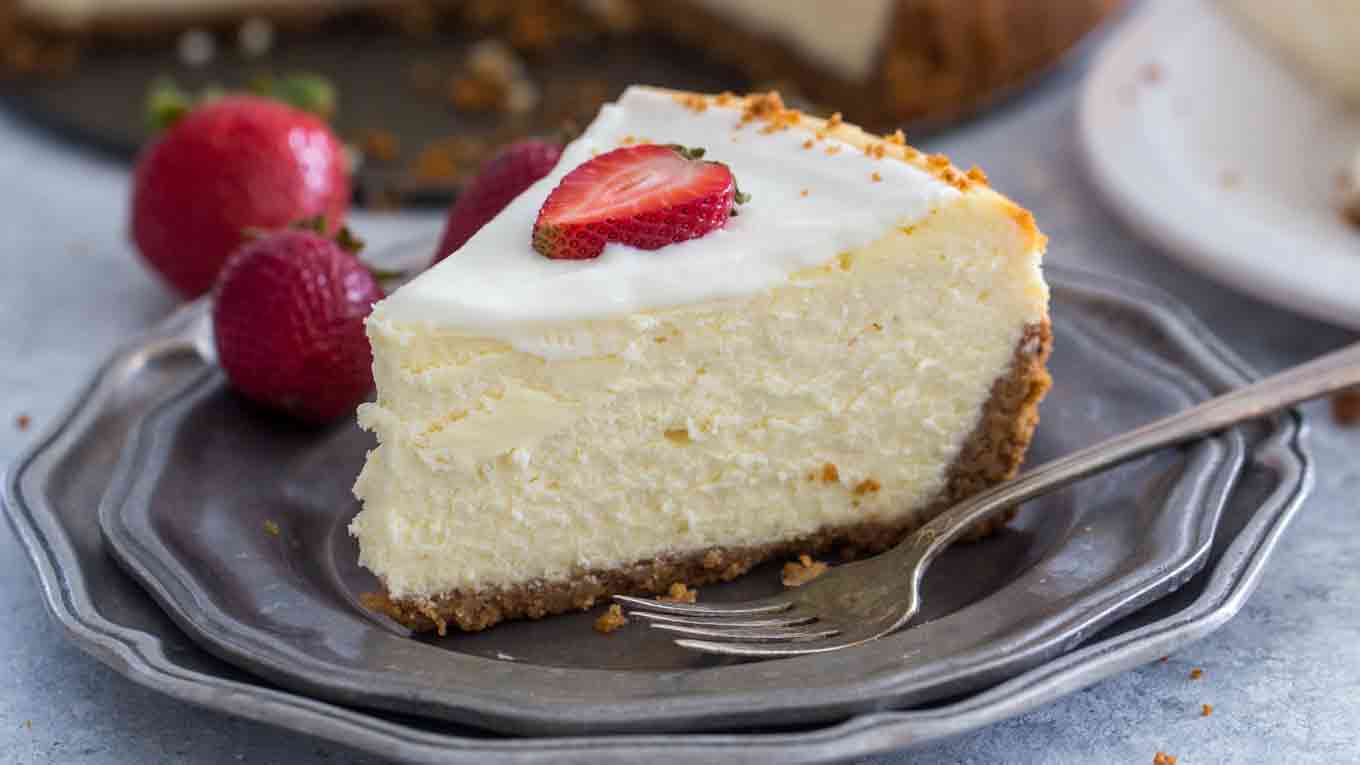 More recipes you might love