Red Velvet Cake Cheesecake [Video]
Red Velvet Cake Cheesecake made with layers of creamy cheesecake and red velvet cake covered in cream cheese frosting, it's perfect for Valentine's Day or any other special occasion! Check out the recipe step by step video below.
It is an unforgettable dessert that is not only delicious but looks fantastic too! We also love Simnel Cake, Carrot Cake, Oreo Cheesecake. Made with our homemade Cream Cheese Frosting recipe!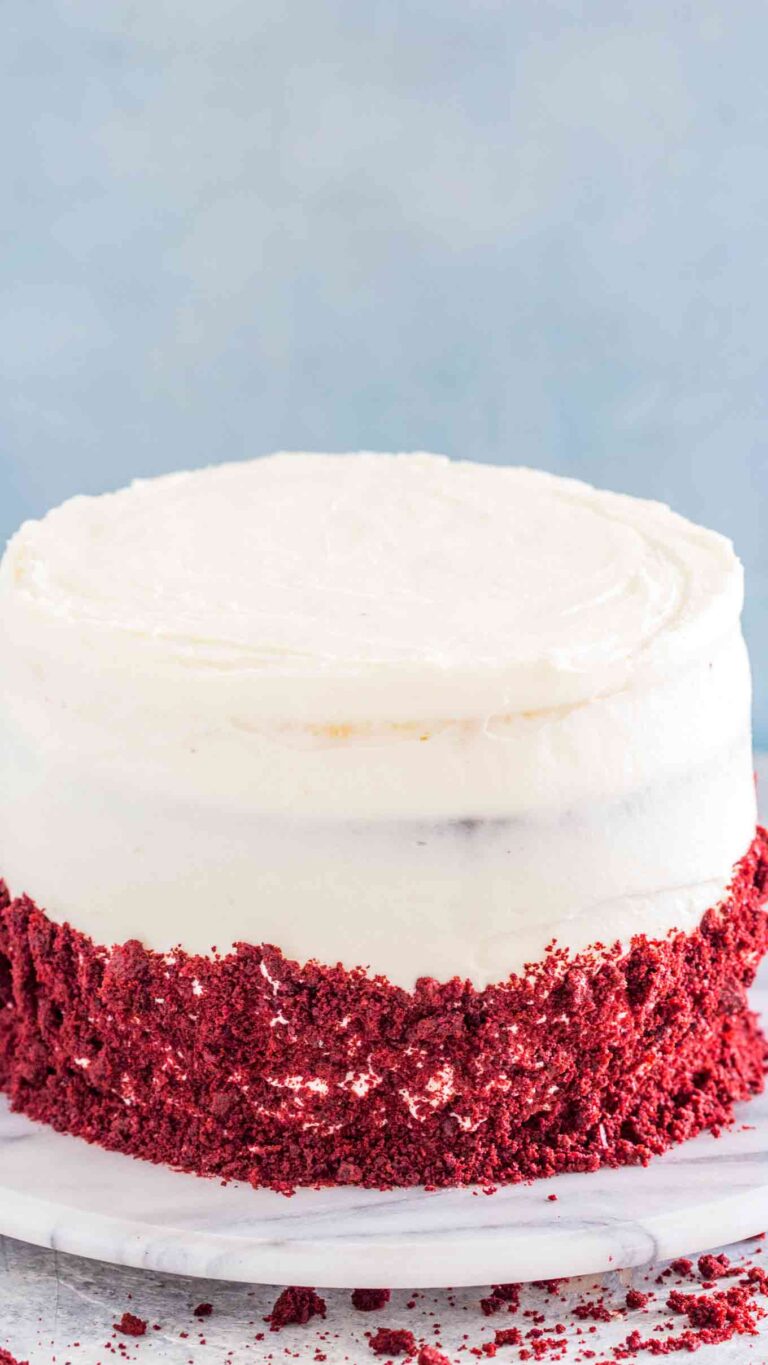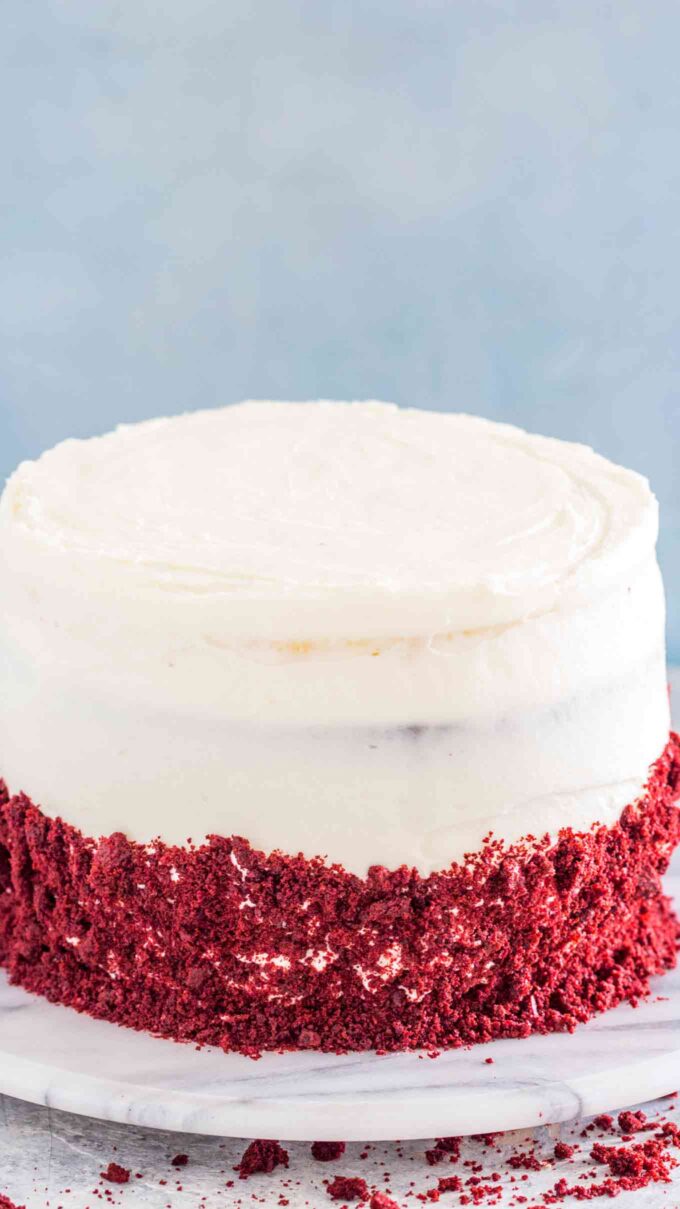 Red Velvet Cake Cheesecake
Red Velvet Cake Cheesecake is one of the most beautiful and delicious cakes you can make. The tenderness of the red velvet layers combines so well with the richness and creaminess of the New York Cheesecake.
This show-stopper dessert is a copycat of the famous Cheesecake Factory cheesecake. Now, you can make it at home and while it involves a few steps, its nothing complicated and very easy to follow.
If you love an amazing dessert, you need to make this decadent recipe. It's a delicious dessert that makes a beautiful presentation, making it a great choice for special occasions
In between layers and to cover the bake we have used our famous Cream Cheese Frosting, which is tangy and sweet and at the same time. This cake is beyond fabulous and delicious.
You can make it in all its glory, tall, made of all amazing 4 layers, or you can make two separate cakes. Totally up to you!
Is red velvet cake and chocolate cake the same thing?
Many people think that red velvet cake is just chocolate cake, colored red. Actually, that isn't 100 percent correct. To make an authentic, cocoa powder, buttermilk, and vinegar must be used.
Vinegar and buttermilk are acids that help to enhance the color, as well as the texture. Technically, this cake is vanilla cake, with a small amount of cocoa powder.
This cake was the first red velvet dessert, but over the years, variations of it have become very popular. These days, you can find red velvet in a lot of different desserts, such as cookies, brownies, and of course, this delicious dessert!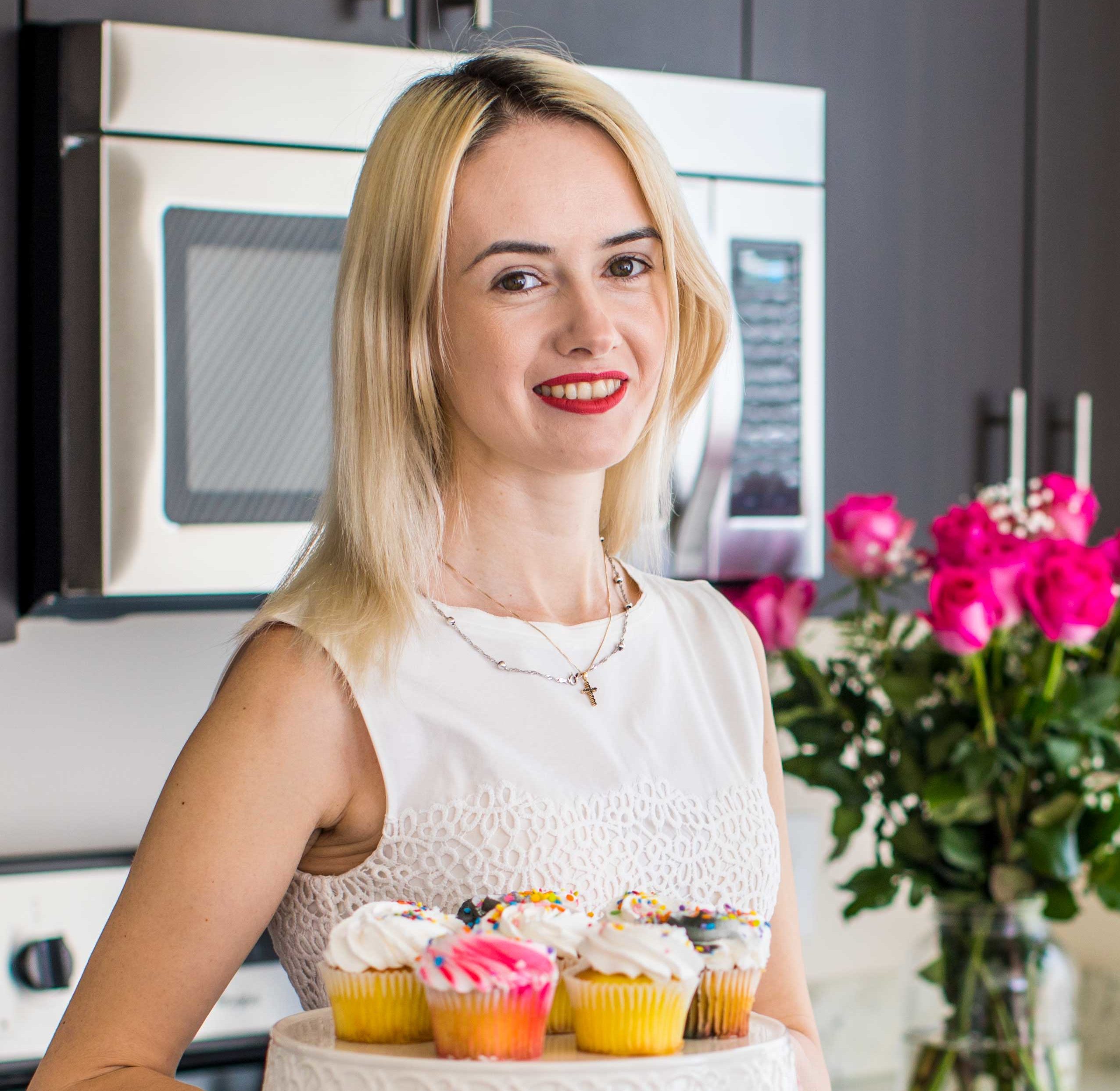 Follow us on Pinterest for more delicious recipes!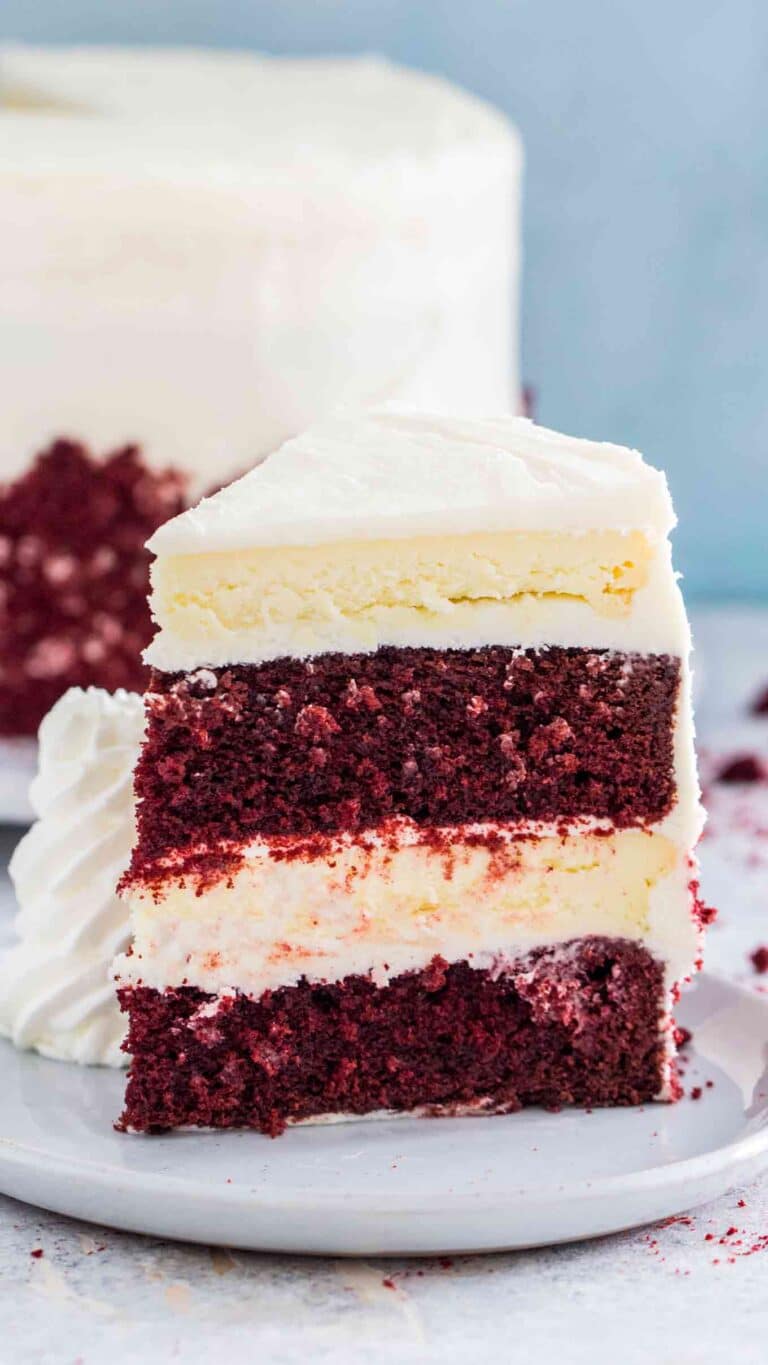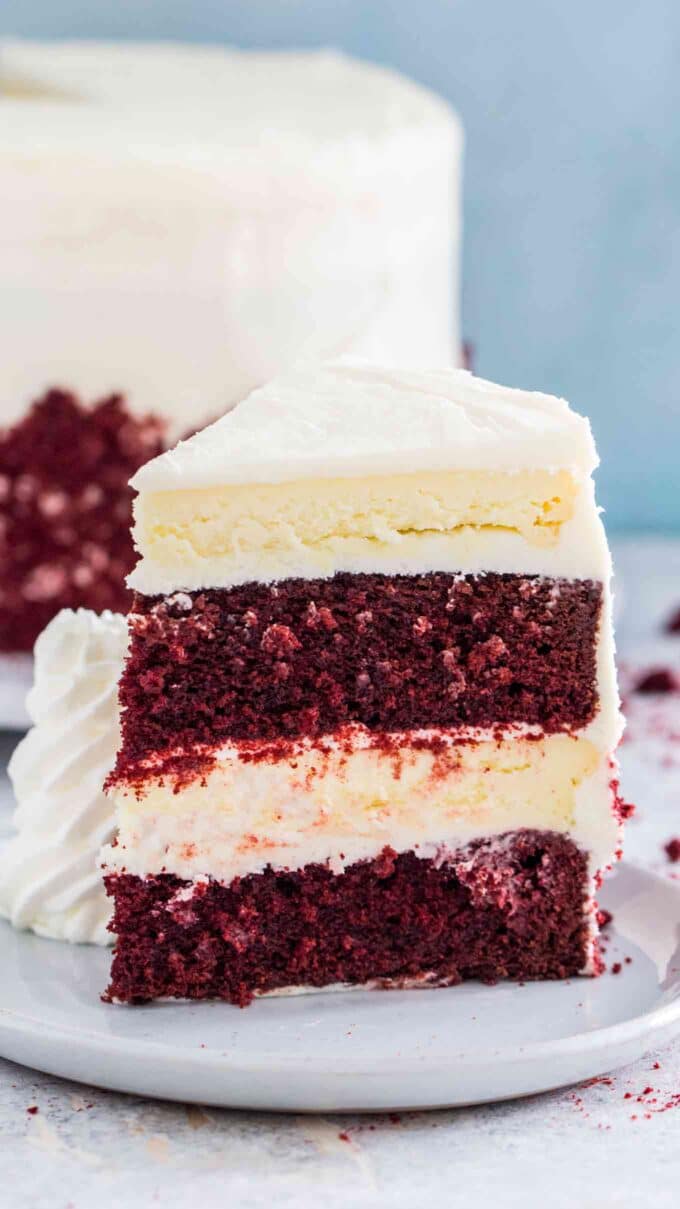 WHAT IS THE FLAVOR OF RED VELVET CAKE Cheesecake?
In short, this is a super delicious dessert, that everyone should try it! Apart from that, we can say that is has a little cocoa and a mix of cream and vanilla to it. But the flavor is more complex and richer, so it is a bit harder to describe in writing.
Also, it is somewhat tangy, and because it has various layers, it has a nice balance of flavors with chocolate, and vanilla balance to it. It is rich, creamy, and not too sweet. Just perfect!
How to Make a Red Velvet Cake Cheesecake?
In order to make this a TRUE copycat recipe, our version has a total of four layers, just like the Cheesecake Factory's version.
There are 2 layers each of cheesecake and red velvet cake, all covered in rich cream cheese frosting. In the finished dessert, the layers alternate, creating a beautiful color variation. However, before assembly can happen, both should be baked in separate pans.
Can you freeze a cake with cream cheese frosting?
Actually, cream cheese frosting freezes beautifully! This assembled red velvet cake cheesecake can be frozen, or you can freeze the dessert unfrosted. Either way, you will want to wrap it in a layer of plastic wrap with a layer of aluminum foil over the plastic.
How do you store a red velvet cake with frosting?
Because cream cheese is perishable, any leftovers of this dessert must be kept in a refrigerator. If wrapped well, it will stay fresh for 4-5 days.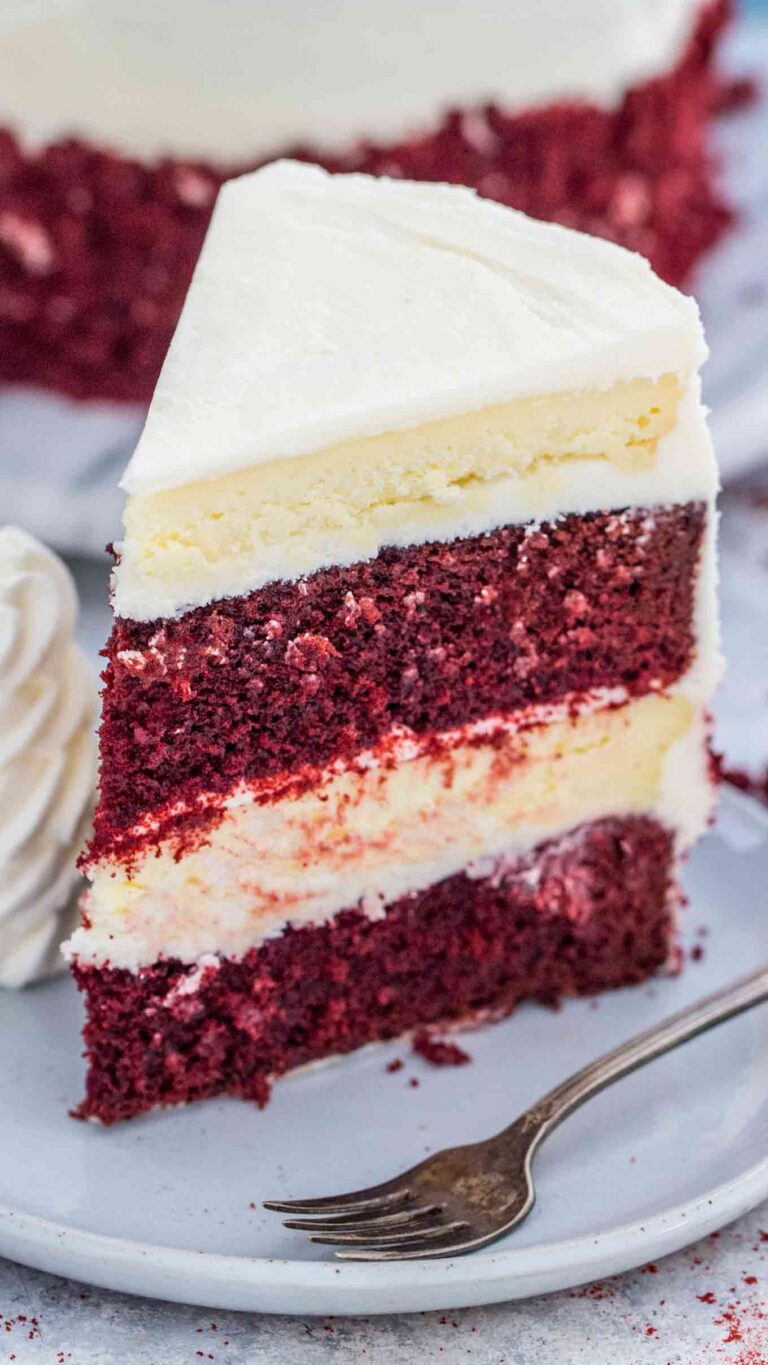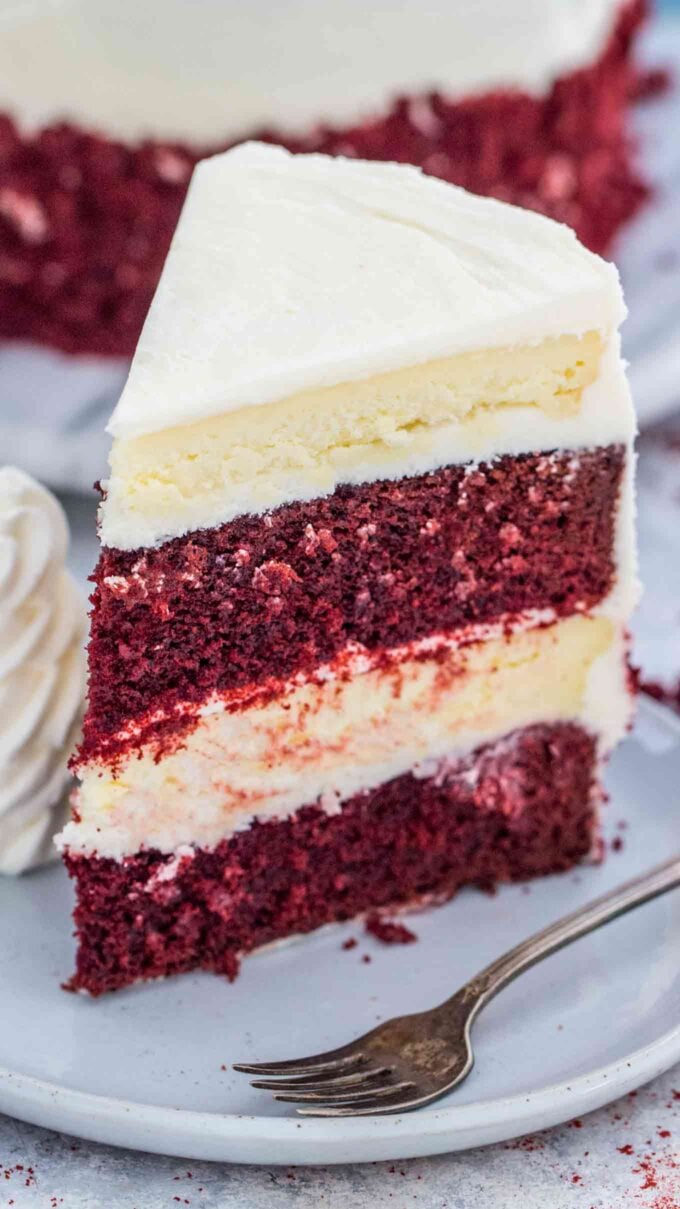 HOW TO SLICE THE CAKE?
Run a long, sharp thin-bladed slicing knife under hot tap water.
Then, starting with the tip of the knife, position it well and run it clean through the cake.
Before making another cut, wash and clean the knife.
Another way is to use a cheese wire or unflavored dental floss.
Other Cheesecake Factory Copycats:
If you like decadent desserts, you'll love these too:
Watch Recipe Video:
Save Recipe
Red Velvet Cake Cheesecake
Author: Catalina Castravet
Serves: 10 slices
Prep time:

2

hours
Cook time:

1

hour
Total time:

3

hrs
Ingredients
Red Velvet Cake Layers:
Baking Spray for the pans
2 1/2 cups all-purpose flour
1 1/2 cups sugar
1 teaspoon baking soda
1 teaspoon baking powder
1/2 teaspoon salt
1/3 cup cocoa powder
2 large eggs (at room temperature)
1 1/2 cups vegetable oil
1 cup buttermilk (room temperature)
1 teaspoon white distilled vinegar
1 teaspoon vanilla extract
1 teaspoon red gel food coloring (or 2 tablespoons regular food coloring)
Cheesecake Layers
24 ounces cream cheese (softened to room temperature)
1 cup granulated sugar
2 large eggs (room temperature)
1/2 tablespoon vanilla extract
1 cup sour cream (room temperature)
2 tablespoons all-purpose flour
1/2 teaspoons salt
Cream Cheese Frosting
Cream Cheese Frosting Recipe (search it on the blog)
Instructions
Red Velvet Cake Layers:
Preheat oven to 350 degrees F.
Spray 2 8-inch cake pans with baking spray, cover the bottom to fit with parchment paper and spray again with baking spray. Set aside.
In a medium bowl combine dry ingredients: flour, sugar, baking powder, baking soda, salt, and cocoa powder. Whisk to combine. Set aside.
Add wet ingredients to a large bowl: eggs, oil, buttermilk, vinegar, vanilla extract, and red gel food coloring. Using a hand mixer (or stand mixer), whisk on medium speed until fully combined.
Reduce mixer speed to low, and slowly add the dry ingredients mix. Stop from time to time to scrape the sides and bottom of the bowl. Whisk just until fully combined.
Divide the batter equally into the prepared pans.
Bake Cake Layers:
Bake, rotating the pans halfway through the cooking process until a toothpick inserted into the center of the cakes comes out clean, about 30 minutes.
Remove the cakes from the oven and run a knife around the edges to loosen them from the pans. Let it cool in the pans for about 20-30 minutes. Invert the cakes onto a plate and then re-invert them onto a cooling rack. Round side up. Cool completely before frosting.
Cheesecake Layers:
For this layer, preheat oven to 325 degrees F.
Spray 2 8-inch cake pans with baking spray, cover the bottom to fit with parchment paper. Set aside.
In a large bowl, beat cream cheese for 1 minute. Add sugar and flour, mix until completely combined and there are no lumps. Scrape down the sides of the bowl with a spatula.
With the mixer on low, add the eggs to the mixture, one at a time, and beat until just mixed through, careful not to over-beat. Scrape down the sides of the bowl with a spatula.
Add salt, vanilla extract, and sour cream and beat until mixed through, stopping to scrape the sides and bottom of the bowl with a spatula.
Divide the cheesecake batter equally into the prepared pans. Level the tops with a spatula.

Transfer the cake to the preheated oven and bake it for 40-45 minutes. The cheesecakes should be just slightly wobbly in the center, but puffy and settled on the sides.

Turn off the oven and crack open the door. Cool cheesecakes completely in the open oven.
Once completely cooled remove from the oven and refrigerate for at least 5-6 hours. Run a butter knife around the edges to release the cake from the pan. Store in the fridge until ready to assemble the cake.
Assemble the Cake:
Prepare the Cream Cheese Frosting per recipe directions.
Start with a cake stand and place a cardboard round cake paper on top. Add 1/3 cup of frosting and spread it.

Level its layers using a cake leveler or a sharp serrated knife. Place one layer on the cake stand.

Add 1/3 of the frosting and spread it in an even layer.
Level the cheesecake layer, using a sharp serrated knife, level the edges. Place it on top of the frosting layer.

Repeat with the remaining layer and another cheesecake layer.

Use the remaining frosting to cover the cake entirely.
Add cake crumbs to the edges of the cake.

Chill it for two hours before serving, for the frosting to set.

Serve with a side of whipped cream.
Calories: 751 Carbohydrates: 83 Protein: 12 Fat: 20 Saturated Fat: 11 Cholesterol: 112 Sodium: 731 Potassium: 437 Fiber: 2 Sugar: 55 Vitamin A: 645 Vitamin C: 0.2 Calcium: 233 Iron: 3.1
Save Recipe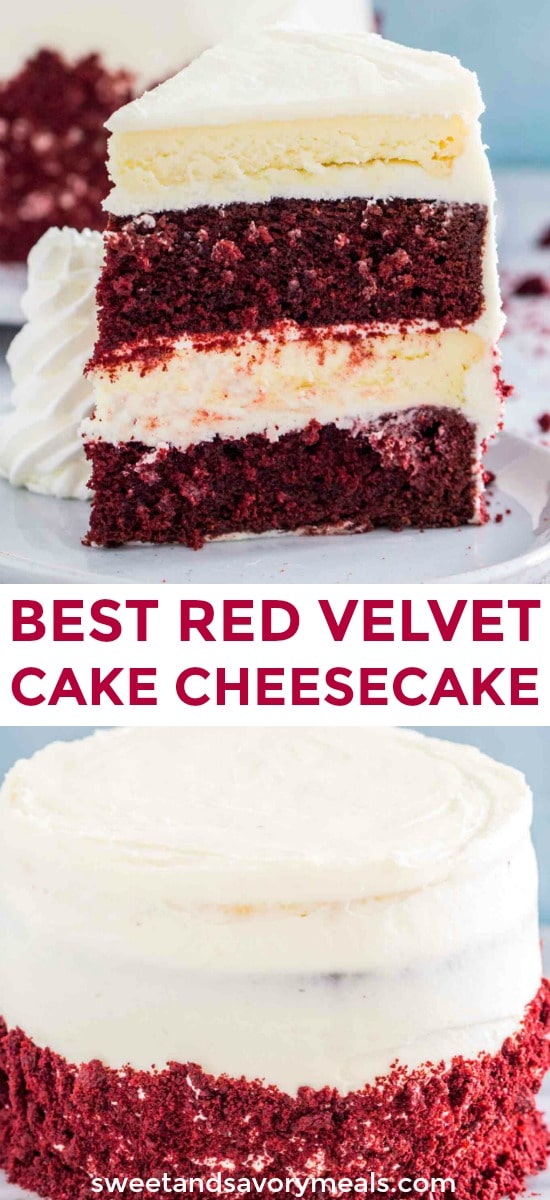 More recipes you might love