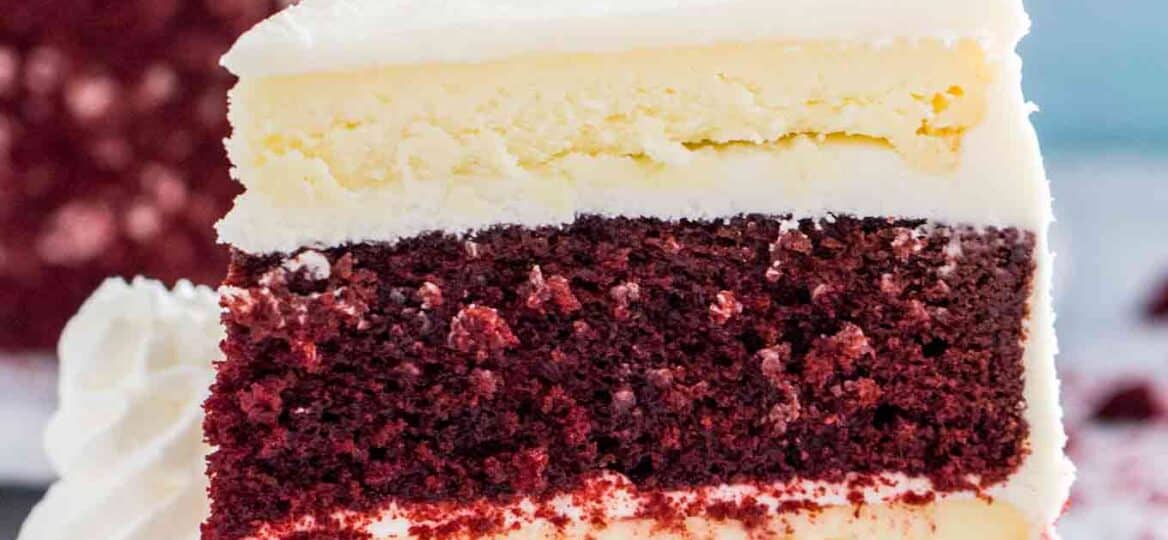 Red Velvet Cake Cheesecake [Video]
Red Velvet Cake Cheesecake made with layers of creamy cheesecake and red velvet cake covered in cream cheese frosting, it's perfect for Valentine's Day or any other special occasion! Check out the recipe step by step video below.
It is an unforgettable dessert that is not only delicious but looks fantastic too! We also love Simnel Cake, Carrot Cake, Oreo Cheesecake. Made with our homemade Cream Cheese Frosting recipe!
Red Velvet Cake Cheesecake
Red Velvet Cake Cheesecake is one of the most beautiful and delicious cakes you can make. The tenderness of the red velvet layers combines so well with the richness and creaminess of the New York Cheesecake.
This show-stopper dessert is a copycat of the famous Cheesecake Factory cheesecake. Now, you can make it at home, and while it involves a few steps, it's nothing complicated and very easy to follow.
If you love an amazing dessert, you need to make this decadent recipe. It's a delicious dessert that makes a beautiful presentation, making it a great choice for special occasions
In between layers and to cover the bake we have used our famous Cream Cheese Frosting, which is tangy and sweet and at the same time. This cake is beyond fabulous and delicious.
You can make it in all its glory, tall, made of all amazing 4 layers, or you can make two separate cakes. Totally up to you!
Is red velvet cake and chocolate cake the same thing?
Many people think that red velvet cake is just chocolate cake, colored red. Actually, that isn't 100 percent correct. To make an authentic, cocoa powder, buttermilk, and vinegar must be used.
Vinegar and buttermilk are acids that help to enhance the color, as well as the texture. Technically, this cake is vanilla cake, with a small amount of cocoa powder.
This cake was the first red velvet dessert, but over the years, variations of it have become very popular. These days, you can find red velvet in a lot of different desserts, such as cookies, brownies, and of course, this delicious dessert!
WHAT IS THE FLAVOR OF RED VELVET CAKE Cheesecake?
In short, this is a super delicious dessert, that everyone should try! Apart from that, we can say that it has a little cocoa and a mix of cream and vanilla to it. But the flavor is more complex and richer, so it is a bit harder to describe in writing.
Also, it is somewhat tangy, and because it has various layers, it has a nice balance of flavors with chocolate, and vanilla balance to it. It is rich, creamy, and not too sweet. Just perfect!
How to Make a Red Velvet Cake Cheesecake?
In order to make this a TRUE copycat recipe, our version has a total of four layers, just like the Cheesecake Factory's version.
There are 2 layers each of cheesecake and red velvet cake, all covered in rich cream cheese frosting. In the finished dessert, the layers alternate, creating a beautiful color variation. However, before assembly can happen, both should be baked in separate pans.
Can you freeze a cake with cream cheese frosting?
Actually, cream cheese frosting freezes beautifully! This assembled red velvet cake cheesecake can be frozen, or you can freeze the dessert unfrosted. Either way, you will want to wrap it in a layer of plastic wrap with a layer of aluminum foil over the plastic.
How do you store a red velvet cake with frosting?
Because cream cheese is perishable, any leftovers of this dessert must be kept in a refrigerator. If wrapped well, it will stay fresh for 4-5 days.
HOW TO SLICE THE CAKE?
Run along, sharp thin-bladed slicing knife under hot tap water.
Then, starting with the tip of the knife, position it well and run it clean through the cake.
Before making another cut, wash and clean the knife.
Another way is to use a cheese wire or unflavored dental floss.
Other Cheesecake Factory Copycats:
If you like decadent desserts, you'll love these too: