Homemade Blueberry Sauce [Video]
Homemade Blueberry Sauce is so easy to make with just blueberries, water, sugar, cornstarch, and vanilla. Perfect to be used on desserts and such a great addition to any brunch spread.
Since blueberries are in full bloom now, I thought it would be a great addition to make some blueberry sauce. The sauce can go on anything: ice cream, Blueberry Cheesecake, or Whipped Blueberry Butter.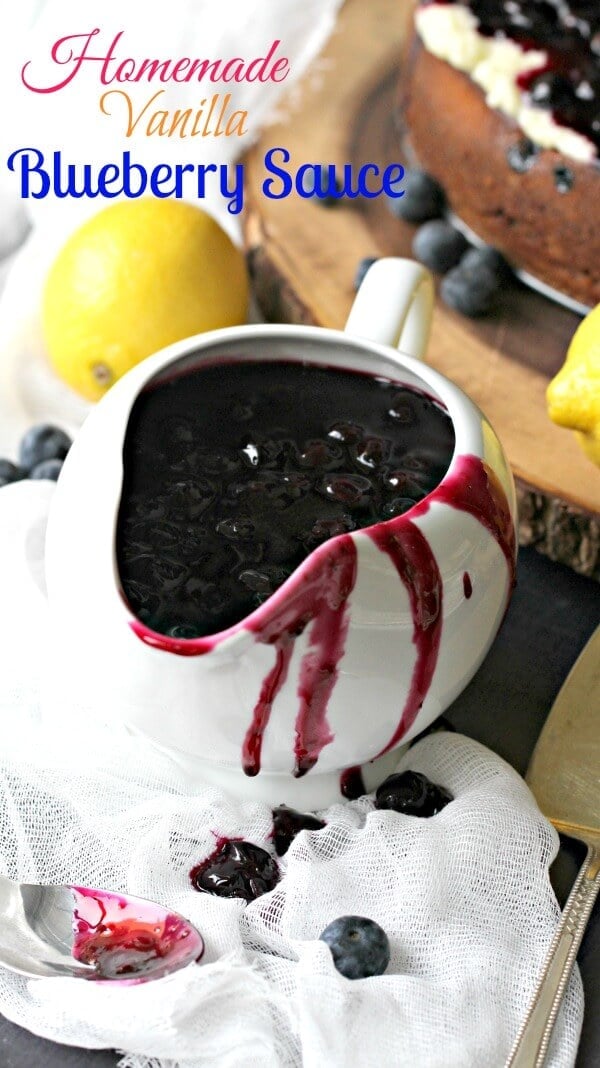 Homemade Blueberry Sauce
Homemade Blueberry Sauce with sweet hints of vanilla is so easy to make. You just have to watch the blueberries cook slowly and turn into a beautiful deep purple color.
And I must say, this sauce is good not only in desserts, but it's also great on toast, delicious when combined with a Peanut Butter and banana sandwich. Also on savory dishes, like pork loin with grilled peaches and blueberry sauce.
I like the sauce on the thick side, not too runny, so adding cornstarch is key. If you plan on using this sauce with savory dishes, I would recommend reducing the vanilla flavor.
Similarly, if you are looking for a kick, add some lemon zest, for some freshness and aroma. The lemon zest will fit perfectly with the mix.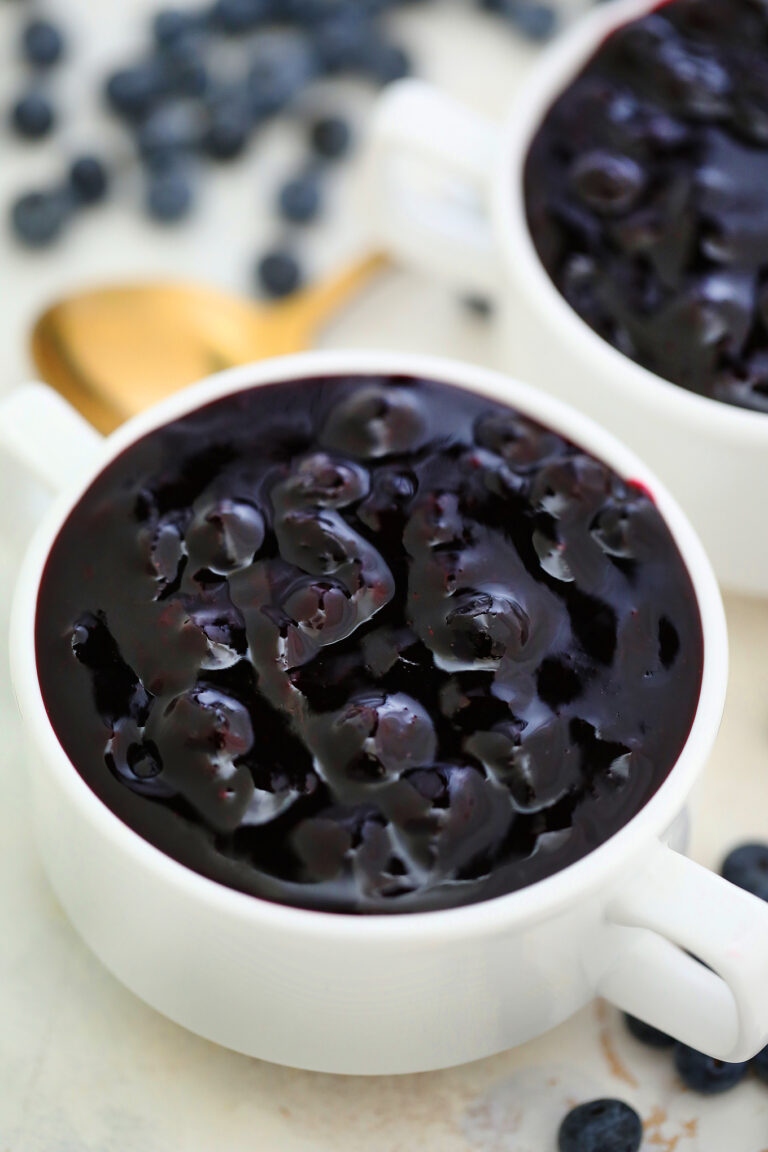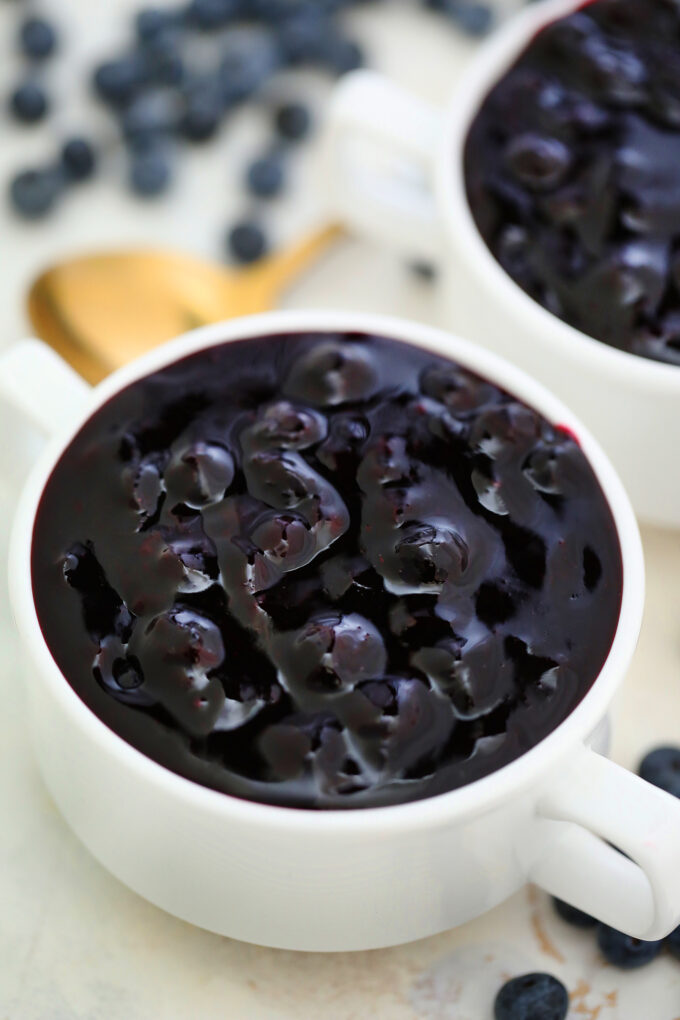 This sauce is gorgeous, the blueberries stayed whole, nice and juicy, the sauce is sweet, comforting, easy to make, and stores well for a few weeks in the fridge.
I specifically made a bigger batch, since I am sure we will devour it gladly and use it in many recipes, or with just some wine and cheese. Wine, cheese, and homemade blueberry sauce are always a good idea!
Blueberry Benefits:
Blueberries are rich in a compound called Flavonoid that has a powerful antioxidant effect.
Many studies have suggested that incorporating blueberries in your diet may help decreases the risk of obesity, diabetes and heart disease. They may also promote hair and skin health, increased energy, and overall lower weight.
Consuming fresh berries is usually the best, as one study showed that over the course of 6 months in storage, the anthocyanin degraded by 59 percent.
What do you need to make Homemade Blueberry Sauce?
Fresh or frozen blueberries
Water
Sugar
Cornstarch
Vanilla extract or Lemon Juice
Lemon zest, optional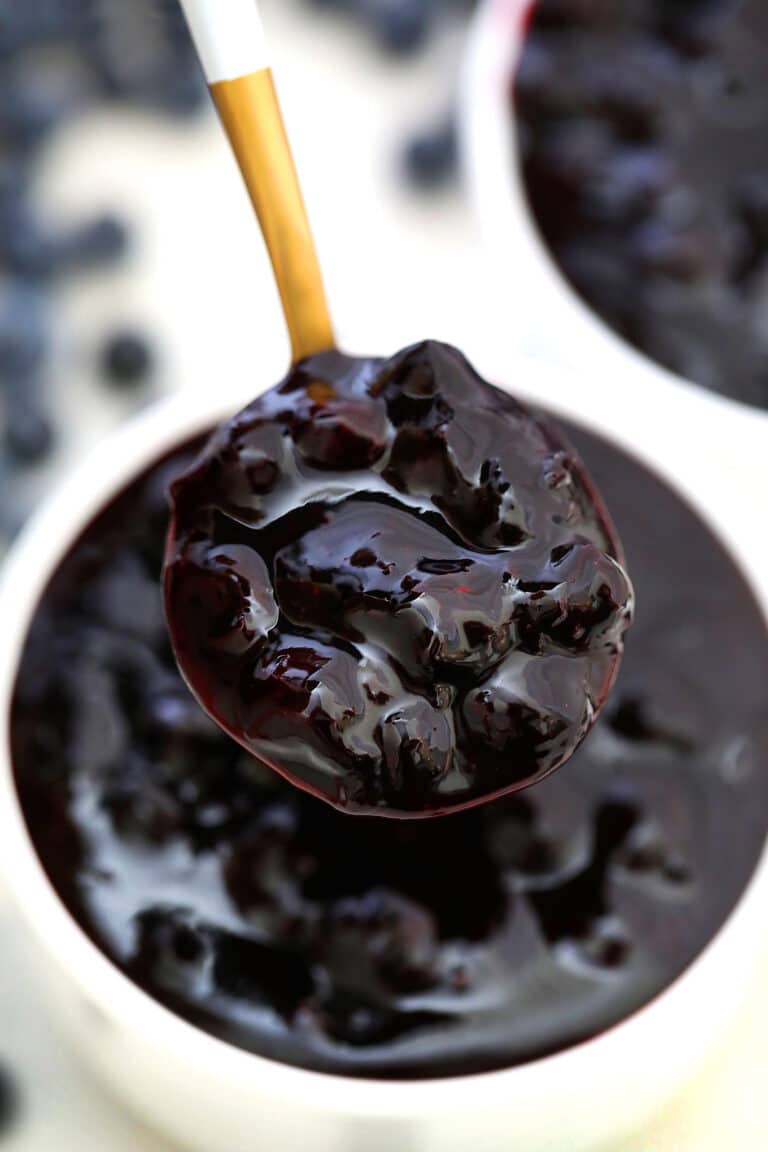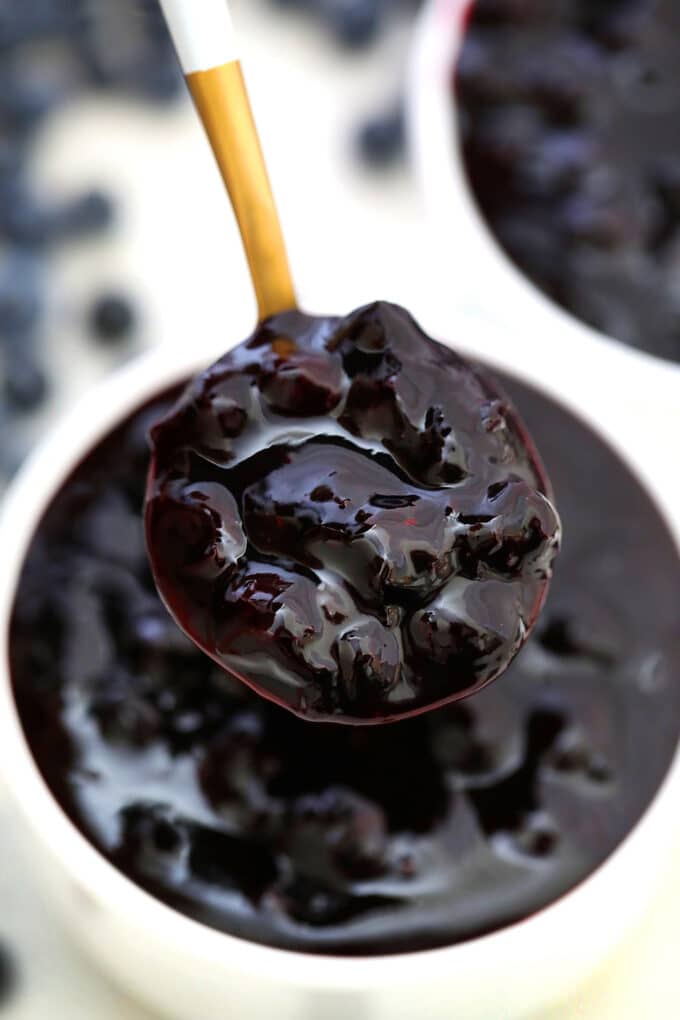 How to thicken the sauce with our flour or cornstarch?
To thicken the sauce I sully use cornstarch, but if you don't have any on hand or you are trying to avoid it, you can make a slurry with arrowroot powder.
Mix 2 to 3 tablespoons with an equal amount of water and once dissolved stir it into the sauce, simmer until it thickens.
How to make lemon zest
Follow the easy steps below:
First, rinse the lemon.
Then, set your tool over a cutting board. A Microplane produces a very fine zest, perfect for baking and cooking. If you don't have a microplane, use the smallest holes on an ordinary grater.
Next, grate the yellow skin of the lemon only. Grate just enough to get through the yellow skin, this way you can avoid the bitter white pith underneath.
Rotate the lemon and repeat. Once the white pith is exposed, rotate the lemon and zest the next strip of peel. Repeat until most of the peel is removed, or until you have enough zest for your recipe.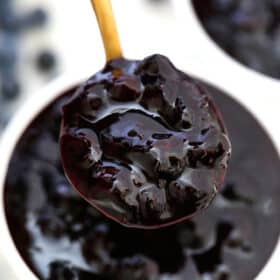 Homemade Blueberry Sauce
Homemade Blueberry Sauce is so easy to make with just blueberries, water, sugar, cornstarch and vanilla.
Save
Share
Print
Pin
Rate
Ingredients
6

cups

blueberries

(fresh or frozen)

1 1/2

cups

water

1 1/2

cups

sugar

6

tablespoons

cornstarch

(mixed with 6 tablespoons cold water)

2

tablespoons

vanilla extract
Instructions
In a large saucepan over medium heat, combine blueberries, water and sugar. Stir frequently, but careful not to crush the berries, bring to a low boil.

In a small bowl, mix the cornstarch with cold water until combined.

Slowly stir the cornstarch slurry into the blueberries, careful not to crush them. Simmer until the homemade blueberry sauce is thick enough to coat the back of a metal spoon, about 10 minutes.

Remove from heat and gently stir in vanilla.
Nutrition
Calories:
128
kcal
|
Carbohydrates:
31
g
|
Protein:
0
g
|
Fat:
0
g
|
Saturated Fat:
0
g
|
Cholesterol:
0
mg
|
Sodium:
2
mg
|
Potassium:
48
mg
|
Fiber:
1
g
|
Sugar:
26
g
|
Vitamin A:
30
IU
|
Vitamin C:
5.8
mg
|
Calcium:
4
mg
|
Iron:
0.2
mg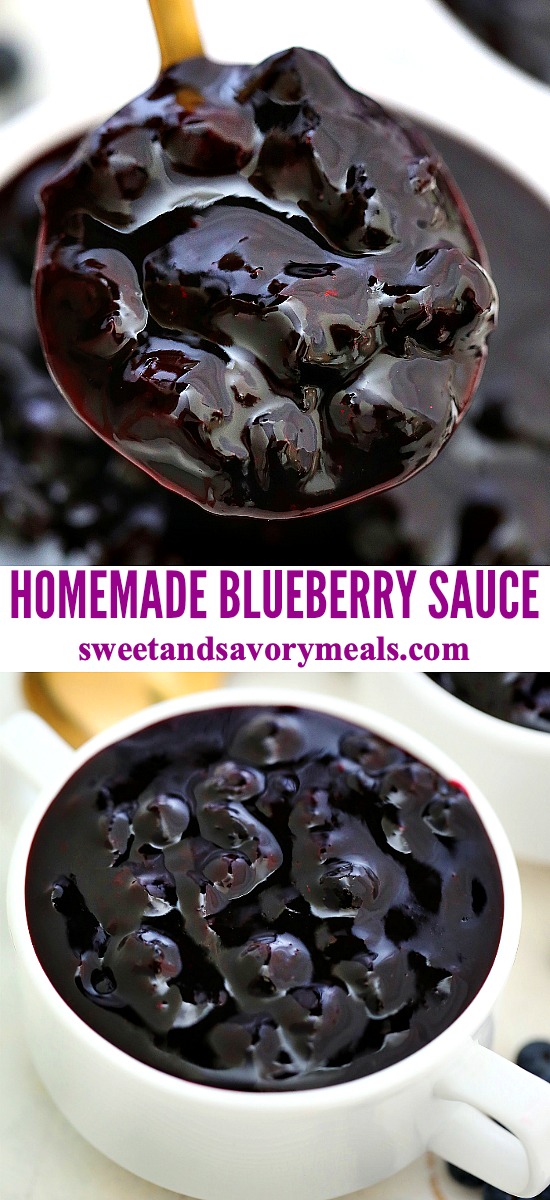 More recipes you might love