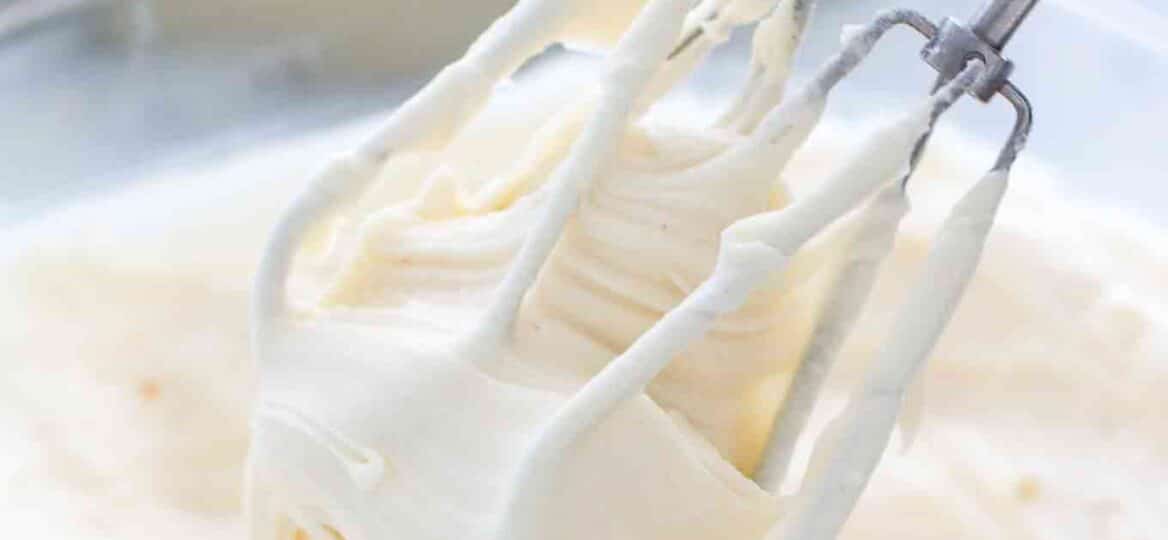 Best Cream Cheese Frosting [Video]
Cream Cheese Frosting makes the perfect frosting recipe that can be used on either cupcakes or layer cakes. It is super simple to make, and is the best one you can get!
This frosting goes great on many desserts, such as Carrot Cake or Peanut Butter Cupcakes. The beauty of it is its simplicity. All you need is five ingredients and a hand-mixer. We've been making this recipe for years, and we don't think you will find an easier or better frosting!
Best Cream Cheese Frosting
Cream cheese frosting goes really well on pretty much any sweets. The frosting is fluffy, creamy and you can actually eat it with a spoon. It is so good! It has the right balance, not too sweet, or too liquidy, but with the right amount of sweetness. It's rich, sturdy, and can be made in various colors.
This recipe yields a generous portion; therefore you can have plenty to play with. We usually have enough to cover a 3-layer cake, plus about a dozen cupcakes. However, if you feel like it's too much for you, feel free to reduce the ingredients accordingly.
Also, the frosting is milder and lighter than buttercream, with a less sweet note to it, and more versatile. You can easily use it for piping and refrigerate for a later date.
How to Make the Best Cream Cheese Frosting?
Making the frosting at home is fairly simple, follow the below steps:
In a bowl, combine butter and cream cheese. With an electric mixer, mix together until creamy, and lump-free.
Then, add vanilla extract and salt and stir well to combine.
With the mixer on low, gradually add powdered sugar until completely combined.
Use for frosting cupcakes or layer-cakes.
How to thicken Cream Cheese Frosting?
If for some reasons your frosting is runny or liquidy, is probably due to over-mixing or not using enough confectioners sugar. Luckily, this is an easy fix. Simply, add gradually some extra powder sugar to the mix, and mix on low with the electric mixer.
This should help thicken up the texture. Similarly, you could add 1/2 to 1 tablespoon of corn starch to the frosting to thicken it up. Both methods should help you with this issue.
Can you color the frosting?
Yes! You can add food color to it. We recommend using gel-based food coloring as they tend to work best in frosting and will not add much liquid to it. Few drops of food gel coloring should be enough to get you the optimal results.
CAN this FROSTING BE USED FOR PIPING?
Absolutely! We love this recipe and use it on piping all the time. It has a nice balance and consistency, making it perfect for piping. One advice would be, if your frosting is too thick, simply soften it a bit. To do so, use a microwave-proof bowl and transfer the frosting into it. Then, place the bowl in the microwave on high for about 15 seconds. If it is not soft enough, microwave for additional 10-15 seconds until you get the right texture.
Do you need to refrigerate cream cheese frosting?
Desserts made with cream cheese frosting do require refrigeration. If the frosting is already used on a cupcake or layer-cake, make sure to store them in an airtight container in the refrigerator. If you simply want to refrigerate the unused frosting, simply store in an airtight container in the fridge for up to four days.
Before using it, remove from the refrigerator and let it sit at room temperature for 20-30 minutes before use. This way, it will soften up a bit. Another trick you could use is to add one tablespoon of heavy cream to the frosting and mix on low for about 1 minute with an electric mixer. This will ensure a fluffy and spreadable consistency.
Can you freeze the frosting?
We do not recommend freezing the frosting. Since it contains cream cheese, freezing the frosting will result in soggy and lost consistency, which you want to avoid.
TIPS FOR MAKING CREAM CHEESE FROSTING:
For best texture and consistency, we recommend using full-fat cream cheese.
Even though we add salt to the frosting, it is best to use unsalted butter vs salted butter. We like to control the salt level by simply adding the right amount of salt to unsalted butter.
Similarly, use room temperature cream cheese and butter. Make sure they are pretty soft, so mixing them becomes easier. It should be softened but not on the verge of melting.
Mix just until combined, do not over-mix the frosting.
You can add lemon juice or rose extract for flavoring.
Deliciousness to your inbox
Enjoy weekly hand picked recipes and recommendations