Red Velvet Cake is fluffy, soft, and buttery, covered in the most amazing cream cheese frosting. It has the perfect tender texture and a great festive look. Ideal for Valentine's Day, birthdays, or any other occasion.
We love making delicious and easy homemade desserts from scratch. There are quite a few great recipes on the blog that you can try. Some of our popular ones are Dream Extreme Oreo Cheesecake and the Chocolate Brownie Cake.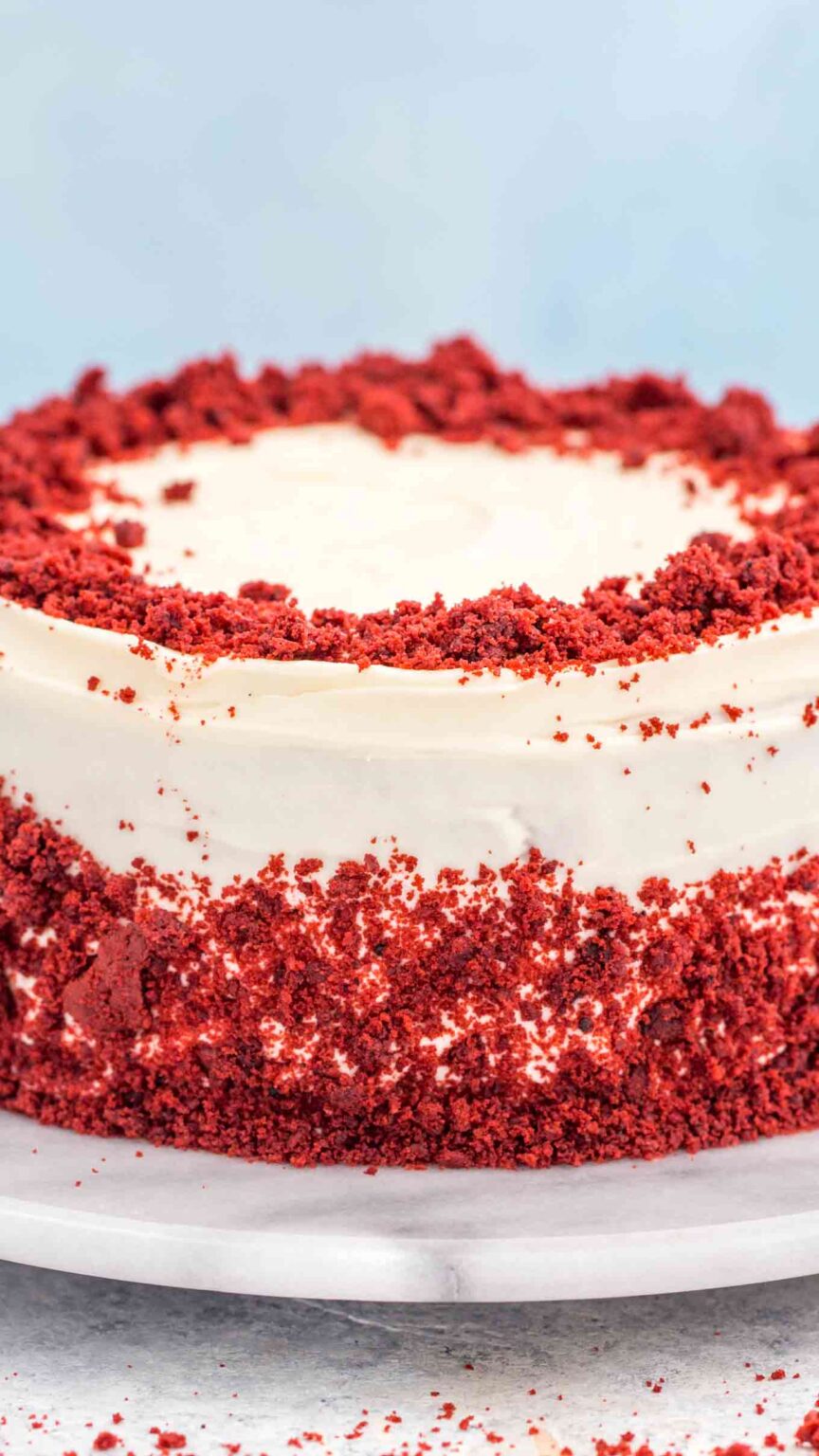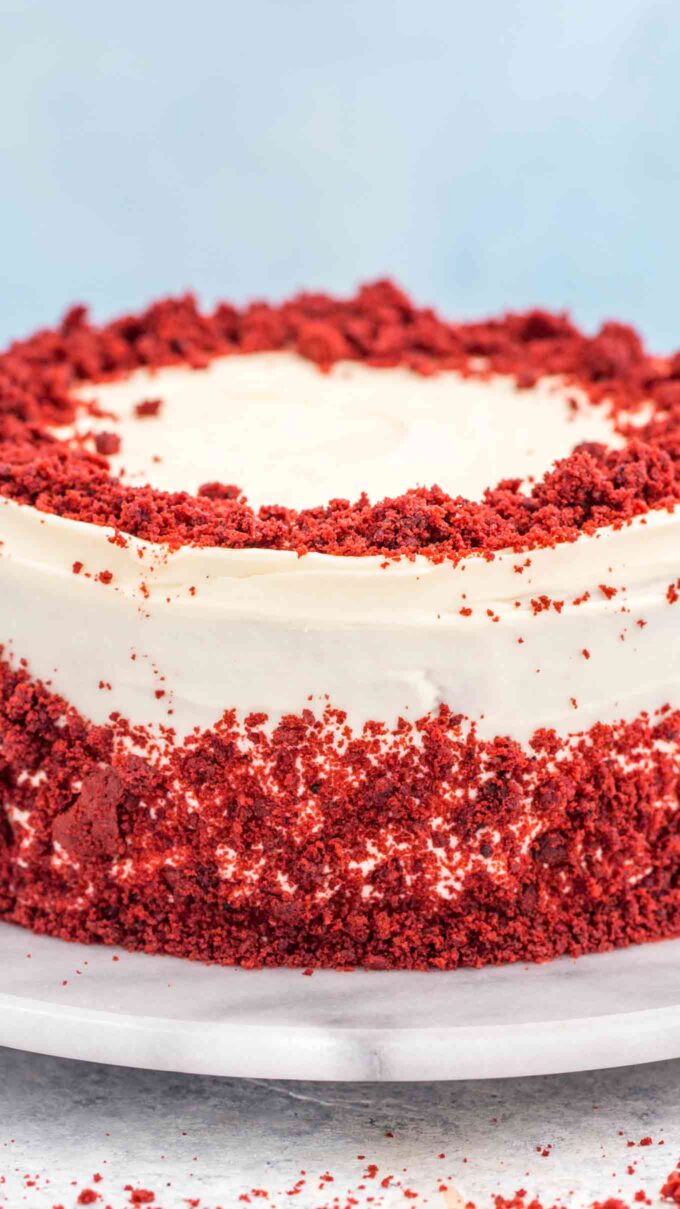 Ultimate Red Velvet Cake
Red Velvet cake is pretty easy to make. We will guide you on how to make this perfectly indulgent dessert entirely from scratch. With some easy tips and tricks, you can have the ultimate homemade sweet treat.
It is important to use high-quality ingredients and finish the dessert with cream cheese frosting. As a result, it will taste like a professional baker's dessert. This cake is softer than most and has a mouth-watering velvety, moist texture in each and every bite.
A tip to ensure that it's the perfect shade of red is to use red food gel food coloring instead of the normal red food coloring. This is the secret that I have found and tested over many years. It makes a big difference in color and the look of it.
What is the difference between chocolate and red velvet cake?
Basically, they are both made with cocoa powder. However, in red velvet desserts, you just use a little of it, to only add a subtle chocolate flavor. This doesn't mean that you can take your chocolate cake recipe and just add the red food coloring.
There are ingredients in this dessert that are making the color-rich and different from the chocolate one. The vinegar and buttermilk in this recipe, together with the food coloring, are making this dessert different from chocolate cake. Overall, the chocolate taste is fairly mild, but the flavors are delicately rich.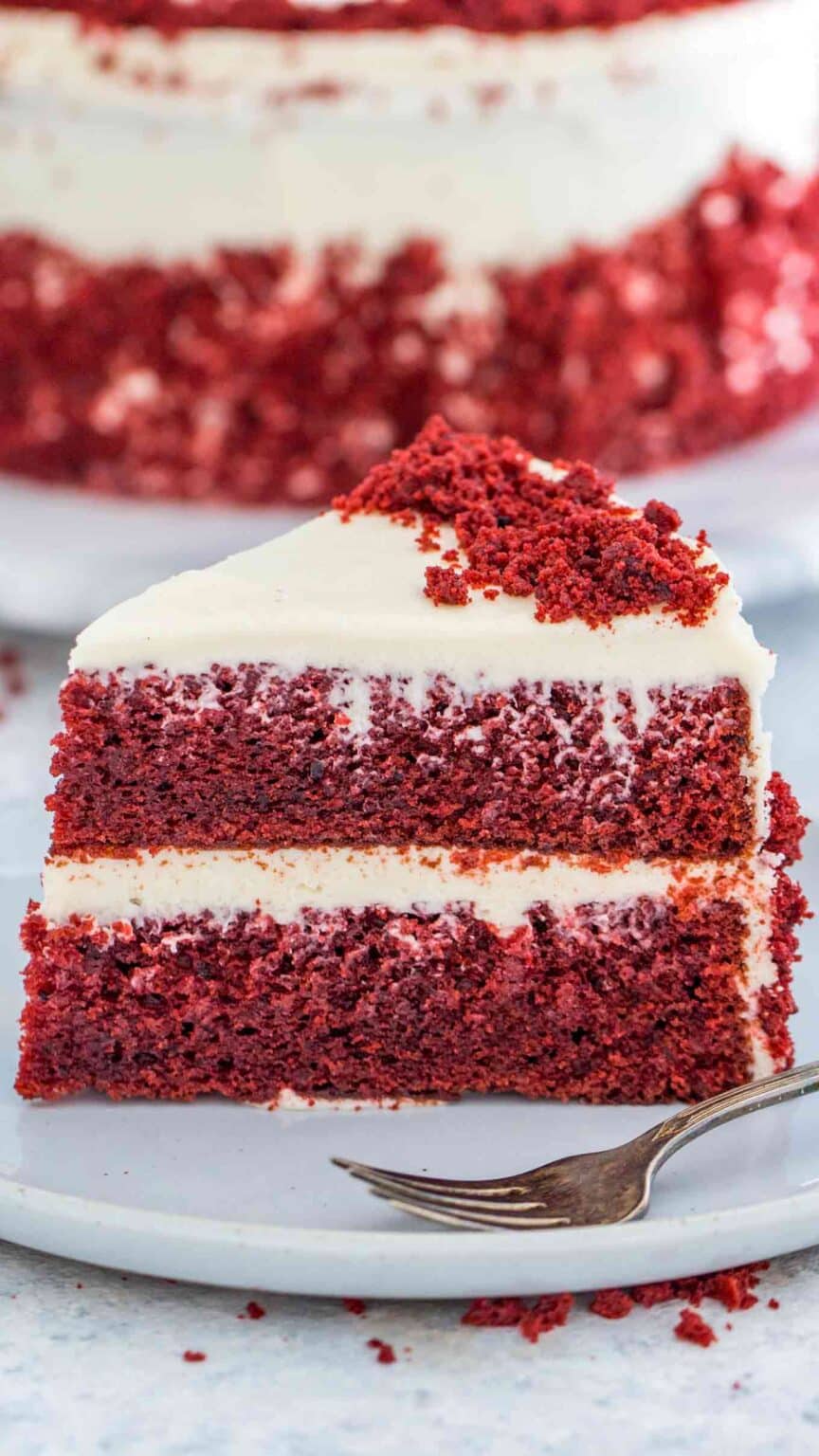 Where does red velvet cake come from?
It originated back in the 1900s. However, the first recipe that was published of it was in 1943. This was in the recipe book "The Joy of Cooking" by Irma S. Rombauer's. During World War II, people started making desserts with beetroot as one of the ingredients. This resulted in the cake turning red.
Many people are still using beetroot as an ingredient today. However, it isn't really known if the beetroot is the reason why it developed, or if this was just a coincidence. Today, most recipes are including red food coloring to get the reddish color.
What makes red velvet cake different?
The first thing that is making this sweet treat different is its beautiful color. Most cakes are vanilla or chocolate in flavor. However, this one is made with just a little cocoa powder, for a very mild chocolaty taste.
The second thing that is making it different is the ingredients used. Most recipes call for buttermilk and vinegar with red food coloring. The cake is usually covered in a sweet and tangy cream cheese frosting, inserted of the widely used buttercream.
WHAT KIND OF FROSTING DO YOU USE?
It is traditionally made with cream cheese frosting. We have been using this frosting recipe for ages and is by far the best one for this delicate dessert. It is important that you use a cream cheese-based frosting, as this is what gives it its rich and distinguished taste.
The frosting is super easy to make, and ready in less than 10 minutes. Check the link above for detailed instructions.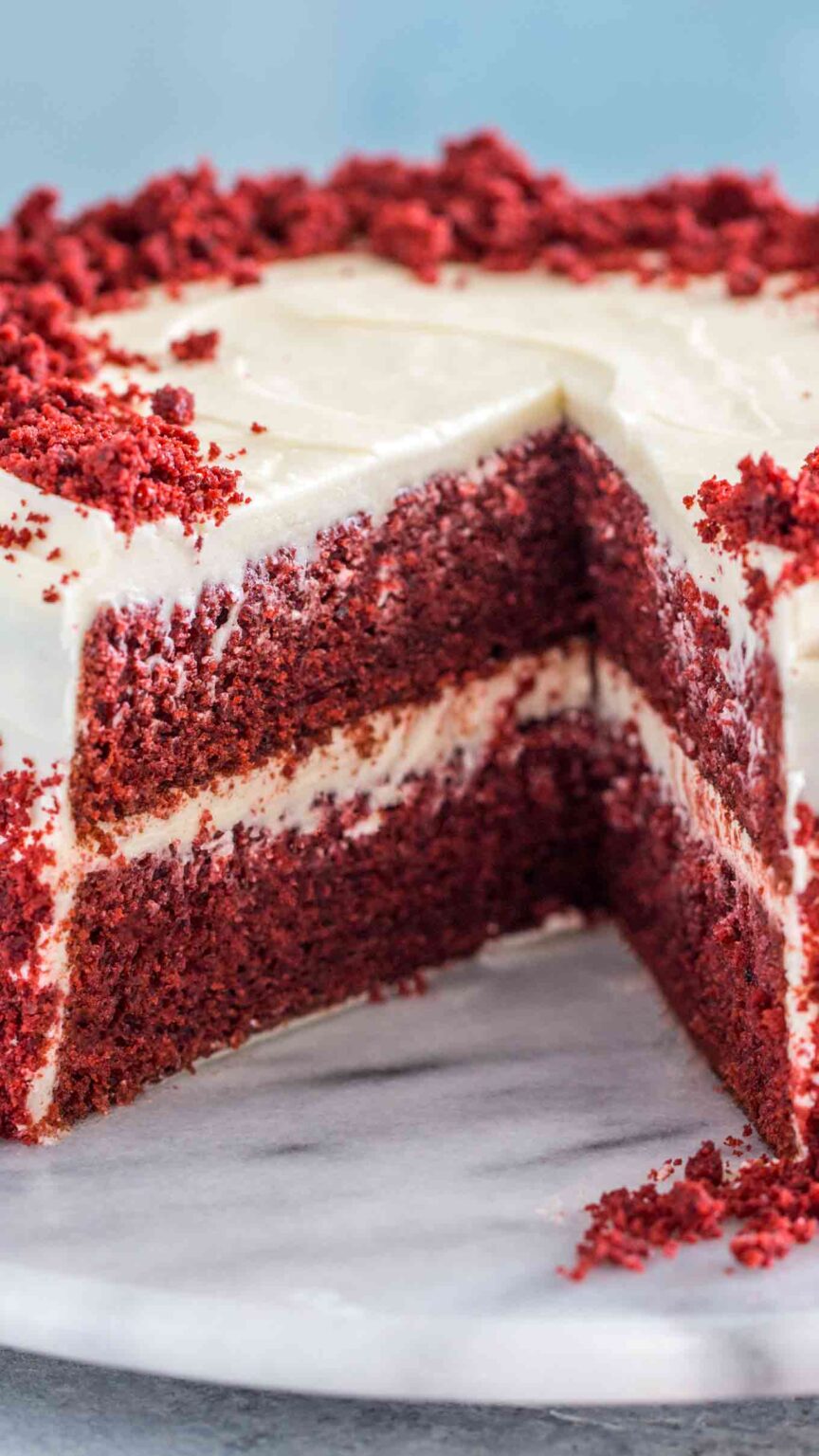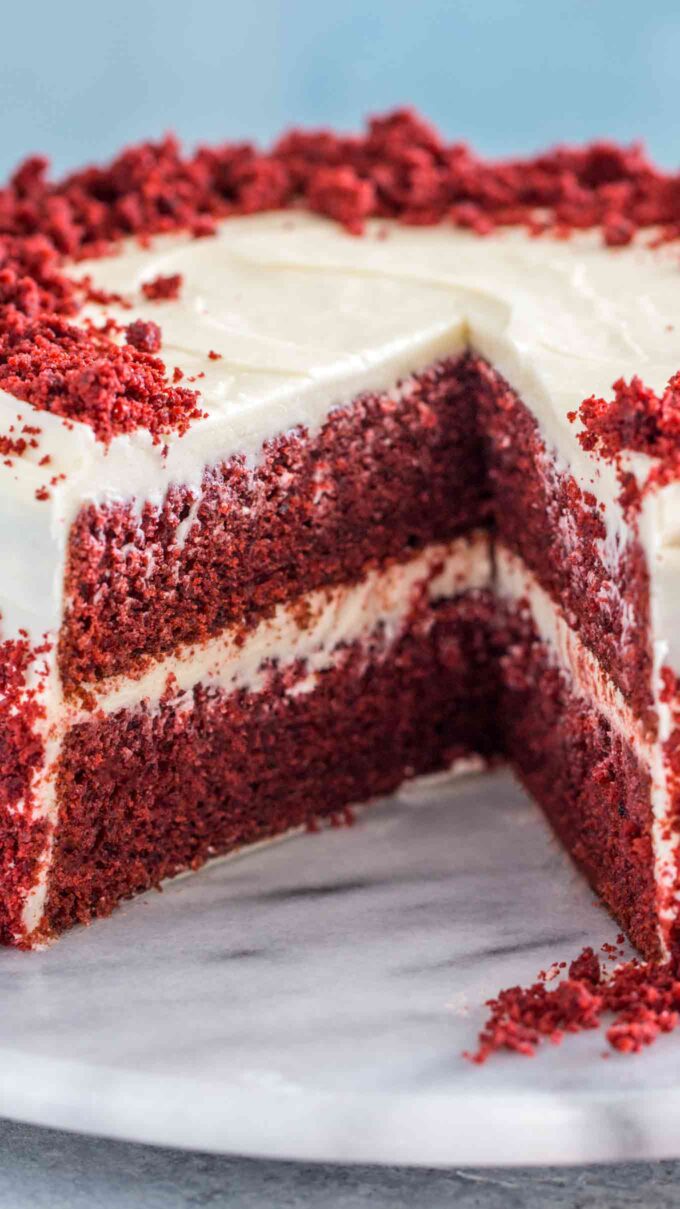 Can red velvet cake be frozen?
Yes, you can freeze it for up to three months. Many people believe that only un-frosted cakes can be frozen. However, depending on the frosting that you have used, you can freeze a frosted one as well.
It is important how the cake is frozen. We recommend freezing in an airtight container. Or cover well in plastic wrap and after that in aluminum foil. Similarly, the slices can be frozen individually, but either being wrapped as mentioned above, or added to freezer-safe bags. Freeze for up to 3 months.
Its layers can be frozen before being frosted. First, let them fully cool, after that wrap in plastic wrap and either add them to freezer-safe bags or cover them tightly in foil. Freeze for up to 3 months.
Before serving, you should defrost the cake in the refrigerator overnight to ensure the best taste.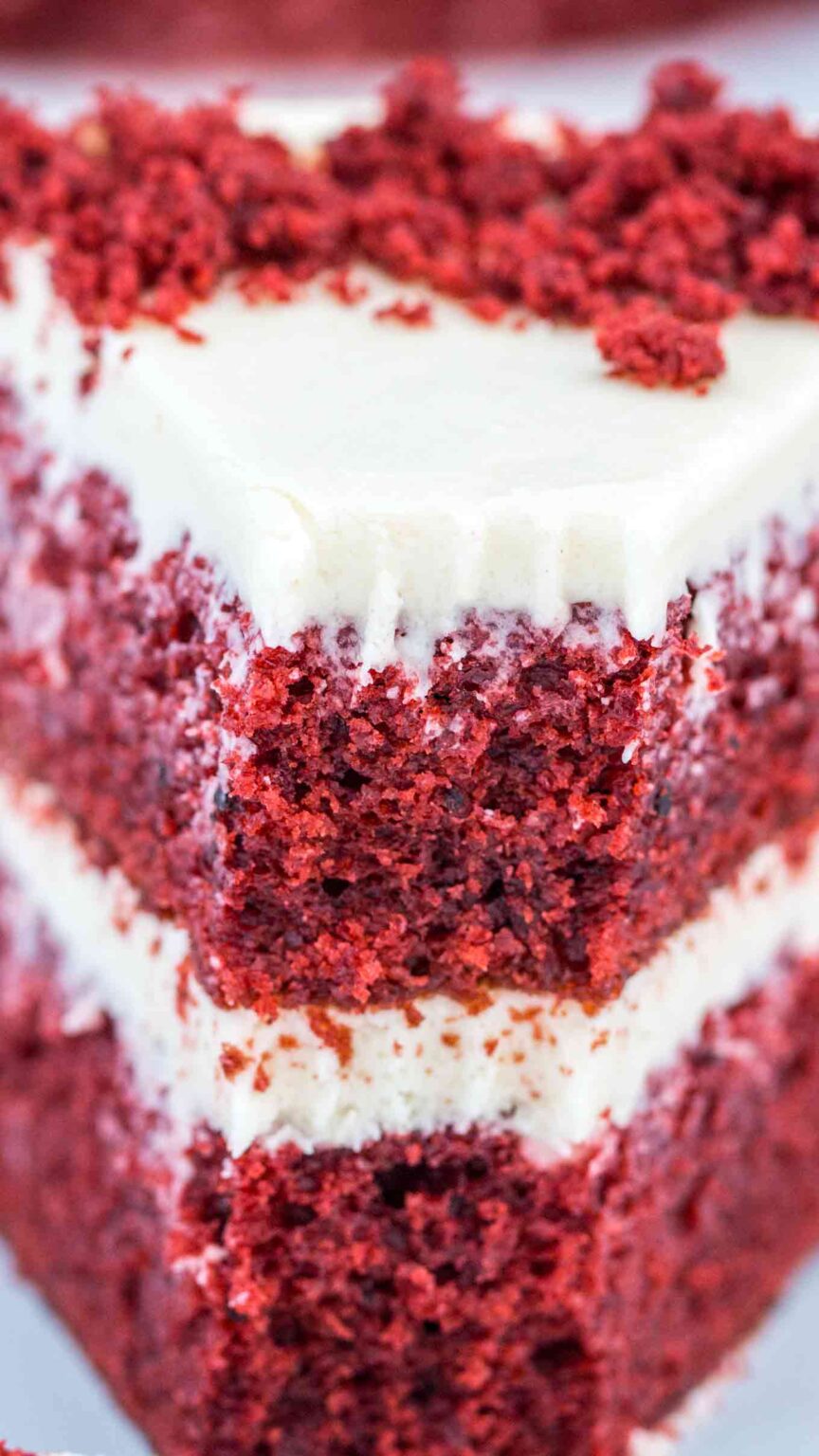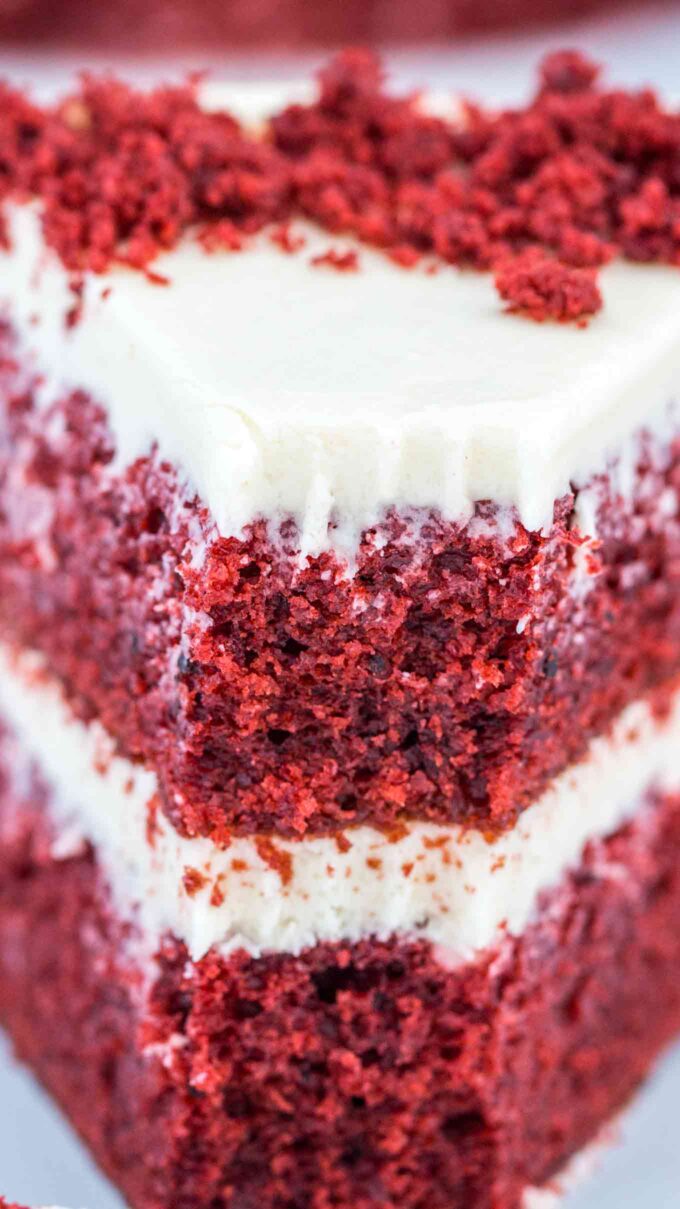 Useful Tips:
Watch the video tutorial attached above, and you'll see step by step video instruction.
Makes sure all the ingredients are at room temperature. Measure precisely the dry and wet ingredients. Do not over-beat when mixing.
Also, use Buttermilk. This will make a huge difference in the texture. It will make it more fluffy, buttery, and moist.
Incorporate Oil. The addition of oil will result in a very moist and fluffy cake.
Use 8-inch cake pans, as it is the ideal size for this recipe (not too big and not too small).
In addition, make two thicker cake layers, or three thinner cake layers, based on your own preference.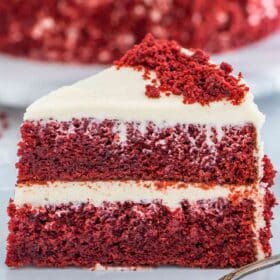 Red Velvet Cake
Red Velvet Cake is fluffy, soft and buttery, covered in the most amazing cream cheese frosting. It has the perfect tender texture and a great festive look. Ideal for Valentine's Day, birthdays, or any other occasions.
Save
Share
Print
Pin
Rate
Ingredients
Baking Spray for the pans

2 1/2

cups

all-purpose flour

1 1/2

cups

sugar

1

teaspoon

baking soda

1

teaspoon

baking powder

1/2

teaspoon

salt

1/3

cup

cocoa powder

2

large eggs

(at room temperature)

1 1/2

cups

vegetable oil

1

cup

buttermilk

(room temperature)

1

teaspoon

white distilled vinegar

1

teaspoon

vanilla extract

1

teaspoon

red gel food coloring

(or 2 tablespoons regular food coloring)
Instructions
Preheat oven to 350 degrees F.

Spray 2 8-inch cake pans with baking spray, cover the bottom to fit with parchment paper and spray again with baking spray. Use 3 pans for thinner layers. Set aside.

In a medium bowl combine dry ingredients: flour, sugar, baking powder, baking soda, salt and cocoa powder. Whisk to combine. Set aside.

Add wet ingredients to a large bowl: eggs, oil, buttermilk, vinegar, vanilla extract and red gel food coloring. Using a hand mixer (or stand mixer), whisk on medium speed until fully combined.

Reduce mixer speed to low, and slowly add the dry ingredients mix. Stop from time to time to scrape the sides and bottom of the bowl. Whisk just until fully combined.

Divide the batter equally into the prepared pans.
Bake:
Bake, rotating the pans halfway through the cooking process, until a toothpick inserted into the center of the cakes comes out clean, about 30 minutes.

Remove the cakes from the oven and run a knife around the edges to loosen them from the pans. Let it cool in the pans for about 20-30 minutes. Invert the cakes onto a plate and then re-invert them onto a cooling rack. Round side up. Cool completely before frosting.
Frost the Cake:
To frost it, prepare the Cream Cheese Frosting according to recipe directions.

Using a serrated knife or cake leveler, slice the layer's top to make them flat. Place the leftovers from the layers into a medium bowl and crush into crumbs.

Add 1/4 cup of of frosting onto the bottom of a cake stand.

Place the first layer onto the cake stand. Add about 1 cup (or more if needed) of frosting onto the cake layer and using an offset spatula, spread the frosting evenly, to create a 1/2-inch layer.

Add another layer on top and repeat.

Cover the entire cake with the remaining frosting. Use the cake crumbs to garnish the sides and top edges of the cake.

Refrigerate for at least 2-3 hours, or until somewhat stiff before serving.

Stored in the refrigerator for up to 4-5 days. Preferably in an airtight container.
Nutrition
Calories:
283
kcal
|
Carbohydrates:
54
g
|
Protein:
5
g
|
Fat:
6
g
|
Saturated Fat:
3
g
|
Cholesterol:
35
mg
|
Sodium:
266
mg
|
Potassium:
203
mg
|
Fiber:
2
g
|
Sugar:
31
g
|
Vitamin A:
150
IU
|
Calcium:
92
mg
|
Iron:
2.7
mg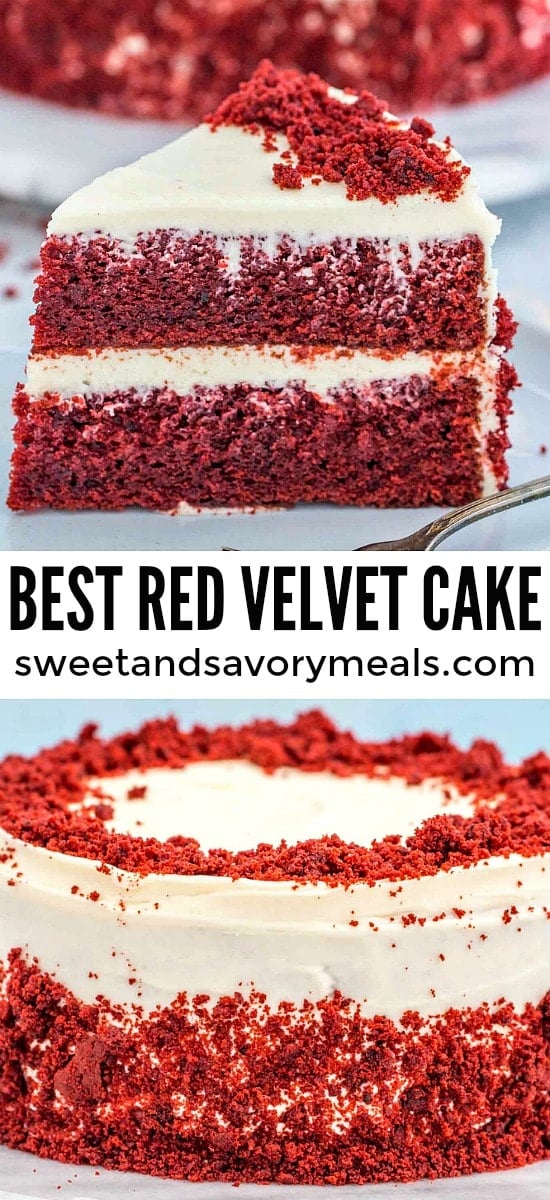 More recipes you might love