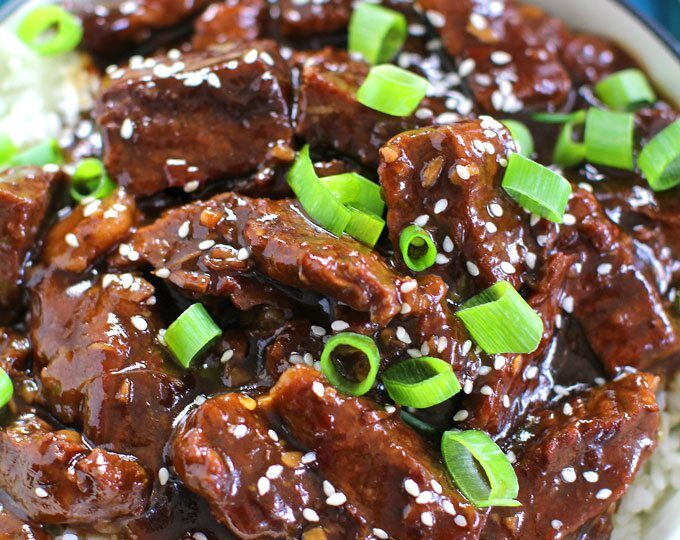 Instant Pot Mongolian Beef [VIDEO]
Instant Pot Mongolian Beef is a sweet and slightly spicy Asian dish made with tender beef, in sticky garlic and brown sugar sauce that has an incredible flavor. This is a very easy and delicious meal you can make in just under 30 minutes.
We love making easy and delicious Asian dishes in the Instant Pot such as our famous IP Orange Chicken, IP Mongolian Chicken, and IP Beef and Broccoli. These will quickly become your favorite recipes and you will find yourself making more Chinese food and relying less on Chinese restaurants. Pressure cooking takes less time and adds incredible flavor!
This is our favorite Asian meal and it will quickly become one of your favorite instant pot recipes to make at home over and over again. Actually, this tastes even better than the one you would order at an Asian restaurant.
If you love Chinese takeout, I highly recommend trying this delicious recipe that your entire family will love, also, it will be done quicker than your local restaurant can deliver it.
Made with perfectly cooked tender beef in a sweet and savory Asian sauce. This recipe is better than the famous restaurant version you can find at PF Chang's.
This delicious recipe is easy to make with little prep time and with low sodium soy sauce, you don't have to worry about the salt content as you would with the restaurant variety.
On top of that, you will be rewarded with delicious leftovers that you can enjoy the next day. Sweet and salty, balanced by lots of savory minced garlic and fresh ginger. This simple and full of flavor recipe, made with real ingredients, will win you over as it tastes like it has been slowly cooked for a long time.
Another flavorful Asian dish you may enjoy is this Instant Pot Garlic Sesame Chicken with tender chicken thighs and plenty of garlic. For other instant pot beef recipes, try our Ultimate Instant Pot Beef Stew made with stew meat, pearl onions, and veggies or Instant Pot Meatloaf with mashed potatoes.
Follow us on Pinterest for more delicious recipes!
Ingredients Needed:
These are the simple ingredients for this instant pot Mongolian beef. Scroll down to our recipe card for complete instructions and exact measurements.
Flank steak: London broil, skirt steak also work great in this recipe, make sure to slice it thinly across the grain. You don't have to get an expensive cut of meat for this easy pressure cooker recipe to work.
Corn starch: To coat the beef, it makes it crispier when sautéing it. As an alternative, use tapioca flour.
Extra virgin olive oil: We used extra virgin olive oil but you can use your favorite. Alternatively, use sesame oil for extra flavor.
Dark brown sugar: A key ingredient in making the Mongolian sauce. You can use light or dark brown sugar for this recipe but we used dark.
Garlic cloves: Minced garlic.
Fresh ginger: Minced.
Low sodium soy sauce: If you use regular soy sauce it will be too salty.
A cup of Water
Rice vinegar
Red pepper flakes
Cornstarch Slurry:
Garnish:
Fresh green onions: Chopped green onions or scallions.
Sesame seeds
Red pepper flakes
How to Make Instant Pot Mongolian Beef recipe from scratch?
This Mongolian beef recipe can be made in your instant pot, on the stove, or in your slow cooker.
Velveting the beef: To begin, place beef strips in a large resealable baggie with corn starch and shake until the meat is evenly coated. This creates an extremely tender beef.

Searing the beef: After, add olive oil to the bottom of your instant pot and heat it up using the saute setting. Sear the beef strips for two or three minutes on each side. You will probably have to cook in batches because you do not want to crowd the meat.
Cook: Once that is done, add the brown sugar, garlic, red pepper flakes, soy sauce, rice vinegar, and vinegar. Stir with a wooden spoon and close the lid. Set it for pressure cook for eight minutes.

Release the steam: Then, let it do a natural pressure release for 10 minutes before doing a quick release to allow the rest of the pressure to escape.

Make the corn starch mixture: To thicken the sauce, mix the corn starch with water in a small bowl until it dissolves. Pour the cornstarch mixture into the instant pot and cook for two more minutes on the saute setting, stirring occasionally.
Serve: Best to serve warm over white rice. Top it with fresh green onions, and garnish with sesame seeds.
How to make slow cooker Mongolian beef:
Sear the beef: Start by searing the beef in the oil in a frying pan over medium-high heat. Once it is brown on both sides, add it to the slow cooker.

Add all ingredients: Then, add all the other ingredients except for the corn starch. Stir with a wooden spoon and put the lid on.
Slow cooker version: Let your slow cooker Mongolian beef cook for six hours on high or three hours on low.

Thicken the sauce: Last, make your cornstarch mixture and stir it into the Mongolian beef. Let it cook for another 20 minutes on high to thicken the sauce before serving.
How to make Mongolian beef on the stove:
Prepare: To begin, mix the flank steak with corn starch in a large bowl until it is evenly coated.

Cook the beef: Then, heat one cup of oil in a large saucepan and add the beef when it is sizzling. Fry the flank steak on both sides, stirring to evenly distribute. The cook time will vary depending on how thick your flank steak is cut. For thin slices, it may only be a couple of minutes.

Remove the flank steak: After, move the steak to a plate covered in paper towels to absorb the extra grease and discard the oil from the pan.

Make the sauce: Next, add oil to a medium saucepan over medium-low heat with the ginger and garlic. Cook while stirring for 30 seconds and then whisk in the water, soy sauce, and brown sugar. Let it cook until sauce thickens, about five to 10 minutes.

Add the steak: Once you finish the sauce, add beef back to the skillet with the sauce and cook it over medium heat until the sauce thickens further before stirring in the green onions. This typically takes about two minutes but the cooking time may vary.
Serve: Finally, sprinkle on sesame seeds and serve warm.
Recipe Variations:
It is very versatile so you can try using other ingredients as well like mushrooms, hot sauce, or even honey. The blend of brown sugar, green onions, and soy sauce go wonderfully with the garlic, ginger, and beef.
Other cuts: Make this recipe with other cuts of beef such as stew meat, skirt steak, or top round beef. You could even use ground beef.

Add vegetables: Also, try adding to the pot with the rest of the ingredients, some bell peppers, broccoli, zucchini, mushrooms, or carrots.
Red pepper flakes: An an option, add more red pepper flakes or some cayenne pepper.
Skip the rice: For those who cannot eat gluten, try using white wine vinegar instead of rice vinegar.
Use shallots: Instead of green onions or scallions, try using scallions. They taste more garlicky and pungent so they will give your flank steak a burst of intense flavor.

Gluten-free: Easily make this recipe gluten-free by using coconut aminos.
How to serve:
This Mongolian beef recipe works well with all sorts of Asian side dishes but you can use your own tastes or try one of our great serving suggestions:
Serve with a salad or soup and a few fortune cookies for dessert.

This tender beef goes great on rice no matter whether you use fluffy white rice, brown rice, whole grain, or jasmine rice. Any rice will do with this dish.

In fact, you can even use cauliflower rice.

Instead of rice, why not try rice noodles or some other kind of pasta? Try to serve this great meal with some soba noodles or rice vermicelli.
Toss in some vegetables like steamed broccoli, bok choy, or asparagus spears.
Frequently Asked Questions
What is the best beef for this recipe?
Any kind of beef that can be sliced thinly enough to cook quickly will work. We chose flank steak but you can use skirt steak, sirloin strips, tri-tip, or stew meat. Other choices include flat iron steaks, top blade, or ranch steaks.
What wines pair well with Mongolian beef?
Try a nice red wine like Syrah or zinfandel or chardonnay is perfect. Prosecco or Cava will bring out the Asian spices and cabernet sauvignon is a delicious choice for beef. Gamay grape with its tart fruity taste is also great with red meat.
Where did Mongolian beef come from?
The name is trying to fool you because this dish was not made in Mongolia. Rather, it began in Shandong Province in the Taishan Mountains and the locals decided it tasted like Mongolian barbecue so they named it Mongolian beef.
What is the difference between natural pressure release and quick release?
A natural release is when you just let the pressure and steam come out naturally without opening the steam valve. This is typically done for about 10 minutes before moving to a quick release. Not only does this allow the food to stay moist but it also saves you from possible steam burns.
How to store leftovers:
Cool: First, let the meal completely cool to room temperature.
Store: After the Mongolian beef cools to room temperature, transfer it to an airtight bowl or storage container. It will be good for three to four days in the refrigerator.

Freeze: It is easy to freeze this instant pot Mongolian beef too. Put it in a large freezer bag or freezer-safe container for up to three months.
Thaw: Allow the leftover flank steak to thaw in the fridge overnight before reheating.
Reheat: Microwave or reheat on the stove in a saucepan or skillet.
More Instant Pot Recipes:
Cooking Tips:
When you cut your flank steak, you can choose whether you want thin slices or thicker. As long as you cut across the grain, you will have tender meat.

An easier way to get your beef thinly sliced is to freeze it for 20 to 30 minutes first. It will be much easier to get it sliced thin enough.

When browning your meat, try not to overcrowd it so you get a nice crispy beef.

You can also use more or less oil depending on your preferences. We reduce the oil in this recipe to make it healthier.
The amount of minced garlic is up to you as well. We use a lot of garlic because we love the flavor but you can use less or none at all if you are not a fan.
Corn starch is an essential ingredient. Don't use flour or any other thickening ingredients or it will not have the right consistency.
We chose low-sodium soy sauce for less salt but you can use regular soy sauce. However, you may need to use less because it can make your Mongolian beef recipe too salty.
If you or someone in the family are not spicy food lovers, leave out the red pepper flakes. You can always add them to the table for those who want to add them after serving.
Instant Pot Mongolian Beef
Ingredients
1-1.5

pounds

flank steak

sliced across the grain

1

tablespoon

cornstarch

1

tablespoon

extra virgin olive oil

or sesame oil

1/2

cup

brown sugar

or 2/3 cups - I prefer the version with more sugar

8-10

cloves

garlic

minced - use less if you prefer it less garlicky

1

tablespoon

fresh ginger

minced

1/2

cup

lite soy sauce

1

cup

water

1

tablespoon

rice vinegar

1

teaspoon

red pepper flakes
Cornstarch Slurry:
2

tablespoons

cornstarch

1/2

cup

water
Garnish:
1/4

cup

green onions

chopped

1

teaspoon

sesame seeds
Instructions
Sear the beef:
Heat up your pressure cooker: press Sauté -> click on the Adjust button -> select More to get the Sauté More function, which means that the food will be sautéed over medium-high heat. Wait for the Instant Pot indicator to read HOT.

Add sliced beef to a large ziplock bag, add 1 tablespoon cornstarch and shake well to coat it evenly.

Add the oil to the hot Instant Pot, once the oil is hot, add the beef and sauté for 2-3 minutes, stirring a few times. If needed brown the beef in batches, you don't want to add too much as it will start releasing juice and it won't brown well.

Note: You can also skip browning the beef and just add it to the pot!

If bits of beef stock to the pot, add 1/2 cup water and deglaze the pot. Using a wooden spoon scrape the bottom of the pot. You can discard that liquid if wanted.
Add the rest of the ingredients:
Add the rest of the ingredients to the pot: minced garlic, minced ginger, lite soy sauce, brown sugar, water, rice vinegar, and red pepper flakes. You can add less sugar, based on your taste and preference.

Stir well until all the ingredients are combined and coated in sauce.
Pressure Cook:
Close lid and pressure cook at High Pressure for 8 minutes + 10 minutes Natural Release. Turn off the heat. Release the remaining pressure manually. Open the lid.
Thicken the Sauce:
Make the cornstarch slurry, in a small bowl mix cornstarch with water until fully combined.

With the Instant Pot on the Sauté function, add the slurry to the pot, stir to combine, and cook for 2-3 minutes on Sauté, stirring occasionally, until the sauce thickens.

Turn off the Instant Pot and let the Mongolian Beef sit for 8-10 minutes before serving, in this time the sauce will settle and thicken more.
Serve:
Serve over rice and garnish with fresh chopped green onions and sesame seeds.