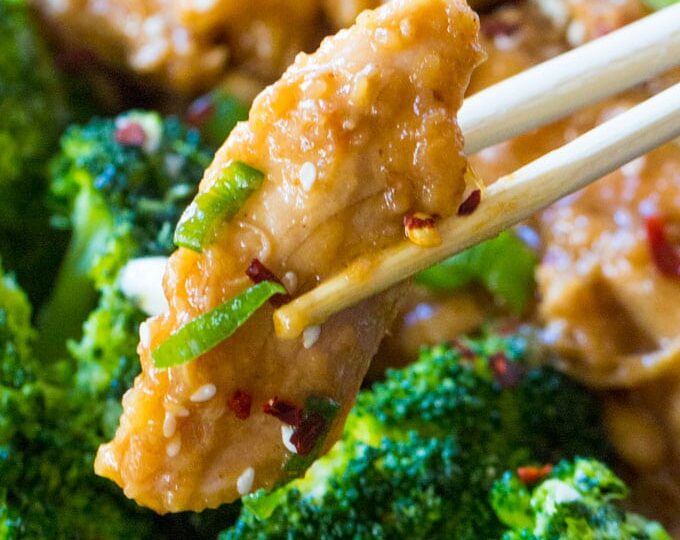 Instant Pot General Tso Chicken
Instant Pot General Tso Chicken is a flavorful, restaurant-quality meal made simple and easy in your pressure cooker in just 30 minutes!
Instant Pot Recipes are a staple around here. We love making easy chicken meals in it like our most popular Orange Chicken, Chicken Wings, and Chicken Cacciatore.
Healthy Instant Pot General Tso Chicken
Instant Pot General Tso Chicken is my latest addition to my IP Recipes collection! This better than the takeout meal is full of flavor and a breeze to make! It only requires one pot 30 minutes of your time to have a delicious and healthy dinner.
I am a huge fan of recreating popular takeout dishes in my Pressure Cooker, as it saves me money, time, and also I can control the quality of the ingredients. This recipe is the perfect weeknight meal that everyone will love. Also, it is a super flavorful, sweet and sour dish that will beat any takeouts.
Why you will enjoy this recipe
It is easy to make and it takes only around 30 minutes!
Only one pot to clean and that is the Pressure Cooker.
Also, the dish is packed with amazing flavors and lean protein.
It is perfect for busy weeknights and also for entertaining guests.
You will have delicious leftovers that can be stored in the fridge, in an airtight container for 3-4 days.
What Is General Tso Chicken?
You are probably all familiar with this popular Asian dish. Every Chinese and Thai restaurant is proud to serve it. For sure, this dish became one of the most popular Asian dishes in American culture. In short, General Tso was a well-known Chinese/Thai war figure. He migrated to New York City in the 1970s and created this popular recipe, which was named after him.
This is a sweet and sour dish which is also a little spicy. The chicken is usually deep-fried and served over rice. However, this Instant Pot General Tso Chicken is a lighter and healthier version of it, because we do not deep-fry the meat. Instead, we are using the pressure cooker as an alternative. As a result, this is a lighter, healthier, and less caloric dish, that is just as delicious!
How to make General Tso sauce?
You can easily make this sauce at home. Follow this link and learn how to make authentic general Tso sauce from your own kitchen.
How To Make Instant Pot General Tso Chicken?
For exact measurements and ingredients, please refer to the recipe card below.
Prepare the chicken: We use breasts, but you can also use boneless thighs as an alternative. Both work well for this recipe and feel free to use whichever part you like. Cut the poultry into smaller pieces.
Saute the meat: First, saute the poultry by turning the "Saute" setting on in your pressure cooker. Add 1 teaspoon of oil, and the chicken to the pot and saute it for a few minutes. Brown the meat just enough to get a light brown color. Then, add the rest of the ingredients (except for cornstarch slurry) and stir well. Close the lid, and cook it under pressure by clicking the poultry setting.
Add the cornstarch slurry: Allow the pressure to naturally release before removing the lid. Then, in a bowl, prepare the slurry by mixing the cornstarch with water. Add the mixture to the pot, and stir gently. Using the saute function of the IP, saute the meat with the slurry for an additional 5 minutes, while occasionally stirring.
Garnish and serve: Garnish with some sesame seeds, and chopped green onions, and serve it over white rice.
RECIPE VARIATIONS
This dish has many variations, and can be adjusted based on their own preferences:
For a sweeter taste, add 1 tablespoon sugar, or 1 tablespoon of honey to the sauce.
Alternatively, for a spicier version, feel free to add dried red chilies while sauteing the chicken.
Add a little orange zest to brighten the dish up. You might also love our award-winning IP Orange Chicken.
White wine vinegar can be replaced with rice vinegar. Just remember, every time you make substitutions, the flavors will change and tasteless like what you remember ordering out.
Hoisin sauce is absolutely amazing in this recipe, and one of our favorite Asian pantry item. It is one of the main ingredients that make this dish so great because of its deep flavors. Some people substitute it with BBQ sauce and mix it with molasses and soy sauce. However, we try to stick to the original Hoisin sauce and strongly recommend using it for the best flavors.
Other Ways To Make General Tso Chicken
SLOW COOKER
This dish can also be made in the CrockPot or in the IP using the Slow Cooker function. Add browned chicken to the Slow Cooker. Then, add the rest of the ingredients except the cornstarch slurry. Cover and cook on low for 4 hours. Make the slurry, gently stir it in and cook on high for 20 more minutes. Serve and enjoy!
STOVE TOP
Similarly, this recipe can be made on the stovetop. First, saute up the chicken with spices. Then, add all the sauces and slurry and allow to cook for a few minutes till the sauce is thick. Add the poultry and combine well before serving!
Looking for more Chinese food take-out options?
We have a large collection of Asian inspired dishes, some of our most popular once are:
What is a 10 Minutes Natural Pressure Release?
A Natural Pressure Release means that the pressure is released gradually. For a Natural Pressure Release, you click on Keep Warm, and wait 10 minutes, after which you open the valve and let any leftover pressure to release. Another option is to Turn Off/Unplug the pressure cooker, wait 10 minutes and after that open the valve.
A natural release is usually used when cooking soups, meat in a large amount of sauce, pasta or steel cut oats. This method prevents any foam from the dish to shoot out through the valve, which can happen during a Quick Pressure Release.
CAN YOU FREEZE Instant Pot General Tso Chicken?
Yes! Before freezing it, make sure the dish is completely cooled. Then, transfer into an airtight container, and freeze or up to 3 months. When ready to eat, thaw in the refrigerator the night before consuming. You can heat it up on the stove on in the microwave.
Instant Pot General Tso Chicken Recipe Tips:
Use good quality meat, preferably organic thighs or breasts.
Also, cornstarch is very important in this recipe, so do not try to replace it with flour, the results will not be the same.
If the sauce is too runny, mix another 1-2 teaspoons of cornstarch with water and add it to the Pressure Cooker. Please note, that the sauce will get thicker with time, so definitely wait a bit before adding more cornstarch.
For enhanced flavor add 1 tablespoon of freshly grated ginger!
The delicious homemade dish is best served over rice or noodles.
Tools/Ingredients I used to make this Recipe:
Instant Pot – I use it all the time, either the Pressure Cooker function or the Slow Cooker function, I also like that I can just sauté / brown the meat and veggies directly in the pot using the Sauté function
Cornstarch – I prefer using cornstarch instead of flour to thicken sauces, and this organic brand is my favorite.