Sweet and Sour Chicken is an easy recipe that gives you a range of flavors! It is a refreshing take on chicken using pineapple and bell peppers!
This dish is as colorful as our other dishes like the Mexican Black Bean Salad, Ambrosia Salad, and Fruit Salad! These are all perfect sides to this main course, too.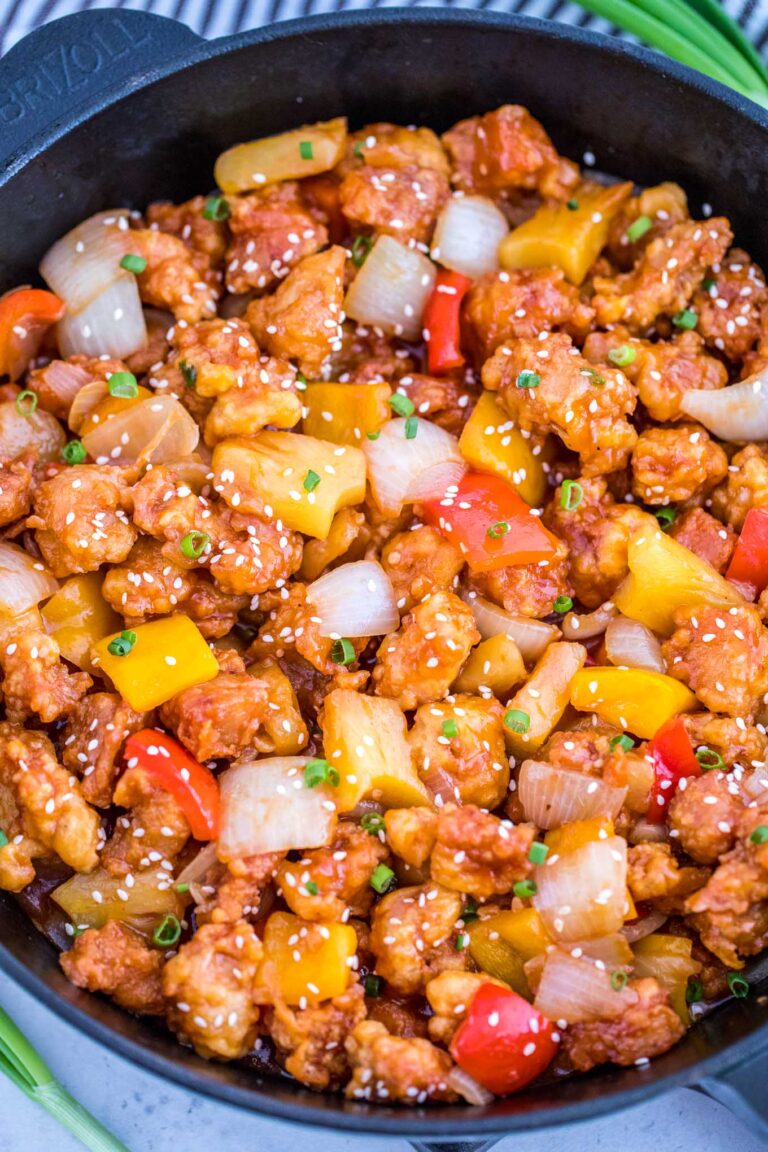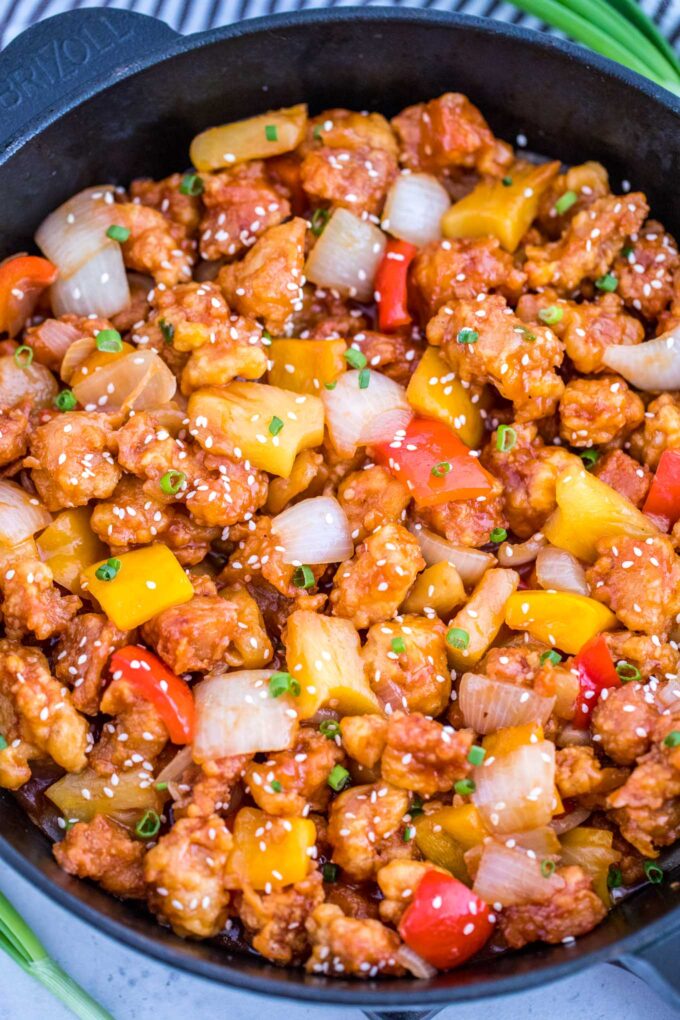 Sweet and Sour Chicken
Sweet and Sour Chicken offers a balance of sweetness, sourness, and savory in one colorful dish. Who says that pineapples cannot be made into a savory dish? It's quite the opposite as it offers a distinct fruity flavor that pairs surprisingly well with chicken. The bell peppers also offer a nice balance and the sauce itself is golden!
In addition, the bell peppers add color to this dish which makes it more appetizing. This is an easy recipe that you can do at home and do away with that Chinese takeout! It can be done in minutes, which makes it a hearty go-to meal when you want something quick for dinner.
What is Sweet and Sour Chicken?
It is a recipe that evolved with the American palate in mind. Though the Chinese have some dishes that are highly similar to this dish, it does not have the complicated recipes and exquisite ingredients that traditional Chinese cuisine has. Instead, it plays with the combination of vinegar and sugar complemented by ketchup, an American favorite.
It has lots of flavors that complement the chicken breast which is not that flavorful by itself. The addition of pineapple chunks gives a burst of fruity sourness that is balanced by the sugar. It has soy sauce, too that adds body to the sauce.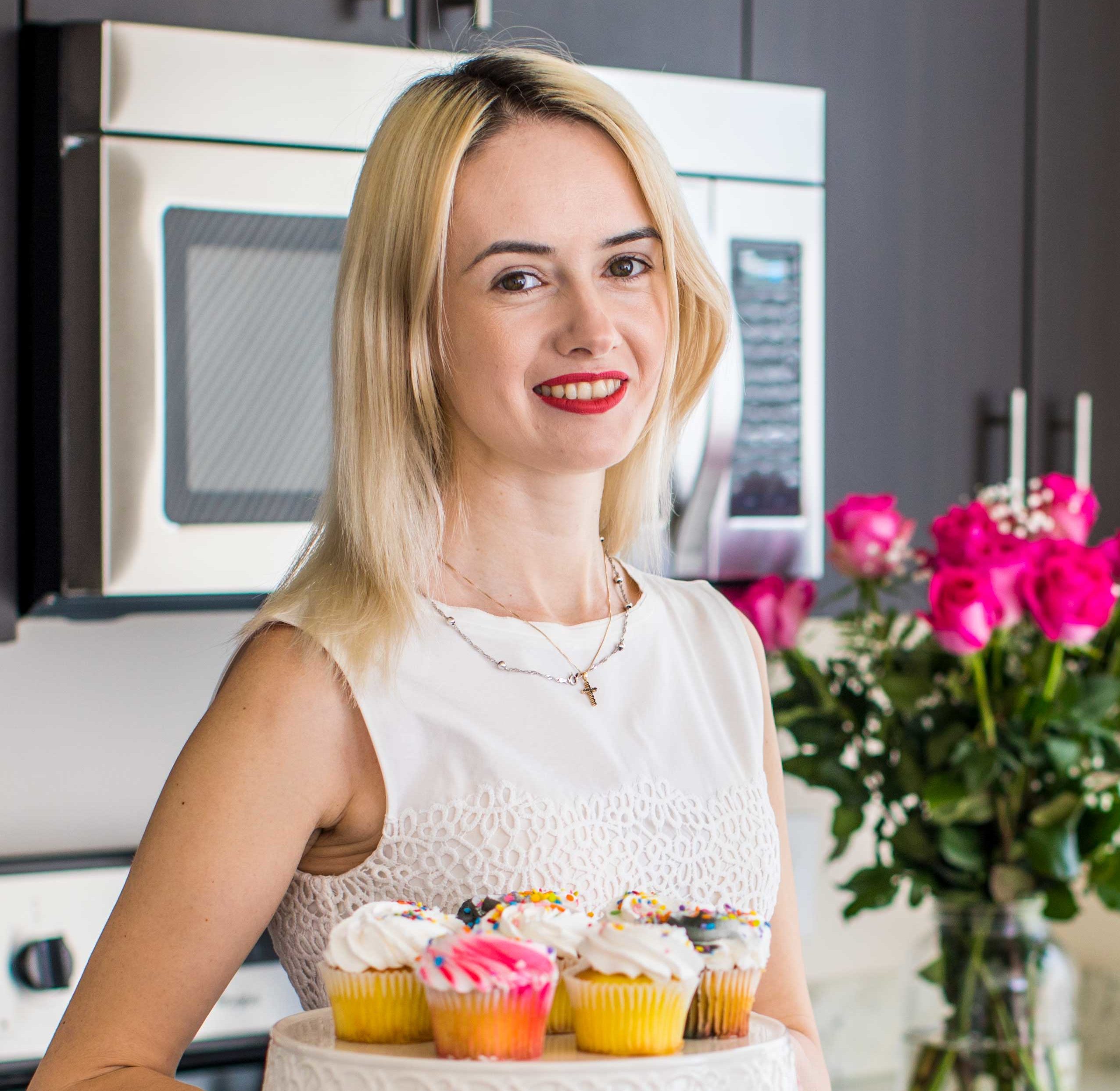 Follow us on Pinterest for more delicious recipes!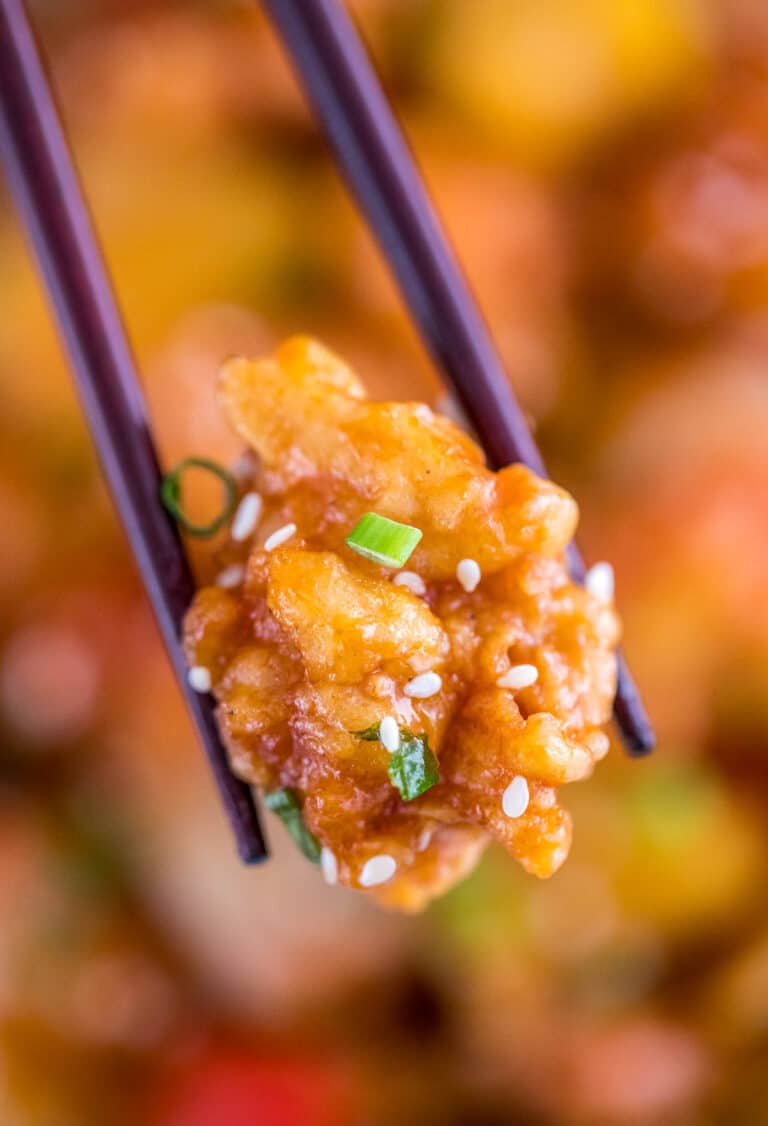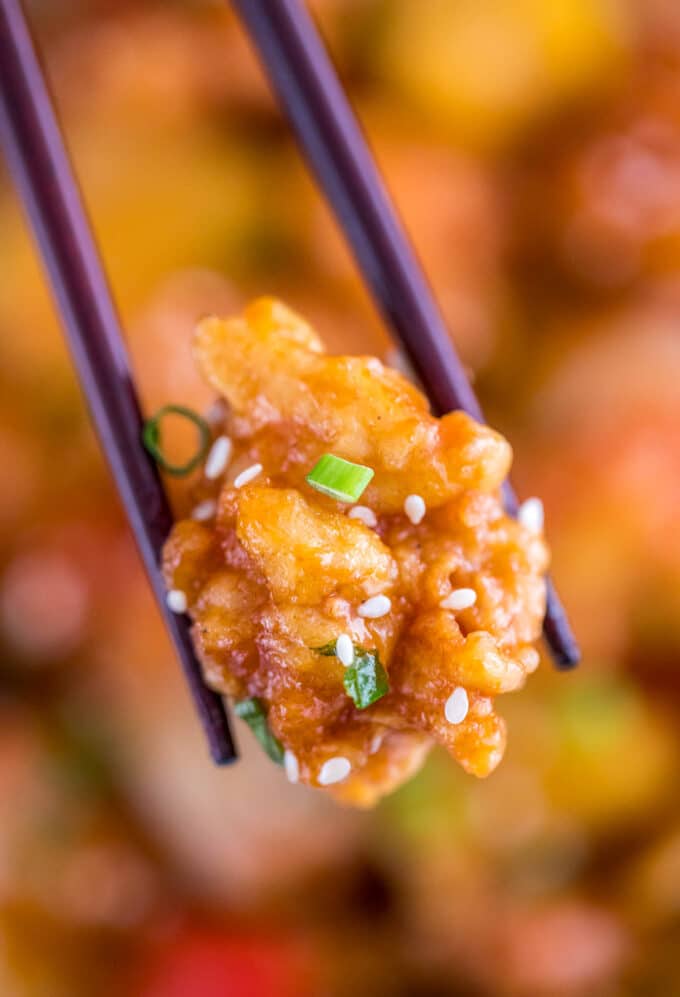 How to make Sweet and Sour sauce?
Simmer the mixture of the following ingredients until thick: pineapple juice, orange juice, sugars, vinegar, ketchup, garlic powder, and slurry. For the details, check out this post.
How to make Sweet and Sour Chicken?
Prepare the sauce and set it aside while you prepare the meat.
In a shallow bowl, prepare a mixture of cornstarch, salt, and pepper. In another bowl, beat two eggs. These will be the coating for the meat.
Next, in a deep-frying pan, heat up two inches of canola oil to medium-high.
Dip the chunks of meat into the eggs and then, dredge each piece into the cornstarch mixture.
Then, cook the meat in the hot oil. The outcome is golden and crispy chicken. Set aside when cooked.
In the pan, remove most of the oil, just leave about two tablespoons of oil.
Add in the yellow onion, bell pepper, garlic, and pineapple and cook them until tender.
Next, add in the sauce that was prepared earlier as well as the cooked meat and mix until everything is coated.
Let it simmer until the sauce becomes thicker.
Lastly, garnish with sesame seeds and green onions with rice on the side.
How to make this dish gluten-free?
Switch to gluten-free options for the soy sauce such as coconut amino or tamari sauce. They work equally fine in this recipe.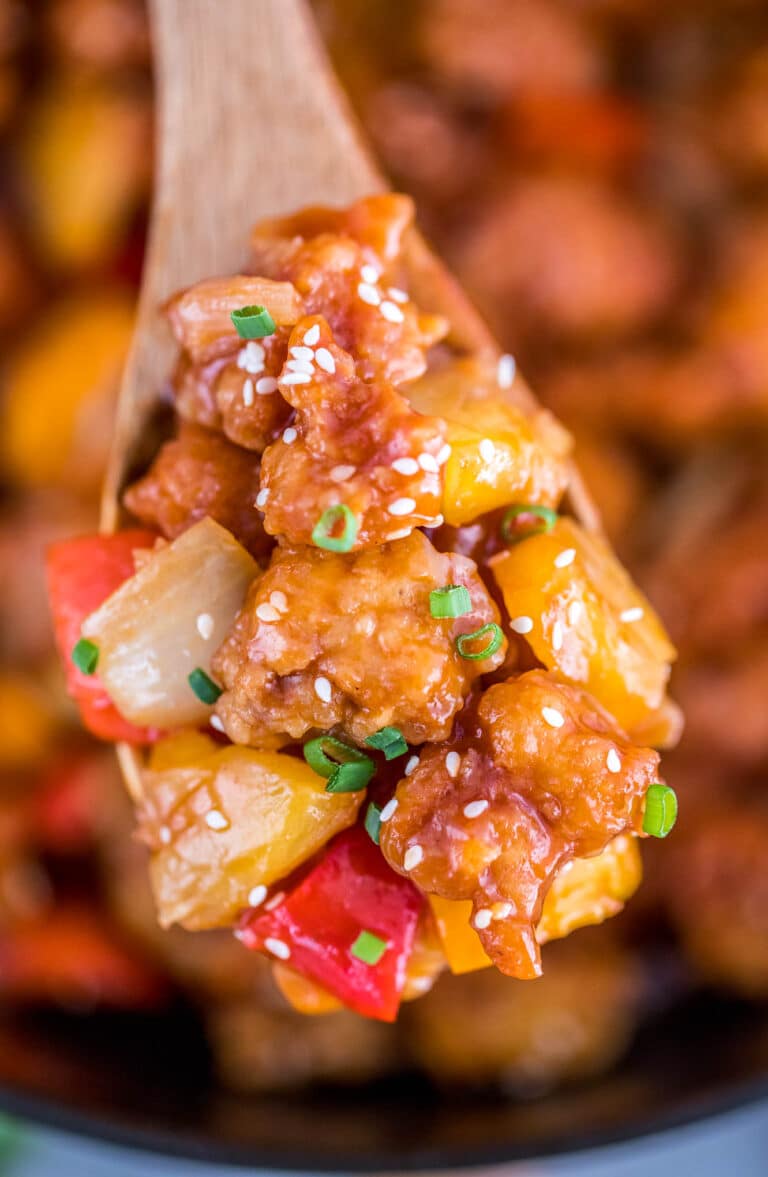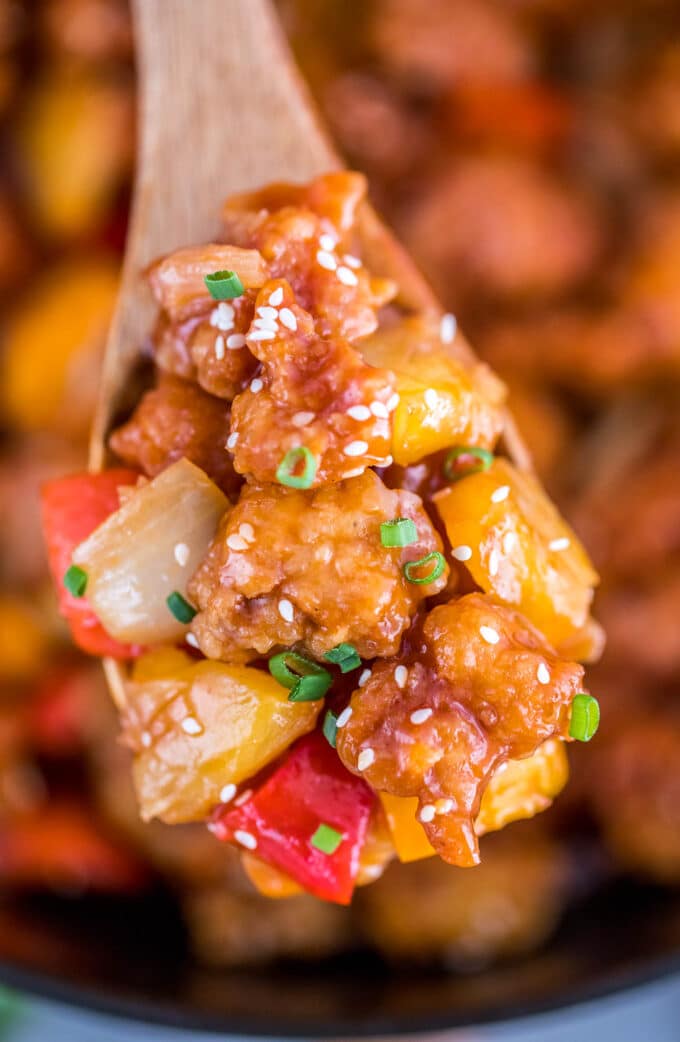 How many calories are in it?
There are about 200 calories in a five-piece serving. Majority of the calories come from carbohydrates mainly due to the sugar and batter.
How to make this dish healthier?
So, how do we lower all those calories, and make a healthier recipe? Substitute the batter with a thin coating of cornstarch. And, instead of deep-frying, simply stir-fry in a tablespoon of oil.
You can also lessen the amount of sugar that goes into the dish and use sugar-free ketchup. Or, use healthier alternatives like coconut sugar.
How to make crispy Sweet and Sour Chicken?
The secret is in the batter. Prepare the chicken by coating in a mixture of corn flour, plain flour, baking powder, and iced water. Then, deep-fry at 350 degrees Fahrenheit. Just follow the rest of the recipe!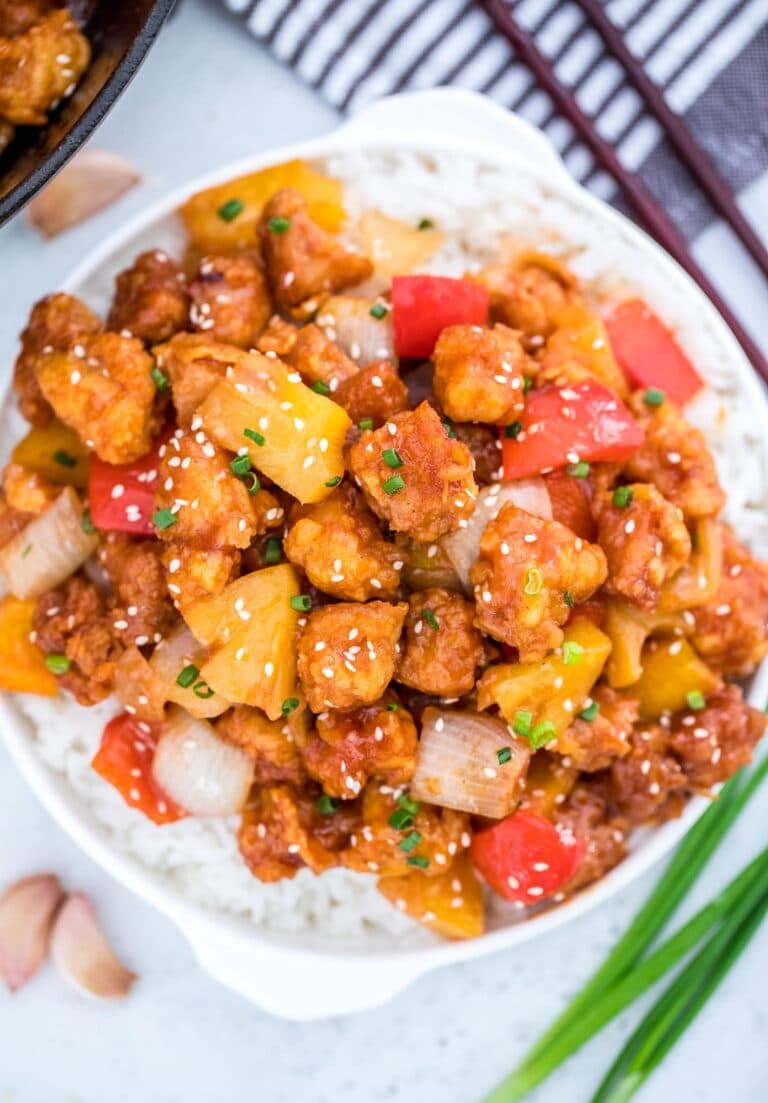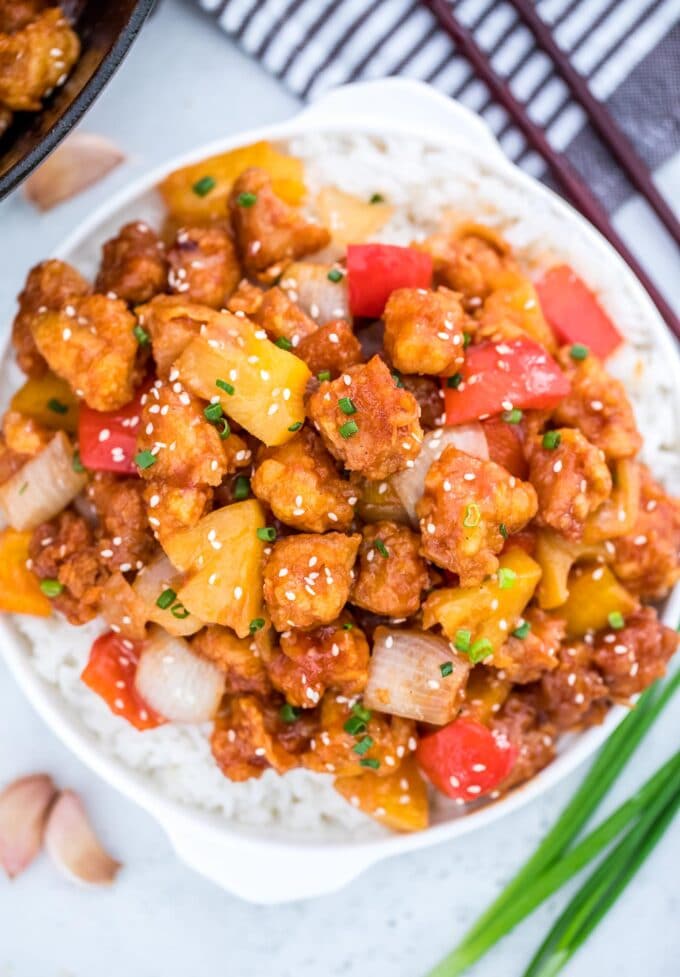 How to store it?
You can make this in advance and store in the refrigerator. Within two hours of cooking, put it in an airtight container and it will keep up to 4 days in the fridge. Also, you can freeze it for up to 4 months.
Recipe Tips
Thighs can be used instead of breasts, as they are more flavorful and dry out less.
In addition, instead of deep-frying the battered meat, you can also bake it in the oven for about fifteen minutes at 350 degrees Fahrenheit.
Similarly, poultry can be swapped with pork, prawns, or fish.
For enhanced flavor, add some freshly minced garlic and ginger to the pan.
Save Recipe
Sweet and Sour Chicken Recipe
Author: Catalina Castravet
Serves: 4 servings
Prep time:

15

minutes
Cook time:

30

minutes
Total time:

45

mins
Ingredients
2 pounds chicken breasts (cut into 1-inch chunks)
2/3 cup cornstarch
1/4 cup flour
1/2 teaspoon salt
1/4 teaspoon ground black pepper
2 eggs (beaten)
canola oil for frying
1 cup pineapple chunks
1 red bell pepper (cut into 1-inch chunks)
1 green bell pepper (cut into 1-inch chunks)
1 yellow onion (cut into 1-inch chunks)
3 cloves garlic (minced)
Sauce:
2/3 cup pineapple juice
1/4 cup orange juice
2 tablespoons soy sauce
1/4 cup light brown sugar (packed)
1/4 cup white sugar
1/4 cup rice vinegar
1/4 cup apple cider vinegar
1/3 cup ketchup
1/4 teaspoon garlic powder
1/4 cup cornstarch
1/4 cup water
Garnish:
Green onions
Sesame seeds
Instructions
Sauce:
Add all the ingredients to a medium saucepan and whisk to combine until the cornstarch is dissolved.
Place it on the stove over medium heat. Stir or whisk well until it comes to a light boil.
Keep stirring constantly until the sauce thickens. Taste and adjust for sugar and tanginess.
Remove the sauce from heat when it thickened and it coats the back of a spoon.
Chicken:
In a large, shallow bowl, whisk cornstarch flour, salt, and black pepper.
Add beaten eggs to another bowl.
Pour about 2 inches of canola oil into a deep frying pan and heat it over medium-high heat.
Dip the chicken pieces into the beaten eggs.
Add the chicken chunks to the cornstarch mixture and toss until well coated. Work in batches.
Cook it in batches in the hot oil until golden and crispy.
Remove to a plate and set aside.
Combine:
Once done cooking the chicken, discard all the oil, leaving only 2 tablespoons in the pan.

Add the onion chunks, bell pepper chunks, garlic, and pineapple chunks, cook for 2-3 minutes, until just tender.

Add the sauce back to the pan, stir until all the veggies are coated well.
Add the chicken and stir again to coat well in the sauce.
Stir and cook until the sauce has thickened more and is simmering lightly.
Serve over rice, garnished with sesame seeds and chopped green onions.
Calories: 611 Carbohydrates: 99 Protein: 54 Fat: 9 Saturated Fat: 2 Cholesterol: 226 Sodium: 1283 Potassium: 1393 Fiber: 4 Sugar: 59 Vitamin A: 1435 Vitamin C: 92.5 Calcium: 75 Iron: 2.9
Save Recipe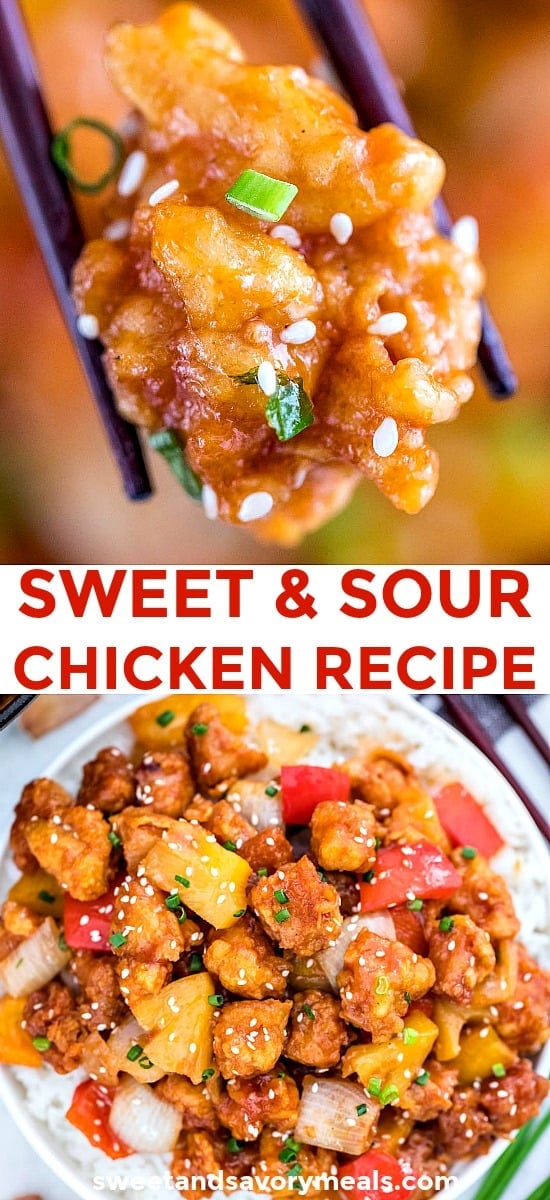 More recipes you might love