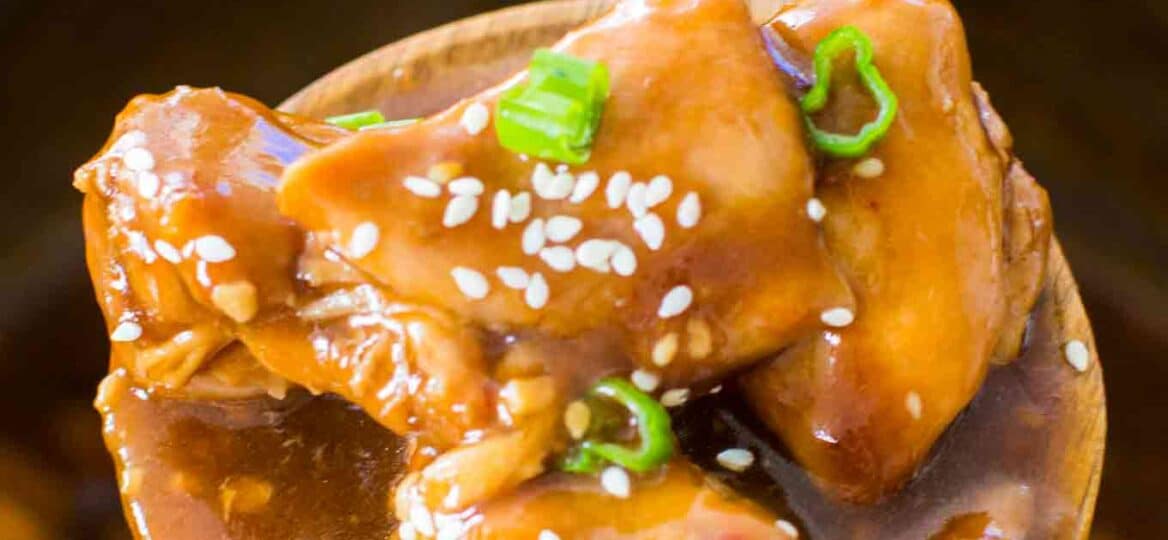 Instant Pot Garlic Sesame Chicken [VIDEO]
Instant Pot Garlic Sesame Chicken is one of the easiest dumps and cooks meals, that is very tasty and flavorful, yet ready in just 30 minutes. Check out the short video tutorial below and see how simple and delicious this recipe is!
Making meals in the Instant Pot is fun and easy. We like a good and easy meal like our popular IP Orange Chicken, IP Mongolian Beef and Pressure Cooker Mongolian Chicken.
Instant Pot Garlic Sesame Chicken
Instant Pot Garlic Sesame Chicken is quickly becoming my go-to weeknight meal! I love using my Pressure Cooker to make easy weeknight meals, and this dish is so flavorful and easy to make that it will quickly become a staple in your house too.
Also, this Instant Pot Garlic Sesame Chicken is way better than takeout. If you are looking for an easy, yet super flavorful Chinese dish, then this recipe is the one to go. Give it a try, and you will be making it over and over again!
All you have to do is dump all the ingredients in the pressure cooker and sip on wine, while a great meal cooks in 25 minutes or less, which is considering the pressure and natural release time! Winner, winner – tasty, easy, and with just one pot to clean!
WHY YOU'LL ENJOY THIS INSTANT POT SESAME CHICKEN:
It is easy to make and it takes only around 30 minutes!
Only one pot to clean and that is the Pressure Cooker.
Also, the dish is packed with amazing flavors and lean protein.
It is perfect for busy weeknights and also for entertaining guests.
You will have delicious leftovers that can be stored in the fridge, in an airtight container for 3-4 days.
What to Serve with Instant Pot Garlic Sesame Chicken?
Freshly cooked White or Brown Rice
Steamed vegetables such as broccoli, asparagus or bok choy
Can you freeze Garlic Sesame Chicken?
Yes, this dish can easily be frozen. Let the sauce from Instant Pot cool completely before freezing. Transfer into freezer-safe containers or heavy-duty freezer bags and add the chicken. Label with the date, and freeze for up to 3-4 months, or longer if you use a deep freezer.
How do you thaw Garlic Sesame Chicken?
Transfer the frozen meal to your refrigerator the night before you wish to use it to allow it to thaw. Add the sauce to a saucepan and reheat it to at least 165 F before you consume it. Microwave the chicken or heat it up in the sauce, you can also put it in a hot oven until it warms up.
What is a 10 Minutes Natural Pressure Release?
A Natural Pressure Release means that the pressure is released gradually. For a Natural Pressure Release, you click on Keep Warm, and wait 10 minutes, after which you open the valve and let any leftover pressure to release. Another option is to Turn Off/Unplug the pressure cooker, wait 10 minutes, and after that open the valve.
A natural release is usually used when cooking soups, meat in a large amount of sauce, pasta or steel-cut oats. This method prevents any foam from the dish to shoot out through the valve, which can happen during a Quick Pressure Release.
Instant Pot Garlic Sesame Chicken Recipe Tips:
I used organic chicken thighs, but this recipe also works with chicken breast. You don't have to adjust the cooking time.
I would rather use brown sugar as it works great in this recipe, but if you really want to substitute it, a healthier alternative would be 1/3 cup of honey.
If you don't have sesame oil on hand, you can make the recipe with canola or vegetable oil, but keep in mind that you will be missing the sesame flavor, it will still taste delicious.
Using fresh ginger will add amazing flavor to the dish, but if you don't have any on hand, use 1 teaspoon of ground ginger powder.
You can add more or less garlic, based on your taste preference.
You can make this meal spicier by adding 1/2 teaspoon of red pepper flakes or more.
Cornstarch is a key ingredient in here, do not try to replace it with flour, the results will not be the same.
Also, when it comes to adding the cornstarch, you have to mix it with water until dissolved and add the slurry to the Instant Pot at the end to thicken the sauce. Do NOT add the cornstarch by itself to the Pressure Cooker, it will make the sauce full of lumps.
If the sauce is too runny after adding the slurry, mix another 1-2 teaspoons of cornstarch with the same amount of water and add it to the Instant Pot. Please note, that the sauce will get thicker with time, so definitely wait a bit before adding more cornstarch.
Use a 10 Minute Natural Release, otherwise, the chicken will be tougher due to the quick change in pressure.
Tools used to make this recipe:
Instant Pot – I use it all the time, I have the 6 quarts one. It makes weeknight meals so much easier.
Cornstarch – I prefer using cornstarch instead of flour to thicken sauces, and this organic brand is my favorite.