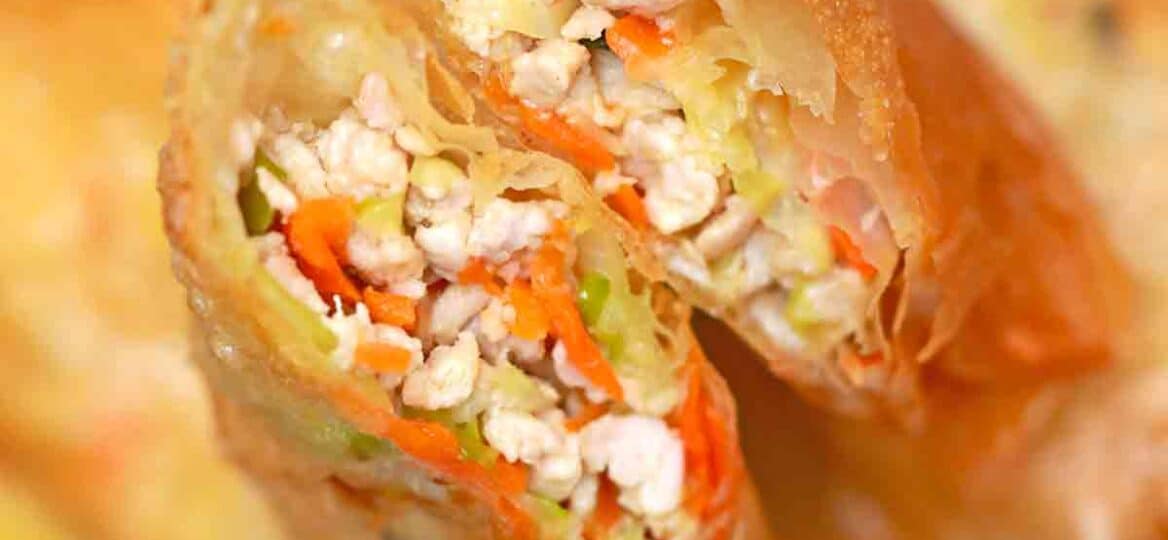 Panda Express Chicken Egg Rolls [Video]
Panda Express Chicken Egg Rolls feature a crispy-crunchy wonton shell filled with meat and vegetables packed with Asian flavors. It's the perfect starter, make-ahead appetizer, or savory snack!
We're crazy about recreating restaurant favorites around here. Trust me, takeout tastes even better when it's homemade from scratch! See for yourself when you try these copycats of Wendy's Chili, KFC Chicken, and PF Chang's Crispy Honey Shrimp!
Panda Express Chicken Egg Rolls (Copycat)
Panda Express Chicken Egg Rolls is my version of the ever-popular Panda Express appetizer. You won't believe how easy it is to make it at home! Just cook, wrap, fry, and you've got one of the tastiest appetizers ever!
This recipe is lighter than the usual pork version but still loaded with those delicious Asian flavors. Also, we also put vegetables in there, so you get a lot of nutrients and protein even though it's deep-fried.
If making for a crowd, you can also make them ahead and fry just before serving. I'm warning you though— it's impossible to stop at just one (or three!)
What is a chicken egg roll?
We never fail to order this appetizer every time we go to Panda Express. Chinese take out is never complete without egg rolls!
This dish is a mixture of ground meat and finely-cut vegetables flavored with Asian seasonings like five spice and sesame oil.
Also, the filling is encased snugly in egg roll wrappers, then deep-fried until the meat is done and the outside is completely crispy and golden. It's usually enjoyed with a dip of sweet chili sauce. In short, it is super addicting and delicious!
Panda Express Chicken Egg Rolls Ingredients:
Chicken: Ground breast meat is both light and absorbs the flavors beautifully.
Aromatics: Ginger and garlic, both fresh and minced finely.
Vegetables: Shredded, crisp carrots, and cabbage balance out the tender meat. Chop some green onions as well.
Seasonings: Prepare some salt, a little sugar, nutty sesame oil, and powdered Chinese five-spice.
Egg roll wrappers: You'll find this in the Asian section of your grocery, or take a trip to the Asian market to get the most authentic ones!
Egg: We'll use this to seal the edges of the wrapper. Beat well.
Vegetable oil: For deep frying.
How to make Panda Express Chicken Egg Rolls?
Stir-fry the meat until cooked through –First, start by cooking with the aromatics, then drain the fat.
Make the filling – Then, add the seasonings and vegetables to the meat. Cook until the veggies are tender.
Wrap – Next, lay your wrappers flat. Scoop 2 tablespoons of the filling. Put them on top of each wrapper, then lightly brush the edges with the beaten egg. Wrap it up as tightly as you can.
Fry – Deep-fry in 375F oil until crispy and perfectly golden brown.
Serve – Enjoy hot and crispy with sweet chili dipping sauce!
How to bake Chicken Egg Rolls?
You can make great egg rolls in the oven, too! Follow the cooking and assembly instructions while preheating your oven, then lay them on your baking sheet.
Spray lightly with cooking spray. Bake for around 25 minutes, until you see the edges are brown. Serve with the sauce and enjoy!
What can I substitute for egg roll wrappers?
Spring roll wrappers are an acceptable substitute, along with rice paper. They're thinner, so be careful when wrapping up the filling. Phyllo is another alternative.
Also, it makes such crispy and light results, but they're a little more challenging to work with.
What to serve with Chicken Egg Rolls?
For the full take-out experience, serve with Egg Fried Rice, hot soup, and homemade Chow Mein.
Whip up our other Panda Express copycat recipes below for a fully-loaded Chinese-themed feast!
What sauce goes with Panda Express Chicken Egg Rolls?
Sweet chili sauce is the classic dip for this starter. Also, yum yum sauce is the perfect combo for it.
For something different, try it with a mix of soy sauce, rice vinegar, and sesame oil!
If you like it spicy, dip in your favorite hot sauce or Sriracha.
How to store leftovers?
First, cool them down on a wire rack so they maintain their crispiness while removing excess oil. Then, cover tightly in cling film.
Next, place in a freezer-friendly bag and freeze. I don't recommend keeping it in the fridge because the oil will make the wrapper soggy. Freeze for around a month.
To reheat, DON'T THAW. Fry from frozen, or bake.
More Panda Express recipes:
Recipe tips:
For other flavor variations, you can use other meats like pork, turkey, or even beef.
Fry in at least two inches of oil so the shell gets evenly crispy.