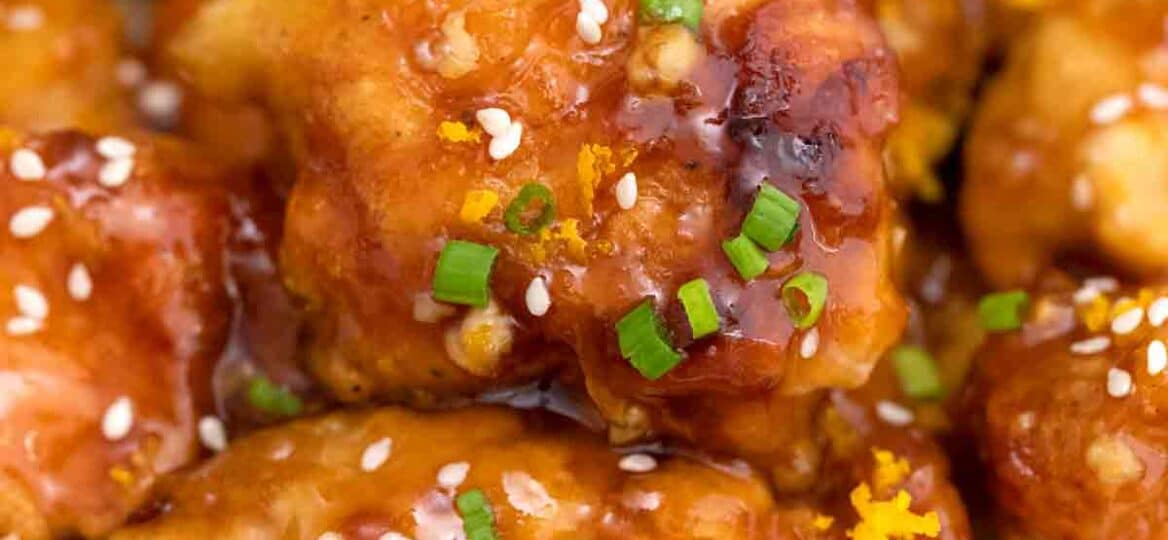 Panda Express Orange Chicken Copycat [Video]
Panda Express Orange Chicken Copycat is an easy Chinese dish that is made with crispy and flavorful chicken, tossed in a delicious and tangy orange sauce. This is the perfect budget-friendly dinner for the whole family to enjoy.
If you are craving Chinese food that is affordable and quick to make then this recipe is the perfect one to try. It is crispy, flavorful, and ready in less than 30 minutes from start to finish. You can also try my General Tso Chicken, Moo Goo Gai Pan, and Mongolian Beef recipe.
Panda Express Orange Chicken (Copycat) Recipe
This Orange Chicken recipe tastes just like the famous Panda Express restaurant dish. The only difference is that you can make it easily at home at a fraction of the cost. This recipe yields super tender chicken meat that is soaked in a tangy, orange-based sauce. I actually think it easily beats the take-out version!
Another benefit of making it at home is that you can control the ingredients and adjust them accordingly. Also, if you have a larger family, or if you are hosting a gathering, feel free to easily double or triple it.
This recipe tastes just like the original version of Orange Chicken, but the sauce here is tangier, with a sweet and sour taste to it, which is also deeper and more flavorful. We like serving it over white rice, brown rice, or soba noodles. I've been perfecting this recipe for quite a while now and as a result this dish always receives rave reviews.
How to Make Panda Express Orange Chicken:
Prepare the Sauce: To make the famous sauce, you have to combine cornstarch, rice wine, water, orange juice, sesame oil, white sugar, brown sugar, white vinegar, orange zest, ginger, garlic, and red pepper flakes. First, you stir it and set it aside to cook later.
Prepare the meat: To fry the chicken you have to prepare two shallow bowls, one with a beaten and seasoned egg and another with a mixture of flour and cornstarch, Then, dip the chicken pieces into the egg mixture, after that drenge them into the flour mixture.
Fry: Next, heat oil in a large pan or frying wok to 375 degrees F and fry the chicken pieces in batches, until cooked through, crispy and golden. Set aside once done.
Boil the Sauce: Discard the oil from the pan, leaving in only about one tablespoon, and add the sauce. Then, stir and bring it to a boil.
Add back the Chicken: Add back the fried chicken into the sauce and stir until well combined. The dish is done when the sauce has thickened. Serve with rice.
Panda Express Orange Chicken Recipe Variations:
Instant Pot version: You can make it in the Instant Pot, check our recipe for Instant Pot Orange Chicken.
Veggies: Make it healthier by stir-frying some veggies BEFORE adding the sauce back into the pan. Some suggestions that would be delicious include: sliced bell peppers, sliced red onion, broccoli, bok choy, sugar snap peas.
Make it Spicier: If you prefer your Chinese food to have a spicy kick, make sure to add more red pepper flakes, even some hot sauce or cayenne pepper into the sauce.
Make it healthier: For a healthier version, substitute sugars with honey or maple syrup. You can also lightly fry the chicken or bake it and chop it into pieces.
Other Meats: This recipe can be done with pork and beef as well.
Vegetarian: Make it vegetarian by using tofu. You can fry some firm tofu or bake it until crispy, and after that use in this recipe.
Play with the toppings: Top it with crushed peanuts, red pepper flakes, chopped scallions, and sesame seeds.
Orange chicken vs sweet and sour chicken – what is the difference?
Also, the sweet and Sour Sauce is a vinegar-based sauce. This is what it gives that classic sour and acidic taste, that is balanced with some sweetness from the sugar and juices used to make it.
On the other hand, the orange sauce is a much sweeter sauce, not as acidic, with a more pronounced citrus flavor.
How to store orange chicken?
Store it in an airtight container for up to 3 days in the fringe. Keep in mind, that the meat will get a nit soggy in the fridge and won't be as crispy.
You can also fry and freeze the chicken separately, and the sauce separately for up to 3 months. Thaw and combine when ready to serve.
More delicious Asian Recipes:
Copycat panda orange chicken recipe tips:
Using chicken tights has the best results as they are more tender.
You can use breast as well, for a healthier version.
Do not skip the orange zest, it adds that beautiful aroma to the whole dish.
Also, feel free to use the sauce to BAKE the chicken into it, for a healthier alternative.
Use white sugar if you do not have brown sugar on hand.
If you fry the chicken, it is best to place it on a wire rack first. Then, use a paper towel, if desired.
Deliciousness to your inbox
Enjoy weekly hand picked recipes and recommendations