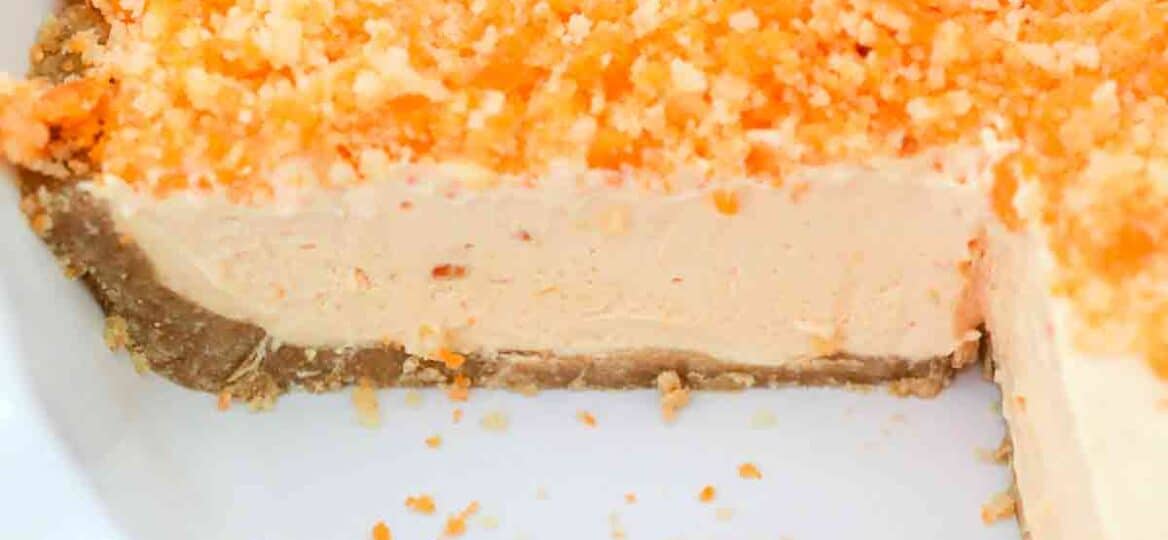 Orange Creamsicle Freezer Pie [Video]
Orange Creamsicle Freezer Pie will take you back to your childhood when you had those delicious creamsicles during the hot summer months. This fast and simple recipe is fun to make with Jell-O, flour, butter, sugar, vanilla, whipping cream, milk, cream cheese, orange food coloring, and orange jam or preserves. And don't forget the graham cracker pie crust!
Whether you had creamsicle ice cream bars as a kid or not, you and your family are certain to love this easy pie recipe any time of the year. If you would rather have something else sweet, this Cheesecake Factory Copycat Cheesecake recipe will blow your mind. For an easier and faster cake, the Instant Pot Oreo Cheesecake is amazing. Or if you are not into oranges, try this Creamy Strawberry Pie recipe.
Orange Creamsicle freezer pie
Even if you are just making this pie for yourself, it is worth it because this tangy and creamy treat is perfect for dessert, a snack, or even for breakfast. After all, it has oranges in it, so it has to be good for you, right? A slice of pie and a glass of orange juice sounds like the perfect breakfast to me!
Don't get me wrong, this orange creamsicle pie recipe is a sweet dessert. I am not really trying to encourage you to eat sugary foods for breakfast. But why not? Breakfast is the most important meal of the day. And all you will need is Jell-O, orange jam or preserves, orange food coloring, cream cheese, milk, whipping cream, vanilla, sugar, butter, flour, and a graham cracker crust.
Ingredients needed:
For the exact measurements and directions, check out the handy recipe card below. But these are the basic ingredients you will need.
Orange Crumble Topping
Orange Jell-O: Or generic gelatin if you cannot find Jell-O.
Flour: All-purpose flour is what we used.

Butter: Unsalted, cold, and divided.

Sugar: White granulated sugar is best.
Vanilla: We used pure vanilla extract.
Orange Pie Filling
Whipping cream: We used heavy whipping cream.
Powdered sugar: Make your own by grinding a cup granulated sugar and some cornstarch.
Sweetened condensed milk: Canned is fine.
Cream cheese: Make sure it is room temperature.
Orange jam or preserves: Store-bought or homemade.
Orange food coloring: This is optional since it is just for looks.
Graham cracker crust: Store-bought or homemade.
How to make orange creamsicle freezer pie from scratch?
Preheat: First, preheat your oven to 350 degrees F.

Mix: Then, use a fork to stir the gelatin with ¼-cup of the butter and ½-cup of the flour in a medium bowl until it is fine and crumbly.

Also mix: In another medium bowl, stir up the granulated sugar, vanilla, remaining butter, and remaining flour. Use a fork to make it crumbly.
Combine: Next, using a baking sheet lined with parchment paper, sprinkle on the orange and vanilla crumbles, mixing them slightly by hand.
Bake: Cook them for seven to eight minutes and do NOT stir.

Remove: Finally, take it out of the oven and let it cool completely before putting it into an airtight container in the refrigerator.

Start the filling: While the crumbles are in the fridge, start the pie filling by mixing the powdered sugar and whipping cream with an electric mixer until very stiff peaks form. Then set in the fridge to chill for 30 minutes.

Make it creamy: In another large bowl, mix the cream cheese with a hand mixer until it is creamy.

Add: After, add the milk and mix it for another minute until it is thoroughly combined.
Mix in the orange: Pour the orange preserves into the mix and beat it until it is completely combined.

Combine: After the whipped cream has chilled for 30 minutes, combine it with the orange filling until it is mixed completely. Add orange food coloring as needed.

Fill: Spoon the filling into the pie crust and freeze it for six to eight hours.

Add crumbles: Finally, before serving top with the prepared orange crumble topping.
Recipe variations:
For allergies: You can use rice flour or almond flour instead of all-purpose flour.

Other fruits: For a different twist, add strawberry, plum, or peach jam or preserves to the filling.

Jell-O flavoring: Likewise, try using different flavors of Jell-O like vanilla, lemon, or strawberry.

Juice it up: In contrast, make the orange flavor even more orangey by adding a can of frozen orange juice concentrate instead of preserves.

Make it zesty: Alternatively, add some orange zest to the mix for a zesty orange flavor boost.
How to serve it:
Be sure to take the orange creamsicle freezer pie out of the freezer to thaw about 15 minutes before serving on a pie plate. Then slice and serve with crumbles on top. Here are some other serving ideas:
Serve with this orange Julius drink for even more orange flavor.

Add some orange slices to the top of the pie for decoration as well as flavor.

In contrast, try adding lemon or lime slices to the top for a flavor twist.

Alternatively, use a regular pie crust or make your own from crushed graham crackers and melted butter.

In addition, you can add a dollop of ice cream to the top for an even sweeter treat.

Similarly, spread some of this amazing cream cheese frosting on top before sprinkling the crumbles on top.

If you love chocolate, sprinkle some chocolate chips into the mix and on top of the pie before serving.
Frequently asked questions
Can I use canned oranges to make this recipe?
If you do not have any orange preserves or jam, you can substitute it with canned oranges or fresh oranges. Just cut them up so the chunks are bite-sized. You may also want to try using frozen orange filling or slices but thaw them out completely before using.
How long will this pie stay good in the freezer?
Store the leftovers in a covered container in the freezer for up to two weeks. Just plan ahead and remove it from the freezer and let it thaw in the fridge for 15 to 20 minutes before serving.
Can I cut a frozen pie?
If you are in a hurry or just cannot wait to get a piece of that pie while it is still frozen, try this tip to cut a frozen pie. First, take a clean dish towel and soak it in very hot water. Then, ring it out and place it on the countertop.
Next, set the pie pan on the hot towel so it will not slip around while you cut it. Also important, run the knife under hot water before slicing to make it even easier.
More No Bake Recipes:
Recipe tips:
It helps if you cool the pie in the fridge for about 15 to 20 minutes before freezing.

Also, slice the pie before freezing for easier serving.

Instead of freezing, you can just refrigerate the pie for about an hour until it is completely set before serving with the crumbles on top.

Alternatively, use this homemade whipped topping instead of heavy whipping cream.
Use crushed vanilla wafers instead of making crumbles to save some time.
Deliciousness to your inbox
Enjoy weekly hand picked recipes and recommendations