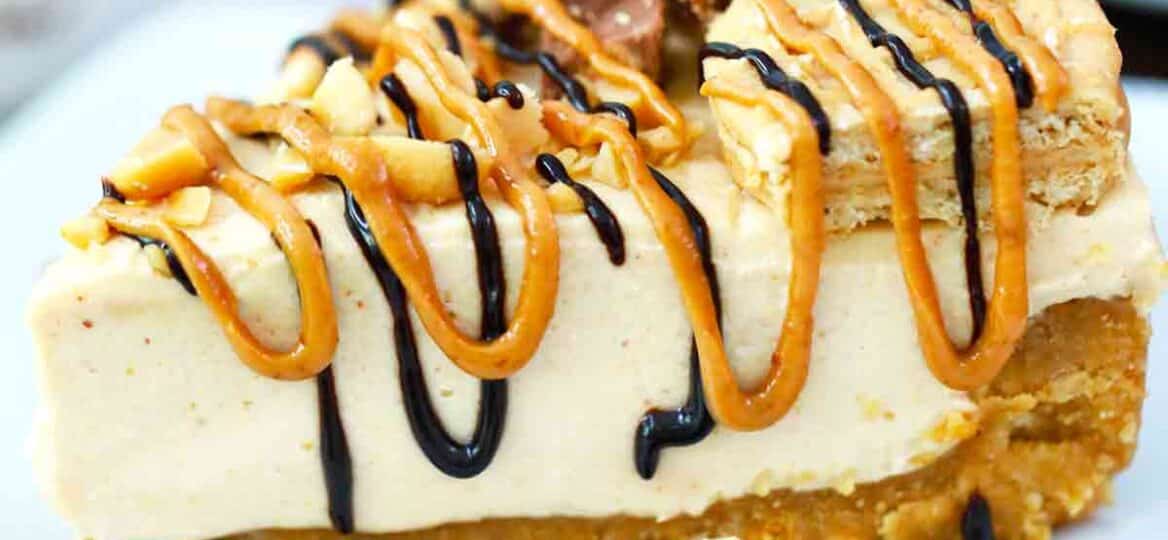 Peanut Butter Pie [Video]
Peanut Butter Pie is made with creamy peanut butter, cream cheese, powdered sugar, and cool whip. A no-bake recipe, that is rich and decadent. Serve it topped with chopped peanut butter cookies, Reese's, peanuts, and a drizzle of chocolate sauce.
No-Bake recipes are such a relief during hot summer days, or when you just don't want to turn on the oven. They are easy to make and usually are not time-consuming. Try our No-Bake Chocolate Pie, Oreo Balls and outstanding Tiramisu Cheesecake.
No Bake Peanut Butter Pie
Peanut Butter Pie is such a classic and timeless dessert, you can never go wrong by choosing to make and serve one. Kids and adults equally love this dessert, making it a crowd-pleaser.
The recipe is easy to make with basic ingredients. It yields a creamy and rich pie, full of peanut butter flavor. Since this is a no-bake recipe, all you have to do is mix and after that refrigerate the pie before serving. The recipe is highly adaptable and also very easy to follow and make.
We recommend always serving this pie chilled, you can go the extra mile and top it with some peanut butter ice cream when serving. A drizzle of hot chocolate sauce and some banana slices will make it a show stopped dessert.
What do you need:
Crust:
Graham Cracker Crumbs – you can also use Oreos or digestive biscuits.
Ground Peanuts – we like to add these into the crust mixture, for extra flavor and texture.
Brown sugar – just to add some extra sweetness into the crust, totally optional.
Unsalted butter – this is the binder that will keep the crust ingredients together.
Filling:
Unsalted butter
Cream cheese – I recommend using full-fat cream cheese.
Creamy peanut butter – I use the store-bought kind like Jif, it has the perfect texture and sweetness for this recipe.
Cool Whip – to add creaminess and fluffiness to the filling.
Powdered sugar – you can add a bit less than the recipe mentions.
Vanilla Extract
How to make Peanut Butter Pie from scratch
Crust: First, start by combining the crust ingredients into a bowl, after that press them into a pie dish or springform pan.
Filling: Next, beat cream cheese with peanut butter and vanilla. After that, add the powdered sugar.
Cool Whip: Once combined, slowly beat in the whipped cream.
Transfer to pan and chill: Add the filling into the prepared pan.
Add topping: Add your favorite topping that would go well with the pie and chill for at least 4 hours.
Serve: Finally, slice it, drizzle with chocolate sauce and melted peanut butter and serve.
Recipe Variations:
Crust: Use Oreo cookies to make the crust, or another option is to use Biscoff cookies.
Gluten-Free: Make this recipe gluten-free by using gluten-free biscuits into the crust.
Add a chocolate swirl: We all know that chocolate and peanut butter is a match made in heaven. Melt 12 ounces of chocolate and add it into the peanut butter filling. To make this more awesome, don't fully combine it, but just stir a few times to make chocolate swirls.
Add Reese's cups: Take this Peanut Butter Pie to a whole new level by adding two layers of peanut butter cups. First layer on the bottom of the pie, and the next layer in the middle.
Bacon!!: This may sound like an odd ingredient, but if you are a fan of sweet and savory recipes, this is a must-try. Therefore, take some very crispy bacon, chop it well and use it as a topping!
Toppings: Play with the toppings here and use the ones you like. We suggest using: chopped or shaved chocolate, melted peanut butter, chocolate sauce, caramel sauce, chopped peanut, peanut butter cookies, and cups.
Frequently Asked Questions:
What type of peanut butter is best for peanut butter pie?
We recommend using store-bought creamy peanut butter like Jif. While you can use the healthier, more like homemade peanut butter, without any sugar added, keep in mind that that will alter the texture of the pie dramatically.
How long will peanut butter pie last in the refrigerator?
This recipe using dairy products, so if properly stored the dessert will stay good in the fridge for up to 4 days.
How to freeze?
Keep in mind that you can easily freeze this recipe, to do so follow the below steps:
First, make sure you refrigerate the pie first, so it's properly chilled.
After that, decide if you want to freeze the whole thing or just a few slices.
You can freeze the whole thing, by wrapping the pan in plastic wrap and after that in foil.
Another option is to freeze just a few slices, for that either wrap them in plastic wrap and after that in foil, or add them to freezer-safe Ziploc bags.
When ready to serve, defrost the dessert overnight in the fridge.
More Peanut Butter Recipes:
Deliciousness to your inbox
Enjoy weekly hand picked recipes and recommendations