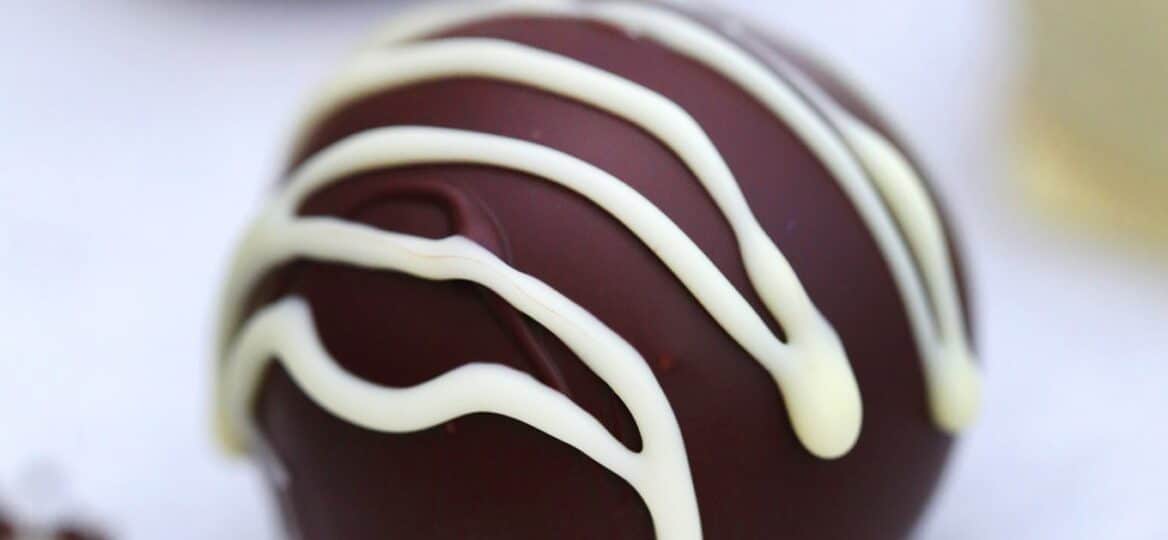 No Bake Oreo Balls [Video]
Oreo Balls are fun to eat and made with just a few ingredients! This easy no-bake recipe yields decadent truffles that are perfect to satisfy your chocolate cravings! Watch the recipe video tutorial and see how simple and delicious these are!
Now and then, I crave sweets, and these truffles make for a quick dessert I can whip up easily! I also have recipes for Peanut Butter Bars, M&M's Pie, and Keto Strawberry Cheesecake Fat Bombs that require no baking! Feel free to try them all!
No-Bake Oreo Balls Recipe
Oreo Balls are perfect for parties! So, if you are planning to hold one, you are looking at the correct recipe! You are going to make a big batch of sweets for your guests and with this recipe, you are sure to finish quickly!
You will need only a few ingredients, so preparation is not a big deal. And you get to use your oven for other dishes because this recipe does not require you to bake. You will need the microwave for melting the wafers and the freezer to set the balls, that is all.
And, the best part is the taste, of course! Oreos and cream cheese go well together, and the balance is divine. At the same time, the cream cheese serves as the binder of the cookie crumbs.
For sure, if you serve this at your party, kids and adult guests will love them!
Follow us on Pinterest for more delicious recipes!
What are Oreo Balls:
They are a kind of truffle. The cookie crumbs are bound together by the cream cheese to form the center which will be coated with melted chocolate.
How to make Oreo Balls:
Crush: Put Oreos into a food processor and turn them into fine cookie crumbs.
Form: Mix the cream cheese with the cookie crumbs. Once fully incorporated, scoop out a portion and roll in between your palms to make a small ball. Place it on a baking sheet. Repeat until you finish the mixture. Freeze them.
Melt: Place each of the chocolate melting wafers (or candy coating) in separate microwave-safe bowls, one for the chocolate and another for the white ones. Melt using the microwave oven as per the manufacturer's instructions.
Coat: After 15 minutes, take out the balls from the freezer and start dipping each piece in the melted chocolate. You can decorate each piece at this point.
Chill: Put the baking sheet in the fridge for one hour before serving.
How to dip Oreo Balls into chocolate:
Simply put a piece into the melted chocolate. With a fork, shake off the excess by letting the melted chocolate drip as you pick up and hold the ball on its side over the bowl.
Another easy way is to simply poke a piece with a toothpick and use it to hold the ball as you dip it. Just cover the small hole that will be created as you take the toothpick out with chocolate.
Do they need to be refrigerated:
Yes! This is because of the cream cheese. Refrigerate them so that the shape and texture will be maintained and for food safety.
How to store:
Refrigerate: Keep them refrigerated in an airtight container and consume them within 3 weeks.
Freeze: Freezing them will make them last for up to a couple of months. Just put parchment paper in between the balls before putting them in a freezer bag.
Recipe Tips:
Use flavored Oreos like mint-flavored ones and add a drop of green food coloring in the white chocolate. They will be nice to serve on St. Paddy's Day. Another way is to simply add crushed candy canes in this basic recipe to achieve the mint flavor.
Add crushed nuts, chopped peanut butter cups, or even nut butter, in the crumb mixture.
Others replace the dairy with nut butter, Nutella, or butter.
They make for a nice present, just put them in a jar or any small container.
No Bake Oreo Balls
Ingredients
40

Oreo cookies

8

oz

cream cheese

at room temperature

1 1/2

cups

chocolate melting wafers

or candy coating

1 1/2

cups

white chocolate melting wafers

or candy coating
Instructions
Cover a cookie sheet with parchment paper and set aside.

Place Oreo cookies in a food processor. Pulse until transformed into fine crumbs.

Using a hand mixer, in a large bowl beat the cream cheese until it is smooth, about 1 minute.

Add the Oreo cookie crumbs and mix until well combined.

Roll the mixture into small balls and place onto the prepared cookie sheet.

Freeze the Oreo balls for 15-30 minutes.

Place the chocolate wafers in a small microwave-safe bowl and the white chocolate wafers into another one. Melt according to instructions on the packaging.

Remove the balls from the freezer and using forks dip the balls into the melted chocolate shaking off excess chocolate. Dip half of the balls in the chocolate and half in the white chocolate. Place the dipped balls back on the cookie sheet. Decorate with a drizzle of chocolate and additional crushed Oreos.

Chill for least an hour before serving.