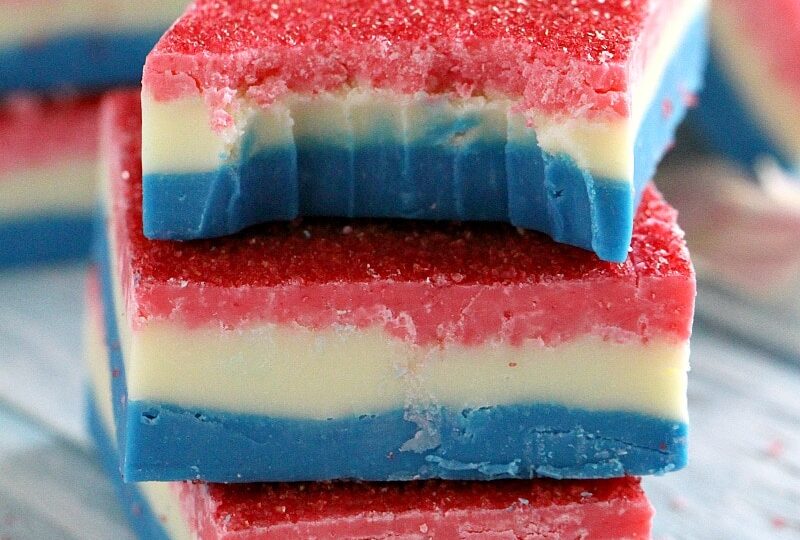 Patriotic Easy Fudge – No Bake [video]
Patriotic Easy Fudge made with only two ingredients, no-bake and gluten-free. All you need is a microwave and some food coloring for a festive twist.
Fudges are always fun to make because they are usually made very quickly. On our blog, we have our share of good fudges, among our favorite once are Easy No Bake Nutella Fudge, Valentine's Day Fudge, and Mint Chocolate Chip Fudge.
Best Patriotic Fudge
Patriotic Easy Fudge is so delicious and easy to make! It literally can be done in 5 minutes if you skip the food coloring. But since the 4th of July is around the corner, why not make some Red, White and Blue Patriotic Easy Fudge you can bet that everyone will love it! This easy fudge is made with 2 ingredients only, how easy is that? All you need is some white chocolate and condensed milk.
You don't even need a candy thermometer, this easy fudge is done in the microwave! I told you this is easy, no excuses, you have to run to the kitchen now and make it. This has been my homemade fudge recipe for years, I can't believe I haven't posted it earlier.
To be honest, I haven't made it in a while, but while I was brainstorming what recipe to make for a 4th of July post, I remember the fudge!
Patriotic Easy Fudge Recipe Tips:
Firstly, use quality white chocolate. Because this is the main ingredient, you want it to be the best in order to get the right taste and texture. I really like using white chocolate melts/wafers.
Also, white chocolate is very pretentious, so be extra careful when melting it. I do 20 seconds intervals in the microwave and lots of stirring to make sure I am not overheating it. Because, if you overheat the white chocolate, it will clump and separate and it will become unusable. Hence, make sure you stir well.
You can skip the food coloring all together if you are not making the fudge for a festive occasion. In addition, you can use any color you want to adjust it to your preference.
Use gel food coloring, it is the best in this recipe as the liquid food coloring may make the white chocolate to separate.
For an ombre effect, don't fully mix in the food coloring, you will see as you stir it in.
Pin This Patriotic Fudge Recipe to your Favorite Board
How long does Fudge last?
Home-made fudge will last fairly well. The main risk with fudge is that it dries out and becomes a little crumbly. To better preserve the fudge, it is best to store it in an airtight seal, or a container with a tight-fitting lid.
Also, in a cool place, the fudge will keep for about 2 weeks but you can also keep the fudge in the fridge which will extend the life for 3 to 4 weeks.
How do you freeze fudge?
Fudge can also be frozen in airtight containers for up to 3 months. The temperature in the freezer should be as close to 0°F as possible. If freezing the fudge you may prefer to put pieces of baking parchment paper in between layers of the fudge to prevent the pieces from freezing together. The fudge will thaw very quickly at room temperature.
Tools/Ingredients I used to make this Patriotic Easy Fudge Recipe:
White Chocolate Wafers – they redesigned to melt quicker and easier, which I find perfect for fudge recipes
Gel Food Coloring – this set comes in a variety of colors and it won't add extra water to your fudge, which is great
Parchment paper – a kitchen staple, it just makes life so much easier with its non-stick magical powers
Watch recipe video: