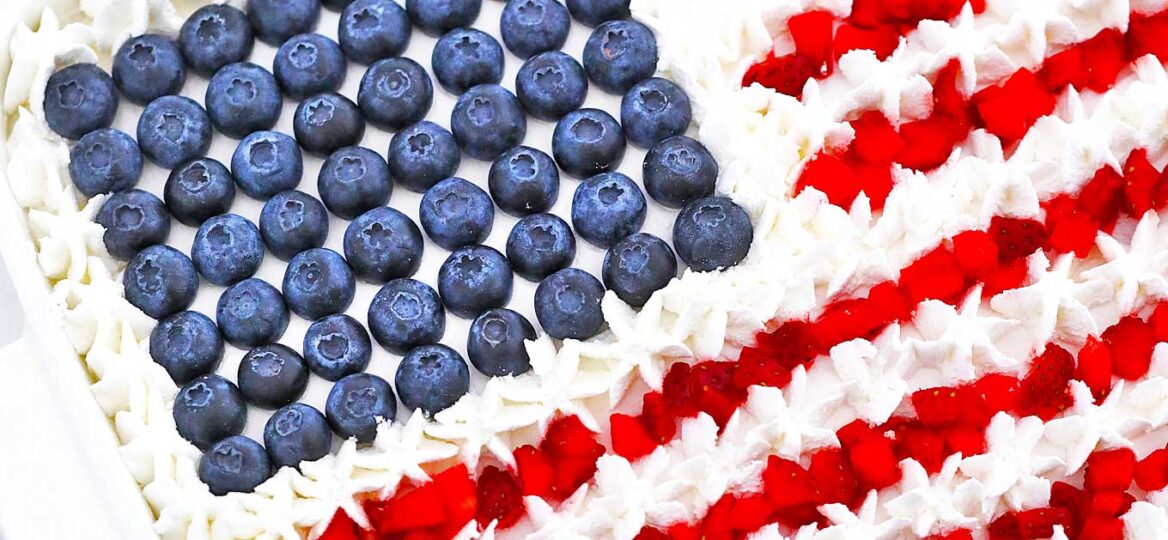 Patriotic Poke Cake Recipe [video]
Patriotic Poke Cake is a super moist, simple, and colorful dessert made with cake mix and whipped cream. It is the perfect cake to celebrate the 4th of July.
With Independence Day around the corner, this dessert would be a huge hit on the dinner tables. For this special day, we also love to make Red White and Blue Cheesecake Salad, Patriotic Cupcakes, and American Flag Fudge.
Red White and Blue Poke Cake
This Patriotic Poke Cake is the ideal dessert to celebrate Independence Day. Not only does it look amazing with American Flag colors on it, but it tastes just as good. There are many desserts out there that you can make for this special day, but this one is truly our favorite.
First of all, it is super flavorful and moist. Unlike other desserts, this one is "poked" and filled with a chocolate sauce which makes it extra special. You can rest assured that it will be moist, tender, and flavorful.
Also, it is not overly sweet, but rather has the right balance to it, which makes it just yummy. It is quite affordable as well because it is made simply with cake mix, and then filled with white chocolate mixture. The red, white, and blue colors make this dessert the perfect sweet candidate to celebrate the 4th of July!
How to make Patriotic Poke Cake?
Bake the cake mix: Since this recipe utilizes red, white, and blue colors for the mix, use a few drops of gel food coloring. Use a basic vanilla cake mix for the base. Then, add the rest of the ingredients, after which separate the batter into 3 bowls. Next, add the food coloring and spoon the batter into a baking dish. Ensure to use a nonstick pan when baking. Simply follow the box instruction to bake it. After baking, let it cool for about 10 minutes.
Poke it: White the cake is still hot, use a wooden spoon to make holes in it. Try to make a uniform and even holes throughout.
Prepare the filling: In a large bowl, stir condensed milk and white chocolate, microwave it until melted. Next, spread the mixture evenly over the cake.
Pudding: Prepare the pudding per package directions and spread it on top. Let the cake cool.
Whipped Cream: Add a layer of whipped cream.
Decorate: Decorate it with strawberries and blueberries on top, to resemble the American flag. Also, add whipped cream between rows to resemble stars.
Regrigerate: Once assembled, cover it with plastic, and refrigerate until ready to serve.
Make it for other holidays
This dessert is amazing and quite versatile because you can simply change the colors and utilize this recipe for other holidays.
For example, you can easily make it for St. Patrick's day, by replacing the red, and blue colors, with green.
Also, make it for Halloween, by using various color mixtures, like orange, and purple.
For Christmas, you could use cherry or lime, and sprinkle the top with some green sprinkles.
Similarly, make it for Valentine's Day by utilizing red velvet cake mix, and top it with some freshly sliced strawberries. The possibilities are endless!
Can I make Patriotic Poke Cake in advance?
Absolutely! This Red, White, and Blue Poke Cake is the perfect dessert to make in advance. To be more exact, we highly recommend storing it in the fridge for 1-2 days ahead of time. This way, the flavors well mixed together, and the liquids will get properly soaked, resulting in a perfectly moist, and tender cake.
Just remember to properly cover it with plastic when refrigerating.
How long will the Patriotic Poke cake last at room temperature?
Since the filling is dairy-based and has cream cheese in it, it is best to serve it at room temperature for up to 2 hours. We do not recommend consuming it if it's being left out for more than 2 hours. The reason is that food bacteria can grow at temperatures between 40°F and 140°F, which you want to avoid.
Looking for more Poke Cakes?
We have plenty of them, and some of our favorites poke cakes are:
Recipe Tips
You can use other fruits to decorate it. For example, raspberries and blackberries are a great alternative.
For best serving, we recommend to cut it into serving size portions and arrange on a platter. Then, top each piece with a tiny American flag, which is widely available in many stores.
Also, you could freeze it for a longer time. Just remember to do so without the frosting because it will get soggy. When ready to serve, frost it, and decorate it with fruits.