Pumpkin Poke Cake is deliciously infused with a sweet white chocolate sauce, topped with cream cheese frosting, caramel, and crunchy pecans. This is the best dessert to have on the Thanksgiving table!
Poke Cakes are very popular on the blog because they are so easy to make, look stunning and taste delicious. Having already so many tasty poke cakes, like this Strawberry Poke Cake, German Chocolate Poke Cake, and Baileys Poke Cake, it only made sense to add a pumpkin one to the collection.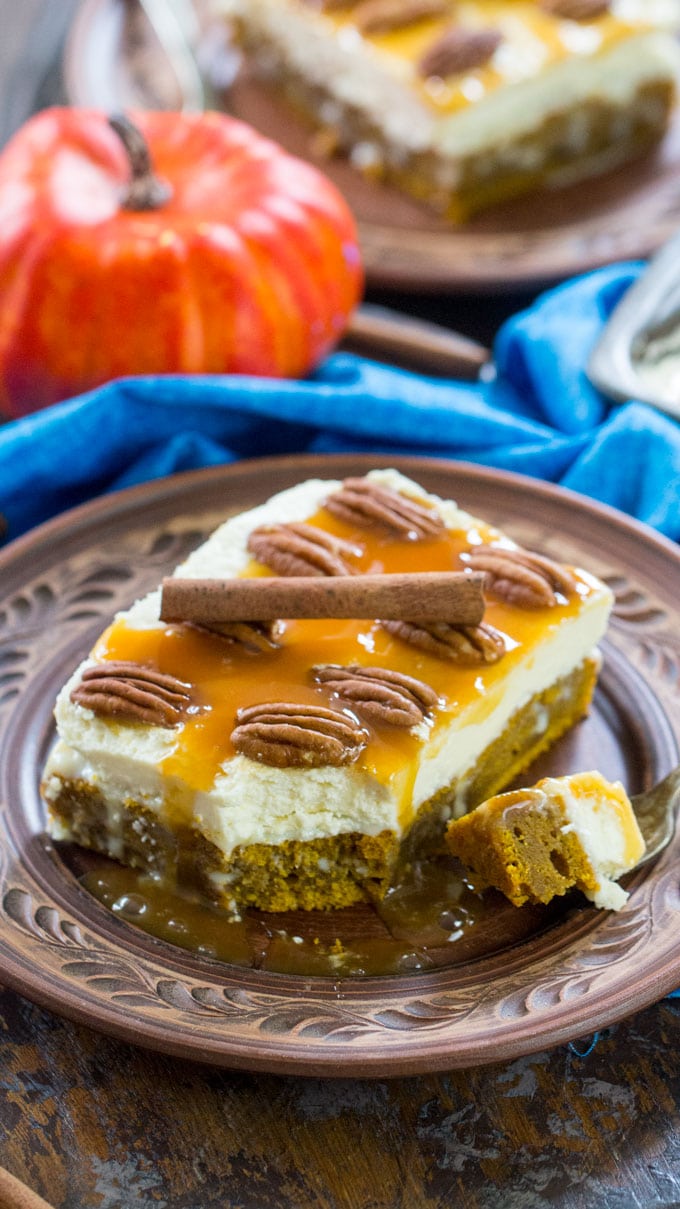 Pumpkin Poke Cake Recipe Tips
Pumpkin Poke Cake is my way of taming a pumpkin craving. This cake is so easy to make, a foolproof recipe that is very hard to mess up. The aromatic pumpkin cake is poked, poked, poked and all those tiny holes filled with a white chocolate sauce. Obviously, I couldn't leave out the cream cheese and topped the cake with a cream cheese frosting.
A drizzle of caramel and crunchy pecans finish the cake beautifully. It is so rich and creamy, that you are guaranteed to love every bite of it. With Thanksgiving around the corner, this is definitely the best dessert to make. The texture, flavor, and the look of it is simply amazing!
How do you make Pumpkin Spice?
You can make pumpkin spice blend at home pretty easily, here is what you will need:
3 tablespoons ground cinnamon
2 teaspoons ground ginger
2 teaspoons ground nutmeg
1 teaspoon ground allspice
1 teaspoon ground cloves
Directions: In a small bowl, mix all the spices together. Transfer to a small jar or spice container.
Is evaporated milk the same as condensed milk?
Evaporated milk is condensed milk without the added sugar with the water content cooked off until it has a consistency that is similar to cream. Evaporated milk and sweetened condensed milk cannot be used mutually in cooking, because the sugar content in one product is much higher than the other.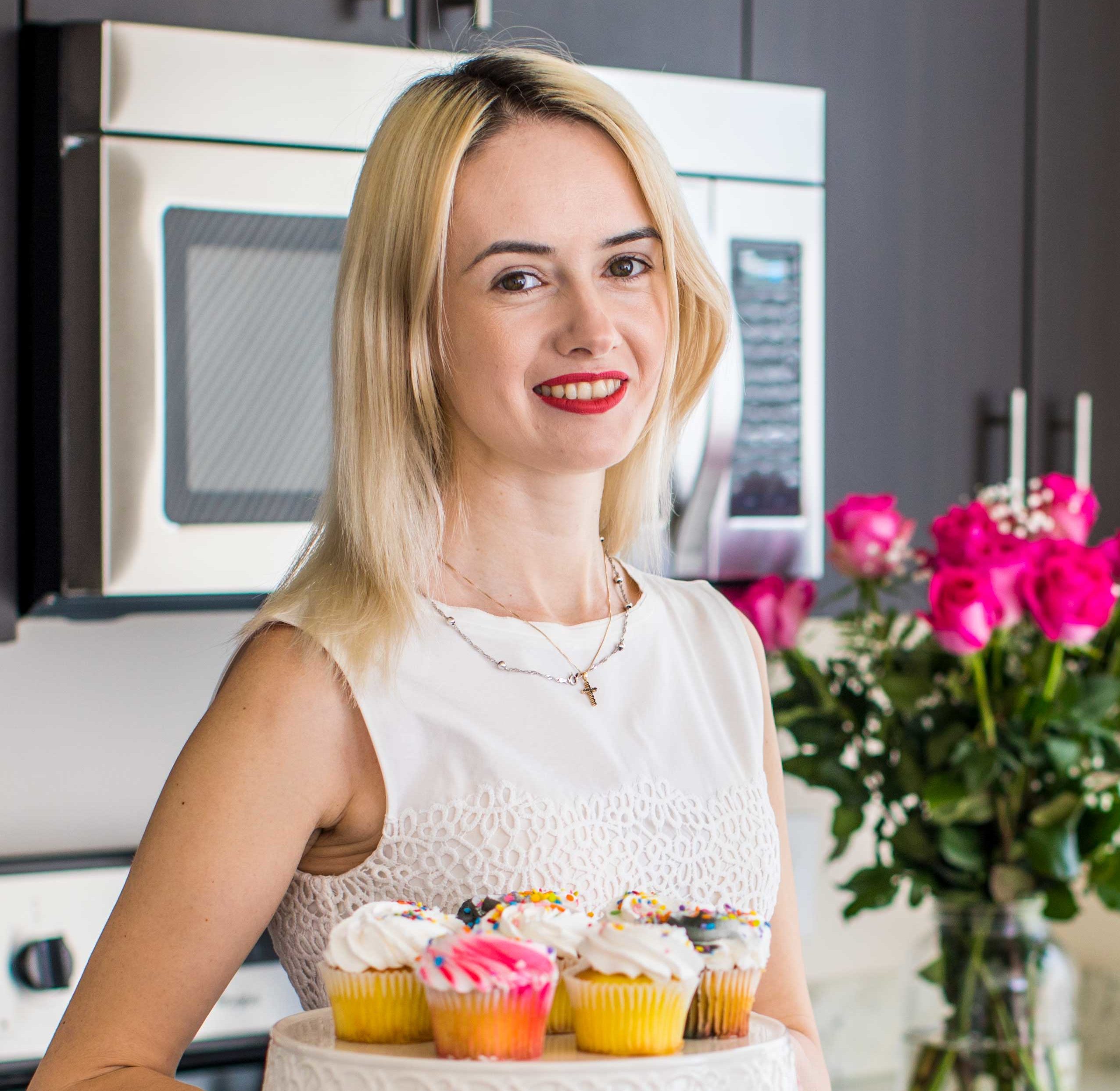 Follow us on Pinterest for more delicious recipes!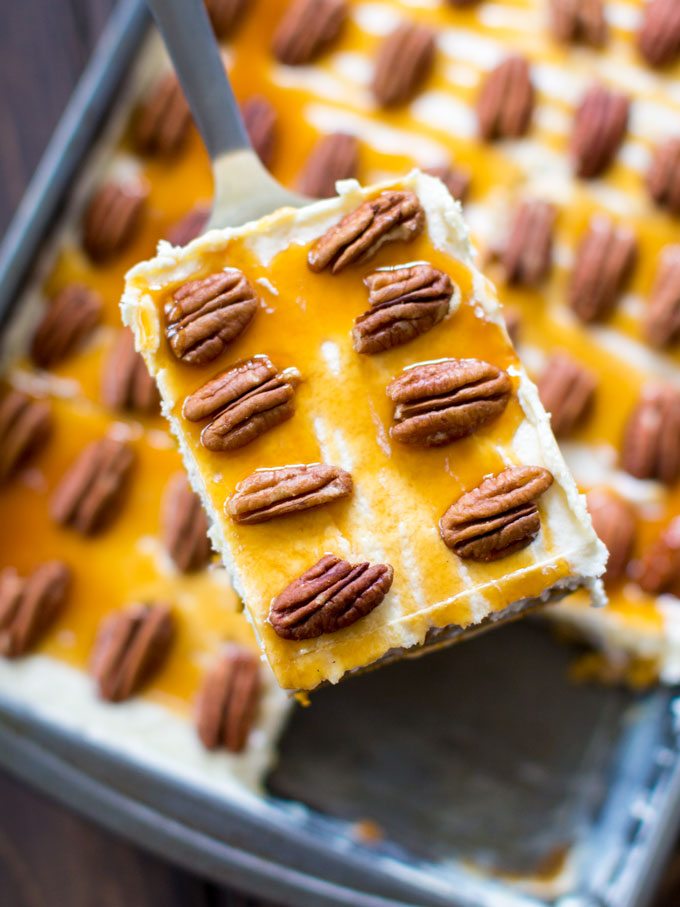 Pumpkin Poke Cake Recipe Guidelines:
Using a cake mix will reduce the prep time. You can use the Yellow Cake mix or White Cake mix.
Also, let them chill for at least 8 hours in the fridge before serving, this will make the cake extra tender.
Keep the cake refrigerated as the frosting will soften if kept at room temperature for too long.
For more texture, you can add one cup of chopped pecans or walnuts into the cake.
In addition, you can either pipe the frosting on top of the cake, or just spread it evenly with a spatula.
Clean the knife after each cut. Otherwise, the slices will be messier, since the frosting may stick to the knife.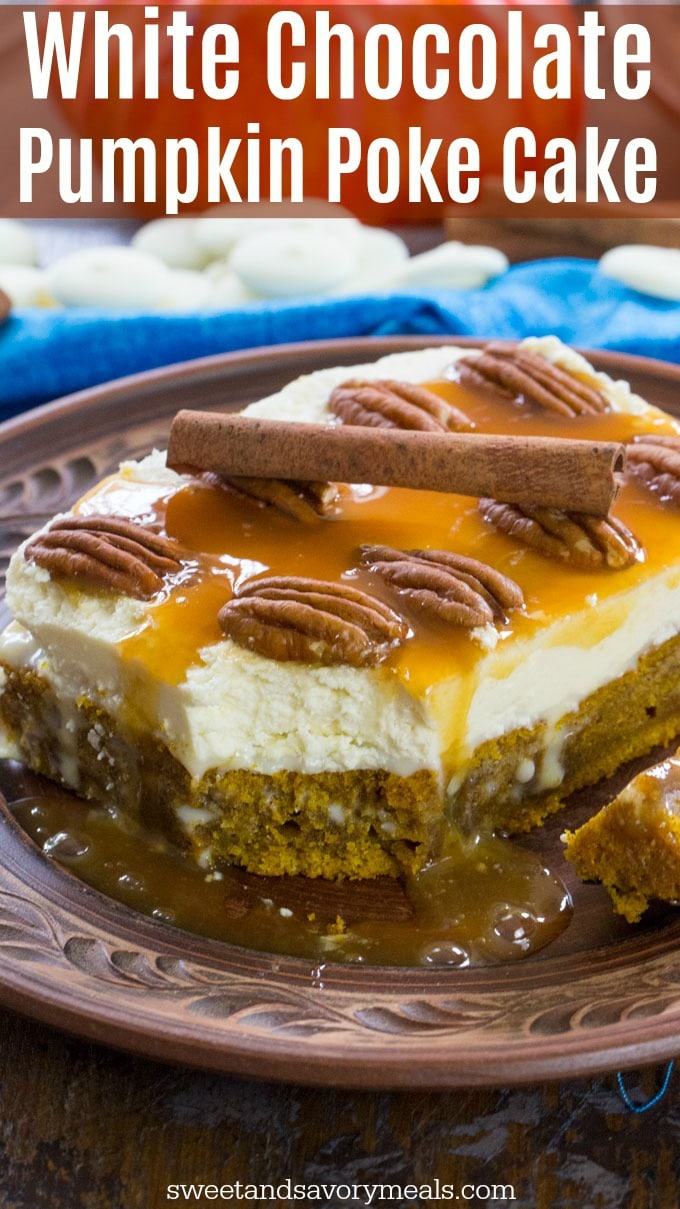 Can I use fresh pumpkin instead of canned?
Yes! Making pumpkin puree from fresh pumpkin is easy, and you can definitely substitute the canned pumpkin for fresh pureed pumpkin. To Make Pumpkin Puree from scratch follow the bellow method:
Preheat oven to 325 degrees F (165 degrees C).
Then, cut the pumpkin in half and remove seeds and pulp. Cover each half with foil.
Next, bake in the preheated oven, foil side up, 1 hour, or until tender.
With a fork, scrape pumpkin meat from shell halves and puree in a blender. Strain to remove any remaining stringy pieces. Store in the freezer in freezer-safe bags.
How to freeze the Pumpkin Poke Cake?
If freezing the cake without adding the chocolate sauce and frosting, first wait for the cake layer to cool completely. Fully wrap in plastic wrap tightly. Next, wrap in aluminum foil or place it in freezer bags.
If freezing a frosted cake, first place cake in the fridge, so the frosting isn't too soft. Then, fully wrap the cake in plastic wrap tightly. Next, wrap in aluminum foil or place it in freezer bags. Freeze for up to 3 months. Defrost before slicing.
Save Recipe
White Chocolate Pumpkin Poke Cake
Author: Catalina Castravet
Serves: 12 servings
Prep time:

30

minutes
Cook time:

40

minutes
Total time:

1

hr

10

mins
Ingredients
Pumpkin Cake:
White Chocolate Mixture:
Cream CheeseFrosting:
Garnish:
Instructions
Pumpkin Cake:
Chocolate Mixture:
Frosting:
Nutrition information
Calories: 711
Carbohydrates: 77
Protein: 9
Fat: 41
Saturated Fat: 25
Cholesterol: 138
Sodium: 204
Potassium: 448
Fiber: 2
Sugar: 60
Vitamin A: 6685
Vitamin C: 2.5
Calcium: 255
Iron: 2.5
g
Save Recipe

More recipes you might love