Pumpkin Poke Cake (with caramel and pecans)
Pumpkin Poke Cake is deliciously infused with a sweet white chocolate sauce, topped with cream cheese frosting, drizzled with caramel, and crunchy pecans. This is a super moist cake and the best dessert to have on the Thanksgiving table!
With the fall season in full swing, homemade pumpkin recipes are on the menu! Having already so many tasty poke desserts on the site like Strawberry Poke Cake, German Chocolate Poke Cake, and Baileys Poke Cake, it only made sense to add a pumpkin version to the collection.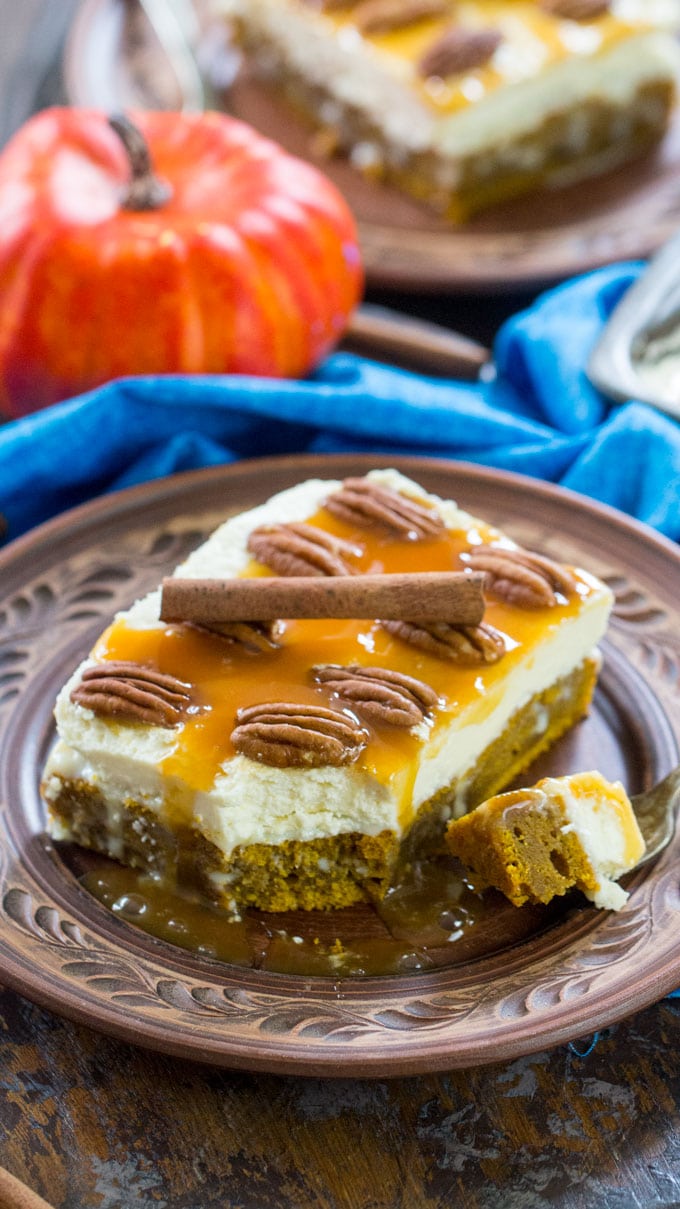 Best Pumpkin Spice Dessert Recipe
This Pumpkin Caramel Poke Cake is my way of taming a pumpkin craving. This is a super moist cake and very easy to make especially when the pumpkin season is in full swing!
Also, this foolproof recipe is very hard to mess up. Although it might look like a fancy and complicated dessert, it is actually very easy to make with simple prep steps.
The aromatic pumpkin pie poke cake is full of fall flavors! First, it is made with pumpkin pie spice and pumpkin puree. This alone makes it the ultimate fall dessert! It is then poked with tiny holes and filled with a white chocolate sauce.
For a gooey ending, I add cream cheese and top it with cheese cream frosting, and drizzle with caramel sauce and roasted pecans!
A drizzle of caramel and crunchy pecans finish the dish beautifully. It is so rich and creamy, that you are guaranteed to love every bite of it. With Thanksgiving around the corner, this is definitely the best dessert to make.
The texture, flavor, and look of it are simply amazing! It is by far, one of our favorite pumpkin recipes. Also, making it completely from scratch is rewarding as well as delicious!
Main ingredients:
Pumpkin pie spice: This is probably the secret ingredient as it is front and center here. You can make it at home (see instructions below) or find it at your local grocery store.
Sweetened condensed milk and white chocolate chips: This is used to make the white chocolate mixture. Also, note that this recipe calls for sweetened condensed milk and not evaporated milk. Please do not confuse them, as they are two different products.
All-purpose flour
Granulated sugar or brown sugar
Baking powder
Cinnamon
Eggs
Vegetable oil
Pumpkin puree: Learn how to make a pumpkin puree at home. If not, feel free to use a store-bought version.
Cream cheese, unsalted butter, powdered sugar, and some vanilla extract: To make the cream cheese frosting.
Caramel sauce and pecans: To garnish the cake.
How to make Pumpkin Poke Cake?
Bake the cake: First, spread the cake batter into a prepared pan and bake until a toothpick inserted into the center of the cake comes out clean. About 35 to 40 minutes.
Poke it: Next, using the back of a wooden spoon, poke holes evenly.
Make the frosting: In a large bowl, combine the cream cheese frosting ingredients. Then, using an electric mixer or hand mixer, beat the ingredients on low speed for about 2 minutes.
Pour the white chocolate mixture: Then, pour the white chocolate mixture over it to fill the holes.
Frost it: Ensure the cake is completely cooled, then spread the frosting on top of the cake. Lastly, drizzle with caramel sauce and top it with pecans.
Refrigerate. The final step is to refrigerate the entire cake. Then, cut into squares and serve.
Possible variations:
Cool whip: Swap the cream cheese frosting with a cool whip or heavy whipping cream.
Spice cake mix: Also, feel free to use a spice cake mix, a regular box of cake mix, or pumpkin cake mix to make the batter. Any combination will work, depending on your preference.
Toffee bits: Substitute pecans with toffee bits.
Seas salt: You can also add a little bit of sea salt on top of the cake for a nice contrast of flavors!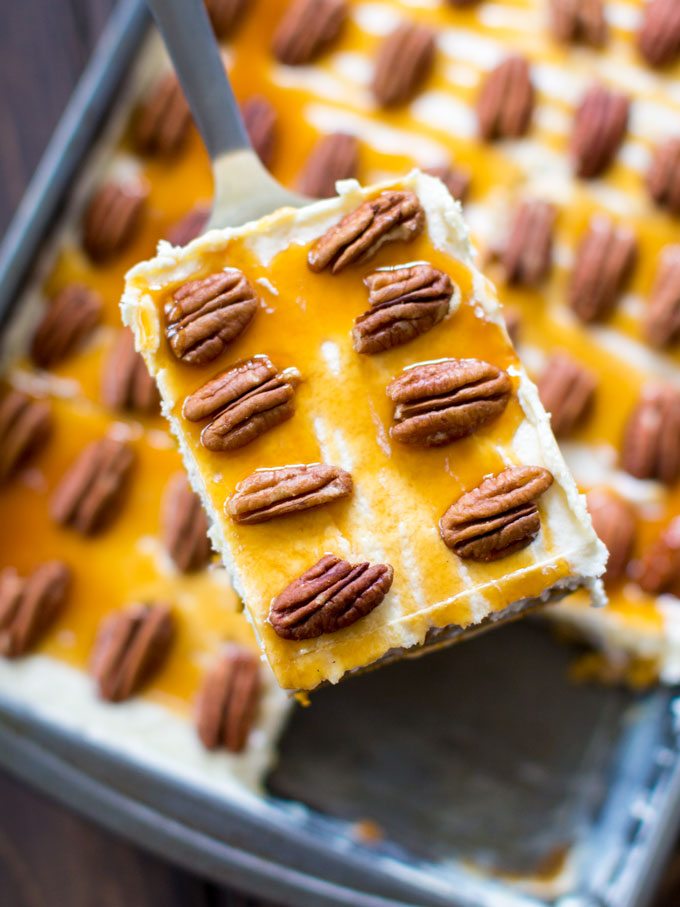 Why is it called a poke cake?
As the name suggests, it is because you poke holes in it 🙂 After baking the dessert, you basically evenly poke it with the end of a wooden spoon.
Then, you pour the sauce mixture over. The holes help absorb the moisture and make it ultra moist as it soaks in the liquids.
How many holes to poke?
This depends on the size of the cake. I usually make about 15-20 holes. Also, ensure to spread them evenly. The holes are what the sauce is going to soak into and make it extra moist.
Pumpkin puree vs pumpkin pie filling
This recipe calls for pumpkin puree and NOT pumpkin pie filling. They are two different things. The pie filling is thinner and is more liquid in texture. Therefore, it is not ideal to use here because the texture will not be as rich and dense.
How do you make homemade pumpkin spice?
You can make a pumpkin spice blend at home pretty easily, here is what you will need:
3 tablespoons ground cinnamon
2 teaspoons ground ginger
2 teaspoons ground nutmeg
1 teaspoon ground allspice
1 teaspoon ground cloves
Directions: In a small bowl, mix all the spices together. Transfer to a small jar or spice container.
Is evaporated milk the same as condensed milk?
Evaporated milk is condensed milk without the added sugar with the water content cooked off until it has a consistency that is similar to cream.
Also, evaporated milk and sweetened condensed milk cannot be used mutually in cooking, because the sugar content in one product is much higher than the other.
More easy pumpkin desserts:
How to make homemade caramel sauce?
I love making my own caramel sauce because I know exactly what goes into it, and I can store it for later use.
Also, it is budget-friendly and very easy to make.
Use this link to learn how to make caramel sauce from scratch.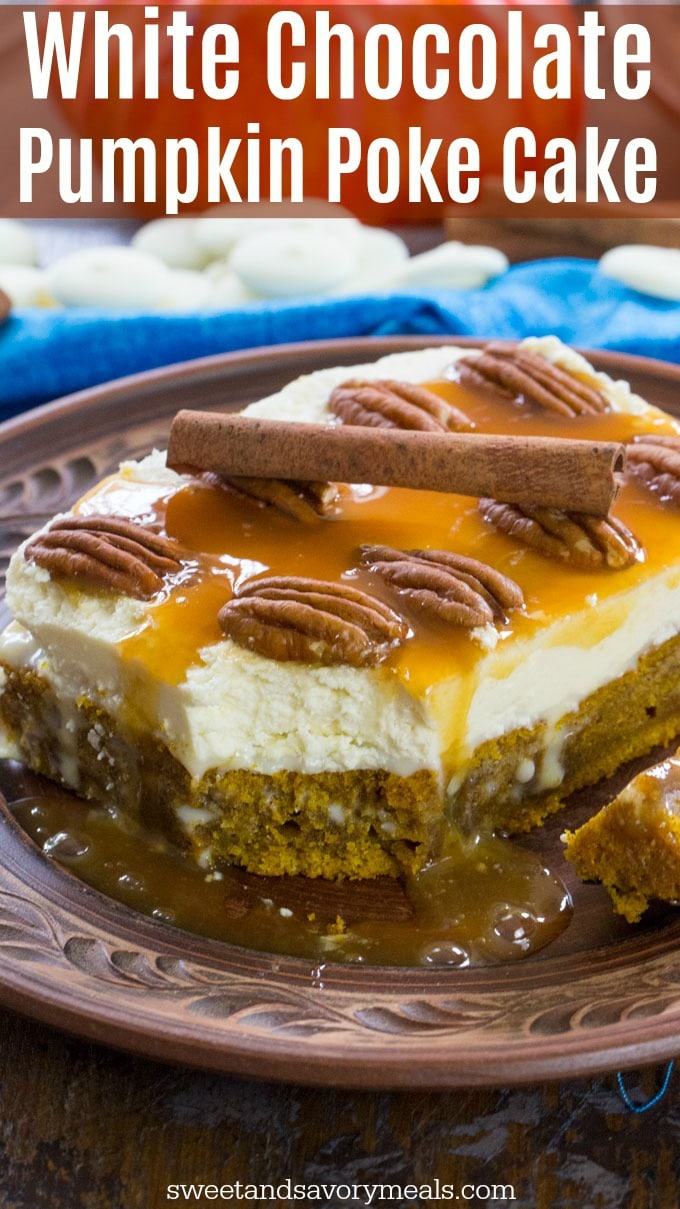 Can I use fresh pumpkin instead of canned?
Yes! Making pumpkin puree from fresh pumpkin is easy, and you can definitely substitute the canned pumpkin for fresh pureed pumpkin. Here are the steps:
Preheat oven to 325 degrees F (165 degrees C).
Then, cut the pumpkin in half and remove seeds and pulp. Cover each half with foil.
Next, bake in the preheated oven, foil side up, for 1 hour, or until tender.
Using a fork, scrape the pumpkin meat from shell halves and puree in a blender.
Strain to remove any remaining stringy pieces.
Lastly, store in the freezer in freezer-safe bags.
How to freeze the Pumpkin Poke Cake?
If freezing it without adding the chocolate sauce and frosting, first wait for the cake layer to cool completely. Next, fully wrap in plastic wrap tightly. Then, wrap in aluminum foil or place it in freezer bags.
If freezing a frosted cake, first place it in the fridge, so the frosting isn't too soft. Then, fully wrap it in plastic wrap tightly, followed by an aluminum foil. Next, freeze it for up to 3 months. Defrost before slicing.
Recipe tips:
Using a cake mix will reduce the prep time. Feel free to use the Yellow Cake mix or White Cake mix.
Also, let them chill for a few hours in the fridge before serving, this will make the cake extra tender.
Keep the cake refrigerated as the frosting will soften if kept at room temperature for too long.
For a more crunchy texture, you can add one cup of chopped pecans or walnuts to this pumpkin dessert.
In addition, you can either pipe the frosting on top of the cake, or just spread it evenly with a spatula.
Clean the knife after each cut. Otherwise, the slices will be messier, since the frosting may stick to the knife.
White Chocolate Pumpkin Poke Cake
Pumpkin Poke Cake is deliciously infused with a sweet white chocolate sauce, topped with cream cheese frosting, caramel, and crunchy pecans.
Save
Share
Print
Pin
Rate
Ingredients
Pumpkin Cake:
2

cups

all-purpose flour

1

cup

granulated sugar

2

teaspoons

baking powder

1

teaspoon

pumpkin spice

2

teaspoons

cinnamon

3

large eggs

(room temperature)

1

cup

vegetable oil

1

can

(15 oz) pumpkin puree
White Chocolate Mixture:
14

oz

sweetened condensed milk

1½

cups

white chocolate chips
Cream CheeseFrosting:
2

packages

(16 oz) cream cheese, room temperature

2

sticks

(16 tbsps) unsalted butter, room temperature

1

cup

powdered sugar

2

teaspoons

vanilla extract
Instructions
Pumpkin Cake:
Preheat oven to 350°F. Place oven rack in the middle of the oven.

Spray a 9x13 inch cake pan with non-stick baking spray and set aside.

In a large bowl, whisk together the dry ingredients: flour, sugar, baking powder, pumpkin spice, and cinnamon.

In another medium bowl, whisk together wet ingredients: eggs, oil, and pumpkin, until well combined.

Add wet ingredients to dry ingredients and whisk until smooth and the batter has no lumps. You can use a hand mixer.

Transfer to a prepared baking dish and bake for 35-40 min, or until a toothpick inserted in the center comes out clean.

Remove cake from pan and immediately poke with a straw all over the surface.
Chocolate Mixture:
In a medium, microwave-safe bowl, combine white chocolate chips and sweetened condensed milk.

Heat in the microwave until hot for about 1 minute, stir and heat 30 seconds or more if needed. Stir until fully combined, smooth, and shiny. Stir well as the chocolate will melt from the residual heat from the condensed milk.

Pour the chocolate mixture all over the cake and using a spatula spread it evenly into the holes.

Let the cake cool completely before topping with frosting.
Make the Frosting:
Combine all the frosting ingredients in the bowl of a stand mixer and using the whisk attachment, beat on medium speed until combined, then beat on high speed 2-3 min or until fluffy, stopping and scraping down the bowl as needed.

Top the cake with frosting. Level it with a spatula.

Drizzle with caramel sauce and top with pecans.

Refrigerate the cake best for 8 hours before serving.

Enjoy!
Nutrition
Calories:
711
kcal
|
Carbohydrates:
77
g
|
Protein:
9
g
|
Fat:
41
g
|
Saturated Fat:
25
g
|
Cholesterol:
138
mg
|
Sodium:
204
mg
|
Potassium:
448
mg
|
Fiber:
2
g
|
Sugar:
60
g
|
Vitamin A:
6685
IU
|
Vitamin C:
2.5
mg
|
Calcium:
255
mg
|
Iron:
2.5
mg

More recipes you might love